Another huge week in the news, with both Hurricane Ida and Afghanistan taking the headlines. One of the bigger, longer term issues we must stay on top of is, the bleak future for Afghanistan (and many other countries) because of the combination of war AND climate change.
Please do read this article: A New Breed of Crisis: War and Warming Collide in Afghanistan. It's a story beyond Afghanistan.
Hurricane Ida landed on the 16th year anniversary of Hurricane Katrina, and I went to bed Sunday night wondering what the impact would be. Thankfully the levees didn't break, and we still don't know the number of casualties across the nation. But man, watching that storm spread across the US, dumping record breaking water and causing tornadoes, not to mention stunning the meteorologists, was profoundly disturbing.
Let's not forget, the US is also dealing with two mega fires on its West coast – the Dixie Fire and the Caldor Fire. Caldor has burnt more than 200,000 acres, and Dixie has burnt more than 800,000 acres.
But don't worry, the Biden administration announced plans this week to open 80 million acres of the Gulf of Mexico to oil and gas exploration. This is obviously not in alignment with Biden's climate plans, but it is about complying with a court order requiring it to resume lease auctions.
We can't eat money!
Another report relevant to the climate, was a new study which found U.S. residents are struggling to understand terms used in international reports to describe climate change. A message to everyone – we need to keep it simple if we have any chance of breaking through.
Finally, a heart-breaking report. More than a million infants are estimated to have died due to pandemic poverty. This is the reason we must ALL do ALL we can to get this pandemic under control. To take care of those with the least.
And don't get me talking about the Texas six week abortion ruling. It's revolting and so insidious. As my friend Denise Chai stated: The #TexasTaliban.
Friend's content and sometimes mine
Fellow marketers, have you ever Googled "what is marketing"? my friend and former client, Tara Moody, writes a really succinct piece on what is marketing! Worth a read to all in the field and thanks for the shout out woman.
"Getting back to normal" – is that really the goal? Another wonderful friend, Ann-Katrin Van Schie, asks deep and reflective questions about what's next. Definitely worth a read.
Why we should all talk to strangers with Kerrie Phipps and I really enjoyed doing this podcast with my wonderful friend, Kerrie Phipps. Such a ray of light in the world, have a listen if you're feeling hopeless or if you feel there's nowhere to go for you.
Some inspiration – have you learnt to trust in yourself? Your own wisdom within?
Donation time
If everyone gave #just10percent of their time, talent, money or voice, we'll change the world. Can you donate? Make it a regular donation to the World Food Programme. Help us feed people in Phuket or donate to the UN Refugee Program, PowerOf , Kiva.org , Soi Dog Foundation. It's a time for giving and taking care of each other.
Content to read
And here's the content I've been reading this last week. Scan the headlines, read the ones that jump out at you, read or watch them all. Knowledge is power, and global knowledge is even more powerful.
Afghanistan conflict
"Goodbye, Motherland": Afghan Woman Filmmaker's Heartbreaking Post
What a story to tell the world: Britain values dogs more than Afghan people
Amazing escape: How six schoolmates got their friend out of Kabul tks Samantha Gayfer, inspiring
Joe Biden defends US pull-out as Taliban claim victory
US troops disabled 73 aircraft, weapons systems before leaving Kabul, then the Taliban came
Aussie veterinarians plead with government to help skilled Afghans get out of 'shocking situation'
Female journalist who interviewed Taliban flees country
The Taliban Celebrate Victory, With a Crisis Looming
Life of women in Afghanistan: traditions vs external expansion – worthy read
Pen Farthing sorry for foul-mouthed message to aide
Scenes From Afghanistan as the U.S. War Ended
Gunfire as Taliban celebrate US leaving Afghanistan
A New Breed of Crisis: War and Warming Collide in Afghanistan
Bodies of US troops killed in Kabul returned to America
US special operations vets carry out daring mission to save Afghan allies
'We never gave up hope': Afghan athletes arrive for Paralympics after Kabul rescue mission
The U.S. strikes vehicle loaded with explosives in Kabul.
How to Limit the Disaster for Afghanistan's Girls and Women tks Lavinia Thanapathy
The awkward Trumpy truth about Afghanistan's likely new Taliban leader
Climate Crisis / 6th Mass Extinction
Could climate change make humans go extinct?
Madagascar on the brink of climate change-induced famine
Hurricane Ida Leaves More Than One Million Without Power in Louisiana
In Ida's Grip, Louisiana Struggles to Assess the Damage
Hurricane Ida: Thousands flee as category four storm bears down on Louisiana
Transit in the New York City area slowly returns after severe flooding.
Hurricane Ida: New Orleans under curfew amid blackout
Ida Strengthened Quickly Into a Monster. Here's How.
At least 43 are dead after Ida causes flooding in four states.
New Orleans Without Power as Hurricane Ida Batters Louisiana
Is this *finally* the moment we wake up to the climate crisis?
Planting Trees Encourages Cloud Formation—and Efficiently Cools the Planet
McKinsey: The shortlist: as the climate alarm bells toll, which industries are listening?
Helping suppliers on the climate change front line
North Korea: Kim Jong-un calls for urgent action on climate change
IKEA is selling renewable energy to households to become 'climate positive'
Berlin's university canteens go almost meat-free as students prioritise climate tks Kevin Cottam
Climate Point: Confounded by climate terms? You're not alone. Mitigation, adaptation, WTH? – subscribe to this newsletter!
Climate Change Communications Study Finds That Common Scientific Terminology Confounds Public
How a hot blob off New Zealand is contributing to drought in South America
Highly polluting leaded petrol now eradicated from the world, says UN
Indonesian palm oil faces risk of stranded assets due to climate action
Southeast Asia's economy could grow by US$12.5 trillion by 2070 if the fossil fuel-dependent region decarbonises
S'poreans not taking action against climate change due to cost & inconvenience: OCBC Climate Index tks Kevin Cottam
Pandemic Accelerates Decline And Fall Of Fossil Fuel Producers
The IPCC Report: Key Findings and Radical Implications
Honest Government Ad | Carbon Capture and Storage – tks Andrew Bryant
COVID19
Quarter of a million infants estimated to have died due to pandemic poverty tks Francine Varner
Why This Covid Chapter Might Be the Hardest of All
Covid-19 Live Updates: FDA Weighs Dose of Moderna Booster
COVID-19: Crisis & Disruption, Possibility & Peril tks Tim Hamons
Four conservative radio talk-show hosts bashed coronavirus vaccines. Then they got sick
Japan finds black particles in Moderna vaccine
4 Anti-Vax Shock Jocks Die From COVID Weeks Apart
Thank you, Victoria, your sacrifices have not been in vain tks Phillipa Edwards
Rural Oregon school superintendent fired after enforcing state mask mandate
Coronavirus vaccines work. But this statistical illusion makes people think they don't
Under 200 Covid deaths, fewer than 15,000 new cases
Get on board the Covid-train! Tks Jenni Thorman
EU recommends new travel restrictions for US as cases rise
US judge revokes mother's right to visit son over her refusal to get Covid vaccine
Singapore went from a 31% vaccination rate to an 80% vaccination rate in just under 3 months
Singapore the country most fully vaccinated against COVID-19, tracker finds
'This is not normal,' Edmonton doctor says as hospitals fill up with unvaccinated patients tks Kevin Cottam
Conservative radio host's Covid death should prompt others to end vaccine lies
When the New Covid Surge Struck, Mississippi Was Uniquely Unprepared
The Best and Worst Places to Be as Delta Wrecks Reopening Plans
What Went Wrong With the Pandemic in Florida
Podcast 213 – Vaccine Hesitancy – great listen if you want to know how to address hesitancy in your community. Well worth your time
Iceland has had 0 deaths from Covid-19 since May. Here's why
Oh My Fucking God, Get The Fucking Vaccine Already, You Fucking Fucks tks Phillipa Edwards
Global Politics
New Zealand PM Ardern says supermarket stabbing was 'terrorist attack'
Texas abortion: Biden vows 'whole-of-government' response to new law
Canada federal election: How much trouble is Trudeau in?
Brazil's Jair Bolsonaro says he will be killed, arrested or re-elected
Hacking Kelly: how to let Craig Kelly, spammer, know how you feel tks Phillipa Edwards
Business and Technology
Australia Post to suspend parcel collections from eCommerce retailers for three days
Nike is giving its head office staff a week's break
China cuts children's online gaming to one hour
Hate & Conflict – The Business of War tks Susanna Hasenoehrl
Social issues (#BlackLivesMatter) and humanity
People Are Fighting Texas' Abortion Laws By Spamming The Anti-Abortion Tip Line Website In Masterful Ways
The Abortion Ruling Was Stunning but Not Surprising
The Newest Brand of Abortion Ban Is Next-Level Cruelty
Online Trolls Actually Just Assholes All the Time, Study Finds tks Philippa Penfold
Europe migrant crisis: More than 500 people rescued off Italian island
Tears as landholder gives Flinders Ranges land to traditional owners
Afghanistan war veteran Curtis McGrath claims another Paralympic gold for Australia
Prince Andrew, Bob Dylan, Catholic priests and the Child Victims Act
Michael Sandel & Yuval Noah Harari in conversation
Passion, humour, history
Abba delight fans with new 10-song album and virtual concert
Naomi Osaka Is Out at U.S. Open After Losing to Leylah Fernandez
Let me know what jumped out at you? Or share with me what you're reading? I love that!
Cheers
Andrea
Uncommon Courage – my new book – is available
You can buy it on Amazon, Apple Books, Barnes & Noble, Book Depository, Booktopia, Smashwords, Kobo, Gardners, Odilo and Scribd.
Do check out my new Website uncommon-courage.com.
Come and join the conversation in my new Facebook Group Uncommon Courage.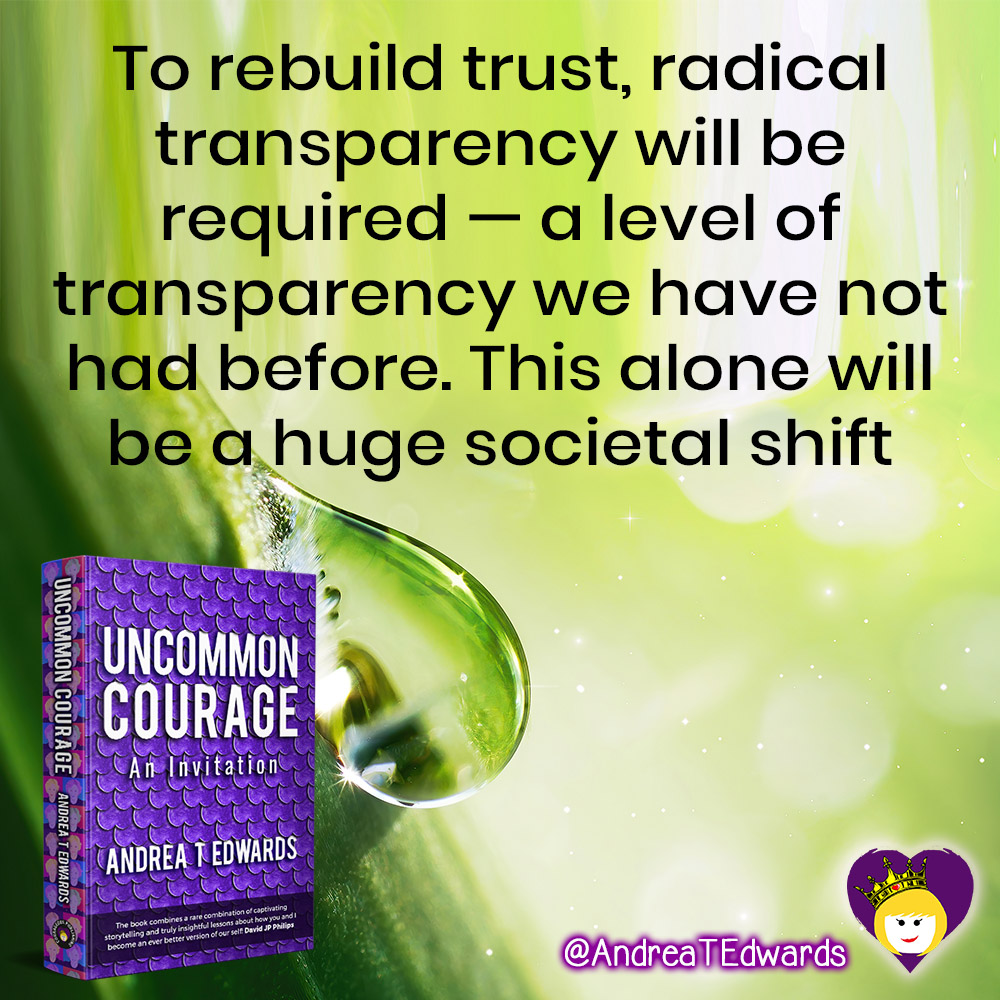 Connect with me
Website, LinkedIn, Twitter, Facebook, YouTube, Instagram, Medium, SlideShare, Amazon.
The Know show
Check out The Know Show. It's new and a weekly wrap up of the news!
18 Steps to an All-Star LinkedIn Profile
Listed by Book Authority in the 100 Best LinkedIn Books of All Time and 22 Best New LinkedIn eBooks To Read In 2021 categories. Grab it today if you want to take your professional presence to the next level! When it comes to LinkedIn, it really is time to ask — can you really afford not to have this book in the hands of every employee?
Feedback
Have I done a great job for you? Can you write a reference on my LinkedIn profile or on my Google Business page? If not for me, why not write one for someone else who inspires you or has helped you? Join the #GivingEconomy
Check out Second Nature Social on my YouTube channel.
Want proof social leadership transforms business and attracts customers? Check out this case study with IBM Asia Pacific.