I've continued to be stuck in the Afghanistan news and these last few days leading up to August 31st feel particularly cruel. Not just the absolute carnage released by the ISIS-K Group when they detonated a suicide bomb, but for those currently sitting inside Kabul Airport, knowing the country that promised to protect them, will almost certainly leave them behind.
Boris Johnson came out with a "we'll move heaven and earth" speech towards the end of this week, but I don't know, a man who moves with whatever trend offers him the best chance at winning, versus really caring about anything, doesn't fill me with confidence. For those left behind, I doubt they're feeling comforted by that message at all.
It continues to be a hard story to follow, and there were days and nights I had to switch off and focus elsewhere. It was time to watch and read nice things, because you can't be in it and not be overwhelmed by despair, that's for sure.
However, if you want to read one article about Afghanistan, please read this one: Bilal Sarwary: 'The plane hit the tower and all our lives changed'. This is the Afghanistan perspective. He also offers the Taliban side through his childhood friends who went 'over.' When you read why, it's hard to blame them. The hardness of these people too. How do you ever recover from that?
Beyond August 31st, we face a known and an unknown future for Afghanistan. As one of 20 countries slipping into famine, the humanitarian crisis facing the world will soon be one of overwhelming desperation.
We must prepare. We must get ready. We must do all we can to help our fellow citizens. Hunger leads to war, and the potential war we are facing will impact us all. Time to do what we need to do. Unite and overcome the challenges facing our world.
Friend's content and sometimes mine
Why I moved to Portugal – Anatomy of a Life Decision my friend Andrew Bryant had never even been to Portugal, but he packed up his life and moved there with his lovely wife Andrea! This is a great look into the thinking behind it, but equally, as our world changes, especially how we work, these opportunities are open to us all.
A delightful Afternoon Tea treat at the Mandarin Oriental, Bangkok I met Little Wren very briefly and we've built a friendship online since. She's a travel writer and this piece completely captured my imagination. One strong thought occurred to me – why did we ever let life move so fast, we left behind the traditions that mattered so much? I'm definitely going to join Little Wren in Bangkok for afternoon tea when this Covid madness is over.
An Appointment With Life: Taking Refuge In The Four Noble Truths and my friend, Rohit Bassi, had a brutal fight with Covid, which took him to a deeply powerful and reflective place. The Four Noble Truths, ancient wisdom, shared beautifully by Rohit. Take a look.
My latest podcast, Go big, go small, but go, with Chris McDonald is a call to action, whether you want to change the world, or impact a small group of people. If we all did something meaningful to us, we change the world.
And happy to have launched The Know Show, with my friends Tim Wade and Joe Augustin. It's new and a weekly wrap up of the news, featuring guests every week. It precedes this round up.
Donation time
If everyone gave #just10percent of their time, talent, money or voice, we'll change the world. Can you donate? Make it a regular donation to the World Food Programme. Help us feed people in Phuket or donate to the UN Refugee Program, PowerOf , Kiva.org , Soi Dog Foundation. It's a time for giving and taking care of each other.
Content to read
And here's the content I've been reading this last week. Scan the headlines, read the ones that jump out at you, read or watch them all. Knowledge is power, and global knowledge is even more powerful.
Afghanistan
Afghanistan Live Updates: U.S. Launches Retaliatory Airstrike and Warns Americans to Leave Kabul Airport
US will hunt down Kabul airport attack jihadists, says Biden
Inside the Hidden War Between the Taliban and ISIS
Kabul Airport Attack Kills 13 U.S. Service Members, at Least 90 Afghans
Afghanistan interpreter: Getting plane out was 'happiest moment of my life'
Australia denies At Risk Afghan Employees visas to Afghans who helped guard embassy in Kabul tks Jenni Thorman
Kabul airport bomb attacks leave many casualties
Bilal Sarwary: 'The plane hit the tower and all our lives changed'
These bittersweet photos show US troops caring for children of families desperately fleeing the Taliban
Facebook, Twitter and LinkedIn secure Afghan users' accounts amid Taleban takeover tks Dan Hochuli
Erik Prince Is Charging $6,500 a Person to Evacuate Afghanistan on His Chartered Planes
Washington Post reporter reveals how she and her team were rescued by brave BRITISH troops after Biden banned US forces from venturing out of Kabul airport
Taliban tell working women to stay at home
Biden Sticks to Afghan Deadline, Resisting Pleas to Extend Evacuation
Why can't the UK hold Kabul airport without the US?
Airbnb to host 20,000 refugees from Afghanistan
'I'm not OK, man': Afghans are begging US veterans they served with to help get them and their families out
Foreign troops extension 'a clear violation' – Taliban
US decision to withdraw lays bare a not so special relationship
Afghanistan's female athletes find refuge in Australia
Tony Blair says withdrawal was driven by imbecilic slogan
US ramping up Kabul evacuation effort, says Biden
Afghanistan's all-girls robotics team evacuated safely to Qatar
US fears risk of Islamic State attack at Kabul airport
Land of Endless War – tks Jamie Camidge
Climate Crisis / 6th Mass Extinction
Climate Point: Are you bone dry or drenched? Here's how climate change adds to summer misery – worth subscribing to this newsletter
The current drought is worldwide. Here's how different places are fighting it
"If COP 26 is to meaningfully address the climate emergency, then we need women in leadership."
Climate funds often fall short of Paris goals, says report
Millions in Syria, Iraq losing access to water, aid groups say tks KevinCottam
First ever recorded rainfall in Greenland's ice sheet summit causes 'widespread' melting
From 1m trees to a tree graveyard: how Dubai's conservation plans went awry
Dame Ellen MacArthur to advise ministers on environment
Antarctica's 'Doomsday Glacier' is fighting an invisible battle against the inner Earth, new study finds
Wildfires Grow Worldwide as Climate Sizzles
Tennessee Floods Show Pressing Climate Danger Across America: 'Wall of Water'
All the right words on climate have already been said tks Sue Adams
Calculate Carbon Footprint: Find YOUR Eco Footprint in Real Time
Big oil coined 'carbon footprints' to blame us for their greed. Keep them on the hook
Global Audit Giant Sending All 333,000 Employees To Climate Change School
UN climate report: How much hotter can it get in Singapore in your lifetime? tks Wendy Tan
Snowdon: Call to respect mountain amid spike in visitors
As the Colorado River Dries Up, Phoenix Will Have to Survive on Less Water
Henri Makes its Way to CT as Category 1 Hurricane, Some May Lose Power For 3 Weeks
The Repercussions of a Changing Climate, in 5 Devastating Charts
Fossil Fuel Companies Are Quietly Scoring Big Money for Their Preferred Climate Solution: Carbon Capture and Storage
COVID19
Children's hospitals around the country are seeing a surge in Covid-19 patients, including this two-month-old baby in New Orleans.
Vaccine complications dwarfed by virus risks
Australian public fed nonsense as country heads to "irreversible" decision. tks Phillipa Edwards
Texas anti-mask organizer clings to life in a battle with Covid-19.
Memo to parents and carers on home schooling: 'Don't panic, and don't feel guilty'
Police say Melbourne anti-lockdown protest 'most violent in nearly 20 years'
New U.S. Intelligence Report Doesn't Provide Definitive Conclusion on Covid-19 Origins
The failure of vaccine policy pushed Thailand from the best recovering country to the worst tks Rebecca Kynaston
A Hospital Finds an Unlikely Group Opposing Vaccination: Its Workers
Op-Ed: As a doctor in a COVID unit, I'm running out of compassion for the unvaccinated. Get the shot
New Phuket order revises conditions for suspending Sandbox scheme
COVID-19 Delta: The pandemic of high-level dishonesty in NSW(Part 1) Auto Expert John Cadogan – tks Warwick Merry
Global Politics
Learning to live alongside Gladys Berejiklian (and Scott Morrison) tks Phillipa Edwards
Samoa's former PM accuses Jacinda Ardern of plot to replace him with a woman
Trump admin deliberately sabotaged refugee process, stranding war allies: former insiders
House Panel Demands Records of Trump's Movements on Jan. 6
The Trump Clown Car Has a Smashup in Arizona
Instagram Posts Help FBI Nab Trump-Loving Romance Novel Model Who Beat Capitol Cops
What does system change mean, anyway? tks Wendy Tan
Mo Brooks was booed by Trump rally attendees after he told them to move on from 2020 'election theft'
Justice Barrett refuses to block construction of Obama Presidential Center
Business and Technology
Personal learnings from a failed indy media product tks Bill Poorman
China's New 373 MPH Bullet Train Is Now the World's Fastest Land Vehicle
Behind the Florida Condo Collapse: Rampant Corner-Cutting
Social issues (#BlackLivesMatter) and humanity
Hurricane Ida: New Orleans braces for possible direct hit
Hunger expected to rise in 23 global hotspots, UN warns
Lux tries to show men what it's like to walk while female tks Karen Prager
Introverts Actually Understand People Way Better Than Extroverts Do, Yale Study Shows
Science quietly wins one of the right's longstanding culture wars tks Frank Roberts
Nirvana sued by the baby from Nevermind's album cover
Three men sought by police in Birmingham Gay Village attack probe tks Damian Corbet
Passion, humour, history
Va-Gi-Na – Schmigadoon! – tks Phillipa Edwards
New species of ancient four-legged whale discovered in Egypt
Australia Tourism Ad in 2021 – tks Ina Hammer
Let me know what jumped out at you? Or share with me what you're reading? I love that!
Cheers
Andrea
Uncommon Courage – my new book – is available
You can buy it on Amazon, Apple Books, Barnes & Noble, Smashwords, Rakuten Kobo, and Scribd.
Do check out my new Website uncommon-courage.com.
Come and join the conversation in my new Facebook Group Uncommon Courage.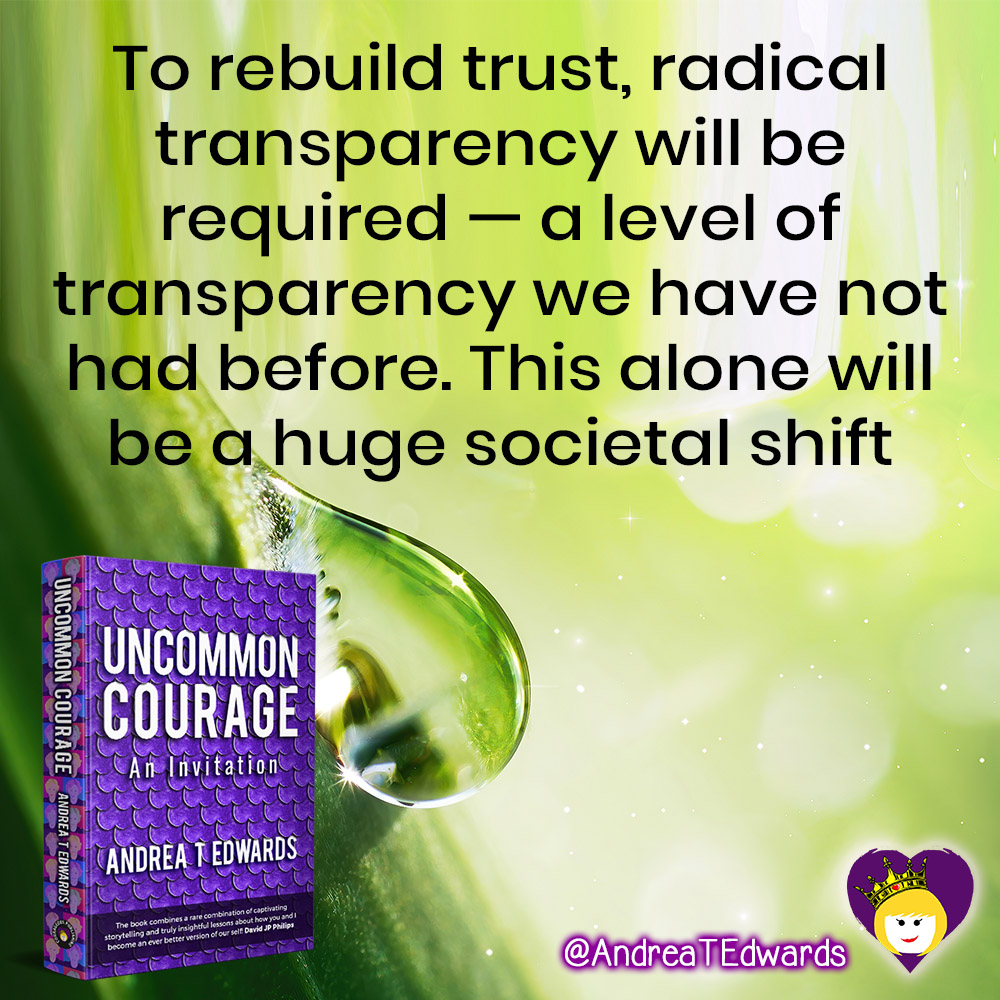 The Know show
Check out The Know Show. It's new and a weekly wrap up of the news!
Connect with me
Website, LinkedIn, Twitter, Facebook, YouTube, Instagram, Medium, SlideShare, Amazon.
18 Steps to an All-Star LinkedIn Profile
Listed by Book Authority in the 100 Best LinkedIn Books of All Time and 22 Best New LinkedIn eBooks To Read In 2021 categories. Grab it today if you want to take your professional presence to the next level! When it comes to LinkedIn, it really is time to ask — can you really afford not to have this book in the hands of every employee?
Feedback
Have I done a great job for you? Can you write a reference on my LinkedIn profile or on my Google Business page? If not for me, why not write one for someone else who inspires you or has helped you? Join the #GivingEconomy
Check out Second Nature Social on my YouTube channel.
Want proof social leadership transforms business and attracts customers? Check out this case study with IBM Asia Pacific.