Another intense week in the news, and of course, I was completely lost in the story of Afghanistan. On social media, I felt deep fear, intense sadness and shame ricochet around the world, as we all came to terms with this news and tried to understand what it meant for the people of Afghanistan. It definitely felt like the straw that broke the camel's back in a bruised world.
When I pondered this news, my real grief sat with the women and girls of Afghanistan, the LGBTQIA community, and those who worked in government, the media, or with the people who served the US and NATO forces. What happens next is really unknown.
What we know is, immense suffering has been unleashed on the people of Afghanistan, a country already suffering a four-year drought that has resulted in food shortages, Covid on the rise, panic for people desperate to escape with exits cut off, funding and bank accounts frozen, and more, we know the weeks, months and years ahead will be very difficult for so many people.
When I suggest people read around the news, this is definitely one to go wide on. If you're in the US, don't just read the US perspective in the media. Read/watch Aljazeera, the UK, Australia, Singapore and other country perspectives. All countries share news from a point of view relevant to them, so it's really important to go wide.
But this news did feel like a last straw as I watched the commentary across the media and digital airwaves. When the world is already dealing with so much, this felt like a moment of doom.
How do we get our heads straight at a time like this? The only thing I know that works is action. If you are feeling lost, in despair, or that all hope is lost, move to action. Find something you are passionate about and get involved or speak up.
If you want to help Afghanistan, be an advocate for the charities who are doing great work. Donate to worthy causes
Beyond that, do something locally to help people who have nothing – cook food, donate, volunteer for help lines
Get involved in the climate emergency – start at home by being more sustainable (this takes time), write to your elected officials to demand action, organize a beach clean-up, write, share knowledge, help raise awareness in your community
Create – if you've always wanted to write a book, launch a podcast, a YouTube channel, a blog – this is the time to get started
Just a few ideas. Action is where hope lies. Contributing to a cause bigger than yourself is the way forward and the way out of despair. It's what saves me.
Friend's Content and sometimes mine
#Crisisleadership – Phase One my friend Dion Jensen is sharing what he does best, advice on how to lead in a crisis. Check out his 10 steps to surviving and positioning your people during crisis as a leader. This is phase one.
My Hope for Singapore: From Pragmatics to Purpose – my friend Wendy Tan wrote a wonderful article, focusing on purpose and how to get there. While it was written for Singapore, following it's national day, this article is relevant around the world. Nice work my friend.
To truly be in love with life, you've got to love it all – one of my latest videos, really talking about healing the world and overcoming divisions. If we all took one step towards those we oppose, we create a movement and change the world.
Uncommon Courage, the podcast – I launched my podcast this week. It will be available on all the podcast platforms, but here's the Apple one. I kicked it off with my husband, Steve Johnson interviewing me, to get to the bottom of why I'm doing it. Have a listen if podcasts are your thing.
Donation time
If everyone gave #just10percent of their time, talent, money or voice, we'll change the world. Can you donate? Make it a regular donation to the World Food Programme. Help us feed people in Phuket or donate to the UN Refugee Program, PowerOf , Kiva.org , Soi Dog Foundation. It's a time for giving and taking care of each other.
Content to read
And here's the content I've been reading this last week. Scan the headlines, read the ones that jump out at you, read or watch them all. Knowledge is power, and global knowledge is even more powerful.
Afghanistan     
Afghanistan: Taliban 'tortured and massacred' men from Hazara minority
LGBT in Afghanistan: 'I could be killed on the spot'
Zaki Anwari: Afghan footballer falls to death from US plane in Kabul
Biden defends 'messy' US pull-out from Afghanistan
Taliban's capture of Kabul forces many to flee to the airport as Afghanistan's women fear for their future tks Jana Bedyoun
Taliban 'carrying out door-to-door manhunt'
Watch: How the media is changing under Taliban rule
Afghanistan crisis: 'Many here will be deeply fearful for their future'
IMF suspends Afghanistan's access to funds
UN aid chief in Afghanistan warns of hunger caused by drought
Afghanistan: 'All female staff have left my Kabul hotel'
Just 26 people rescued on first RAAF Afghan flight
Deceptions and lies: What really happened in Afghanistan
US Soldiers Films Chaos From MRAP Gunner Turret In Kabul – tks Steve Johnson
Afghanistan: What's the impact of Taliban's return on international order?
Uncertain times ahead for Afghan women
What will happen to Afghanistan's women and girls under Taliban rule?
Afghanistan: striking image shows 640 people fleeing Kabul in packed US military plane
Biden stands behind Afghan withdrawal, despite 'hard and messy' final days.
Taliban's capture of Kabul forces many to flee to the airport as Afghanistan's women fear for their future tks Jenni Thorman
UK confident it can get Britons out of Afghanistan, Ben Wallace says
It has taken 20 years to prove the invasion of Afghanistan was totally unnecessary
An Afghan woman in Kabul: 'Now I have to burn everything I achieved'
'We see silence filled with fear': female Afghan journalists plead for help
20-Year U.S. War Ending as It Began, With Taliban Ruling Afghanistan
Kabul airport: footage appears to show Afghans falling from plane after take off
Australian troops assist in Afghanistan evacuations tks Kerrie Phipps
As Kabul falls, Biden backlash grows
Kabul's Sudden Fall to Taliban Ends U.S. Era in Afghanistan
Taliban Capture Strategic Cities as Biden Speeds Troop Deployment to Afghanistan
Afghan conflict: Taliban take Mazar-i-Sharif, government's last northern stronghold
The Afghan Military Was Built Over 20 Years. How Did It Collapse So Quickly?
Afghanistan: Taliban carrying out door-to-door manhunt, report says
Lee Kuan Yew's Prophetic Insights On Afghanistan In 2009 – tks Pamela Killick-Calver
Climate Crisis / 6th Mass Extinction
Rain falls at summit of Greenland's ice sheet for first time in recorded history tks Terresa Bayes
Northern Regional Planning Panel rejects $39m Nightcap Village mega-commune
Swedish company makes world's first delivery of 'Green Steel' made without using coal
Beyond 'Climate Pledge Arena': Are Amazon's climate goals for real? tks Susanna Hasenoehrl
Are you in denial? Because it's not just anti-vaxxers and climate sceptics
In a First, U.S. Declares Shortage on Colorado River, Forcing Water Cuts
You should be concerned about climate change but big oil should be terrified
New Strain of Deadly Marine Mammal Virus Identified in Stranded Maui Dolphin
Exploding California Wildfires Rekindle Debate Over Whether to Snuff Out Blazes in Wilderness Areas or Let Them Burn
Global Climate Panel's Report: No Part of the Planet Will be Spared
1972 Warning of Civilizational Collapse Was on Point, New Study Finds
Karon Sea Garbage
COVID19
The Quiet Rage of the Responsible tks Denise Chai
Israel, Once the Model for Beating Covid, Faces New Surge of Infections
When Covid came to the anti-vax capital of Australia tks Jamie Camidge
'The call came that all expats fear': Australians overseas pay a heavy price
Scott Morrison criticises plan to pursue Covid-zero strategy even when vaccination high as 'absurd'
FAQ For Rushing Delta Variant tks Denise Chai
More than a year later, America grapples with long Covid
Singapore to allow differentiated COVID-19 safety rules for travellers vaccinated overseas tks Nicci McShane
How Australia became the world's most luxurious prison
10 things you need to know this morning in Australia
This is how the US female workforce has been affected by COVID-19 tks Karsten Warnecke
'This was a race and we lost': How US doctors really feel about Covid surge
Victoria Covid lockdown restrictions: latest update to Melbourne curfew and regional Vic coronavirus rules explained
What we now know about how to fight the delta variant of COVID tks Ann-Katrin van Shie
Australia: New South Wales 'in worst ever Covid situation'
Anti-lockdown protesters clash with police in Melbourne, smaller demonstrations in Sydney, Brisbane, Perth
Texas hospitals are facing a COVID-19 disaster. Gov. Abbott must act
Australia and Florida have a similar population size but their COVID-19 policies are vastly different tks Ali Davies
Global Politics
Four Corners has faced the wrath of both sides of politics. 60 years on, it's needed more than ever
The Senator Who Decided to Tell the Truth
Business and Technology
Thai economy nearing 'do it, or die'
Bezos sues Nasa over its deal with Elon Musk's SpaceX
A Global Imperative: Gender Equality in the C-Suite
As Coca-Cola Auctions Its First NFT, More Brands Are Entering The Metaverse tks Adrian Watkins
The Man Who Lost $20 Billion in Two Days Is Lying Low in New Jersey
Social issues (#BlackLivesMatter) and humanity
Why you need a break from all this
Haiti earthquake: Tropical Storm Grace hampers rescue
Haiti struck by deadly 7.2-magnitude earthquake
Naomi Osaka Announces All Cincinnati Prize Money Will Go Directly Towards Haiti Earthquake Relief Efforts
'I was on the kitchen floor crying too often': a year of despair for performers tks Phillipa Edwards
Passion, humour, history
Enclosed nuns master viral dance to 'cheer people up' tks Claire Kielty
3 Life Lessons From History's Most Intelligent Philosopher
365 dates: Indian serial dater Sunder Ramu still looking to meet his target tks Kerrie Phipps
The ancient Persian way to keep cool
Ancient Stones of Australia: Rock Arrangements that Defy Conventional Historical Accounts
Finally, I launched The Know Show, with Tim Wade and Joe Augustin on Friday, 20th August. Yes a lot has happened for me this week!! We're planning to do this every Friday afternoon In my time zone, and as we master what we're doing and define a tighter format, it will be a look at the main news capturing the world's attention and our observations on what's going on. Subscribe to the channel to get notifications and tune in when you can.
Let me know if anything jumped out at you?
Cheers
Andrea
Uncommon Courage – my new book – is available
You can buy it on Amazon, Apple Books, Barnes & Noble, Smashwords, Rakuten Kobo, and Scribd.
Do check out my new Website uncommon-courage.com.
Come and join the conversation in my new Facebook Group Uncommon Courage.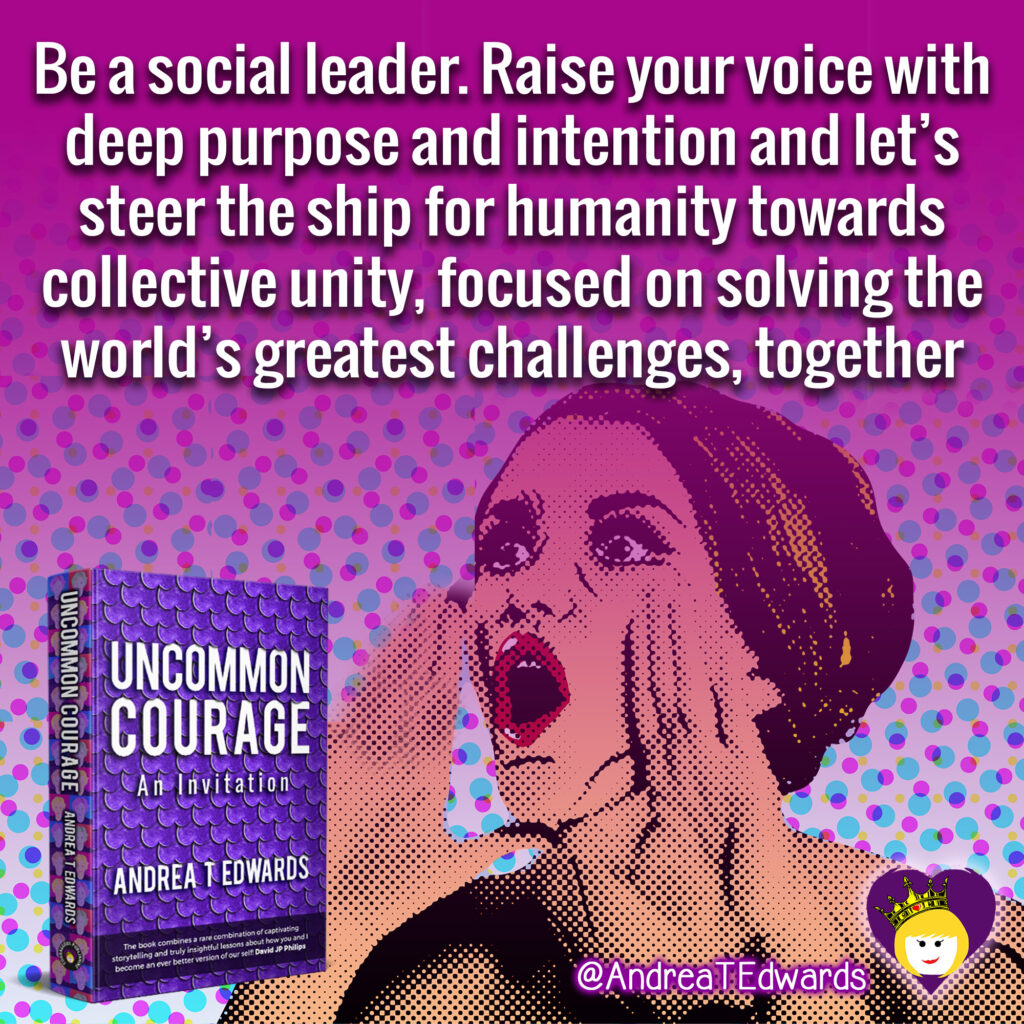 Connect with me
Website, LinkedIn, Twitter, Facebook, YouTube, Instagram, Medium, SlideShare, Amazon.
18 Steps to an All-Star LinkedIn Profile
Listed by Book Authority in the 100 Best LinkedIn Books of All Time and 22 Best New LinkedIn eBooks To Read In 2021 categories. Grab it today if you want to take your professional presence to the next level! When it comes to LinkedIn, it really is time to ask — can you really afford not to have this book in the hands of every employee?
Feedback
Have I done a great job for you? Can you write a reference on my LinkedIn profile or on my Google Business page? If not for me, why not write one for someone else who inspires you or has helped you? Join the #GivingEconomy
Check out Second Nature Social on my YouTube channel.
Want proof social leadership transforms business and attracts customers? Check out this case study with IBM Asia Pacific.