It's a time for us all when the knocks just keep on coming and it was another huge week in the news. The spread of Covid19 in Asia continues, with Singapore experiencing a massive setback caused by a privileged few. That always rankles. I am feeling the pain across social media from friends living there. Stay strong my friends, stay strong.
I think most of the rest of Asia has gone through this stage of resignation and disappointment in the weeks prior, and countries like Myanmar are a huge concern. They are lacking in everything and it still baffles me why the Junta thought this was a good time to do what they did? Who, exactly, is winning there?
Of course, the news getting global attention – after the recent heat dome over North America, and across the North of Europe – is the European floods. The big focus has been on beautiful, ancient villages in Germany being washed away, and the human toll that comes with it, as more than 100 are dead, with well over a thousand missing. The rain causing these floods is expected to continue.
I heard Glenn van Zutphen, on MoneyFM 89.3 today, saying the jet streams are changing due to climate change, and that is pushing the rain inland, versus where it usually sits over the seas. I couldn't find any current news on this, but here's an article on it from 2018. Future flights will be impacted by a changing jet stream, so worth paying attention to.
I'm expecting next week's big news to be another heat wave coming up, which is expected to hit the US, and of course, cause more severe wildfires. We have chaos in South Africa and Haiti, famine in Mozambique, Yemen, and Ethiopia and well, the news is brutal. Definitely another huge week in the news.
What can we do? Envision the future we want for the world and fight for it with every bone in our body. Speak up for it with our loudest voices on every platform we have available to us. And vote for it like our life depended on it, because it does.
Donation time
The most important causes you can donate too right now are any providing food. Starvation is rampart, famine on the rise, and one of the best is the World Food Programme? Such important work and we need to keep these guys working! Other possibilities UN Refugee Program, PowerOf , Kiva.org, Soi Dog Foundation. If you want to help us in Phuket, you can donate to #OnePhuket here.
Content to read
And here's the content I've been reading this last week. Scan the headlines, read the ones that jump out at you, read or watch them all. Knowledge is power, and global knowledge is even more powerful.
Climate Crisis / 6th Mass Extinction
We're Right to Worry About Nightmare Climate Scenarios
Europe floods: At least 120 dead and hundreds unaccounted for
The climate crisis will create two classes: those who can flee, and those who cannot tks Lavinia Thanapathy
Greenland suspends oil exploration because of climate change
Coal is not clean – exposing greenwashing in the coal industry
Climate Security, Conflict Prevention, and Peacebuilding – worth a read
UN sets out Paris-style plan to cut extinction rate by factor of 10
Germany floods: Dozens killed after record rain in Germany and Belgium
What I'm Teaching My Daughter About Living in Extreme Heat
EU unveils sweeping climate change plan
Sixty years of climate change warnings: the signs that were missed (and ignored)
Fast-moving wildfire burning toward critical route to Yosemite park
What to do when climate change feels unstoppable? Tks Robert Kirubi
Jaipur: Lightning strike kills 16 taking selfies in India
The Mighty Taku Glacier Takes a Bow
Frozen Bird Found in Siberia is 46,000 Years Old
Mysterious lonely apple tree on uninhabited Hebridean island baffles scientists
The Collapse of Chaco Canyon: Recent Study Challenges Drought Theory
Fossil Discovery Unlocks the Mystery of What Happened the Day the Dinosaurs Died
Death Valley Posts 130-Degree Heat, Potentially Matching A Record High
US heatwave: California and Nevada brace for record-breaking temperatures tks Susanna Hasenoehrl
Town in Arctic Circle matches Miami's highest temperature this year
Why North America's killer heat scares me
AT least 59 killed by floods in Germany after record rainfall lashes western Europe  
COVID19
Covid: Younger adults still at risk of serious organ damage – study
Singapore Virus Cases Highest in 15 Months on Lounge Cluster
All nightlife businesses that pivoted to F&B to be suspended for 2 weeks as KTV COVID-19 cluster grows
Social welfare organisations overwhelmed by escalating Covid-19 death toll
Senior business figures turned to former PM Kevin Rudd to intervene in bringing forward Australia's Pfizer vaccine supply tks Phillipa Edwards
Lao Workers Return From Thailand, Bringing COVID-19 With Them
Delta variant: Which Asian countries are seeing rising cases?
Covid-19: Dutch PM Rutte 'sorry for easing restrictions too soon'
Bat Scientists Warn That the World May Never Know Covid-19 Origins
I'm fully vaccinated but feel sick – should I get tested for COVID-19?
Facts on COVID-19 that politicians won't tell you
'Meant to be graphic': New ad tells Sydneysiders to stay home tks Andrew Psarianos
Global Politics
'They're not going to f**king succeed': Top generals feared Trump would attempt a coup after election, according to new book tks Roshini Ganesan
South Africa Zuma riots: Looting and unrest leaves 72 dead
Cuba protests: Thousands rally against government as economy struggles
Biden Administration Shows Little Appetite for Haiti's Troop Request
Jovenel Moïse: Haiti requests foreign troops after president's assassination
Business and Technology
How many robots does it take to run a grocery store? Tks Tara Cremin Moody
Podcast – Brené with Simon Sinek on Developing an Infinite Mindset – worth a listen
Why I'm a proud solutionist – tks Shalaka Verma
The Great Flourishing – Why People Are Quitting Their Jobs
Reporters Reveal 'Ugly Truth' Of How Facebook Enables Hate Groups And Disinformation
BlackRock's Fink Urges World Bank, IMF Overhaul for Green Era
Flying to space onboard Virgin Galactic
Mercer's 2021 Cost of Living city ranking
BREAKING: Richard Branson Successfully Flies to Space on Virgin Rocket
Elon Musk at 50: the Tesla and SpaceX billionaire went from getting fired from PayPal, and living in his office, to being one of the world's most successful and controversial tech CEOs tks Chris J Reed
Debunking Elon Musk Pt 1 Tks Rohit Bassi
Social issues (#BlackLivesMatter) and humanity
$965 a year straight in the bin? Our grandparents could be the answer
Gun resembling Lego toy sparks backlash in US
Gravitas: Sore losers: England fans turn savage after Euro loss – tks Steve Johnson
50 Cognitive Biases in the Modern World
People Are Sharing The Things Others Don't Understand About Being Poor, And It's Eye-Opening
Potential mass shooting foiled ahead of MLB All-Star game
Unhelpful comments and misguided support: Becoming a widow in your 20s
A moment in time that shows the true beating heart of Ash Barty
Australian tennis legend Evonne Goolagong Cawley says she knew Ash Barty was a champion
Ash Barty's brutal statement amid nasty Naomi Osaka controversy
Why The World's Loneliest Whale Reflects Humanity's "Biggest Fear"
Aerial Pictures Show North American and European Tectonic Plates in Iceland Pulling Apart
I'm always home, I'm uncool – tks Luke Clark
Passion, humour, history
30 years of 'Point Break': The making of Keanu Reeves – made me feel a bit old!
Bodybuilder furious after being banned from American Airlines flight over shorts being too short
Ever Seen a Great White Shark Sprint? A Drone Captured This One Absolutely Flying
Lina Medina: The story of the world's youngest mother
11,500-Year-Old Infant's DNA Reveals New Surprises About How North America Was Populated
Let me know what caught your attention this week?
Cheers
Andrea
Uncommon Courage – my new book – is available
It will give you hope, I promise. You can buy it on Amazon, Apple Books, Barnes & Noble, Book Depository, Smashwords, Rakuten Kobo, and Scribd.
Do check out my new Website uncommon-courage.com.
Come and join the conversation in the Facebook Group Uncommon Courage.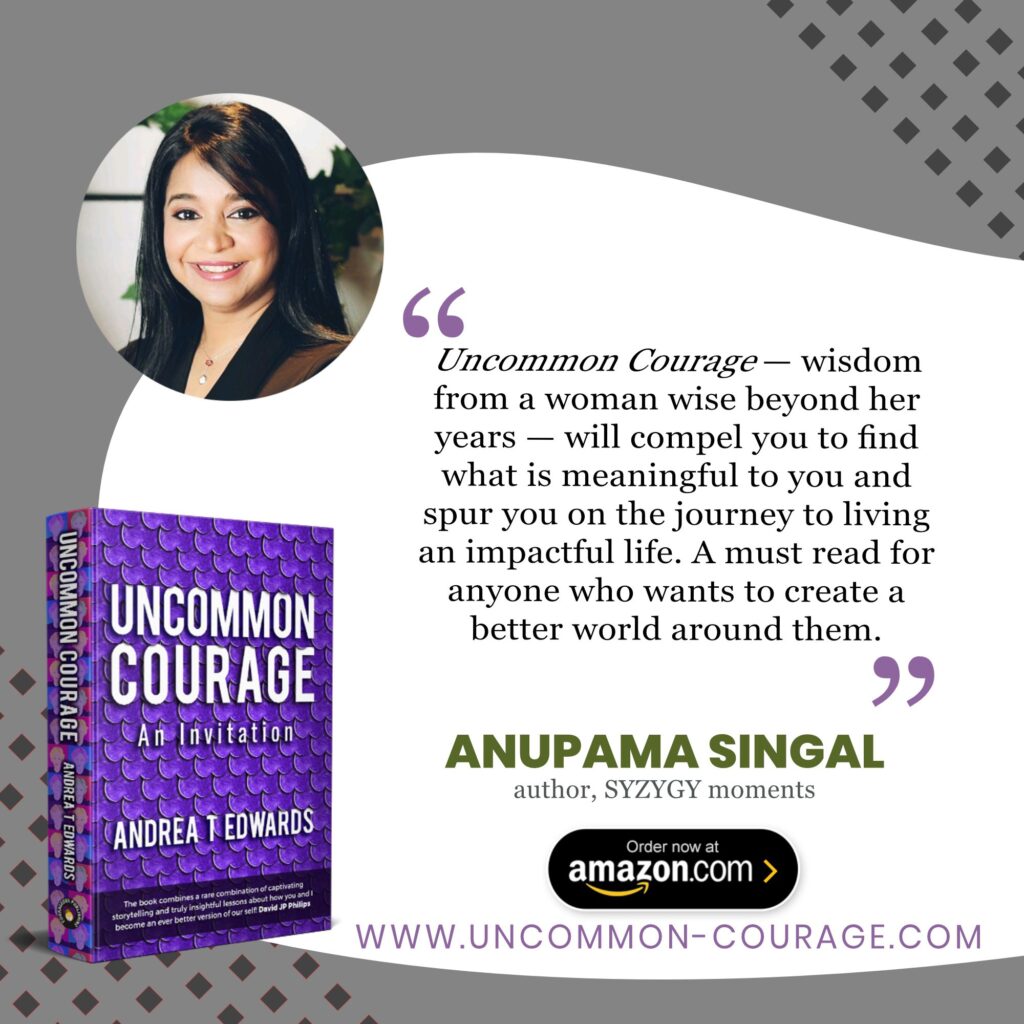 Connect with me
andreatedwards.com,LinkedIn, Twitter, Facebook, YouTube, Instagram, Medium, SlideShare, Amazon, Uncommon-Courage.com.
18 Steps to an All-Star LinkedIn Profile
Listed by Book Authority in the 100 Best LinkedIn Books of All Time and 22 Best New LinkedIn eBooks To Read In 2021 categories. Grab it today if you want to take your professional presence to the next level! When it comes to LinkedIn, it really is time to ask — can you really afford not to have this book in the hands of every employee?
Feedback
Have I done a great job for you? Can you write a reference on my LinkedIn profile or on my Google Business page? If not for me, why not write one for someone else who inspires you or has helped you? Join the #GivingEconomy
Check out Second Nature Social on my YouTube channel.
Want proof social leadership transforms business and attracts customers? Check out this case study with IBM Asia Pacific.