Times are glum right now, especially in Asia. Indonesia is experiencing a critical shortage of oxygen as Covid19 cases surge, Malaysia is still in lockdown where people are stealing food to survive, and Thailand has seen its highest cases so far, with the Delta variant rapidly spreading.
This week I saw photos of people outside hospitals in Bangkok. Taken by a doctor, it shows patients in beds on the sidewalk and people slumped on footpaths, waiting to get medical attention. Scenes like this are truly frightening, because as we saw in India, so many unnecessary deaths occur simply because people can't get medical attention. Young people too. It's devastating.
I've also noticed a lot of talk about governments needing to step up more to help citizens survive this time. At the start of this pandemic, global economists predicted that developing economies would struggle the most, and this story details the growing debt – a burden the younger generation will face. Then again, the climate crisis might see many of these countries unliveable in the not too distant future.
I know many struggle to understand this side of how things operate, but governments are being forced to make very challenging decisions for communities, which means Covid will be more prevalent, because they cannot afford to keep their countries in lockdown. It's a heartbreaking time.
Then we add to this the escalation of the climate crisis, and well, it's hard not to feel glum. A while ago I wrote Join the #Just10Percent movement and let's create a new future. If you are in a position to donate 10% of your time, talent, income or voice to any cause you care about, please do it? Serving helps you too. It helps you step out of a funk or even deeper depression, not to mention, the world's poorest need us all to step up for them. Can you do it?
Donation time
Every week I include links to charities that are important in the world right now. Can you donate? Especially to the World Food Programme. There are currently 20 countries on the brink of famine – 20!!! We have to step up. We must!!
Here's a link to the World Food Programme, as well as other possibilities UN Refugee Program, PowerOf , Kiva.org, Soi Dog Foundation. If you want to help us in Phuket, you can donate to #OnePhuket here.
Friend's Content
Lessons of a ground-breaking career: An interview with my Mum a wonderful interview by Luke Clark, with his amazing mum. I love stories like this. Women who broke barriers so future generations benefit. Hats off Mrs Clark!
Reimagining the technological pathways to APAC's sustainable future a great piece by Haresh Khoobchandani, who I had the privilege of working with during my time at Microsoft. We have so much work to do and Haresh lists out some great ideas. Worth a read.
Lessons from Dad is Jamshed Wadia's beautiful tribute to his dad, after he lost him due to Covid complications. I am so sorry for your loss Jamshed. I can tell he was a wonderful man and you definitely got your charm from him!
Finally, one of my Phuket pals, Scot Toon. Managing Director Asia of Pavilions Hotels and Resorts, he's a wonderful person and I really enjoyed this interview. Have a listen.
Phuket's Post Pandemic Travel Guide (+ Free Hotel?)
Content to read
And here's the content I've been reading this last week. Scan the headlines, read the ones that jump out at you, read or watch them all. Knowledge is power, and global knowledge is even more powerful.
Climate Crisis / 6th Mass Extinction
Scientists now racing to study heat conditions that spontaneously kill humans
'We are entering uncharted territory': Climate crisis made North America's deadly heatwave '150 times more likely'
Climate change: US-Canada heatwave 'virtually impossible' without warming
Why declining birth rates are good news for life on Earth
Nordic countries endure heatwave as Lapland records hottest day since 1914
Yellowstone's most famous geyser could shut down, with huge ramifications
How the BBC let climate deniers walk all over it
North America endured hottest June on record
An Estimated 1 Billion Sea Creatures Cooked to Death in the Pacific Northwest Heat Wave
Tropical Storm Elsa makes landfall in Florida
Record June temperatures point to more 'extraordinary' extremes
Stockholm weather station could be the ground zero of climate change data
Net Zero by 2050 A Roadmap for the Global Energy Sector tks Joanne Flinn
Oil producers need to reduce emissions in current decade: Kerry tks Susanna Hasenoehrl
Climate Cassandra Guy McPherson makes a case that scientists, IPCC, and media underplay the crisis
Ocean 'Dead Zones' Are Releasing One of The Worst Greenhouse Gases
It's Raining 'Forever Chemicals' Around the Great Lakes, Scientists Find
The battle of narratives: Five new sustainability narratives for business
Mental health in the sustainability sector: Could eco-anxiety be causing climate inaction?
UN confirms 18.3C record heat in Antarctica
'Silver bullet' for business: The Aussie farmers bringing dingoes back
Pacific island of Nauru presses UN to approve deep-sea mining
This Is How You Die In Extreme Heat
Japan landslide: 20 people missing in Atami city
US-Canada heatwave: Canadian town 'burned up in 15 minutes"
COVID19
As Asian economies take on public debt to combat Covid-19, who will foot the bill?
Famed composer struggling to survive, relies on soup kitchens for meals
Desperation: Thefts shift from electronics to fish, vegetables tks Cheryl Tan
Thailand's Covid19 deaths hit new high
Pfizer says it's time for a Covid booster; FDA and CDC say not so fast tks Samantha Gayfer
Covid-19 pandemic: 'Everything you should not do, Brazil has done'
Russia offers North Korea Covid vaccines again as crisis worsens
Tokyo Olympics: Spectators largely barred as Covid emergency declared
Covid: Sydney lockdown extended as Delta outbreak spreads
The world is worried about the Delta virus variant. Studies show vaccines are effective against it.
COVID-19 Lambda Variant Deadlier Than Delta? What You Need To Know
Phuket reviews taxi rates after "Sandbox" tourists report high prices
Indonesia faces oxygen crisis amid worsening Covid surge
Phuket Sandbox
Global Politics
Boris Johnson: The Prime Etonian
Two Americans among 15 detained over assassination of Haitian President
Peter R de Vries: Shooting of investigative reporter stuns Dutch
Morrison's 'new deal' for a return to post-COVID normal is not the deal most Australians want tks Phillipa Edwards
Trump's still radicalizing his supporters at rallies just like before the Jan. 6 attack
The Memo: 'Hillbilly Elegy' author binds himself to Trump after past criticism
Haiti President Jovenel Moïse Assassinated at Home, Official Says
In full: Ong Ye Kung addresses 'false' statements on FTAs, Singapore-India CECA in Parliament
Guardian Essential poll: Scott Morrison approval drops six points during latest Covid lockdowns
It's the voters, stupid: Simon Birmingham's honesty about dishonesty exposes the sad state of politics
Trump has cut off Rudy Giuliani, and is annoyed that he asked to be paid for his work on challenging the election, book says
After Lod violence, Israeli city's residents fear for the future
A Run-In With Donald Rumsfeld When I Was In College Changed The Course Of My Life
New Oath Keeper defendant cooperating against others in major January 6 conspiracy case
Afghanistan: All foreign troops must leave by deadline – Taliban
Business and Technology
Thai Real Estate Giant Bets Big On Tourism Rebound With $3.2 Billion Growth Plan
Pentagon cancels $10bn 'Jedi' contract
Former Fox Exec Calls Network 'Poison For America' In Blistering Rebuke
Apple founder Steve Wozniak backs right-to-repair movement tks Cheryl Tan
Ever Given Container Ship That Blocked Suez Canal Sets Sail After Owner Pays Compensation
Social issues (#BlackLivesMatter) and humanity
A workspace is a workspace': Council banned staff supervising kids while working from home tks Andrew Psarianos
Mother's Searing Post Begs Exhausted Moms to Stop Making Excuses for 'Shitty' Husbands
Why be a performative Insta parent when your kids will be happy in front of the TV?
Stripped, Groped and Violated: Egyptian Women Describe Abuse by the State
Pope 'responds well' to colon surgery at Rome hospital
Bill Cosby defends TV wife Phylicia Rashad after she celebrated his release
Soul Cap: Afro swimming cap Olympic rejection could be reconsidered after backlash
Miami collapse: Remaining structure demolished over safety fears
'She was just laughing at my accent': Kyrgios-Williams combination lights up Wimbledon
Passion, humour, history
We need to have a conversation about WOMBATS tks Warwick Merry
In 1983, Isaac Asimov predicted the world of 2019. Here's what he got right (and wrong).
Astronomers Detect a Lurking Cosmic Cloud, Bigger Than The Entire Milky Way
Warrior women: New evidence of ancient female big-game hunters
UFOs: 'These objects show physics we don't understand'
Illusions of empire: Amartya Sen on what British rule really did for India
Story of Kennewick Man: From Discovery to Reburial
In 1953 a scientist predicted a man titled 'Elon' would lead humans to Mars and crown himself 'Martian Emperor'
A final friend shout out to Mack Hampson and Tess! An inspiring story and what it looks like to live in the moment and embrace the opportunities of this time.
We Launched Our Business During COVID
Let me know if anything jumped out at you?
Cheers
Andrea
Uncommon Courage – my new book – is available
You can buy it on Amazon, Apple Books, Barnes & Noble, Book Depository, Smashwords, Rakuten Kobo, and Scribd.
Do check out my new Website uncommon-courage.com.
Come and join the conversation in the Facebook Group Uncommon Courage.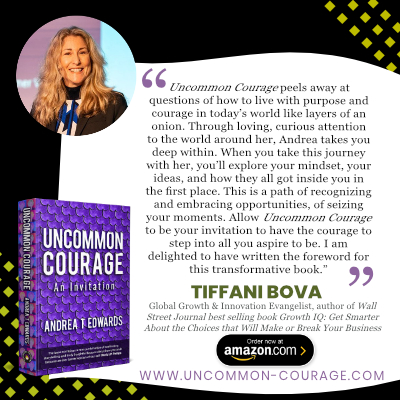 Connect with me
Website, LinkedIn, Twitter, Facebook, YouTube, Instagram, Medium, SlideShare, Amazon.
18 Steps to an All-Star LinkedIn Profile
Listed by Book Authority in the 100 Best LinkedIn Books of All Time and 22 Best New LinkedIn eBooks To Read In 2021 categories. Grab it today if you want to take your professional presence to the next level! When it comes to LinkedIn, it really is time to ask — can you really afford not to have this book in the hands of every employee?
Feedback
Have I done a great job for you? Can you write a reference on my LinkedIn profile or on my Google Business page? If not for me, why not write one for someone else who inspires you or has helped you? Join the #GivingEconomy
Check out Second Nature Social on my YouTube channel.
Want proof social leadership transforms business and attracts customers? Check out this case study with IBM Asia Pacific.