As it's World Environment Day 2021, let's look at a huge challenge – the media. One great publication which put its hat-in-the-ring early in the climate crisis, is The Guardian. It was one of the first to go all-in and they have done a fantastic job, which is why I subscribe to them – my way of supporting them for their bravery.
This article – The media is still mostly failing to convey the urgency of the climate crisis – is absolutely spot on! In fact, the damage the media is doing around many issues, but in particular the urgency of facing up to the climate crisis, is nothing short of criminal. Especially when you look at Murdoch-owned media. Heck, they've been a nightmare when it comes to Covid19 too.
The media's on-going support of climate denial impacts our ability to deal with it more than anything. They have made it political and are all about backing big businesses committing ecocide towards the environment – even when these businesses know exactly what will happen as a result.
The climate crisis is not a political issue. It's a survivability issue and we need all of the world's media to start putting this urgency on the front pages and in every story published. We also need them to help the world's population understand this crisis, because until we all get the common enemy we face, we have no chance overcoming it!
We cannot risk democratic voters electing leaders who step back on climate issues, because uninformed voters are voting for that. We need a globally informed population, who understand the issues AND the sacrifices necessary, and then we can pull together and do the urgent work needed.
Equally, the talk of war, division, separation, and more is out of alignment with the real crisis facing us right now. Did you know the United States' Military is the largest institutional emitter of greenhouse gasses in the world? Read this report if you're interested in more.
Back to the media. Here's a classic example of what I'm talking about with an article that has a very real environment story, but it's not even mentioned – Space Plane Start-up Promises One-Hour Rides to Anywhere on Earth. One can take a guess and presume that these new space planes would have supersonic emissions, but alas, not a single reference to that fact in ANY of the articles covering this story. Not one. Hello Bloomberg! Hey, I like the idea of getting anywhere in the world within an hour, but at what cost to the planet?
We are at the point where degrowth will be critical for our very survival. Everything made in the world today must be made in alignment with earth health, and our ability to survive on this planet.
Disentangling ourselves from the fossil fuel industry will be extremely complicated – even though #TheyKnew since the 50s – but recent court cases may push this forward faster. They'll fight 'til the death it seems, but it's all of our deaths on the line. The economic impact of moving away from fossil fuels will be HUGE, and if only they started earlier, we wouldn't be where we are today. No more excuses. Emissions must come down now! We have no time to lose.
However, there is another whole layer of businesses creating unsustainable crap, the sort of crap which breaks within moments of purchase. Let's strip them out of the business landscape and please, don't buy it, and don't accept crappy freebies either. We, the consumers, must make different purchasing decisions, but businesses have to lead this. It's not easy or cheap to be green. That has to stop.
So on this World Environment Day 2021, let's face up to the truth and then get to work on solving the problems. We can do it. We can.
Friend's Content
Dealing with Bad News – Self-leadership Strategies huge applause for my friend Andrew Bryant, who not only got great news that he doesn't have cancer, he decided to write his learnings while still in hospital recovering. I'm just so happy for Andrew and Andrea, as well as their kids. Big love my friends.
Donation time
And time to donate if you haven't this month. Times are desperate around the world, so please dig deep if you can. World Food Program., UN Refugee Program, PowerOf , Kiva.org, Soi Dog Foundation. If you are interested in feeding those without food in Phuket, we have a #OnePhuket WeBoon account. We'd appreciate any support you can provide.
Here's a wonderful opportunity to support Soi Dog Foundation. Doing amazing work – John's June Walking Challenge For The Dogs.
If you can afford to be generous, now is the time to help your fellow human.
Content to read
And here's the content I've been reading this last week. Scan the headlines, read the ones that jump out at you, read or watch them all. Knowledge is power, and global knowledge is even more powerful.
Climate Crisis / 6th Mass Extinction
United Nations Report Shows That Climate Change Is Accelerating
Climate tipping points could topple like dominoes, warn scientists
The media is still mostly failing to convey the urgency of the climate crisis
Climate Point: Did fire kill 10% of world's giant sequoias? And Hoover Dam at record low
Shocking study finds 10% of world's giant sequoias killed by Castle Fire
Largest Eagles in the World Are So Big That Their Talons Are Bigger Than Bear Claws
Authorities on alert as elephants' 500km trek nears Chinese city
17-foot great white shark's mysterious disappearance takes odd turn in mid-Atlantic
Landmark ruling: All companies must act against climate change – Friends of the Earth Netherlands versus Royal Dutch Shell
Sri Lanka ship fire finally extinguished; S'pore shipping firm to be sued for marine pollution
The 2050 Climate Pledge Cop-Out
Fears of environmental disaster as oil-laden ship sinks off Sri Lanka
Alaska: Biden to suspend Trump Arctic drilling leases
The Time Has Come to Rein In the Global Scourge of Palm Oil
Nasdaq acquires majority stake in carbon removal startup Puro.earth
Climate Change Effect – Plant Not Seen For 60 Million Years Revived
Taiwan Prays for Rain and Scrambles to Save Water
A climate-wrecking partnership: Marsh McLennan and Adani coal tks Susanna Hasenoehrl
Natural disasters occurring three times more often than 50 years ago: new FAO report
Climate change will cost a young Australian up to $245,000 over their lifetime, court case reveals
Trees Fell Faster in the Years Since Companies and Governments Promised to Stop Cutting Them Down
Pacific Northwest's 'forest gardens' were deliberately planted by Indigenous people
Why ramping up renewable hydrogen is key to solving the climate crisis tks Tony Blackie
Simple atmospheric dynamics foretell dangerously hot future for the tropics
Potentially Fatal Combinations of Humidity and Heat Are Emerging Across the Globe
Traditional farming techniques could help end global hunger, says the UN. Here's how
Johan Rockström: 'We need bankers as well as activists… we have 10 years to cut emissions by half'
Big Setbacks Propel Oil Giants Toward a 'Tipping Point'
Working together to accelerate ocean innovation
Global Warming 1900-2100 by Country
COVID19
A Return to Normal? Not for Countries With Covid Surges and Few Vaccines.
Why has Victoria had to endure so much psychopathic commentary during the pandemic? tks Phillipa Edwards
Phuket Reopens to Vaccinated Tourists in July — and the Hotel Rooms May Be As Low As $1 a Night
Covid Victoria: State extends lockdown to curb outbreak
Covid: Peru more than doubles death toll after review
Coronavirus: The Indian children orphaned by Covid-19
Coronavirus: few vaccines prevent infection – here's why that's not a problem
As Covid Rampages Across Nepal, Workers Pay the Price
Vietnam detects hybrid of Indian and UK COVID-19 variants tks Kevin Cottam
I got out of Australia to be with my dying mother. But thousands remain in limbo
Global Politics
G7: Rich nations back deal to tax multinationals
G7: Rich nations confident on reaching tech tax deal
Brazil: Protesters blame Bolsonaro for Covid crisis
Cardinal George Pell: Australian media fined A$1.1m over trial reports
Could phone footage put Myanmar's leaders in jail?
Xi Jinping calls for more 'loveable' image for China in bid to make friends
Trump SHUTS DOWN his website From The Desk of Donald Trump after just 29 days because he 'didn't like it being mocked and having so few readers'
Bird flu: China sees first human case of rare H10N3 strain
Why are people talking about Dr Anthony Fauci's emails?
Former VP Mike Pence: Trump and I may never 'see eye to eye' on Jan. 6 Capitol attack
More Than 100 Scholars Issue Warning That American Democracy Is In Danger, Call For Federal Reforms
India-China border: Blogger jailed for 'slandering' soldiers who died in clash
Death of QAnon Follower at Capitol Leaves a Wake of Pain
China allows three children in major policy shift
Hundreds more Afghans and their families to be allowed to settle in UK
Boris Johnson marries Carrie Symonds at Westminster Cathedral
Don't take on China alone, says ex-Australia PM Kevin Rudd
North Korea says orphan children volunteering on mines and farms
Business and Technology
The Book of Why: Exploring the missing piece of artificial intelligence tks Shalaka Verma
Space Plane Startup Promises One-Hour Rides to Anywhere on Earth
JBS: Cyber-attack hits world's largest meat supplier
What executives are saying about the future of hybrid work tks Sue Pulendran
Agency worker's LinkedIn rant about 'picky' staff leads to job offers
Over 60% Of Nestlé's Products Are 'Unhealthy' & The Food Giant Knows It, According To Leaked Documents tks Susanna Hasenoehrl
Studies likely to be wrong have 153 more citations
Social issues (#BlackLivesMatter) and humanity
Malala Yousafzai's Interview In 'British Vogue' Sparks Anger In Her Native Pakistan
'Cruella' Designer Snubbed Over Licensing, Costume Designers Guild Decries 'Unfair Practices' (EXCLUSIVE)
Both dads hope their birth video helps normalize gay parenting for the better
Brittany Higgins: Australia rape accuser in hospital amid 'pressure'
Kate Winslet shows there's more to middle age than a saggy belly tks Aysen Yilmaz
Venus Williams 'Drops The Mic' With Fiercely Honest Take On Naomi Osaka Situation
Podcast The Michelle Obama Podcast with Barrack Obama
Dallas High School Valedictorian Scraps Approved Speech to Speak Out Against State's Extreme Anti-Choice Law tks Gina Giachetti
Rhode Island teen buys contents of storage units at auction to return to owners
Naomi Osaka withdraws from French Open & reveals 'bouts of depression'
Hollywood Loses $10 Billion A Year Over Lack Of Black Representation tks Arishta Khanna
'So damn impressive': Celebrities stand with Naomi Osaka after French Open exit
Podcast 206 – Narcissism You Are Not So Smart Podcast
The 7 types of rest that every person needs
'He was a predator': Julianna Margulies on her troubling encounter with Steven Seagal
Spain's postal service introduces skin-tone stamps to fight racism — and makes the whitest one the most valuable
The Benjamin Franklin Effect: The Surprising Psychology of How to Handle Haters
Who Decides Where Home Is? After 17 Years, A Long Time Immigrant Reflects on Leaving Singapore tks Wayne Chan
When the Narcissist is the Parent.
Passion, humour, history
New dark matter map reveals cosmic mystery
Friends reunion: the one where China censors its guest stars
Scientists unearth Africa's oldest burial: a small child, laid to rest 78,000 years ago
Designer uses AI to bring 54 Roman emperors to life
Send in the Bugs. The Michelangelos Need Cleaning.
Man saves two lobsters from the pot after 'one in a billion' sighting at market
Mysterious Mound in Syria May Be Oldest War Memorial in the World, Archaeologists Say
Weird dreams train us for the unexpected, says new theory
Menopause Rhapsody – Bohemian Rhapsody Parody Song for every Queen
So what did you enjoy reading or watching this week?
Cheers
Andrea
Uncommon Courage launching June 10th 2021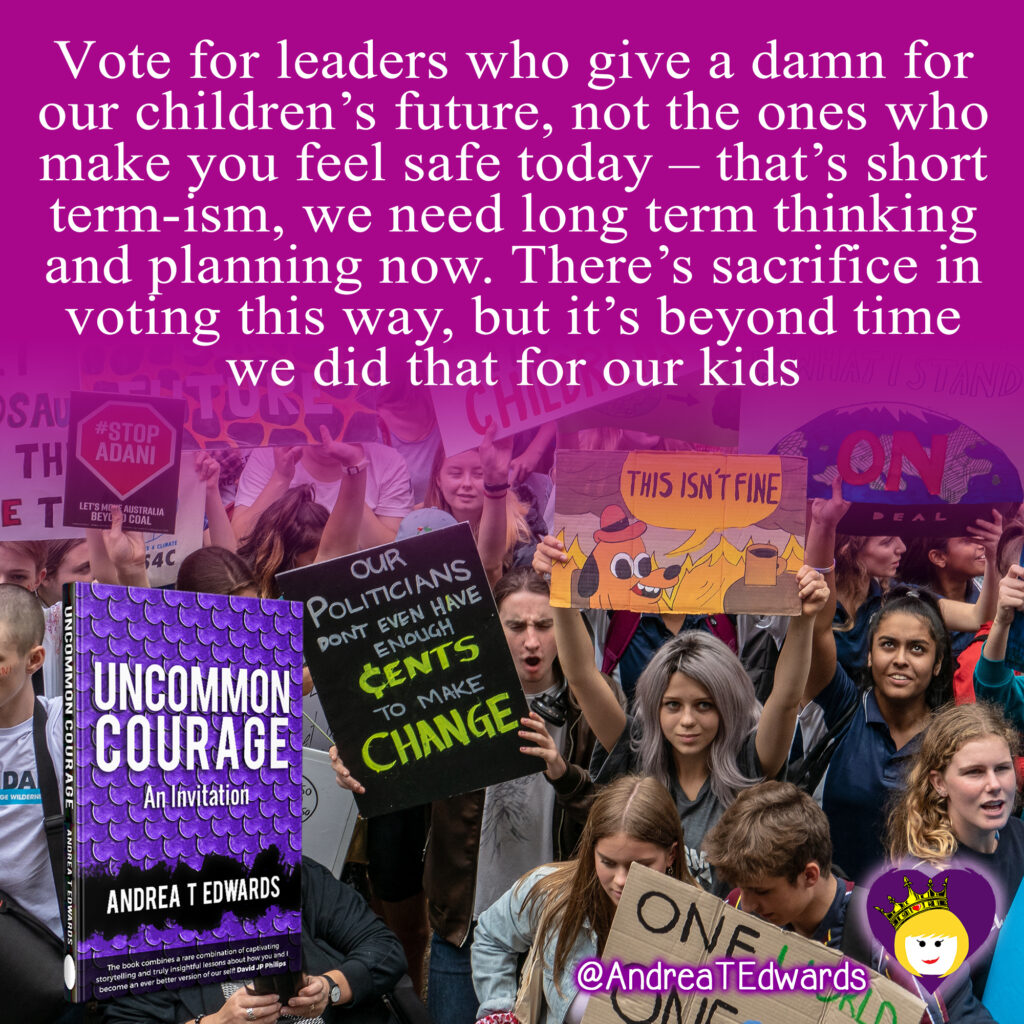 18 Steps to an All-Star LinkedIn Profile
18 Steps to an All-Star LinkedIn Profile is listed by Book Authority in the 100 Best LinkedIn Books of All Time and 22 Best New LinkedIn eBooks To Read In 2021 categories. Grab it today if you want to take your professional presence to the next level!
When it comes to LinkedIn, it really is time to ask — can you really afford not to have this book in the hands of every employee?
Connect with me
Have I done a great job for you? Can you write a reference on my LinkedIn profile or on my Google Business page? If not for me, why not write one for someone else who inspires you or has helped you? Join the #GivingEconomy
Check out Second Nature Social
This is a new series, designed to help beginners get up to speed with everything necessary on social media. Follow my YouTube channel and see the latest.
Are you a Social CEO?
I'm proud to be a contributing author to The Social CEO: How Social Media Can Make You A Stronger Leader. You can order it on Amazon today.
Want to claim your stage?
Check out our co-authored Best Selling Book – Unleash Your Voice – Powerful Public Speaking for Every Woman – proud to be part of this too!
Want proof social leadership transforms business and attracts customers?
Check out this case study with IBM Asia Pacific. Incredible results.
Want to be a super star online?
Don't know where to start, check out my e-learning course How to build a rock star personal brand today.
I believe it's time for all of us to embrace our voice and embrace the future. We do this by working and living 'out loud' with meaning, intention, integrity and by being true to ourselves. If you own your voice, you own your future.