When we were in lockdown this time last year, I was determined to do the biggest home clean out I've ever done, but it didn't happen. I was disappointed in myself too. But here we are in lockdown number three (another serious one), and well, I'm not going to miss this opportunity again. My family loves it – not!
Anyhoo, I've moved countries eight times, give or take, and there are boxes that keep coming with me, because I just never seem to find the time to sort it out. No more, I am sorting it out and do you know what I keep finding? Electrical cables for every piece of technology I've ever owned, kept just in case we needed them! Well we don't. No one does.
So for businesses, a couple of take-aways and easy-to-do changes in the supply chain
Paper manuals in multiple languages should be a thing of the past – go fully digital and save trees
Electrical cables. Rather than putting every variation possible in the box, why don't you put country specific plugs in? You can make the others available as a separate purchase. I appreciate this makes it easier for your business, but our landfills are testament to the crisis being created. NO UNECESSARY EXCESS ANYMORE PLEASE
CDs are useless, THEY have been for a long time and should not be packed in any tech anymore. If you have some country markets where they are still relevant, sure, no problem. But a country with high digital penetration is not using CDs
Excess packaging in the boxes, such as plastic, plastic bags of air, cardboard, styrofoam, and more, should all be part of history. Look into mushroom packaging and other sustainable options please
The overall excess packaging of products needs to be addressed, and if you're shipping products with a whole lot of air in the boxes – air typically stuffed with plastic like bubble wrap – well time for new designs. Let's cut out waste across every area of our businesses
All of the above would save trees, reduce plastic consumption, and help with the amount of e-waste in the world. We have to get conscious of zero excess in everything sold today. Consumer tech can do a lot to help, and it requires a transformation of how you do the packaging.
A final point for business. It was time for end of year books these last couple of weeks too – always fun! So here's a simple request. Please make all of your receipts printable as one page? So many companies have two or more pages printing out, and a receipt can always fit on one page.
Yes I still have to print receipts, and I'd be very happy if all of my vendors gave me a single page.
Friends content
What Would be The Preferred Management Styles of Your Ideal Boss? C.J. Ng published this article and I loved it. First he's used LinkedIn polls intelligently and drawn great conclusions from the data, but he also looked at cultural differences too. Nice job.
Be Generous
Yes I am going to ask you to donate every week, because there is so much need in the world right now. If you can afford to, please donate. My suggestions, World Food Programme, UN Refugee Program, PowerOf , Kiva.org, Soi Dog Foundation. If you can afford to be generous, now is the time to help your fellow human.
Content to read
And here's the content I've been reading this last week. Scan the headlines, read the ones that jump out at you, read or watch them all. Knowledge is power, and global knowledge is even more powerful.
Climate Crisis / 6th Mass Extinction
Climate Crisis – 710 Million Children Live In Countries At High Risk – tks Nicola Upham
I've spent 8 years campaigning for the oceans: here's what I wish more people understood
Surface air temperature for April 2021
These climate-friendly microbes recycle carbon without producing methane
Climate Point: Government declares hot is the 'new normal'
Glacial lakes threaten millions with flooding as planet heats up
Cutting the unexpected carbon culprits in your life
What hydrology can tell us about climate change in Central Asia
Ikea starts buy-back scheme offering vouchers for old furniture tks Mike Barry
UK supermarkets warn Brazil over Amazon land bill
'Tsunami' of renewables to sweep gas and coal out of market, and drive prices lower
As glaciers disappear in Alaska, the rest of the world's ice follows
Land Projected To Be Below Annual Flood Level In 2050
Sea Levels Could Rise Even More Than Feared As Antarctic Ice Sheet Melts
Then and now: When silence descended over Victoria Falls
'Nature is hurting': Gojira, the metal band confronting the climate crisis
Antarctic 'doomsday glacier' may be melting faster than was thought
There is hope for South-East Asia's beleaguered tropical forests
The Senate Reinstates Methane Emissions Regulations Rolled Back by Trump, Marking a Clear Win for Climate Activists
The EPA Calls an Old Creosote Works in Pensacola an Uncontrolled Threat to Human Health. Why Is There No Money to Clean it Up?
This Wind-Powered Super Sailboat Will Carry 7,000 Cars Across the Atlantic
COVID19
PM: India coronavirus variant must be 'handled carefully'
Millions Are Saying No to the Vaccines. What Are They Thinking? tks Lavinia Thanapathy
Covid: US backs waiver on vaccine patents to boost supply
'I am OK': COVID-positive Hussey to remain in India as exit confirmed for other Australians
Researchers are closing in on long covid
Rising Phuket Covid-19 infections may cause ICU shortage
Covid: Reused nose swab scam busted in Indonesia airport
Covid cases at Everest base camp raise fears of serious outbreak
Singapore ranks 4th out of 28 in world with most number of B1617 Indian variant cases tks Wayne Chan
Federal government acted alone on jail time and fines for India returns, top medical official says
India sets pandemic record with more than 400,000 new cases; Fauci says crisis is 'like a war' tks Denise Chai
People in England urged to be patient amid reports hugging may soon be allowed
Global Politics
China does not want war, at least not yet. It's playing the long game
Zulu Queen: Mantfombi Dlamini-Zulu buried amid succession row
The Morrison Government should help stranded Australians, build quarantine stations, and stop wanking on desks tks Phillipa Edwards
'We are witnessing a crime against humanity': Arundhati Roy on India's Covid catastrophe
Trumps slams Facebook decision to uphold ban as 'disgraceful'
Facebook's Trump ban upheld by Oversight Board for now
Do You Live in a Political Bubble? tks Barry Graubart
India elections: Modi party defeated in West Bengal battleground
Business and Technology
SPH CEO Ng Yat Chung 'takes umbrage' at reporter's 'editorial integrity' question tks Wayne Chan
Pointed letter from retiring cleaner to 'aggressive & cruel' manager goes viral
Biotech Company Officially Unleashes Gene-Hacked Mosquitoes in Florida
Persuading the Body to Regenerate Its Limbs
The rise of womentech: Do we really need more technologies for women?
'Space station on Earth': plans for nuclear-powered superyacht for billionaire travellers tks Shaun Mcewan
The US Air Force Quietly Admits the F-35 Is a Failure
'So many are unethical': Influencers forced to face up to the rules of advertising
Space tourism—20 years in the making—is finally ready for launch
In Stunning Reversal, Nasa Halts $2.9 Billion Contract With SpaceX
War of the Rineharts: How succession to Lang's iron ore throne 'may tear it all apart'
Shock and Tears: Behind Vanguard's Retreat From China Market
Social issues (#BlackLivesMatter) and humanity
'Brotherhood' that rallies in support of Hayne is the domain of disgraceful cowards tks Shaun McEwan
Brazil violence: Rio police accused by residents of abuses in raid
The Study That Debunks Most Anti-Abortion Arguments
Ghislaine Maxwell trial: Prince Andrew aligns himself with disgraced banker
A giant piece of space junk is hurtling towards Earth. Here's how worried you should be tks Willie Wahlin
In a NASA simulation of an asteroid impact, scientists concluded they couldn't stop a space rock from decimating Europe
A Badass Manifesto for all the Women over 40.
The power of conformity: How good people do evil things
Women Over 50 Are Having A Moment
My son has ADHD and he's not a creepy piece of shit like Andrew Laming
Child sexual abuse: Four held in German-led raid on huge network
Why Companies Should Engage with Activists
Passion, humour, history
Geoff Crowther, 77, Dies; Guided Travelers Looking to Get Lost
Legend Of The Nine Unknown Men: They Keep The Secrets Of The World
It Looks Like America's First People Were Island Hoppers
Mysterious Map Emerges at the Dawn of the Egyptian Civilization and Depicts Antarctica Without Ice – Who Made it?
Arkaim: Aryans, Advanced Astronomy and Untold Secrets of a Russian Citadel
Meteorite Found in Siberia Contains Naturally Impossible Crystal
World War I relics revealed as melting ice in Italian Alps uncovers century-old barracks
A Chinese 'auntie' went on a solo road trip and now she's a feminist icon
'Time traveller from 2582' claims Earth will soon descend into three days of darkness
Canadian sign war captivates the internet
The Templar Tunnel: Knight's Strategic Passageway Was Lost for 700 Years
Bill and Melinda Gates divorce after 27 years of marriage
Olympia Dukakis: Moonstruck and Steel Magnolias star dies aged 89
A Non-Hiker's Terms and Conditions for Hiking
Let me know if anything jumped out at you?
Cheers
Andrea
Coming soon – Uncommon Courage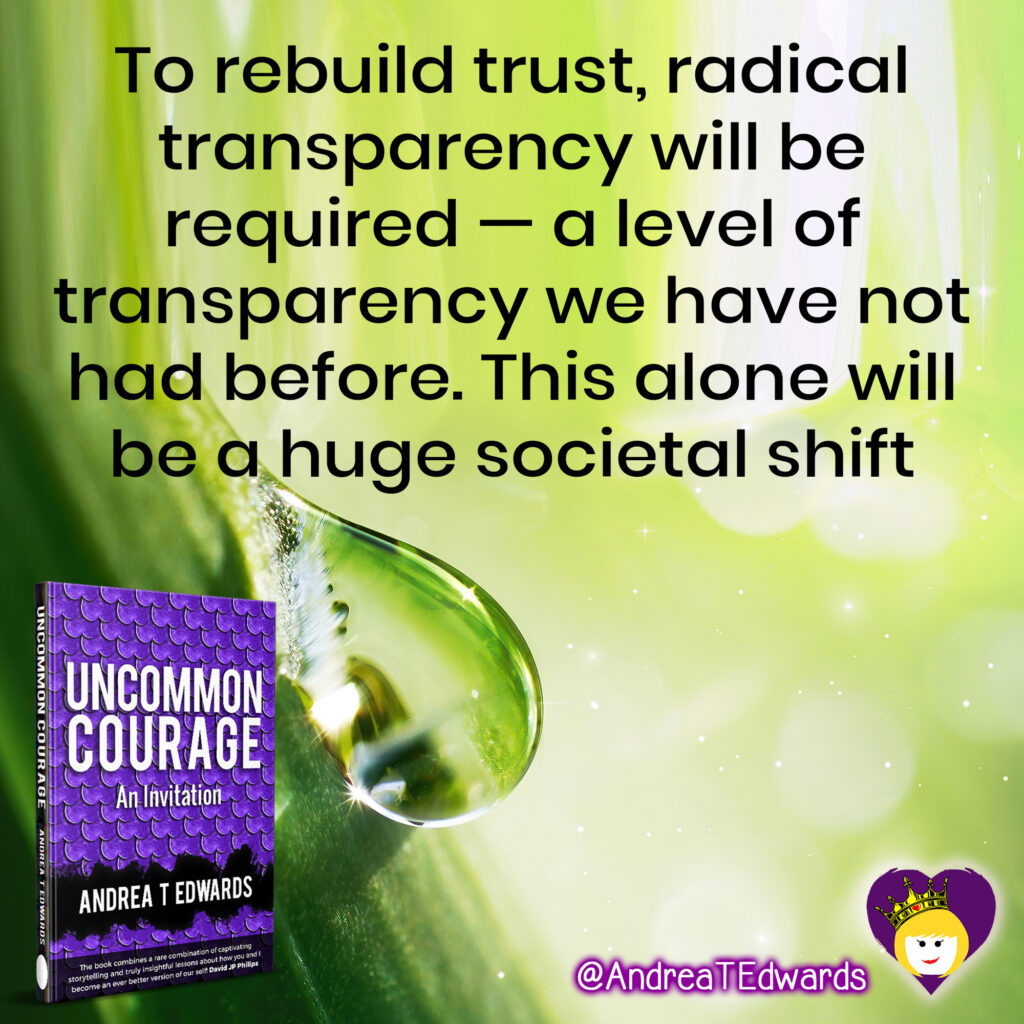 18 Steps to an All-Star LinkedIn Profile
18 Steps to an All-Star LinkedIn Profile is listed by Book Authority in the 100 Best LinkedIn Books of All Time and 22 Best New LinkedIn eBooks To Read In 2021 categories. Grab it today if you want to take your professional presence to the next level!
When it comes to LinkedIn, it really is time to ask — can you really afford not to have this book in the hands of every employee?
Connect with me
Join my new Facebook Group Uncommon Courage.

Check out my regularly updated Environment References blog.
Have I done a great job for you?
Can you write a reference on my LinkedIn profile or on my Google Business page? If not for me, why not write one for someone else who inspires you or has helped you? Join the #GivingEconomy
Check out Second Nature Social
This is a new series, designed to help beginners get up to speed with everything necessary on social media. Follow my YouTube channel and see the latest.
Are you a Social CEO?
I'm proud to be a contributing author to The Social CEO: How Social Media Can Make You A Stronger Leader. You can order it on Amazon today.
Want to claim your stage?
Check out our co-authored Best Selling Book – Unleash Your Voice – Powerful Public Speaking for Every Woman – proud to be part of this too!
Want proof social leadership transforms business and attracts customers?
Check out this case study with IBM Asia Pacific. Incredible results.
Want to be a super star online?
Don't know where to start, check out my e-learning course How to build a rock star personal brand today.
I believe it's time for all of us to embrace our voice and embrace the future. We do this by working and living 'out loud' with meaning, intention, integrity and by being true to ourselves. If you own your voice, you own your future.