It's 52 weeks of sharing my weekend reads and that's gets a happy one year anniversary!! I have been so pleased by my community telling me they really value this content. Thanks for the support. It is my pleasure to deliver this.
I started doing this with the intention of helping people navigate the Infodemic, which was caused because we were in a pandemic. Then we had other challenges arise – like the #BlackLivesMatter moment – which spurred another Indodemic and I don't think we'll be getting to the end of this challenge in my lifetime. I wish it was different, but it's not.
I appreciate that most are not as voracious as me when it comes to reading the news and information circulating the globe. I also know most can't navigate it as easily as I can. We all have our talents, but when it comes to peace of mind, you're probably saner than me ?!
However, with so much hanging in the balance for our world – from the pandemic, to equality and diversity challenges, to the climate crisis and so much more – knowledge is so important. We are living in the knowledge economy, and I want to help my community navigate that! It's why I do it.
I watch the chaos and appreciate it makes it hard for good people to see straight. I'm doing my best to help and offer balance too. I read opposing views and share them here. I don't offer opinions, because the truth is, you can see where I stand by what I read, as well as the publications that regularly show up. The opinion is in all of it!
I want to thank my wonderful virtual assistant, Priscilla Joseph, for helping me deliver these every week. I was cutting and pasting everything at the start, and it was incredibly time consuming. So I asked Priscilla if she would mind doing it. Of course she said yes.
But getting the links to her was challenging, so she set up a WhatsApp Group, and I share with her there in real-time. That means I'm constantly popping up on her phone, all hours of the day and night, and she says – it's fine. I don't mind! Sometimes she even shares articles back. Love it!
Thank you Priscilla. You are so patient! Especially with all of the accidental calls in the mix too ?. You must tell me when you've had enough!! Promise?
Friend's Content
Podcast: In Conversation – Niklas Myhr – The Social Media Professor great podcast by my pal Niklas Myhr! Have a listen. Terrific ideas and tips for anyone wanting to do better at social media.
Podcast: How To Speak Bad English and another pal doing a superb job – Heather Hanson. I really love this message. Even as an Australian it's hard to be understood, but the idea of all of us speaking English as a first language learning how to listen harder, is spot on!
Give!
Please donate wherever you can. There is so much need in the world right now. People are suffering terribly, from Covid and from the economic fall-out.
Some suggestions are World Food Program, UN Refugee Program, PowerOf , Kiva.org, Soi Dog Foundation and there are so many more. If you can afford to be generous, now is the time to help your fellow human.
Content to read
And here's the content I've been reading this last week. Scan the headlines, read the ones that jump out at you, read or watch them all. Knowledge is power, and global knowledge is even more powerful.
Climate Crisis / 6th Mass Extinction
Burning Iron for Fuel Sounds Crazy. It's Also the Future.
German climate change law violates rights, court rules tks Andor Hampala
Aluminium: A barometer for China's green recovery
Hey, methane leakers: Now we know where you live
Climate Point: Earth shifts on its axis and Nestle doesn't have right to forest water
Climate crisis has shifted the Earth's axis, study shows
Thousands of barrels of suspected toxic DDT found dumped in California ocean
'Insanely cheap energy': how solar power continues to shock the world
Do you know where plastic waste in the oceans is coming from?
Earth Looks Like A Living Creature In This Amazing NASA Video
Scientists: Mass Extinction Is Coming as Organisms Flee the Equator
Gas prospects lose steam as renewables gather pace
Stalemate: sustainable palm oil struggles to take off in China
Ice age: Franz Josef Glacier loses 1km within 10 years
How 7 European cities are going circular
Impossible cosmic rays are shooting out of Antarctica
Plastic pollution disproportionately hitting marginalised groups, UN environment report finds
The Speed of Ocean Currents Is Changing in a Major Way, Scientists Warn
Climate Point: New dinosaurs discovered on Earth. Is life on Mars next?
Climate scientists debunk 13 myths about global warming
Will India get too hot to work?
This Map Lets You Plug in Your Address to See How It's Changed Over the Past 750 Million Years
Climate Research Station Closes Due to Climate Crisis
COVID19
Why India's Covid crisis matters to the whole world
Covid: Australians could face jail or fines if they return from India
India's COVID-19 Crisis Is Spiralling Out of Control. It Didn't Have to Be This Way
Faith, Freedom, Fear: Rural America's Covid Vaccine Skeptics
India's Covid crisis: 'I lost my unborn child and wife on the same day'
'A horror story on repeat': India's Covid crisis
One Son's 48-Hour Fight to Save His Parents
Phuket Was Poised for Tourism Comeback. A Covid Surge Dashed Those Hopes.
The Guardian view on Modi's mistakes: a pandemic that is out of control tks Sash Chatterjee
Covid-19 in India: Patients struggle at home as hospitals choke
"We Are Hoarding": Why the U.S. Still Can't Donate COVID-19 Vaccines to Countries in Need tks Barry Graubart
The Anguish of the World's Doctor
MIT researchers say time spent indoors increases risk of Covid at 6 feet or 60 feet in new study challenging social distancing policies tks David Lim
Global Politics
'Australia needs more Jesus' says PM who would have Jesus locked up if he came here tks Phillipa Edwards
Biden speech: Are Americans happy with Biden's first 100 days?
Biden's 100-day stock market performance is the hottest going back to the 1950s tks Denise Chai
'Crisis into opportunity': Biden lays out vision for sweeping change in speech to Congress
'Sleaze' doesn't capture it: Boris Johnson is utterly careless of everyone but himself tks Damian Corbet
Biden 100 days: What we all got wrong about him
Fox host Larry Kudlow rages that Biden's climate plan will force Americans to drink 'plant-based beer' tks Bear Vega
Reactions to Biden's recognition of Armenian 'genocide' tks Damian Corbet
Scott Morrison tells Christian conference he was called to do God's work as prime minister tks Willie Wahlin
Alan Kohler: Scott Morrison, the Murdochs and the crime of the century tks Phillipa Edwards
Business and Technology
How boards have risen to the COVID-19 challenge, and what's next
Samsung heirs to pay billions, donate Picasso works to settle tax bill
We're Finally Learning What Kind Of Cargo Is Stuck In The Ever Given's 18,000 Containers But Its Fate Is Unknown
Four times a year in the office: Atlassian goes all in on WFH
Does Capitalism Need a Soul Transplant? tks Paul Dunn
Google Earnings Smash Sales Records as Digital Ad Market Booms
Female tradies reach for the top of the world
AoT forced to borrow for first time tks Shaun Stenning
Social issues (#BlackLivesMatter) and humanity
Stacey Abrams Has Been Nominated For A Nobel Peace Prize
Deadly Stampede at Israeli Religious Festival Followed Years of Warnings
The invention of whiteness: the long history of a dangerous idea
Gymnasts make stand against leotards: 'We are not here to parade our bodies around'
Xernona Clayton: the civil rights legend who befriended a KKK leader – and changed his mind tks Rebecca Kynaston
10 men taken to hospital after accident on Upper Bukit Timah Road; second lorry crash in 4 days tks Meera Jane Nava
Passion, humour, history
Researchers demystify the secrets of ancient Aboriginal migration across Australia
Submariners face huge challenges underwater – where there's no margin for error
Terrified kayakers discovers a deadly stonefish – the world's most venomous fish which can kill in an hour – while paddling down a river
Astonishing Moment Humpback Whale Saves A Woman From A Shark Attack
Nomadland wins best picture Oscar as Chloé Zhao makes history with best director win
Oscars 2021: 13 major red carpet looks from the Academy Award
Let me know if anything jumped out at you?
Cheers
Andrea
18 Steps to An All-Star LinkedIn Profile
This book is the starting point for LinkedIn success. It has everything you need to reach All-Star!! You can buy it on Amazon.com Amazon.co.uk Amazon.in and Flipkart. It's also available as an eBook on Amazon Kindle, Kobo, Google Play and iBooks.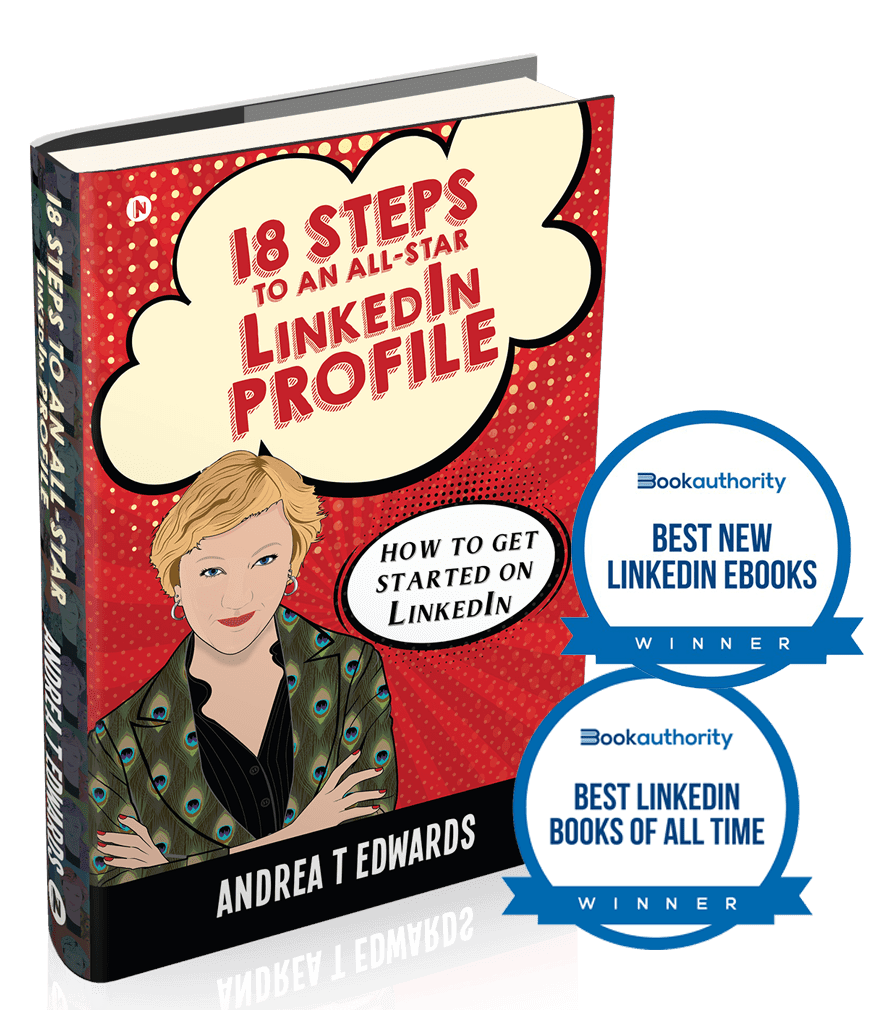 Check out Second Nature Social
This is a new series, designed to help beginners get up to speed with everything necessary on social media. Follow my YouTube channel and see the latest.
Connect with me
Website, LinkedIn, Twitter, Facebook, YouTube, Instagram, Medium, SlideShare, Amazon.
Join my new Facebook Group Uncommon Courage.
Check out my regularly updated Environment References blog.
Have I done a great job for you? Can you write a reference on my LinkedIn profile or on my Google Business page? If not for me, why not write one for someone else who inspires you or has helped you? Join the #GivingEconomy
Are you a Social CEO?
I'm proud to be a contributing author to The Social CEO: How Social Media Can Make You A Stronger Leader. You can order it on Amazon today.
Want to claim your stage?
Check out our co-authored Best Selling Book – Unleash Your Voice – Powerful Public Speaking for Every Woman – proud to be part of this too!