In Australia, we are seeing mass protests because women are being raped and sexually abused by those in the highest halls of power. In the UK a young lady was murdered walking home at night, potentially by a police officer, and the British people are rising up and saying no more. In France, they're protesting, because apparently it's OK for firemen to rape women. And then this week, a white man kills eight spa workers in Atlanta, USA, six of them Asian women – apparently to solve his sex addiction!
If you have Asian friends on social media, especially those living and raised in the West, they are sharing their stories, and all I can say is it's revolting what Asian women have to endure. It's revolting what all Asian's are experiencing at the moment, especially in America. Words matter! But the absolute disrespect towards Asian women is something that must stop. I can't even comprehend how any man thinks this way towards another human being.
All of this makes me reflect on something I have been thinking about for a very long time, and that is, if we really want to overcome these issues and get to true equality, then women MUST unite, across all cultures, races and religions.
When we vote for men who have no respect for women, but especially when it is women who are different to us, we are not supporting our sisters. When we continue to stand with our male allies in their social or political siloes, excusing abhorrent behaviours towards our sisters, we are not supporting our female community.
Divide and conquer has worked throughout history, and ladies, we are divided. When white women turn a blind eye to oppression of their coloured sisters, we are letting down the sisterhood.
The irony is that when we do this, we allow ourselves to continue to sit in an inferior position to those men too! It's not better for us, and for those most oppressed in our societies, well they have it much harder. We truly are letting them down, but I believe we're also letting ourselves down.
Ladies, in a world full of Bro Culture, it's time for us to come together and speak up for all women. It is time for us to say we do not accept any women being held back, demonized, ridiculed, abused, raped or sold into slavery. It is time for us to say no to patriarchy in all the forms it holds any of us back.
As a white woman, I have privilege in the world, and I see it as my duty to align with all women and equally, all men who understand that when we rise together, all are better off. So my sisters and brothers, are you with me?
Will you stop voting for misogynists, racists and war-mongers?
Will you stop supporting political parties, religious institutions, businesses, community organisations and more who hold all or some women back?
Will you speak up on the issues that matter and defend your sisters, wherever they are, whatever they look like?
And when we come together, let's make sure we extend that support to all who are being held back and victimized. If women and minority groups around the world came together, we have the potential to create a new and better world – because we have the greater numbers! If we stand together, we can lead our world into a new future, and we so desperately need that. Are you in?
Friends content
Hedvig Lyche launches 'new model' sustainability consultancy Petrichor Planet – congrats to Hedvig on the launch! Excited to see how this business grows and if anyone can make an amazing impact, Hedvig can!
Also Unconventionally: The Life-Saving Mission of Qin Yunquan again from the talented Gina Romero. Pay attention to what she's doing, especially if you're looking for new ideas, insights and opportunities.
And I wrote this blog Join the #Just10Percent movement and let's create a new future this week. A simple thing everyone can do, even children. Donating just 10 per cent of your time, money, talents or voice to making the world a better place, and right now, taking care of those in desperate need. Join me?
Charity
Before you scroll, please, if you can donate, donate, donate!!! Some suggestions World Food Program., UN Refugee Program, PowerOf , Kiva.org, Soi Dog Foundation. If you can afford to be generous, now is the time to help your fellow human.
Content to read
And here's the content I've been reading this last week. Scan the headlines, read the ones that jump out at you, read or watch them all. Knowledge is power, and global knowledge is even more powerful.
Climate Crisis / 6th Mass Extinction
Submarine Permafrost Has Been Overlooked as a Major Source of Greenhouse Gases, Scientists Warn
What I've Learned From the Pandemic Year
Plummeting sperm counts, shrinking penises: toxic chemicals threaten humanity
A Large PR Firm Pledged To Fight Climate Change. Then It Took Millions From A Notorious Fossil Fuel Trade Group.
Why Hollywood struggles to tell stories about climate change
Work halted on $49M-per-mile border wall through California's Jacumba Wilderness. Now what?
Nebraska declares pro-meat day to rival Colorado's meatless day
Long-lost Core Drilled to Prepare Ice Sheet to Hide Nuclear Missiles Holds Clues About a Different Threat
A Leadership Brief on Mitigating Climate Change tks Damian Corbet
Low-income and Latino neighborhoods endure more extreme heat in the Southwest, study shows
NASA Scientists Complete First Global Survey of Freshwater Fluctuation
People love Greta Thunberg's subtle (but brutal) trolling of Priti Patel over the Policing Bill
New Delhi is world's most polluted capital for third straight year: IQAir study
Can the law fight climate change? tks Richard Knight
Phuket officials warn public of crocodile spotted near Chalong pier
Is the Southern Ocean absorbing or emitting carbon dioxide?
COVID19
Statement of the WHO Global Advisory Committee on Vaccine Safety (GACVS) COVID-19 subcommittee on safety signals related to the AstraZeneca COVID-19 vaccine
Vaccines could prevent asymptomatic infection. Here's why that's key to ending the pandemic. tks Bob Hooey
Covid: Rich states 'block' vaccine plans for developing nations
Covid: From boom to bust – why lockdown hasn't led to more babies
Could a universal coronavirus vaccine future-proof our response? tks Francine Varner
Covid-19 disruptions killed 228,000 children in South Asia, says UN report
For Communications Pros, The Recovery Will Be Different
AstraZeneca Vaccine Fails To Protect Against The South African Variant, Says Study
Covid-19 pandemic: Trump urged to encourage supporters to get jabs
Covid childcare crisis reversing decades of women's economic progress tks Francine Varner
Phuket COVID-19 vaccinations begin
AstraZeneca vaccine: EU regulator 'firmly convinced' benefits outweigh risks
'Like being hit with a cricket bat': A doctor's battle with long COVID tks Francine Varner
Global politics
Supreme Court to Review Trump-Era Policies on Family-Planning Funding, Immigration
Senate votes to confirm Deb Haaland as first Native American Interior secretary
Biden plans 1st major tax hike since 1993, report says
Georgia Sheriff Spokesman Posted Racist COVID Shirts on Facebook tks Barry Graubart
FBI facing allegation that its 2018 background check of Brett Kavanaugh was 'fake'
SBS suspends Chinese-sourced news programming after receiving human rights complaint
Paul Bongiorno: A sorry moment for the Prime Minister tks Phillipa Edwards
SAY NO TO THE REPUBLICAN RECALL
Stimulus Bill as a Political Weapon? Democrats Are Counting on It.
Police Shrugged Off the Proud Boys, Until They Attacked the Capitol
US – China conflict 'more likely' than five years ago, says Singapore PM.
Please listen to this. When the Prime Minister of Singapore, Lee Hsien Loong, speaks, it is always a beautiful example of diplomacy. He covers the issues of our time in an honest and delicate way, but the underlying message is critical to understand
Business and Technology
Lamborghini's profits soar during Covid
Facebook to pay News Corp for content in Australia
IBM's First-Ever African Female Regional Executive Angela Kyerematen-Jimoh: How to Succeed While Staying True to Yourself
A fresh publishing study argues that paid digital subscriptions are the only avenue to growth
Winners, losers and fallout from Google's plan to drop cookies
Social issues (#BlackLivesMatter) and humanity
Please check out this site – HateIsAVirus
The ex-Pfizer scientist who became an anti-vax hero
Suspect in Atlanta Spa Attacks Is Charged With 8 Counts of Murder
Elliot Page Is Ready for This Moment tks Sharryn Lydall-Smith
Leigh Sales asks why powerful who abuse trust keep getting away with it tks Graham Harvey
When depression wears a smile, even psychiatrists like me can be deceived tks Maggie Georgopolous
Mozambique insurgency: Children beheaded, aid agency reports
By breaking the silence about patriarchy, men can help end violence against women
Pastors Are Leaving the Pulpit as QAnon Radicalizes Their Flocks
Elderly Asian woman in her 70s beats up her Caucasian attacker, 39, with piece of wood found on road tks Wayne Chan
US Border: Risking everything for an American dream
REIMAGINE SAFETY A project of the Editorial Board, in conversation with outside voices tks Denise Chai
Atlanta shootings: Asian women among eight killed at three spas
'Killing Amy wasn't a loss of control. He had it in him before'
Women Aren't Nags—We're Just Fed Up tks Cheryl Tan
A woman's life doesn't end at 40 – so why does society make us feel that way? Tks Aysen Yilmaz
Renting Is Terrible. Owning Is Worse. By Brian Sibley
Tucker Carlson: Last Week Tonight with John Oliver – tks Andrew Bryant
Passion, humour, history
Cancer cells may evade chemotherapy by going dormant
Barack and Michelle Obama Reportedly Close Deal for $11.75 Million Martha's Vineyard Estate
Our favourite funny reactions to the Downing Street lectern's design fail
Let me know if anything jumped out at you?
Cheers
Andrea
18 Steps to An All-Star LinkedIn Profile
This book is the starting point for LinkedIn success. It has everything you need to reach All-Star!! You can buy it on Amazon.com Amazon.co.uk Amazon.in and Flipkart. It's also available as an eBook on Amazon Kindle, Kobo, Google Play and iBooks.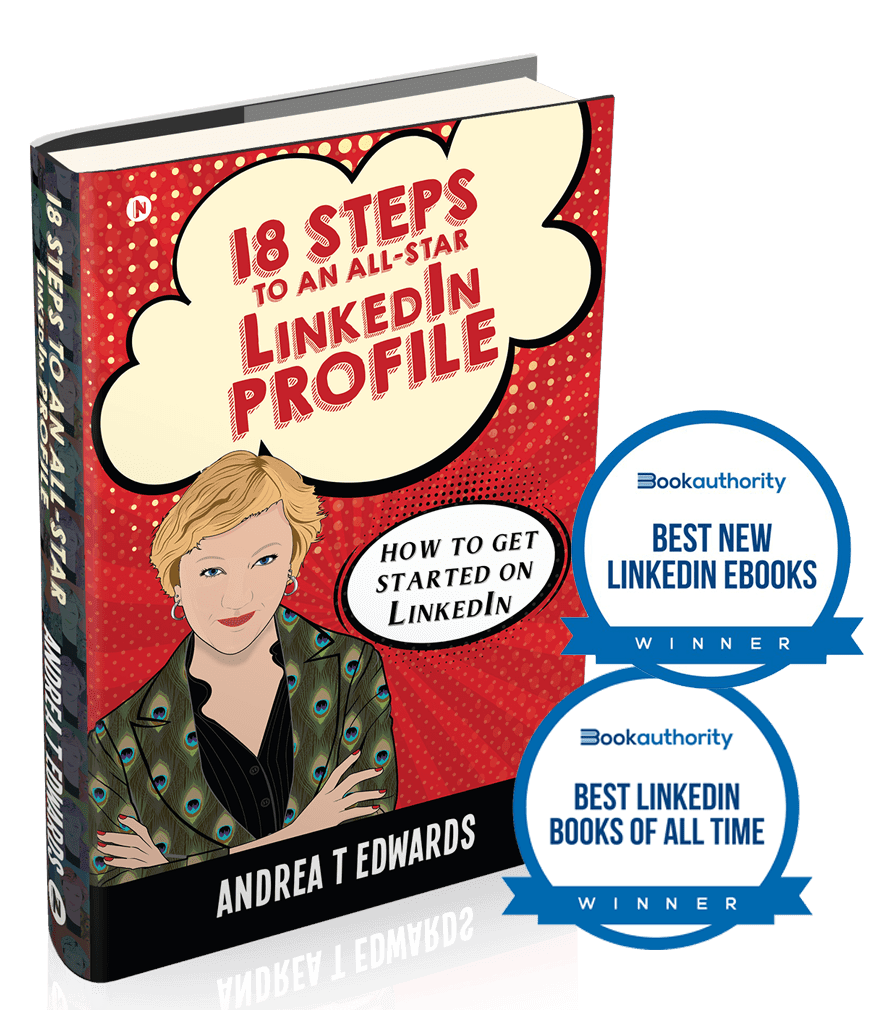 Check out Second Nature Social
This is a new series, designed to help beginners get up to speed with everything necessary on social media. Follow my YouTube channel and see the latest.
Are you a Social CEO?
I'm proud to be a contributing author to The Social CEO: How Social Media Can Make You A Stronger Leader. You can order it on Amazon today.
Want to claim your stage?
Check out our co-authored Best Selling Book – Unleash Your Voice – Powerful Public Speaking for Every Woman – proud to be part of this too!
Want proof social leadership transforms business and attracts customers?
Check out this case study with IBM Asia Pacific. Incredible results.
Want to be a super star online?
Don't know where to start, check out my e-learning course How to build a rock star personal brand today.
I believe it's time for all of us to embrace our voice and embrace the future. We do this by working and living 'out loud' with meaning, intention, integrity and by being true to ourselves. If you own your voice, you own your future.
Connect with me
If you like my style and what I talk about, feel free to follow me on any of these platforms on social media.
My blog andreatedwards.com
Twitter @AndreaTEdwards
LinkedIn AndreaTEdwards
LinkedIn The Digital Conversationalist
Facebook AndreaTEdwards
YouTube Andrea Edwards
SlideShare AndreaTEdwards
Medium AndreaWTBEdwards
Instagram AndreaWTBEdwards