Last week I spoke about the need for the sisterhood to unite, this week, let's talk about manbassadors. What's a manbassador? They are men with a particularly powerful attitude and a whole lot of integrity.
In his discussion of 25 Characteristics of an Alpha Male, Chad Howse really nailed it:
"The alpha male doesn't try to be an alpha male. That's where so many fail. He is interested in life, in living. He's fascinated by the world around him, in becoming the best man he can possibly become. He genuinely cares about people."
That, to me, is a #Manbassador. A manbassador isn't frightened of women or other men, or even LGBTIQ people, because he doesn't need to manipulate or put people down to feel powerful. These men are role models in business and in life. They are examples to other men of what it means to be a great man.
A manbassador is comfortable in his own skin and comfortable in the role he takes on in his life — even if it is not a traditional male role. He steps in for boys and younger men lacking a role model of what it means to be a man today. He shows them how to respect themselves, others, and the world.
Manbassadors are a beautiful gift in any community, and with the on-going number of marriage breakdowns, resulting in so many children being raised without a father figure, he is an incredibly important and valuable member of society.
If you are a manbassador, speak up, show up, raise your voice, set the example, step in when needed to help raise the next generation of men, and let's overcome the growing divide we are creating in the world today.
Honour the manbassadors in your life. Help them understand the role they could play in having a bigger impact in the world. Let's put the voice of manbassadors on a bigger platform. Let's all work together and take the conversation in a positive #WeToo direction. The world needs to move forward, united, with grace, love, and integrity at the centre.
So fellas, are you happy to be a manbassador? Happy to step up and change the current, negative, rhetoric? Think of the change we could create in the world if great men understood and acted on this idea?
Friends content
Can you train yourself to deal with difficult times? | Avi Liran | TEDxXardíndoPosío. Do yourself a favour and watch this. A reminder to check ourselves before reacting negatively. We can all deliver delight. Awesome message Avi.
Charity
Before you scroll, please, if you can donate, donate, donate!!! Some suggestions World Food Program., UN Refugee Program, PowerOf , Kiva.org, Soi Dog Foundation. If you can afford to be generous, now is the time to help your fellow human.
Content to read
And here's the content I've been reading this last week. Scan the headlines, read the ones that jump out at you, read or watch them all. Knowledge is power, and global knowledge is even more powerful.
Climate Crisis / 6th Mass Extinction
Australian companies are being told to end the 'greenwashing' as a new report shows just how far they are from their climate targets
The haze is likely to hit Southeast Asia early in 2021—is climate change to blame?
'A fundamental business issue': Majority of UK CEOs preparing surge in climate-focused investment
A Bankruptcy Judge Lets Blackjewel Shed Coal Mine Responsibilities in a Case With National Implications
Super-cold thunderstorm sets temperature record
NSW wild weather: what we know so far about the flooding and evacuations
Australia's Worst Floods in Decades Quicken Concerns About Climate Change
'You can't escape the smell': mouse plague grows to biblical proportions across eastern Australia
Ad Agencies Step Away From Oil and Gas in Echo of Cigarette Exodus
Southeast Asia's first lithium battery recycling plant opens in Singapore
Better Managing Plastic Waste Could Combat Marine Pollution and Unlock Billions of Dollars for a Circular Economy: Southeast Asia
Climate explained: how particles ejected from the Sun affect Earth's climate
Australians share footage of swarms of spiders fleeing into homes to escape rising floodwaters
Waitrose ditches magazines with disposable plastic toys
Spiders and snakes swarm Australian homes as they flee record floods tks Frank Roberts
Global heating pushes tropical regions towards limits of human liveability
Is NSW flooding a year after bushfires yet more evidence of climate change?
Bangkok fiddles whilst Chiang Mai burns – who's behind the annual smoke season?
Australia floods: The weather event as big as 'two European countries'
Climate fight 'is undermined by social media's toxic reports'
1% of people cause half of global aviation emissions – study
Plastic Straws That Quickly Biodegrade in the Ocean? Not Quite, Scientists Say
Sydney weather: Flood evacuation orders issued for parts of Sydney's west — as it happened tks Willie Wahlin
Australia floods: Young couple's house swept away near Sydney
You don't need a new phone, so here's how to keep your old one running like new
Eunice Foote: The Climate Science Pioneer
Walrus spotted in Wales, days after one seen off Ireland
COVID19
Coronavirus: 'Double mutant' Covid variant found in India
Dozens of arrests as thousands march in London against Covid lockdown
You asked, we answered: Do the COVID-19 vaccines contain aborted foetal cells?
They Had Mild Covid. Then Their Serious Symptoms Kicked In.
Miami Beach imposes emergency curfew over spring break 'chaos'
Covid: Past infection increases vaccine response six-fold
Global Politics
Andrew Laming: Australian MP apologises over comments to women
If the Economy Overheats, How Will We Know?
Scott Morrison embroiled in row with News Corp after being accused of 'weaponising' complaint claim minutes after fighting back tears tks Dylan Hartas
FOX 10 Phoenix Anchor's Integrity Shines as She Resigns in Objection to Bias Reporting and Half-Truths
Trump to launch own social media platform
Laura Tingle on the Prime Minister's apology tks Phillipa Edwards
Parliament House security guard Nikola Anderson describes finding Brittany Higgins on night of alleged rape in minister's office
Samia Suluhu Hassan becomes Tanzania's first woman president
Business and Technology
The Places You Can't Fly to Anymore
Stop Telling Women They Have Imposter Syndrome
When Texas Ended Its Mask Mandate, The Event Cancellations Started — And The Losses Are Adding Up
In 5 years, these jobs will be all but obsolete tks Francine Varner
Lawmakers Hammer Tech CEOs for Online Disinformation, Lack of Accountability
Suez Canal Backlog Grows as Efforts Resume to Free Trapped Ship
Nike, H&M face China fury over Xinjiang cotton 'concerns'
Pope cuts pay for cardinals as Vatican finances hit by pandemic
The tech world needs women, now more than ever. Here's why
One of the First Publicly-Traded Psychedelic Wellness Companies is Mapping the Mental Health Revolution tks Richard Lowe
Social issues (#BlackLivesMatter) and humanity
Nike – Dream Crazier tks Pattie Grimm
Hunting the men who kill women: Mexico's femicide detective
Body-editing apps on TikTok 'trigger eating disorders'
This Is Where 150 Years Of Ignoring Anti-Asian Racism Got Us
How People Learn to Become Resilient tks Tim Hamons
Georgia Spa Shooter Was a Patient at an Evangelical "Sex Addiction" Clinic
How the pandemic reversed old migration patterns in Europe
Behind the loathing of the Duchess of Sussex
Anti-Asian hate: 'Try to be brave and stand up'
The police officer killed in the Boulder supermarket shooting was the father of 7 tks Barry Graubart
Child migrants: First photos emerge of Biden-era detention centres
Ann Lowe's Barrier-Breaking Mid-Century Couture
'Do you mind if I sit with you guys?' Woman seeks help from skaters at park after man follows her for 40 minutes
Women and ageing: 'I've developed the courage to live my own truth' – picture essay tks Simone De Haas
In City After City, Police Mishandled Black Lives Matter Protests
Queensland school's Indigenous language program proves popular, with surprising results
A Call To Men | Tony Porter
Passion, humour, history
A stunning image of the Milky Way took 12 years to photograph. It shows the ghost of a supernova.
Scientist Reveal Pioneering New Image Of First Ever Black Hole To be Pictured
Preparations to Be Together for an Unknown Period of Time review – a clever, uncanny love story
Let me know if anything jumped out at you?
Cheers
Andrea
18 Steps to An All-Star LinkedIn Profile
This book is the starting point for LinkedIn success. It has everything you need to reach All-Star!! You can buy it on Amazon.com Amazon.co.uk Amazon.in and Flipkart. It's also available as an eBook on Amazon Kindle, Kobo, Google Play and iBooks.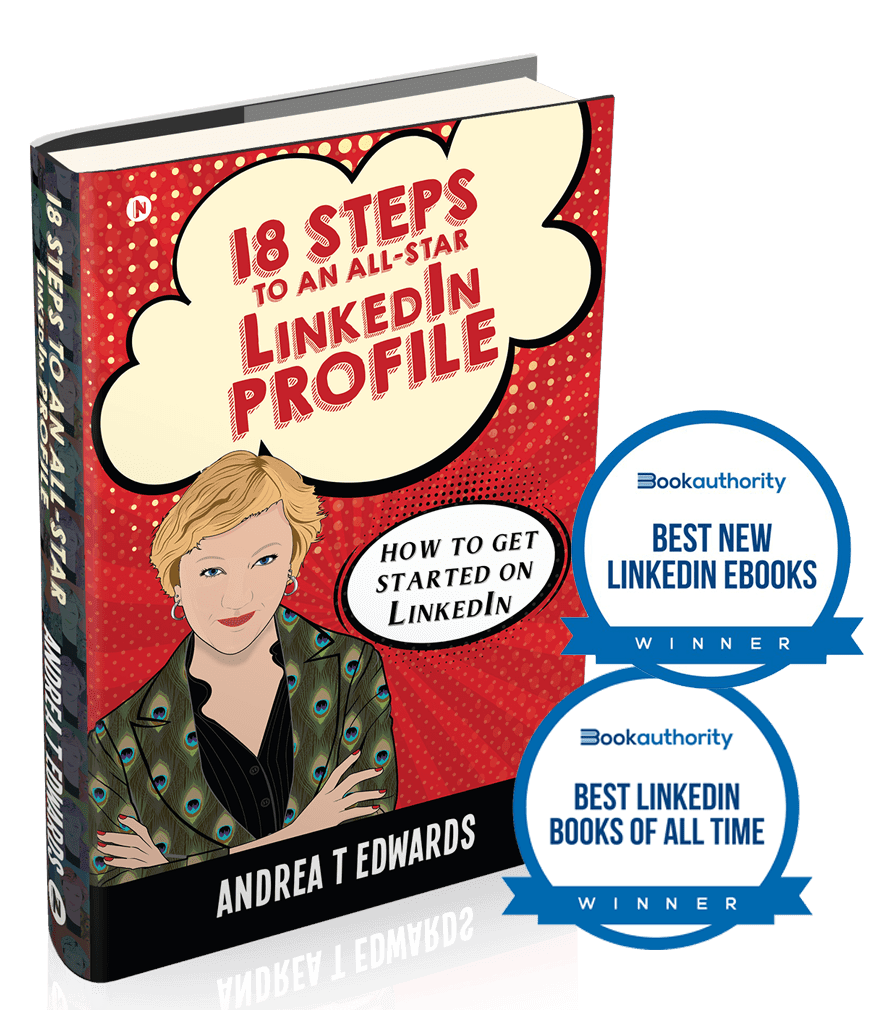 Check out Second Nature Social
This is a new series, designed to help beginners get up to speed with everything necessary on social media. Follow my YouTube channel and see the latest.
Are you a Social CEO?
I'm proud to be a contributing author to The Social CEO: How Social Media Can Make You A Stronger Leader. You can order it on Amazon today.
Want to claim your stage?
Check out our co-authored Best Selling Book – Unleash Your Voice – Powerful Public Speaking for Every Woman – proud to be part of this too!
Want proof social leadership transforms business and attracts customers?
Check out this case study with IBM Asia Pacific. Incredible results.
Want to be a super star online?
Don't know where to start, check out my e-learning course How to build a rock star personal brand today.
I believe it's time for all of us to embrace our voice and embrace the future. We do this by working and living 'out loud' with meaning, intention, integrity and by being true to ourselves. If you own your voice, you own your future.
Connect with me
If you like my style and what I talk about, feel free to follow me on any of these platforms on social media.
My blog andreatedwards.com
Twitter @AndreaTEdwards
LinkedIn AndreaTEdwards
LinkedIn The Digital Conversationalist
Facebook AndreaTEdwards
YouTube Andrea Edwards
SlideShare AndreaTEdwards
Medium AndreaWTBEdwards
Instagram AndreaWTBEdwards