If you've been paying attention to the climate crisis, you'll appreciate we're in big trouble and have to make a lot of changes, fast. Aspirational marketing is definitely one of those changes. Yes, it is really hard to come to terms with this, but we are beyond time.
Here's my environment 2020 wrap up and my 2021 has started as well if you're interested in catching up.
Why talk about aspirational marketing? Today is my son's 13th birthday and Jax is so happy to be a teenager. Bless. Do you know what he wanted for his birthday? A new iPhone. Oh and new AirPods – Pro of course.
He got a new iPhone just over a year ago and he doesn't need a new one. But he doesn't want one because he needs it, he wants one so he can have the latest version, which means he can be cool at school. Even a school as sustainable and mindful as the one the boys go to, our kids are still lured by this marketing.
We've spent a lot of time speaking to both of our boys about excessive consumerism. We do it gently, but we do it consistently. We want them to understand and be conscious consumers.
With phones, the conversation focuses on three things.  
We tell them about children suffering in mines to get the precious metals to make phones, computers and more. Our message – we have to use technology for longer and reject this idea of having the latest, because it is bad for earth. My husband and I are well into our third year with our current phones. We used to update our technology every two years. No more.
We talk to them about how we must not accept the global narrative which is ambivalent towards humans or nature suffering, just so we can have stuff. We must accept our role in other's suffering and do what we can to reduce it. It's not just companies at fault.
We also talk to them about the frightening growth in e-waste worldwide and it's predicted exponential growth. This report predicts global e-waste – "discarded products with a battery or plug – will reach 74 Mt by 2030, almost a doubling of e-waste in just 16 years."
Only 20% of e-waste is actually recycled!
And we talk to them about the shocking lack of sustainability around technology, especially Apple's AirPods. This is a product that lasts for 18 months, can not be broken down, can not be fixed and will not decompose for a millennium.
We are constantly talking to them about doing the right thing – for earth and for our fellow humans – and a huge part of that conversation is around the impact our consumerism has.
It's a big conversation and the boys are fully aware of the risk their generation faces in the future (they cannot avoid the climate crisis in their future) BUT they often do not put two and two together at this age. They don't see their latest phone or the desire for something fashionable as linked to future hardships. We keep gently talking to them. We'll never stop. We want them to be ambassadors for all life on earth.
So Jax didn't get a new iPhone or new AirPods, but he was happy with his birthday gifts. That's good news.
Friends content
Check out my friend Carl Hinds. He is not only fabulous, he's kept us entertained with his Sunday Soul Sessions since the pandemic began. He's decided to capture all he has learnt on the journey and packaged it up into a half day course – How to Present from Home like a Pro – Technology Tips for Beginners. This will be valuable and fun.
I also wanted to share this article from The Phuket News about One Phuket. Since this crisis started, many people in Phuket have been giving their time and money to help those most in need. Phuket has been decimated by this crisis, but as the first year comes to an end, we need to come together stronger than ever to make sure no one is left behind. Please do this in your community and let's help everyone get through this time together. It's not a time to contract. Be generous is all the ways that matter.
Charity
And donation time!!! If you can donate, donate!!! If you can't, give your time and share information on social media about organisations doing good, so they can get more support. My suggestions World Food Program., UN Refugee Program, PowerOf , Kiva.org, Soi Dog Foundation. If you can afford to be generous, now is the time to help your fellow human.
If you're in business, please check out B1G1 – business for good.
Content to read
And here's the content I've been reading this last week. Scan the headlines, read the ones that jump out at you, read or watch them all. Knowledge is power, and global knowledge is even more powerful.
Climate Crisis / 6th Mass Extinction
Mark Carney: Climate crisis deaths 'will be worse than Covid' tks Richard Lowe
How might a food chain breakdown come about?
Hedge funds eye water markets that could net billions, as levels drop in Lake Powell
Shift to green energy 'could cost oil states $13 trillion' by 2040
The Lion, the Polygamist, and the Biofuel Scam
Charles de Gaulle: Plans for huge new airport terminal in Paris scrapped
Watch: Broken Glacier Causes Flooding, Heavy Damage To Rishi Ganga Tapovan Hydro Power Project In Chamoli, Uttarakhand tks Sophia Henri
This Climate Deal Is Good for Earth and the Economy
The end of a golden age for oil producers
Harvard study links fossil fuels to millions of 'premature' deaths
Nothing to sneeze at: Climate change has worsened, lengthened pollen season across the US
No more snakes to be released in Phuket
Can carbon capture make flying more sustainable?
Rare Nasa photos reveal Amazon 'gold rivers'
Join the world's largest network for the climate
Investigation: Dutch, Japanese pension funds pay for Amazon deforestation
Uttarakhand dam disaster: Race to rescue 150 people missing in India
Storm Darcy: Netherlands hit by 'first major snowstorm in decade'
The Hindu Kush Himalaya Assessment
Uttarakhand glacier burst: Dozens missing after India dam collapses tks Damian Corbet
6 Roof and Pavement Tiles from Plastic Waste – tks Gary Crause
COVID19
Hotel worker confirmed to have UK coronavirus strain as Victoria records no new local cases
WHO says 'extremely unlikely' virus leaked from lab in China
Even With COVID-19 Vaccinations, Analysts Warn International Travel Could be Years Away
Shop owner at Chinatown Complex and son who have Covid-19 didn't see doctor or use TraceTogether token or app tks Joe Augustin
Take a deep breath, Victoria. The trauma of past lockdowns is still there, but so is our bravery
Victoria to enter lockdown with fans barred from Australian Open
Why Australia's 'world-class' quarantine system has seen breaches
As Covid-19 Vaccines Raise Hope, Cold Reality Dawns That Illness Is Likely Here to Stay
Virus Variant First Found in Britain Now Spreading Rapidly in U.S.
Massive blow to Victoria's economy of new lockdown
Global Politics
'Truth is truth': GOP congresswoman who voted for Trump reveals why her faith also led her to vote to impeach him
Senate says trial is constitutional and can go ahead
Capitol riots: Five takeaways from the arrests
Capitol riots timeline: The evidence presented against Trump
Insurrection incitement charge a 'monstrous lie'
TJ Ducklo: White House suspends aide for 'threatening reporter'
Why Chuck Schumer Is Cozying Up to the A.O.C. Wing of His Party
Piers Morgan clashes with Sarah Palin over 'absolutely bonkers' claim that 'dead people voted' in US election
Business and Technology
If You Use LinkedIn, This Is the Dark Side of the Platform tks Joanne Flinn
Jeep's Super Bowl Ad Urged Us to Find the Common Ground of Christian Nationalism
Why Four Seasons Landscaping — of Trump Press Conference Fame — Is in a Super Bowl Ad tks Siobhan Aalders
The Thumb Stopper: 3 Traits of Highly Engaging B2B Creative
Facebook Is Said to Be Building a Product to Compete With Clubhouse tks Rodrigo Canelas
Crown CEO Ken Barton bows to pressure and agrees to resign
UK suffers biggest drop in economic output in 300 years tks James Taylor
Salesforce shifts away from in-person work: 'The 9-to-5 workday is dead'
AI is Only Going to Get Smarter tks Frank Roberts
Getting practical about the future of work
Social issues (#BlackLivesMatter) and humanity
I am so sick of being asked if I regret not having children
Pakistan Designer's Anti-Dowry Campaign Is The Most Powerful Portrayal Of Regressive Culture tks Priscilla Joseph
Pope Francis appoints first woman to the Synod of Bishops
Iraq's Yazidi community buries 104 victims of IS massacre
27% of White Evangelicals Think QAnon is Real
Britney Spears' father loses bid to retain control of delegating her investments
The culture war between Gen Z and millennials is on. The first battle? Side partings
The betrayal of Britney Spears: how pop culture failed a superstar
Online bullying: 'I've blocked nearly 10,000 abusive accounts'
How Society Has Turned Its Back on Mothers
Don't Underestimate the Power of a Walk
'I spent nothing on myself for 5 years': Rights group urges slashing of recruitment fees that burden migrant workers tks Cheryl Tan
Driver captures deadly 100-vehicle Texas pile-up – BBC News
Passion, humour, history
'Gorilla Glue Girl' considers lawsuit after spraying hair with adhesive (reports) tks Joyce Ano
Eddie McGuire Resigns Due To Toxic Culture Of Discrimination: "I've Been Constantly Targeted And Harassed"
Texas lawyer, trapped by cat filter on Zoom call, informs judge he is not a cat
Seen this lady? 'Woman With Books' just wants Singapore to smile tks Eugene Seah
Village submerged by red water after flood hits batik factory
Cat Zoom: Lawyer Rod Ponton surprised to become internet star
Let me know if anything jumped out at you?
Cheers
Andrea
18 Steps to An All-Star LinkedIn Profile
This book is the starting point for LinkedIn success. It has everything you need to reach All-Star!! You can buy it on Amazon.com Amazon.co.uk Amazon.in and Flipkart. It's also available as an eBook on Amazon Kindle, Kobo, Google Play and iBooks.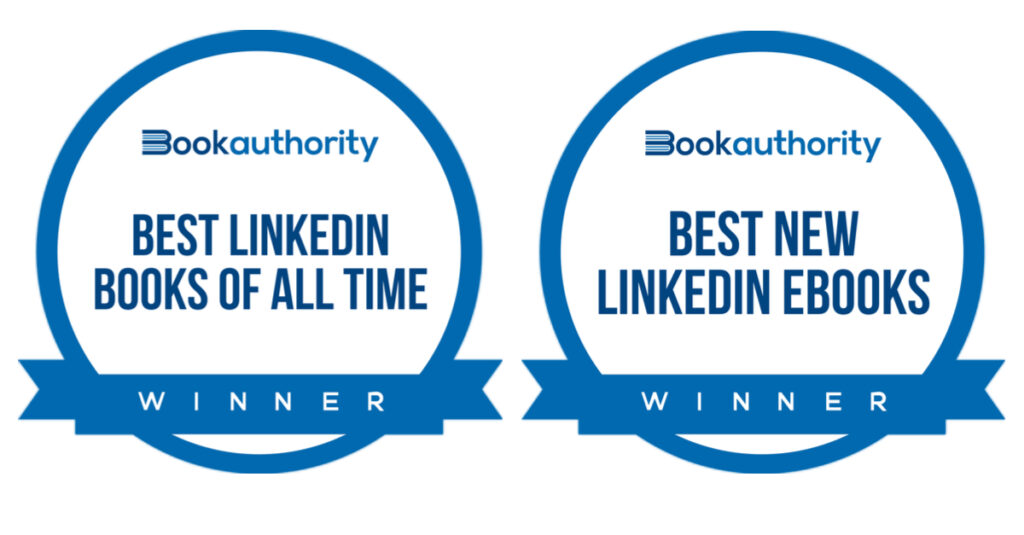 Check out Second Nature Social
This is a new series, designed to help beginners get up to speed with everything necessary on social media. Follow my YouTube channel and see the latest.
Are you a Social CEO?
I'm proud to be a contributing author to The Social CEO: How Social Media Can Make You A Stronger Leader. You can order it on Amazon today.
Want to claim your stage?
Check out our co-authored Best Selling Book – Unleash Your Voice – Powerful Public Speaking for Every Woman – proud to be part of this too!
Want proof social leadership transforms business and attracts customers?
Check out this case study with IBM Asia Pacific. Incredible results.
Want to be a super star online?
Don't know where to start, check out my e-learning course How to build a rock star personal brand today.
I believe it's time for all of us to embrace our voice and embrace the future. We do this by working and living 'out loud' with meaning, intention, integrity and by being true to ourselves. If you own your voice, you own your future.
Connect with me
If you like my style and what I talk about, feel free to follow me on any of these platforms on social media.
My blog andreatedwards.com
Twitter @AndreaTEdwards
LinkedIn AndreaTEdwards
LinkedIn The Digital Conversationalist
Facebook AndreaTEdwards
YouTube AndreaTEdwards
YouTube Uncommon Courage
SlideShare AndreaTEdwards
Medium AndreaWTBEdwards
Instagram AndreaWTBEdwards