Have you noticed how quiet it is in the media these days? There's definitely still lots going on for sure, but we don't have the chaos, rage and misdirection we've been experiencing for a number of years. It's quite refreshing, isn't it? Like it, like it, different ?.
Rather than the constant outrage, we have multiple and important stories bubbling around in the background, being dealt with intelligently, versus the sensationalism and division we all got used to. It really is amazing what we got used to. Never again, please!
I'm paying attention to multiple stories at the moment. What is happening with Trump and the impeachment, which is also about the future of the Republicans or the GOP. It could go in any direction right now and this story won't be over any time soon. The conspiracy theory movement is in this mix too.
Covid19 has always been an evolving story, requiring patience to get to the bottom of what's really going on, and many of the articles below shed light on new information coming through, which provide a sense of how long this will be impacting all of our lives. Note, it's not going to be over anytime soon.
Myanmar and the coup. Still no idea how this will unfold and we can only hope for the best. The global response seems strong, which feels like a sign grown-ups are back in charge of government. I hope this can be over soon, for the people of Burma!
And of course, the climate conversation is finally achieving mainstream attention, but more and more businesses are also making commitments publicly too. Change is happening, not fast enough or big enough, but change is happening. Please read the National Geographic article on bees – it's top of the climate content. If we do not face up to this challenge and do everything we can to reverse it, well…. The time to act is now.
Friends content
Unconventionally Camille Escudero: The Not-So-Dark Journey wonderful to see a friend of mine, the fabulous Gina Romero, launch her new Podcast Unconventionally. Gina is a champion of women and I recommend everyone subscribes and tunes in. This conversation with Camille is really lovely and powerful. Excited to be Gina's guest next month!!
Charity
Before you scroll, please, if you can donate, donate, donate!!! Some suggestions World Food Program, UN Refugee Program, PowerOf , Kiva.org, Soi Dog Foundation. If you can afford to be generous, now is the time to help your fellow human or animals! The animals need help too.
I have recently joined B1G1 – business for good. It's on a mission to create a world full of giving. If you want to make giving central to your business, this is worth checking out. Big or small, it's designed for everyone to take part. I recently planted 2,625 trees in India, as I made a commitment – for every book sold I plant a tree. And my husband contributed to a cause helping save children from human slavery. It feels great to contribute to verified causes that make a difference.
Content to read
And here's the content I've been reading this last week. Scan the headlines, read the ones that jump out at you, read or watch them all. Knowledge is power, and global knowledge is even more powerful.
Climate Crisis / 6th Mass Extinction
We haven't seen a quarter of known bee species since the 1990s
Too many boardrooms are climate incompetent
'Unrig the data.' How utilities embellish carbon cuts
Morrison government rules out subsidies in electric vehicle strategy
Plant-based diets crucial to saving global wildlife, says report
Thailand to put world's largest floating solar farm into use this June
Seafarers Complete Successful Tests of App to Map Ocean Pollution
Denouncing 'Handouts to Big Oil,' Biden Calls on Congress to End $40 Billion in Taxpayer Subsidies for Fossil Fuels tks Kimi Mc
Perth: Bushfire threatens locked-down Australian city
Drone Disguised as Hummingbird Captures Incredible Footage of Monarch Butterfly Swarm
Singapore Parliament declares climate change a global emergency tks Joanne Flinn
Singapore contraption aims to clean up Asia's plastic-polluted rivers
Now and then: Iceland's vanishing glaciers
Too many boardrooms are climate incompetent
Climate change seen as global emergency by 64 per cent of people tks Susannah Hasenoehrl
Want to actually fix the environment? Change how buildings are built
Messy Carbon Offsets Show Markets Aren't Always the Answer
Green stepping stones: Malaysia's journey towards tackling climate change
Ocean Cleanup Crew takes on Plastic Pollution in Marine Protected Area!
COVID19
'A complete massacre, a horror film': inside Brazil's Covid disaster
Podcast: The forgotten sense
Captain Sir Tom Moore: 'National inspiration' dies with Covid-19
More Than One In Three People In U.K. Study Report Side Effects From Pfizer Coronavirus Vaccine
Where Can I Travel Internationally and Do I Need the Covid-19 Vaccine?
When Will Life Return to Normal? In 7 Years at Today's Vaccine Rates tks Gail Lau
Phuket's Tourism Businesses Plan Private Vaccination Drive in Hopes of Reopening Thai Resort This Fall
Exclusive: indigenous Americans dying from Covid at twice the rate of white Americans
I'm a doctor and one of my best friends doesn't believe in vaccines. This is what I want to tell her tks Jenni Thorman
Australian Open: Players to go into isolation after hotel coronavirus case
Covid linked to risk of mental illness and brain disorder, study suggests
Teenager emerging from 10-month coma has no knowledge of pandemic
How To Deal With The Anger You Feel Over People Ignoring COVID-19 tks Angela Frechette
Patient who had COVID-19 for 154 days shows 'worst possible scenario for developing mutations'
French skiers swerve Covid in cross-country boom
Australian city of Perth goes into snap lockdown after guard tests positive
The Second COVID-19 Shot Is a Rude Reawakening for Immune Cells tks Pooneh Fooladi
EU vaccine export row: Bloc backtracks on controls for NI
A vaccination site meant to serve a hard-hit Latino neighborhood in New York instead serviced more Whites from other areas
Global Politics
AOC's powerful plea for Republican accountability cannot be ignored
Myanmar's coup: Why now – and what's next?
Biden ends deadlock over first African and first woman to lead WTO
Trump Organization Sought Ownership Stake in Parler While He Was President: Report
Fox Business Cancels Lou Dobbs's Show After Anchor Was Named in Voting-Machine Lawsuit
Nicolle Wallace Says House Republicans Are 'Going Home in 2 Years' Over 'QAnon Caucus
Biden Bars Trump From Receiving Intelligence Briefings, Citing 'Erratic Behavior'
Welcome to Australia's economic Fight Club tks Phillipa Edwards
Trump impeachment: When is his Senate trial and will he testify?
Biden Signals Break With Trump Foreign Policy in a Wide-Ranging State Dept. Speech
Marjorie Taylor Greene: US House votes to strip Republican of key posts
Make the Filibuster Difficult Again tks Patrice Robinet
Feds Drop The Hammer On The Capitol Insurrectionists
Capitol riots: Parler boss says he has been fired by the board
MSPs reject calls for probe into Donald Trump golf courses
Trump Parts Ways With Five Lawyers Handling Impeachment Defense tks Barry Graubart
Spurred By The Capitol Riot, Thousands Of Republicans Drop Out Of GOP
Morrison's horror show numbers are absolutely frightening tks Phillipa Edwards
Exercise instructor appears to unwittingly capture Myanmar coup in dance video
Biden's Approval Rating Is Trump's in Reverse
Trump stocks new PAC with tens of millions as he bids to retain control of GOP
Republicans in Washington warn Wall Street: The GameStop populists are more powerful than you think tks Barry Graubart
As Biden Plans Global Democracy Summit, Skeptics Say: Heal Thyself First
Myanmar coup: Aung San Suu Kyi detained as military seizes control
'They're coming for us' – right-wing media on Biden's week
The Republican party will not disavow Marjorie Taylor Greene – she is the party tks Barry Graubart
Donald Trump 'parts with lawyers' before impeachment trial
Russian anti-Putin anger spreads: 'We have to protest'
Trump Plaza in Florida: Condo board votes to dump Trump name after Capitol siege tks Bob Hooey
Business and Technology
McKinsey Settles for Nearly $600 Million Over Role in Opioid Crisis
Journalism, Media, and Technology Trends and Predictions 2021
The Real Force Driving the GameStop Revolution
Email from Jeff Bezos to employees
Liberalism's Ministry of Truth
Inspired by the Taj Mahal, Microsoft's newest office is a workspace of art
Up in flames: SpaceX Starship test flight ends in fiery crash, again
The world's 100 most powerful women tks Lavinia Thanapathy
Jeff Bezos to resign as chief executive of Amazon
Volkswagen Is Teaming Up With Silent Yachts to Create Futuristic Solar-Powered Catamarans
Amsterdam to move sex workers out of city centre in tourism 'reset'
Facebook strikes back against Apple privacy change, prompts users to accept tracking to get 'better ads experience tks Frank Roberts
Microsoft Patent To Construct Chatbots of Dead People Approved
Drone Swarms Are Getting Too Fast For Humans To Fight, U.S. General Warns
GameStop investor battle moves on to silver as prices surge
Tim Cook May Have Just Ended Facebook
GameStop: What is it and why is it trending? tks Caroline Frater
We were shocked': RAND study uncovers massive income shift to the top 1%
Local workers are taking up farm jobs as Queensland farmers are forced to pay higher wages tks Phillipa Edwards
Social issues (#BlackLivesMatter) and humanity
I Left My Career in Prestige Media Because of the Shitty Men in Charge and They Are Still In Charge and Still Fucking Up
Sitting on billions, Catholic dioceses amassed taxpayer aid
ONE YEAR ON: Leila Abdallah on the Oatlands crash tragedy that cut her family in half
I can't believe we have to say this, but Australia should ban Nazis fairly urgently tks Phillipa Edwards
'Their goal is to destroy everyone': Uighur camp detainees allege systematic rape
David Hogg launching pillow company to 'put MyPillow out of business' tks Gina Giachetti
We Are a Nation of Child Abusers
AOC: Ocasio-Cortez says she is sexual assault survivor
Evan Rachel Wood says Marilyn Manson 'horrifically abused me for years'
Why fentanyl is deadlier than heroin, in a single photo tks Brian Sibley
Dognapping gangs targeting lone women as puppies are now worth more than drugs tks Karen Vernem Stevenson
Migrant Worker Makes Heartbreaking Short Film of How He Spends His $450 Monthly Salary tks Cheryl Tan
When Evictions Loom, Pets Are Also at Risk
Study Finds Every Style Of Parenting Produces Disturbed, Miserable Adults tks Philippa Penfold
Moving on from QAnon? Experts say these tips could help
Rule-breaking New York wit Fran Lebowitz is every writer's fantasy tks Joyce Ano
Has science made religion useless? | Robert Sapolsky, Reza Aslan, Pete Holmes & more | Big Think – tks Andrew Bryant
Passion, humour, history
Christopher Plummer, Oscar winner and star of 'The Sound of Music,' dead at 91 tks Roshini Ganesan
Insults and expletives turn parish council Zoom meeting into internet sensation
I'm a writer on Emily in Paris. I May Destroy You deserved a Golden Globe nomination
Professor Avi Loeb: 'It would be arrogant to think we're alone in the universe'
Blackpink's Arena-Sized Livestream 'The Show' Is the Next-Best Thing to Being There: Concert Review
The buried ship found on an English estate
Bridgerton: Netflix says drama is its biggest series ever
Let me know if anything jumped out at you?
Cheers
Andrea
18 Steps to An All-Star LinkedIn Profile
This book is the starting point for LinkedIn success. It has everything you need to reach All-Star!! You can buy it on Amazon.com Amazon.co.uk Amazon.in and Flipkart. It's also available as an eBook on Amazon Kindle, Kobo, Google Play and iBooks.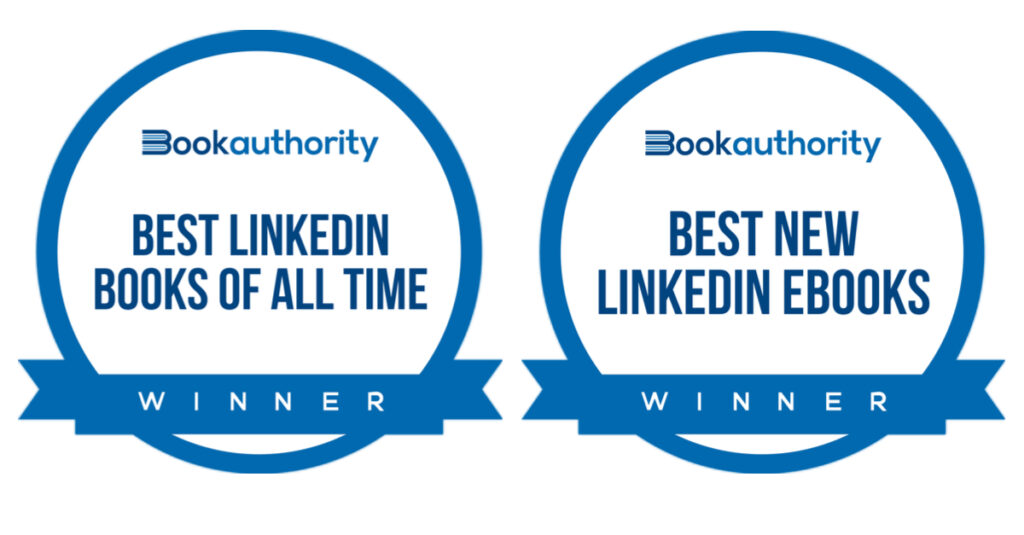 Check out Second Nature Social
This is a new series, designed to help beginners get up to speed with everything necessary on social media. Follow my YouTube channel and see the latest.
Are you a Social CEO?
I'm proud to be a contributing author to The Social CEO: How Social Media Can Make You A Stronger Leader. You can order it on Amazon today.
Want to claim your stage?
Check out our co-authored Best Selling Book – Unleash Your Voice – Powerful Public Speaking for Every Woman – proud to be part of this too!
Want proof social leadership transforms business and attracts customers?
Check out this case study with IBM Asia Pacific. Incredible results.
Want to be a super star online?
Don't know where to start, check out my e-learning course How to build a rock star personal brand today.
I believe it's time for all of us to embrace our voice and embrace the future. We do this by working and living 'out loud' with meaning, intention, integrity and by being true to ourselves. If you own your voice, you own your future.
Connect with me
If you like my style and what I talk about, feel free to follow me on any of these platforms on social media.
My blog andreatedwards.com
Twitter @AndreaTEdwards
LinkedIn AndreaTEdwards
LinkedIn The Digital Conversationalist
Facebook AndreaTEdwards
YouTube Andrea Edwards
SlideShare AndreaTEdwards
Medium AndreaWTBEdwards
Instagram AndreaWTBEdwards