Two stories (or maybe themes) got my attention this last week. The first is the ramping up of climate crisis commentary, which now seems to be more broadly accepted as an issue we must deal with and now. My hope is returning.
President Biden wasted no time in moves towards accelerating climate initiatives in his first week in office, and overall, the tone of the communication feels like it's finally going in the right direction.
There are still those fighting against the inevitable, to keep their businesses and industries going for as long as possible, which we saw coming out of Alberta, Canada this week. Make sure you read: Alberta Inquiry Paid $28K for a Report Smearing Hundreds of Climate Journalists. I get the need to protect business, including the employees who work for them, but these sort of antics must stop. We must work together. We must face up to the truth. This isn't helping.
Everywhere we look, tipping points are being passed or coming close to crossing over. Once crossed, we can't go back, so we must all do everything we can to ensure we do not cross any more tipping points.
The understanding of how these tipping points will impact us is still lacking, but let's say we lose a type of forest in one part of the world. Imagine the significant change in global weather patterns this would cause globally and what that looks like?
This is a huge risk, because we build our homes for stable environments. A dramatic shift in weather patterns could be catastrophic because we aren't building to withstand every type of weather, only the type we need to withstand. That's been a certainty in the past, in the future…..? These sorts of activities are already happening. Do we want it to get worse?
The other story is GameStop. You can read more content in the business section below. Now this is one of those stories that made my head explode. I'm still not sure what's happened, how or why, but the media coverage has been interesting.
It's actually an opportunity to study opinions versus facts, and opinions are just that. Opinions. It doesn't make them wrong, but in this case, it makes the story confusing. Who is the evil player in this story? Is it a David Vs Goliath story as has been portrayed? Or is it something totally different?
I'd appreciate any insight from my friends who get this industry and have dug deep into this story, but for the rest of us, it provides a classic lesson in the need to understand all sides BEFORE forming an opinion.
The angles to this story are too varied for all perspectives not to be considered. The conspiracy undertones are a huge part of the story too, and from all I've read, there's enough evidence indicating perhaps it's not the angle to take. Read wide, consider every angle, be open.
Friends content
What is this Foolish Careers thing? My friend Timi Siytangco has launched a new email newsletter called Foolish Careers. For those looking for inspiration to take a different path in life, this will be worth subscribing to.
DIGITAL 2021: GLOBAL OVERVIEW REPORT the annual digital report, lovnigly put together by Simon Kemp always lays out global digital trends. Worth a look for anyone wanting to understand this space.
11 emerge winners at awards celebrating spirit of innovation And congratulations to my friend Jerome Boyd Kirkup. A genius, his company, Hummingbird Bioscience, won the Spirit of Innovation Award in Singapore. Awesome result for someone committed to his craft.
Charity
Before you scroll, please, if you can donate, donate, donate!!! Some suggestions World Food Program., UN Refugee Program, PowerOf , Kiva.org, Soi Dog Foundation. If you can afford to be generous, now is the time to help your fellow human.
Content to read
And here's the content I've been reading this last week. Scan the headlines, read the ones that jump out at you, read or watch them all. Knowledge is power, and global knowledge is even more powerful.
Climate Crisis / 6th Mass Extinction
I've Said Goodbye to 'Normal.' You Should, Too. tks Denise Chai
Ikea says be frugal in apocalyptic ad promoting green living
Climate change: Biggest global poll supports 'global emergency'
G.M. Announcement Shakes Up U.S. Automakers' Transition to Electric Cars
New global program '1000 Cities Adapt Now' at Climate Adaptation Summit 2021
Biden administration to unveil more climate policies, urges China to toughen emissions target
Remove carbon as you grow your business tks Tim Wade
Unpacking Biden's New Environmental Executive Orders
Biden prioritizes climate change as national security concern, pauses oil drilling on public lands
Alberta Inquiry Paid $28K for a Report Smearing Hundreds of Climate Journalists
Mark Carney: Investing in net-zero climate solutions creates value and rewards
Heatwave sweeps Australian cities and raises bushfire danger
Visualized: A Global Risk Assessment of 2021 And Beyond
Death by 1,000 cuts: Are major insect losses imperilling life on Earth?
Amsterdam Is Embracing a Radical New Economic Theory to Help Save the Environment. Could It Also Replace Capitalism? tks Graham Harvey
John Kerry: UK climate summit is world's 'last best chance'
Split signals end for remnant of Antarctic iceberg A68a
COVID19
Millionaire couple steals Covid vaccine meant for indigenous community
Even with coronavirus vaccine distribution set to increase, upcoming months could be rough tks Angela Frechette
A Dying Teacher, Worrying Over Students to His Last Breaths
'13,000 School Districts, 13,000 Approaches to Teaching During Covid'
Bill Gates: Future Pandemics Must Be Taken As Seriously As 'The Threat Of War'
The Inequality Virus tks Andor Hampala
Thailand : WHO Corona Virus Disease (COVID-19) Dashboard
China Deploys Anal Swab Tests To Detect High-Risk Covid-19 Cases
Best and Worst Places to Be in Covid: Vaccine Not Slowing Deaths tks Tobias Wilson
Netherlands shaken by third night of riots over Covid curfew
'Pleasure ripped out': the people suffering long-term loss of taste after Covid
Covid-19 could pose a "global threat" to male fertility tks Frank Roberts
Why are people still flying into the UK despite Covid-19 rules?
Covax: How will Covid vaccines be shared with poorer countries?
Pandemic could last 4 or 5 years: Lawrence Wong tks Karen Leong
New Zealand records first Covid community case in two months
Everyday Covid mistakes we are all still making
New Zealand, Vietnam top COVID performance ranking; U.S., UK languish tks David Lim
Police and protesters clash during Dutch curfew demo
Dr. Fauci Says Doing This After Getting Vaccinated Is a Huge Mistake
The Pandemic Has Erased Entire Categories of Friendship tks Tim Hamons
Covid linked to risk of mental illness and brain disorder, study suggests
Vancouver CEO and actress charged after sneaking into COVID-19 vaccine clinic in Yukon tks David Lim
Scientists liken long Covid symptoms to those of Ebola survivors
Thailand to warmly welcome inoculated travellers tks Caryl Mullings-McDonald
Dr. Deborah Birx on "Face the Nation" – tks Kimi Mc
Global Politics
Covid: Argentina imposes new tax on wealthiest
'The perfect target': Russia cultivated Trump as asset for 40 years – ex-KGB spy tks David Lim
India protest: Farmers breach Delhi's Red Fort in huge tractor rally
Trump impeachment: Why convicting him just got a lot harder
Sikkim: Chinese and Indian troops 'in new border clash'
Tucker Carlson Is Very Worried About Biden's 'War on White Supremacists'
January 5 Meeting at Trump International Hotel Could Hold the Key to the January 6 Insurrection
White House 'monitoring' GameStop share surge as US hedge fund pulls out
QAnon-promoting congresswoman claimed Stoneman Douglas massacre was 'false flag' operation
Arizona GOP censures Gov. Ducey, Jeff Flake, and Cindy McCain
'Gondor has no king': pro-Trump lawsuit cites Lord of the Rings tks Claude Calleja
Sarah Huckabee Sanders: The Trump defender enters political race
So Weird How Fox News Hosts Keep Defending QAnon
Extremists Emboldened by Capitol Attack Pose Rising Threat, Homeland Security Says
Donald Trump Is Out. Are We Ready to Talk About How He Got In? tks Cheryl Tan
'We have no choice' – Dominion CEO to Chris Cuomo on why the company is filing defamation lawsuits – tks Vicky Coburn
Business and Technology
Stocks Close Down 2% as GameStop Frenzy Continues
The Hedge Fund Genius Who Started GameStop's 4,800% Rally Now Calls It "Unnatural, Insane, And Dangerous"
Digital 2021: Global Overview Report
Stop Scripting Your Speeches tks Simone de Haas
Airline executives say COVID-19 tests for passengers on US flights not feasible, fair, or needed: 'It's wholly impractical'
Connected Leadership : The Authoritative Platform for Understanding Modern Leadership in a Connected World tks Sarah Goodall
World economy in 2021: here's who will win and who will lose
Move to EU to avoid Brexit costs, firms told tks Sandra Marichal
Cathay Pacific warns new Covid-19 quarantine for aircrew could slash passenger flights by two-thirds and cost company HK$400 million a month
Social issues (#BlackLivesMatter) and humanity
Biden allows US aid for abortion providers and expands Obamacare
Singapore boy held for Christchurch-inspired mosque attack plot
Sexual assault survivor and advocate Grace Tame named 2021 Australian of the Year tks Leah Hannah
Tithe money funded Hillsong pastors' luxury lifestyles: former members
Keira Knightley: I won't shoot any more sex scenes directed by men
German City Installs Ulmer Nests, Sleeping Pods For Homeless People
Poland enforces controversial near-total abortion ban
Social Media Finally Broke the Public Sphere
Former ABC journalist Kerry O'Brien rejects Australia Day honour in protest over Margaret Court award tks Phillipa Edwards
'You Can't Get More Aussie Than This!' Says Man Wearing Flag Made In Guangdong Province
Women Are Sharing Their 'I'm The Client, Not My Husband' Stories And To Say I'm Fuming Would Be An Understatement tks Cheryl Tan
'They said I wasn't hot enough': Carey Mulligan hits out again at magazine review
Award Winning short film I Fisherwoman and Tuk Tuk I Short Film – beautiful!!
Passion, humour, history
Edinburgh's landmark department store Jenners to close after 183 years
Flaming Lips stage unique 'space bubble' concert in Oklahoma
Diamonds Aren't Special and Neither Is Your Love tks Joyce Ano
Let me know what jumped out at you?
Cheers
Andrea
18 Steps to An All-Star LinkedIn Profile
This book is the starting point for LinkedIn success. It has everything you need to reach All-Star!! You can buy it on Amazon.com Amazon.co.uk Amazon.in and Flipkart. It's also available as an eBook on Amazon Kindle, Kobo, Google Play and iBooks.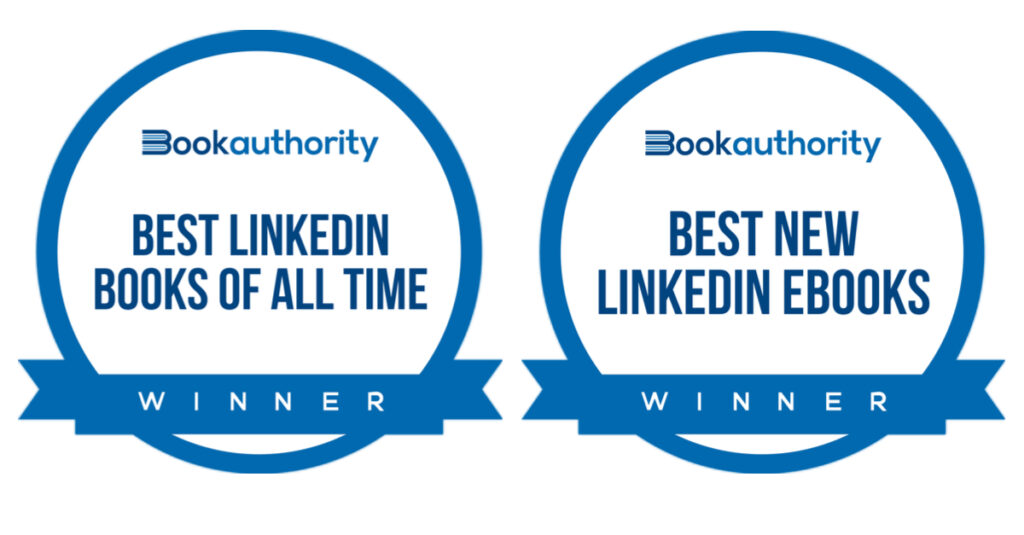 Check out Second Nature Social
This is a new series, designed to help beginners get up to speed with everything necessary on social media. Follow my YouTube channel and see the latest.
Are you a Social CEO?
I'm proud to be a contributing author to The Social CEO: How Social Media Can Make You A Stronger Leader. You can order it on Amazon today.
Want to claim your stage?
Check out our co-authored Best Selling Book – Unleash Your Voice – Powerful Public Speaking for Every Woman – proud to be part of this too!
Want proof social leadership transforms business and attracts customers?
Check out this case study with IBM Asia Pacific. Incredible results.
Want to be a super star online?
Don't know where to start, check out my e-learning course How to build a rock star personal brand today.
I believe it's time for all of us to embrace our voice and embrace the future. We do this by working and living 'out loud' with meaning, intention, integrity and by being true to ourselves. If you own your voice, you own your future.
Connect with me
If you like my style and what I talk about, feel free to follow me on any of these platforms on social media.
My blog andreatedwards.com
Twitter @AndreaTEdwards
LinkedIn AndreaTEdwards
LinkedIn The Digital Conversationalist
Facebook AndreaTEdwards
YouTube AndreaTEdwards
YouTube Uncommon Courage
SlideShare AndreaTEdwards
Medium AndreaWTBEdwards
Instagram AndreaWTBEdwards