There has been a lot of beauty in the media and across our social channels for the glorious gift of words Amanda Gorman gave us at the 2021 US Inauguration. It was a truly remarkable moment, one that unified the world. It will be discussed for years to come and we all know this young lady will be a figure in our future.
Watching her deliver her poem, as well as the interviews she's given since – which are just delightful, watch them, especially this one. Thanks Kerrie Phipps for sharing. Both James and Amanda are just gorgeous.
However, one thought that has been constantly rising in me, is that she seized her moment. In my forthcoming book, Uncommon Courage, I talk about lots of things, but one is seizing our moments. Across the span of any life, moments are offered to us, and if we step into these moments and embrace the opportunity that has been given to us, it opens doors to more, as well as paths we don't necessarily know were open to us before.
To seize a moment, you have to be terrified and do it anyway. You have to get ready and go through days, weeks, months or years of gruelling practice. However, the important part of seizing your moments, is you appreciate the opportunity for what it is and you step into it – terrified – but you do it anyway.
I want to encourage anyone reading these words to seize your moments – even if it scares the life out of you. The people I admire the most do this time and time again. Those who struggle to find their path or joy in life let fear and nerves get in the way. Seize your moments. Only you can do that.
I hope we all take inspiration from what Amanda Gorman did this last week. She stood before the eyes of the world and no one will forget her moment. Bravo bravo bravo. She brought hope to a bruised and battered world. I loved it.
Friends content
The Business Crisis Shortlist: How to Plan for a Crisis my amazing friend and former colleague, Brian Sibley
My friend, Ellen Lai Costa, launched her new book – Selfcare isn't Selfish: The Art And Science Of Caring For Yourself Is The Basis For A Woman's Wellness In All Facets Of Life. Congratulations Ellen, so thrilled for you. If you want to get an insight into her thinking, she also published this article in Thrive Global: 9 Simple Steps To Create The Perfect Home Retreat, Recharge And Radiate. Check it out and take wisdom from her words. Self care is so important for all of us, especially at this time.
A special share. Read: "I'm the main character": the commodification of the individual under modern capitalism my beautiful friend Nicole Lockhart, who is a high school buddy and one of my best friends, has an amazing daughter, Millie Lockhart. Millie is an incredible writer, and I found these words expressed so beautifully. A view from the younger generation. Well worth a read.
And finally, the amazing Gilbert Hill. If you want to understand your data rights, Gil is your man. Brilliant interview and well worth your time!!
Charity
I read a heart breaking story this week, of a man in Phuket willing to sell his eye so he could provide for his family. It boggles the mind that anyone could be so desperate they would feel the need to take such drastic action. But all over the world, 200 million people – and rising – are in a state of severe desperation. We cannot look away. Please donate where you can and let's come together to get through this crisis. Some suggestions World Food Program., UN Refugee Program, PowerOf , Kiva.org, Soi Dog Foundation. If you can afford to be generous, now is the time to help your fellow human.
We can also take inspiration from Bernie Sanders: Bernie Sanders turned his inauguration meme into a sweatshirt to raise money for charity.
Content to read
And here's the content I've been reading this last week. Scan the headlines, read the ones that jump out at you, read or watch them all. Knowledge is power, and global knowledge is even more powerful.
Climate Crisis / 6th Mass Extinction
Inauguration of President Biden Kicks Energy and Climate Agenda Into Action
As European meat-lovers resist change, Asia shows biggest appetite for plant-based future
Why Ikea just bought an 11,000-acre forest in Georgia
David Attenborough's heartbreaking plea after admitting 'I don't have long left' tks Vicky Coburn
France's Total quits top U.S. oil lobby in climate split
'We need answers': why are people living near Dutch goat farms getting sick?
State of Climate Action: Assessing Progress toward 2030 and 2050
Cargill : The Worst Company In the World
COVID19
Coronavirus: UK variant 'may be more deadly'
Almost 30% of Covid patients in England readmitted to hospital after discharge tks Rebecca Kynaston
The Coronavirus Is Evolving Before Our Eyes
Brazil's city on the Amazon river buckles under second Covid wave
Covid Patients Needing Oxygen Surge in Nigeria's Commercial Hub
Reports: Over 100 Inauguration National Guard Troops Test Positive For Covid
Microsoft, Salesforce and Oracle back plan to develop a digital Covid vaccination passport
Victoria's economic recovery to outstrip all other states as nation bounces back tks Phillipa Edwards
Severe allergic reactions to Moderna vaccine appear rare: CDC report
One Year, 400,000 Coronavirus Deaths: How the U.S. Guaranteed Its Own Failure
Biden to block Trump's Covid rule change on president's final day in office
Dr. Anthony Fauci says he feels liberated to speak freely about science, risk of Covid under Biden tks Frank Roberts
Paula Badosa: Australian Open player 'sorry' after revealing she has Covid
Victoria stands firm on hotel quarantine for tennis stars tks Mark Roberts
Global Politics
Joe Biden's US must act like a new leader, not a returning one
'He Was Just Everywhere': A Tired Country After Four Years of Trump
Amanda Gorman Captures the Moment, in Verse
Murdoch & Morrison vs. The ABC tks Phillipa Edwards
History shows just how different Biden's inauguration was
On Day 1, Biden Moves to Undo Trump's Legacy
Jen Psaki's Debut: No Attacks, No Lectures, No Crowd Size Fixation tks Gina Giachetti
President Donald J. Trump: The End
Shell companies and 'dark money' may hide details of Trump ties to DC protests
Fox News, OANN, and Newsmax Pretend Trump's Not Leaving in Disgrace
Billionaires backed Republicans who sought to reverse US election results tks Laina Raveendran Greene
The GOP's oversimplified pushback on Biden's executive actions
Trump impeachment: Senate trial delayed until next month
McConnell privately says he wants Trump gone as Republicans quietly lobby him to convict
Democrats, Here's How to Lose in 2022. And Deserve It. Tks Brian Sibley
'We All Got Played': QAnon Followers Implode After Big Moment Never Comes
Trump planted his own 'deep state' partisans in government agencies to undermine Biden: report
Posted Live From the Inferno tks Phillipa Edwards
Uganda's long-time leader Yoweri Museveni declared election winner
The women who saved the boxes of electoral votes during a riot in the Capitol tks Kimi Mc
Armin Laschet elected leader of Merkel's CDU party
Trump Is on the Verge of Losing Everything tks Barry Graubart
Videos Show How Rioter Was Trampled in Stampede at Capitol
Biden inauguration: Executive orders to reverse Trump policies
Giuliani associate told ex-CIA officer a Trump pardon would 'cost $2m' tks Andrew Bryant
Investigators Eye Right-Wing Militias at Capitol Riot
Trump buried in ridicule for seeking $2 billion for his presidential library
Most Americans Think Trump Will Be Remembered As A Subpar President
As Biden's Assistant Health Secretary, Dr. Rachel Levine Set To Be First Openly Trans Federal Official Confirmed by U.S. Senate tks Priscilla Joseph
Donald Trump's farewell: We did what we came to do
Sahrawi activists and Moroccan dissidents fear Rabat is now pursuing them abroad
Trump pardons dozens in final hours, including ex-aide Steve Bannon
Biden inauguration leaves QAnon believers in disarray
The Complete List of Trumps's Twitter Insults (2015-2021)
Former Presidents Obama, Bush, And Clinton Ask Americans To Work Together | NBC News NOW tks Wayne Chan
Business and Technology
Marmite maker Unilever to insist suppliers pay 'living wage'
Fox News fires a dozen staffers including political ed Chris Stirewalt
Will the Trump corporate backlash make a difference?
Hundreds in publishing sign letter objecting to book deals for the Trump administration
Electric car batteries with five-minute charging times produced
Fiat Chrysler, PSA Group Merge to Create New Auto-Making Behemoth
'They're Trying To Cancel Me': MyPillow CEO Says Retailers Have Dropped The Brand Amid His Baseless Voter Fraud Claims
Social issues (#BlackLivesMatter) and humanity
China mine rescue: Eleven miners brought to surface, say state media
Dear Gavin Williamson, could you tell parents what a fronted adverbial is? Tks Tony Whybrow
Executive Order On Advancing Racial Equity and Support for Underserved Communities Through the Federal Government
Bishops throw cold water on the most Catholic inauguration in history
Violent hashtag frequencies in Parler tks Wendy Tan
As an expert on US militias, I know about the psychology of pro-Trump rioters. Biden should too
10 steps reinventing yourself in 2021, according to a transitional life coach tks Sally Foley Lewis
Tse Chi Lop: Alleged Asian drug lord arrested in Amsterdam
Migrant caravan: Mexico presses US to reform immigration policies
Farewell to Trump's Baby Sociopaths tks Joyce Ano
Pink seesaws at US-Mexico wall win design award
American Kristen Gray to be deported from Bali amid Twitter row
Ken Burns Says U.S. Has 3 Viruses: COVID-19, White Supremacy And Misinformation tks Denise Chai
The 'Kardashian' academics on social media who are influencing school policy tks Phillipa Edwards
Online clothes sellers targeted by 'creepy' messages
Trump's 1776 Commission Critiques Liberalism in Report Derided by Historians
Greece #Metoo: Women ending silence of sport abuse shake Greece
Passion, humour, history
'One Day More' of President Trump – Les Misérables parody
Scientists Have Described a Dinosaur's Butthole in Exquisite Detail
The hand warming story of how Bernie Sanders got his inauguration mittens
Patient dog waits for days outside hospital tks David Lim
Trump 'prank-called by Piers Morgan impersonator'
Biden, Harris Opt For American Fashion Designers For Inauguration Attire
People Have Turned Bernie Sanders' Inauguration Fashion Into So Much More Than Your Standard Meme
Tiffany Trump's billionaire fiancé Michael Boulos, 23, proposed to the 27-year-old with a 13-CARAT emerald-cut diamond from Dubai that is estimated to be worth up to $1.2M
Unmasked: McKenzie's shopping trip to remember with new partner tks Phillipa Edwards
Mormon Church Reportedly Amassed $100 Billion Fund For 'Second Coming Of Christ'
The Future Australian National Anthem – it's Australia Day tomorrow, 26th January. I support changing the date and a revisit of the words wouldn't go amiss either. Time to acknowledge and move forward. Tks Nicholas Shapanski aka Gav!
What jumped out at you this last week?
Cheers
Andrea
18 Steps to An All-Star LinkedIn Profile
This book is the starting point for LinkedIn success. It has everything you need to reach All-Star!! You can buy it on Amazon.com Amazon.co.uk Amazon.in and Flipkart. It's also available as an eBook on Amazon Kindle, Kobo, Google Play and iBooks.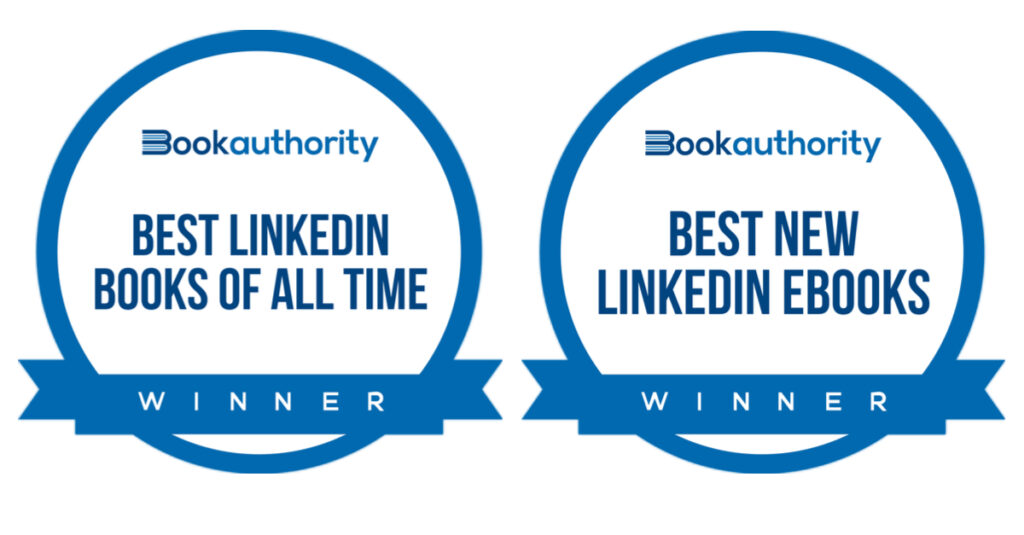 Check out Second Nature Social
This is a new series, designed to help beginners get up to speed with everything necessary on social media. Follow my YouTube channel and see the latest.
Are you a Social CEO?
I'm proud to be a contributing author to The Social CEO: How Social Media Can Make You A Stronger Leader. You can order it on Amazon today.
Want to claim your stage?
Check out our co-authored Best Selling Book – Unleash Your Voice – Powerful Public Speaking for Every Woman – proud to be part of this too!
Want proof social leadership transforms business and attracts customers?
Check out this case study with IBM Asia Pacific. Incredible results.
Want to be a super star online?
Don't know where to start, check out my e-learning course How to build a rock star personal brand today.
I believe it's time for all of us to embrace our voice and embrace the future. We do this by working and living 'out loud' with meaning, intention, integrity and by being true to ourselves. If you own your voice, you own your future.
Connect with me
If you like my style and what I talk about, feel free to follow me on any of these platforms on social media.
My blog andreatedwards.com
Twitter @AndreaTEdwards
LinkedIn AndreaTEdwards
LinkedIn The Digital Conversationalist
Facebook AndreaTEdwards
YouTube Andrea Edwards
SlideShare AndreaTEdwards
Medium AndreaWTBEdwards
Instagram AndreaWTBEdwards