We're almost there, down to the wire with the election just two days away – intense or what? Please, please, please America, vote for the future and that means, Joe Biden!
What are your plans for Election day? The results will start coming out on Wednesday in this part of the world, and an election gathering is planned. I hope it's a happy gathering. In 2016, I had a very sombre night with some of my pals, and I really hope it won't be the case again this time.
The way to know who will win is to track the swing states. According to this article, the key six in play are Arizona, Florida, Michigan, North Carolina, Pennsylvania and Wisconsin. Trump won all six in 2016, so keep your eyes on those results, although some flips are looking promising.
Regardless, a small win isn't enough this time, it requires a total blue wave, including the Senate, if we stand any chance of American government being effective in moving forward quickly with climate legislation. We need the US on board here – all of our futures depend on it!! It's why I'm so passionate about it.
So my fingers are bleeding as I bite my nails down to the quick….. Let's all send positive vibes to our US friends, I know they will have all of our backs.
In great news this week, my family and friends in Melbourne are free, after the longest lockdown in the world. Bravo guys. Amazing. At the time of lockdown, the UK and Melbourne had similar numbers in the high 700 range. Today, Melbourne has zero cases and the UK is close to 25,000. I believe in keeping it under control and this shows that case beautifully.
Charity
Got some spare cash? Please donate where it makes sense to you, or to the UN Refugee Program and World Food Program. There is so much need out in the world. Let's pull together.
Friends content
OUTdeBOX TALK :: Ep# 02 with Mariana Pascal – I loved this. Honest, heartfelt, open sharing. Awesome work Harish Kumar and Marianna Pascal
Leadership Matters – and an insightful article by my pal Andrew Bryant
Podcast Barkcast – for all my dog loving friends, check out Russell Distance Russell's new podcast, which talks all things dog training. He's awesome
Content to read
And here's the content I've been reading this last week. Scan the headlines, read the ones that jump out at you, read or watch them all. Knowledge is power, and global knowledge is even more powerful.
Climate Crisis / 6th Mass Extinction
'Sleeping giant' Arctic methane deposits starting to release, scientists find tks Kevin Cottam
75 ways Trump made America dirtier and the planet warmer tks Denise Chai
US election: The sinking island voting for Trump
As Election Nears, Trump Makes a Final Push Against Climate Science tks Denise Chai
Greta Thunberg reflects on living through multiple crises in a 'post-truth society'
COVID19
Victorians are owed a nation's gratitude tks Phillipa Edwards
Survey uncovers widespread belief in 'dangerous' Covid conspiracy theories tks Tim Hamons
White House science office takes credit for 'ending' pandemic as infections mount
Faulty US Covid-19 response meant 130,000 to 210,000 avoidable deaths, report finds
Covid: Melbourne's hard-won success after a marathon lockdown
How the Surging Virus Has Crashed Into Campaigning in Every Imaginable Way
More than 80 per cent of hospitalized COVID-19 patients had vitamin D deficiency: study tks Lynda Woolf
Hospitals Are Reeling Under a 46 Percent Spike in Covid-19 Patients
White House Declares Pandemic Over As It Cites Renowned Scientist Ivanka Trump [UPDATE] tks Elsa Robinet
France hits record 52,010 daily Covid cases, Spain declares new state of emergency
ILO says garment industry should do more to help workers hit by COVID-19 pandemic
https://www.youtube.com/watch?v=qOYYUkZG6b8&feature=youtu.be – The Full Story of Trump and COVID-19 – tks Andrew Bryant
Members of Pence's Inner Circle Test Positive for Coronavirus
'He has blood on his hands': Columbia University study shows that Trump could have avoided over 130,000 COVID-19 deaths with a more robust pandemic response tks Bob Hooey
4 Pence Aides Test Positive for the Coronavirus
'Vulnerable' garment workers in Bangladesh bear the brunt of the coronavirus pandemic
NCP and ILO Research Brief: COVID-19 and the Garment Industry
Global Politics
Podcast The Daily – The Field: Why Suburban Women Changed Their Minds – promising!
Al Gore on what makes this election different from 2000
Forget What The Polls Say, Social Media Predicts This Candidate Will Be The Next President tks Gina Giachetti
MOVE OVER BORIS Danny Dyer backed for PM by EastEnders fans after his BBC Breakfast rant about politicians who went to posh schools
Heat at Trump rally sends a dozen attendees to the hospital
These 10 charts show how the economy performed under Trump versus prior presidents tks Bob Hooey
Trump Supporters Left Stranded At Freezing Omaha Airport
Thousands attend President Trump's rally in Omaha
Obama's New Gig: Gleefully Needling Trump
The Kamala Harris Video of Her Laughing at Socialism Questions on '60 Minutes' Has Been Viewed Over 1 Million Times on Twitter
New US Supreme Court justice Amy Coney Barrett may be the tie-breaker in a case that could have a huge impact on the US election
Biden says Trump can win because of 'how he plays'
Trump campaign sending out Ivanka in last-ditch effort to win over suburban women: report
Trump's Biggest Economic Legacy Isn't About the Numbers
Biden is favored to win the election tks Sophia Henri
Business and Technology
Snapchat Co-Founders Share $2.7 Billion Windfall
How the Surging Virus Has Crashed Into Campaigning in Every Imaginable Way
Europe's Richest Person's Net Worth Soars on Luxury Rebound
Who Killed Nokia? Nokia Did tks David Lim
Tory MP Says She Hopes Businesses Who Feed Hungry Kids Won't Seek Government Support tks Sophia Henri
Osiris-Rex: Nasa probe risks losing asteroid sample after door jams
Social issues (#BlackLivesMatter) and humanity
Poland abortion ruling sparks 'women's strike'
Live referendum results: 'Yes' to euthanasia, 'no' to cannabis tks Gabe Rijpma
France attack: Three killed in 'Islamist terrorist' stabbings
Australia seeks Qatar response after female passengers strip-searched
Hillsong has bought Melbourne's iconic Festival Hall
'I have to do this': Myanmar garment workers forced into sex work by Covid
Passion, humour, history
Honest Government Ad | Q – tks David Lim
Borat 2 | Rudy Giuliani Full Interview -tks Vicky Coburn
Let me know if anything jumped out at you?
Cheers
Andrea
18 Steps to An All-Star LinkedIn Profile
This book is the starting point for LinkedIn success. If you want to buy it, it's available on Amazon.com .co.uk .in .au and Flipkart. It's also available as an eBook on Amazon Kindle, Kobo, Google Play and iBooks.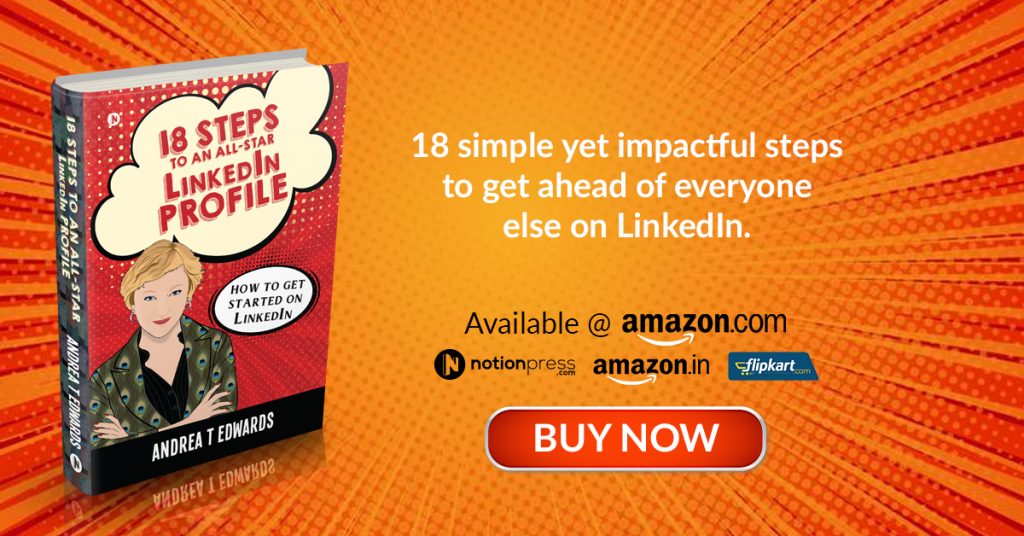 Check out Second Nature Social
This is a new series, designed to help beginners get up to speed with everything necessary on social media. Follow my YouTube channel and see the latest.
Are you a Social CEO?
I'm proud to be a contributing author to The Social CEO: How Social Media Can Make You A Stronger Leader. You can order it on Amazon today.
Want to claim your stage?
Check out our co-authored Best Selling Book – Unleash Your Voice – Powerful Public Speaking for Every Woman – proud to be part of this too!
Want proof social leadership transforms business and attracts customers?
Check out this case study with IBM Asia Pacific. Incredible results.
Want to be a super star online?
Don't know where to start, check out my e-learning course How to build a rock star personal brand today.
I believe it's time for all of us to embrace our voice and embrace the future. We do this by working and living 'out loud' with meaning, intention, integrity and by being true to ourselves. If you own your voice, you will own your future.
Connect with me
If you like my style and what I talk about, feel free to follow me on any of these platforms on social media.
My blog andreatedwards.com
Twitter @AndreaTEdwards
LinkedIn AndreaTEdwards
Facebook AndreaTEdwards
YouTube Andrea Edwards
SlideShare AndreaTEdwards
Medium AndreaWTBEdwards
Instagram AndreaWTBEdwards