It was to be expected. A week highlighting a parallel universe in the United States, and of course, I'm talking about the Republican National Convention. I couldn't watch it. That frenzied way of speaking and complete repositioning of reality from what is plainly right in front of our faces… well it all just felt a bit mad.
But people believe it, so many people believe it. Insert hand-smacking-own-face emoji…. This widely shared image summed the week up for me.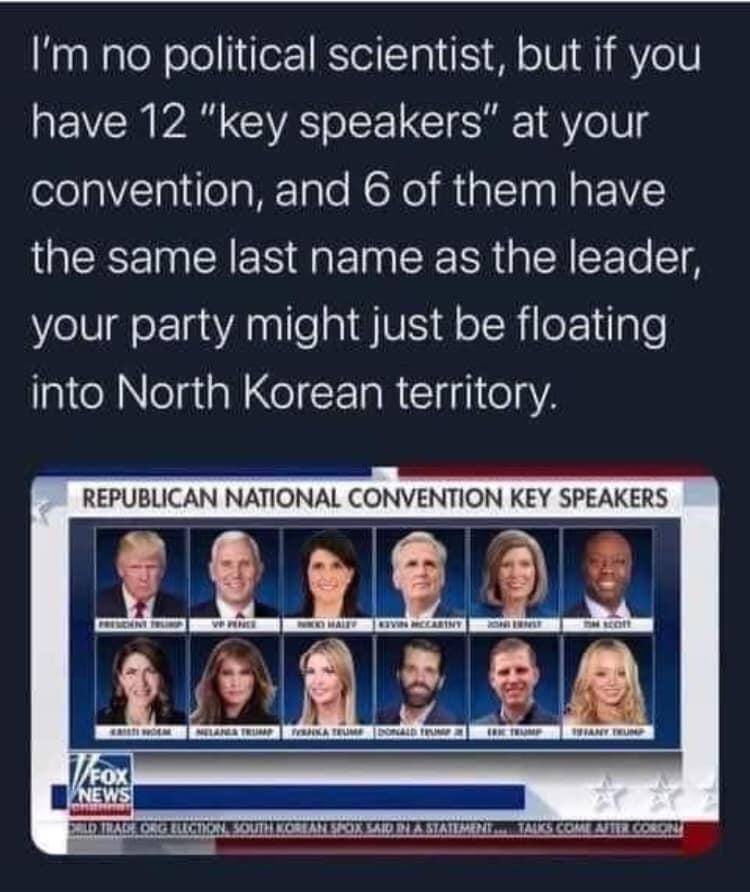 As most of my family are in and around Melbourne, I've been keeping an eye on things over there. The QAnon conspiracy believing crowd seem to have a massive voice, but if you look at the stats my sister, Phillipa, shared this week, you'll realize they are not the majority. I wish the media would stop giving them so much real estate!!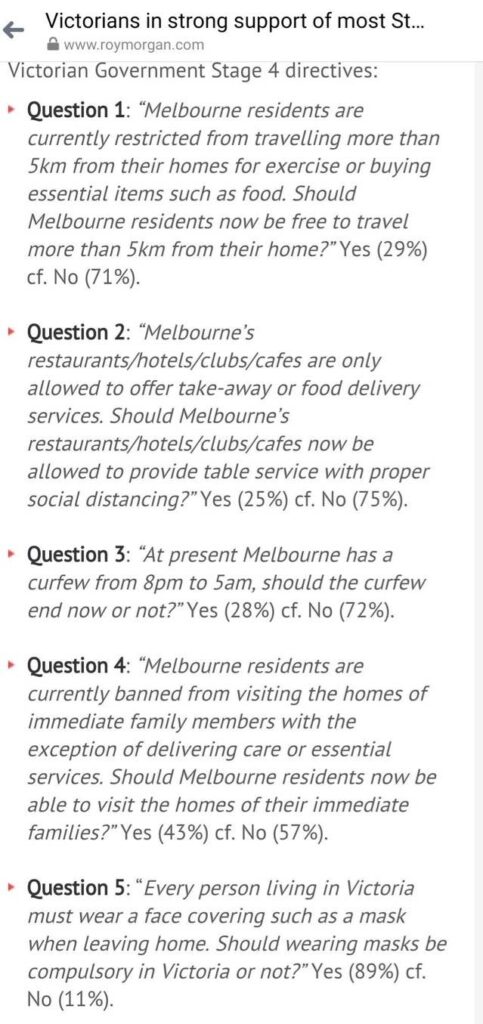 But it is another reason that I ask everyone who is good, kind and decent, to raise your voice. Speak up for what you believe in. Share your truth. Don't leave the social media platforms to be dominated by this small demographic. They have an outsized presence on social media, because too many of us are holding back.
If we want to change the global tone of the conversation from ugliness to hope, that is how we do it. We show up, stand up, speak up. It's the only way we can get our world reunited and hopefully, we can build together out the other side of this crisis.
Charity
Have you made any donations this week? Helping out where you can? Please consider these two worthy organizations. The UN Refugee Program and World Food Program. In fact, donate to the World Food Program through this unique link. It's the charity being supported for the Asia Professional Speakers Convention 2020. Check out Convention to. It's going to be amazing.
Friends content
Ace your Annual Performance Review – if you have a performance review coming up, definitely recommend this article, by my friend Andrew Bryant. Great insights and tips.
Looking for a new podcast? I can definitely recommend Kerrie Phipp's podcast Connect with Confidence. Kerrie has an ability to really draw amazing conversations out of people. I loved doing mine with her.
Congrats to Stephanie and Jan on their wedding!! Looking forward to the celebrations in person – Life During Covid: I Planned A Sustainable Wedding At Home In 3 Weeks
Oh and I published 8 tips for managing email communication better = mini-rant because things are just out of control in email land. Totally out of control.
Content to read
And here's the content I've been reading this last week. Scan the headlines, read the ones that jump out at you, read or watch them all. Knowledge is power, and global knowledge is even more powerful.
Climate Crisis / 6th Mass Extinction
Global warming may kill more than all infectious diseases combined tks Mark Mulkerin
Climate change: 'Unprecedented' ice loss as Greenland breaks record
Thailand's turtle hatchlings finally have the beach to themselves tks Karen Prager
Dying mother dolphin struggles to save baby in Mauritius lagoon after oil spill
For The First Time in Years, Earth Overshoot Day Has Been Pushed to a Later Date Tks Joanne Flinn
How to decarbonize America — and create 25 million jobs Tks Denise Chai
Earth has lost 28 trillion tonnes of ice in less than 30 years
Australia fires: Similar or worse disasters 'will happen again'
Covid-19 ecotourism collapse could spell disaster in the Masai Mara
U.S. Flood Strategy Shifts to 'Unavoidable' Relocation of Entire Neighborhoods tks Denise Chai
Climate crisis: business, farming and environment leaders unite to warn Australia 'woefully unprepared'
10 highlights of Joe Biden's ambitious Climate Plan
Northern California wildfire now 2nd-largest ever as total blazes scorch nearly 1M acres
Hurricane Laura: storm to bring 'unsurvivable surge' of destruction to US Gulf coast
Aerial footage shows massive flooding in Hurricane Laura aftermath
COVID19
Russia, Expecting Plaudits for Vaccine, Is Miffed by Its Cool Reception
F.D.A. 'Grossly Misrepresented' Blood Plasma Data, Scientists Say
Sweden records 51,400 deaths in first half of 2020 — highest such tally in 150 years
Man who believed virus was hoax loses wife to Covid-19
The RNC's big Covid-19 lie, refuted in one chart tks Denise Chai
Thailand floats plan to welcome back international tourists in October
Coronavirus: Bali closed to foreign tourists until end of 2020
Australia international travel ban: Where does this end? tks Eli Davies
Fauci says he was in surgery when task force discussed CDC testing guidelines tks Denise Chai
Sweden records highest death tally in 150 years in first half of 2020
India coronavirus: Covid strikes remote Greater Andamanese tribe
Global Politics
What if Facebook Is the Real 'Silent Majority'? tks Patrice Robinet
Eric Trump: Americans Shouldn't Be Handed Things, They Must Work For It
Trump criticizes California's handling of wildfires, says 'they don't listen to us'
Kellyanne Conway leaving White House to focus on family
RNC 2020: Trump warns Republican convention of 'rigged election'
Boris Johnson moves to seize control of schools agenda after exams chaos
Trump campaign fundraiser Kimberly Guilfoyle on the case for Donald Trump – just weird!!
New Zealanders Share Pics Of What A 'Hellhole' Their Country Is As A Response To Trump And His Supporters
US TV host Tomi Lahren's praise of Trump backfires in Hindi
Biden vs Trump: who is leading the 2020 US election polls?
I'm Billy Graham's granddaughter. Evangelical support for Donald Trump insults his legacy. tks Mark Mulkerin
"If i can unseat him, that would be incredible": political strategist Ashley Etienne may be biden's deadliest weapon against trump
The Republican Party in Congress could become even more male
Kellyanne Conway resigns as senior White House adviser
Melania, Tiffany and Eric Take the RNC Stage | The Daily Social Distancing Show
Business and technology
The CEO moment: Leadership for a new era tks Damien Corbet
After blockbuster quarter, Salesforce lays off nearly 1,000 employees
Why Talented People Don't Use Their Strengths
New York Times' digital revenue tops print for first time in 'watershed moment,' CEO says
EMMA ALBERICI. There's no case for a corporate tax cut when one in five of Australia's top companies don't pay it. tks Phillipa Edwards
Jerry Seinfeld: So You Think New York Is 'Dead'
Business partner of Falwells says affair with evangelical power couple spanned seven years tks Barry Graubart
AUTONOMY: The Dawn of a New Era for Industry
Jeff Bezos Becomes The First Person Ever Worth $200 Billion tks Domenica Decrea
Yearning for more privacy and space while working from home, some young S'poreans turn to rental market
Reliable, Affordable Energy for the World tks Francine Varner
Social issues (#BlackLivesMatter) and humanity
Jacob Blake's father says son's paralyzed from waist down after police shooting in Kenosha
Texas QAnon Supporter Used Car to Attack Strangers She Believed Were 'Paedophiles
QAnon groups have millions of members on Facebook, documents show
Facebook CEO admits 'operational mistake' in failure to remove Kenosha militia page
When Alzheimer's Disease came for my husband, I was left like a widow who cannot mourn tks Kathryn Fraser
Kenosha shooting: Protests erupt after US police shoot black man
America's black upper class and Black Lives Matter
Why It Seems Like Bullies Are Everywhere—and How to Stop Them
Melinda Gates talking about COVID-19, U.S. leadership and women's empowerment.
Jacob Blake: Police officer in Kenosha shooting named
How Chaos in Kenosha Is Already Swaying Some Voters in Wisconsin
Africa declared free of wild polio in 'milestone'
Facebook chose not to act on militia complaints before Kenosha shooting
As the wealthy move in, homeless people are pushed out
Mets, Marlins walk off field in social injustice protest tks Barry Graubart
Top Victoria Police officer slams Melbourne anti-lockdown Stage 4 protesters
Passion, humour, history
One Tasmanian's 54-year obsession to catalogue all of the world's edible plants to end malnutrition tks Adrienne Kane
Survival Of The Nicest? A Theory Of Our Origins Says Cooperation-Not Competition-Is Instinctive tks Graham Harvey
Let me know which one jumped out at you?
Cheers
Andrea
18 Steps to An All-Star LinkedIn Profile
This book is the starting point for LinkedIn success. If you want to buy it, it's available on Amazon.com .co.uk .in .au and Flipkart. It's also available as an eBook on Amazon Kindle, Kobo, Google Play and iBooks.
Are you a Social CEO?
I'm proud to be a contributing author to The Social CEO: How Social Media Can Make You A Stronger Leader. You can order it on Amazon today.
Want to claim your stage?
Check out our co-authored Best Selling Book – Unleash Your Voice – Powerful Public Speaking for Every Woman – proud to be part of this too!
Want proof social leadership transforms business and attracts customers?
Check out this case study with IBM Asia Pacific. Incredible results.
Want to be a super star online?
Don't know where to start, check out my e-learning course How to build a rock star personal brand today.
I believe it's time for all of us to embrace our voice and embrace the future. We do this by working and living 'out loud' with meaning, intention, integrity and by being true to ourselves. If you own your voice, you will own your future.
Connect with me
If you like my style and what I talk about, feel free to follow me on any of these platforms on social media.
My blog andreatedwards.com
Twitter @AndreaTEdwards
LinkedIn AndreaTEdwards
Facebook AndreaTEdwards
YouTube Andrea Edwards
SlideShare AndreaTEdwards
Medium AndreaWTBEdwards
Instagram AndreaWTBEdwards