It's been a huge week. After more than a year of work, a team of 22 volunteers delivered a five-day digital Convention – The Asia Professional Speakers Convention 2020 – Write the Future.
We put everything we had into making it a success, but until the audience arrives, you never know how it will be received. Well it's a HUGE relief to say it was received brilliantly. The feedback has been phenomenal and the interaction across five days – blown away.
If you don't think you can keep an audience active and engaged for five days, I am here to tell you it's definitely possible. It requires an amazing line-up of speakers, relevant to the audience, and lots of real audience engagement possibilities included as well. Planning everything with the audience in mind is absolutely critical, and we never wavered from that.
We made changes as we went too, because we paid attention to what people were loving. Do you know what everyone loved? Small break out rooms, before, during and after the sessions. The opportunity for personal connection. And I loved it too. I didn't miss one.
Here's the phenomenal team I got to work with! LOVE you guys.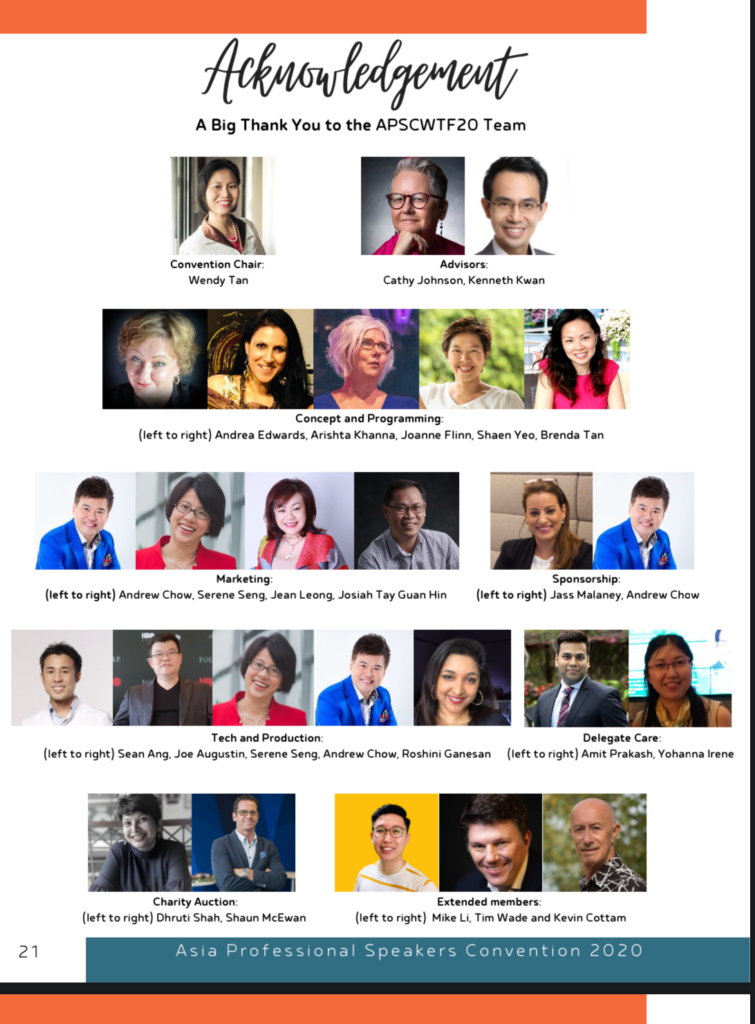 I have so many many take-aways from this event and because I was working on it, I know I need to go back and watch the speeches again. But three big nuggets came through for me.
Dr. Bertice Berry launched Convention and it was a stunning start. I recommend checking her out. Her biggest take-away for me was "only spend time doing what you love." And I am like right, it's time to really commit to that. She also said "if you're not using your voice for good, shut up!" Amen.
The second nugget is that the 2020s is the decade of disruption and it was always going to be the case. Yes!! Dr. Graeme Codrington talked about this and the key take-away – for me – is the mindset required to keep going through a long and painful period of disruption, because it will not be easy. Resilience is everything.
And the amazing Tiffani Bova – one of the smartest people I know – gave the global business overview. She challenged us to be bold, and Tiffani, I take on that challenge! I also loved the idea of not chasing "perceived competition." This absolutely resonates with me, because it's always a distraction away from purpose.
There was so much more gained and I'm planning to watch many of the speeches again. I saw three themes across the styles of talks.
One style helps me be a better speaker, trainer, social leadership coach and of course, more successful virtually.
Two helped me understand business, technology trends, the future, and what's coming up.
Three was about mindset, mental strength, resilience, courage and more.
It was a holistic feast of knowledge for our community. Proud to have been on the curation team for this Convention.
The overarching themes for me, that were woven across all three categories of speeches, were a call to authenticity and vulnerability. A need to be strong and a voice of hope through the hard times ahead. A call to be guides in a world awry.
We have challenging times ahead. The people who will stand out through this time, and the stories we will share, will be on people who will give the world hope, as well as those who innovate for the time. That will be the story of COVID19. Those two types of people, not all of the other distractions filling our airways and social feeds.
As Ron Kaufman finished Convention with: What are you going to do with the rest of your life? I want to be one of the people helping to guide humanity towards a higher way of being, in balance with the Great Mother.
And that's why I am doing these weekend reads. I am sharing the information I read (without opinion) to help those struggling to navigate the Infodemic. This is a pleasure for me. Reading. Digesting knowledge. Reading all sides. I love it.
I also know that knowledge is vital and a free press too. Right now, we have far too much nonsense circulating, and too many people have siloed access to information, which means they are not always reading truth.
Knowledge is the answer. Read wide. Read opposing views. Read. Watch. Think. Listen. Oh and pay attention to the futurists – important people to listen to today. As a starting point, I can definitely recommend Dr. Graeme Codrington.
Charity
A special request this week. The Asia Professional Speakers Convention 2020 is supporting the World Food Program (WFP), and you can donate through this unique link. We have raised well over $20,000 and that means we will be able to feed approximately 550 families for two weeks. Let's all be generous and donate to this worthy cause, so we can feed more people.
Today, the number of acutely hungry people in the countries where the WFP operates, could increase to 270 million people as COVID19 becomes a new driver of food insecurity. This is the largest human need WFP has ever faced and requires an 82% increase in support by the WFP.
In a world where we produce enough food to feed everyone, 690 million people or one in nine, go to bed hungry every night, and this is not just in developing countries. Equally, the humanitarian crisis is predicted to get worse, as the COVID19 response continues with no end in sight, and the deeper economic impact unfurls.
Getting on top of this crisis, as well as putting the infrastructure in place to ensure no one starves, is now an urgency. The longer we wait, the harder it will be to provide support.
Please, if you are able to, donate what you have saved while reducing your travel and social outings. Every cent helps.
Content to read
And here's the content I've been reading this last week – yes even while Convention was on. It is like breathing to me. As always, scan the headlines, read the ones that jump out at you, read or watch them all. Knowledge is power, and global knowledge is even more powerful.
Climate Crisis / 6th Mass Extinction
Amazon fires: Are they worse this year than before?
How do we move around in a zero-carbon world?
A second Trump term would mean severe and irreversible changes in the climate tks Denise Chai
CIMB targeted by Indonesian NGOs for funding coal plants as Malaysian bank prepares to stage sustainability event
'War on plastic' could strand oil industry's £300bn investment
Are forests the new coal? Global alarm sounds as biomass burning surges tks Philippa Penfold
COVID19
Opinion: It is time to levy a one-time pandemic wealth tax on billionaires' windfall gains tks Ben Jenkins
New Trump pandemic adviser pushes controversial 'herd immunity' strategy, worrying public health officials tks Laura Dodd
Why the United States is having a coronavirus data crisis
U.S. Won't Join International Vaccine Effort Because WHO Is Involved
A Supercomputer Analyzed Covid-19 — and an Interesting New Theory Has Emerged tks Samantha Gayfer
Tony Abbott accused of 'new low' with coronavirus speech
Thailand finds first locally transmitted case of Covid-19 in over 100 days
STFU: Victorians are owed your gratitude not your scorn tks Warwick Merry
Global Politics
Trump: Americans Who Died in War Are 'Losers' and 'Suckers' tks Michelle Giamusso Regal
Trump panned over reports he called US war dead 'losers'
Trump Faces Uproar Over Reported Remarks Disparaging Fallen Soldiers
Trump defends supporters accused in deadly clashes
Cassandra of Troy tks Barry Graubart- a thread worth reading
Top US general tells Congress the military won't play a role in the 2020 election
The Andrews-Morrison bromance is heading for an ugly break-up tks Phillipa Edwards
Chyna
Why Joe Biden's instinctive caution makes real change possible
Cheng Lei, Australian anchor for China's government-run English news channel CGTN, detained in Beijing tks Glenn van Zutphen
Trump Spread Multiple Conspiracy Theories on Monday. Here Are Their Roots.
Thailand's king reinstates his consort after her fall from grace
Open letter from long-stay tourist in Phuket spurs action from Prime Minister
IRS tells companies to not take out Social Security taxes from checks following presidential order
Belarus: The great-grandmother taking on President Alexander Lukashenko
Business and technology
Forget TikTok. China's Powerhouse App Is WeChat, and Its Power Is Sweeping.
The Truth About Warren Buffett's Investment In Gold tks Wendi Stewart
India GDP shows worst quarterly slump in decades
Top Job Alternatives to Face Unemployment During Coronavirus tks John Gordon
Bank of Thailand warns of tourism meltdown tks Karen Prager
Australia in first recession for nearly 30 years
Social issues (#BlackLivesMatter) and humanity
Kenosha Tells Us More About Where the Right Is Headed Than the R.N.C. Did tks Kimi Mc
Facebook Employees Are Outraged At Mark Zuckerberg's Explanations Of How It Handled The Kenosha Violence tks Cheryl Liew
Science shows the remedy for hatred and prejudice is as simple as it is revolutionary: contact with our enemies tks Joanne Flinn
Doc Rivers sends an emotional message on social injustice | NBA on ESPN tks Frank Roberts
The RNC weaponized exhaustion tks Denise Chai
Portland clashes: Fatal shooting as rival groups protest
Instrument of Mercy tks CJ Ng
The five most terrifying performances by women at the RNC – ranked!
The FBI warned for years that police are cozy with the far right. Is no one listening?
Christian Site Raises Over 265K for Alleged Kenosha Shooter Kyle Rittenhouse tks Frank Roberts
Facebook may block Australians from sharing news articles tks Damian Corbett
UNICEF warn of remote learning issues for 463m tks Francine Varner
Passion, humour, history
'Coffin confessor' Bill Edgar paid to gatecrash Queensland funerals and speak up for the dead tks Simon Kearney
Meteorite crater discovered while drilling for gold in outback WA estimated to be 100 million years old
Let me know what you enjoyed?
Cheers
Andrea
18 Steps to An All-Star LinkedIn Profile
This book is the starting point for LinkedIn success. If you want to buy it, it's available on Amazon.com .co.uk .in .au and Flipkart. It's also available as an eBook on Amazon Kindle, Kobo, Google Play and iBooks.
Are you a Social CEO?
I'm proud to be a contributing author to The Social CEO: How Social Media Can Make You A Stronger Leader. You can order it on Amazon today.
Want to claim your stage?
Check out our co-authored Best Selling Book – Unleash Your Voice – Powerful Public Speaking for Every Woman – proud to be part of this too!
Want proof social leadership transforms business and attracts customers?
Check out this case study with IBM Asia Pacific. Incredible results.
Want to be a super star online?
Don't know where to start, check out my e-learning course How to build a rock star personal brand today.
I believe it's time for all of us to embrace our voice and embrace the future. We do this by working and living 'out loud' with meaning, intention, integrity and by being true to ourselves. If you own your voice, you will own your future.
Connect with me
If you like my style and what I talk about, feel free to follow me on any of these platforms on social media.
My blog andreatedwards.com
Twitter @AndreaTEdwards
LinkedIn AndreaTEdwards
Facebook AndreaTEdwards
YouTube Andrea Edwards
SlideShare AndreaTEdwards
Medium AndreaWTBEdwards
Instagram AndreaWTBEdwards