A little bit of bright and colorful inspiration, with a goal to remind everyone of an important opportunity we all have – and that is to own our voice on social media. But we must do it in a way that is meaningful to each of us personally! I encourage you to relish in this opportunity, and to get started simply get focused, get committed and keep going. Enjoy
What Is Social Leadership?
A social leader takes a firm stance around an issue they care passionately about.
They are driven by a strong desire to inspire change, improve lives, or they just want to make people smile.
To put it more simply It's you — amplified!
It's what you stand for.
It's what you believe in.
It's how you think.
It's how you act.
It's the packaging up of all of YOU which you actively and passionately share digitally.
Driven by a goal of creating change, in mindset, behavior, or ways of doing things.
What social leadership looks like is different for each of us.
Our job is to identify the magic within and unleash it – bravely, boldly, powerfully, courageously!
And once we identify our personal magic.. and every person has magic – believe it!
Just think of your qualities celebrated in the physical world? A much smaller stage.
Have you got it? Do you believe it? Do you know your magic?
Because when you do know it, relish in the opportunity to amplify your message, across a larger and more impactful digital stage.
And when you have something powerful to share.
Something that can change lives, enhance professional careers, or simply make the world a better place.
Why would you hold it back?
When we all commit to being social leaders,
And we are determined to participate with integrity, a passion to serve, and a giving mindset at the heart of all we do.
Can you imagine the possibilities?
Social leadership is the cornerstone of business transformation.
This transformation happens through the powerful voices of employees.
Consider it the health insurance for your career today.
But, more importantly, it provides an individual opportunity to shine.
A way to make your mark on the future of our world
And with so much uncertainty ahead, why wouldn't we leap at the chance?
Join the social leadership movement today.
Because in today's dominantly digital world.
A world facing multiple crisis' that we must overcome together.
When we own our voice, we really do own our future!
Cheers
Andrea
18 Steps to An All-Star LinkedIn Profile
This book is the starting point for LinkedIn success. If you want to buy it, it's available on Amazon.com .co.uk .in .au and Flipkart. It's also available as an eBook on Amazon Kindle, Kobo, Google Play and iBooks.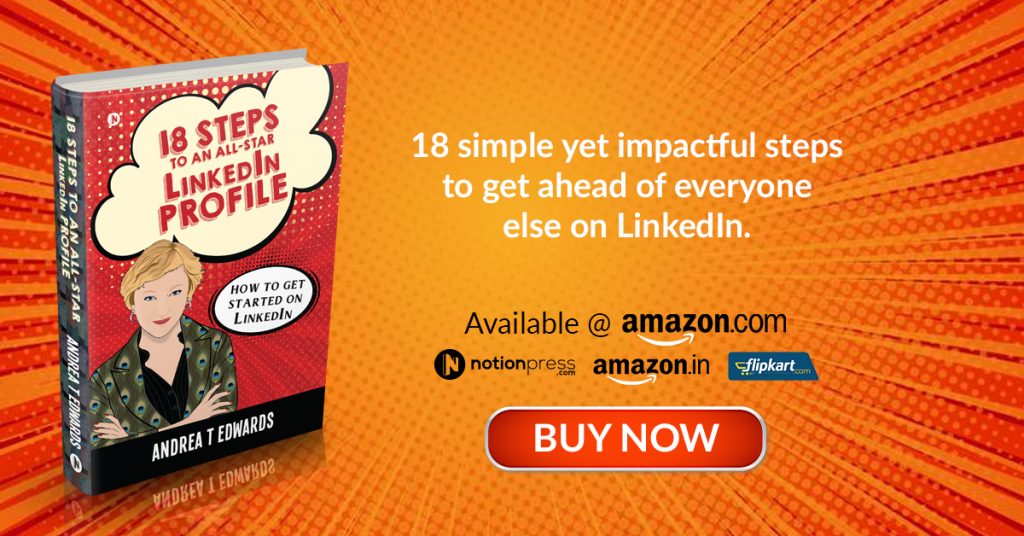 Are you a Social CEO?
I'm proud to be a contributing author to The Social CEO: How Social Media Can Make You A Stronger Leader. You can order it on Amazon today.
Want to claim your stage?
Check out our co-authored Best Selling Book – Unleash Your Voice – Powerful Public Speaking for Every Woman – proud to be part of this too!
Want proof social leadership transforms business and attracts customers?
Check out this case study with IBM Asia Pacific. Incredible results.
Want to be a super star online?
Don't know where to start, check out my e-learning course How to build a rock star personal brand today.
I believe it's time for all of us to embrace our voice and embrace the future. We do this by working and living 'out loud' with meaning, intention, integrity and by being true to ourselves. If you own your voice, you will own your future.
Connect with me
If you like my style and what I talk about, feel free to follow me on any of these platforms on social media.
My blog andreatedwards.com
Twitter @AndreaTEdwards
LinkedIn AndreaTEdwards
Facebook AndreaTEdwards
YouTube Andrea Edwards
SlideShare AndreaTEdwards
Medium AndreaWTBEdwards
Instagram AndreaWTBEdwards