Another big week of news, and surely this was the week we saw global acceptance of the huge challenges facing us in overcoming the pandemic? Of course there will always be those who doubt what is right in front of their eyes, but the majority is what matters, right?
No question I'm happy to be living in Asia, where it was taken seriously from the start. It's been lovely to enjoy a little freedom in recent weeks, because we all did what was needed to get it under control. Nearly 40 days COVID19 free where I live, and that means we can get out, knowing we are safe (while remaining cautious).
The other undercurrent starting to increase, is how badly the economy has been impacted. While it's been part of this story since the beginning, it is getting more intense now, and I am expecting the next few weeks to see this reality gain more traction in the media.
No question, it's going to be a tough second half of the year, with more and more businesses closing doors, and the consequent unemployment.
And that impacts us all. The global mental health challenges continue, but this week, I was surprised by the number of people telling me how hard this last week has been on them. It was for me too. The rollercoaster ride of emotions is certainly not coming to an end anytime soon, so please, make sure you're taking care of yourselves my friends. I think we are finally appreciating that we are in this for the long haul.
The only way I know how to cope is to get busy, help those in need, create something new, or work on something I've been meaning to do for years but never had a chance to do it.
Of course, sometimes we just need to rest and recharge, which is perfectly respectable too. I've found I regularly need to prioritize recharging, or the wheels fall off – especially when facing up to the truth of this time. It ain't easy.
Charity: If you are able, can you donate to the UN Refugee Program and World Food Program? We have millions of people facing famine and the impact of extreme poverty. Let's help the organizations doing the most to address these challenges. Taking care of our fellow humans is so important.
Friends content
Weekends: "We belong in space" says NASA Astronaut Dr. Cady Coleman tks Glenn van Zutphen
The Digital Conversationalist Andrea Edwards – Connect With Confidence with Kerrie Phipps tks Happy to be a guest on Kerrie Phipps podcast this week
Zimbabwe-based entrepreneur wants to create a global market for baobab products thanks for this Sarah Le Breton. Awesome to see what your brother is doing.
A Homeless Person is Camping in My Neighborhood. Why is This a Police Matter? tks Kimi Ceridon
Content to read
And here's the content I've been reading this last week. Scan the headlines, read the ones that jump out at you, read or watch them all. Knowledge is power, and global knowledge is even more powerful.
COVID19
Coronavirus Cases Are Peaking Again. Here's How It's Different This Time tks Denise Chai
How The World Missed COVID19's Silent Spread
Covid-crisis is Intellectual Failure: Nobel Economics Winner Paul Romer
US secures world stock of key Covid-19 drug remdesivir
Coronavirus: What's behind alarming new US outbreaks?
Close the bars. Reopen the schools. tks Denise Chai
Coronavirus: The human cost of fake news in India
Coronavirus US: Students 'throwing COVID parties as part of contest to see who gets it'
10 things a conspiracy theorist taught me about the novel coronavirus tks Tim Wade
Self-Absorbed, Uncaring, Incompetent: COVID Has Exposed Populist Leaders for What They Are tks Benjamin Jenkins
Scientists just beginning to understand the many health problems caused by COVID-19
Top Public Health Experts Beg Young People To Take COVID-19 Seriously
A Horrifying U.S. COVID Curve Has a Simple Explanation
Asymptomatic COVID-19 findings dim hopes for 'herd immunity' and 'immunity passports'
Flu virus with 'pandemic potential' found in China
Scientists Identify A Swine Flu Virus With Pandemic Potential
'Trump political base hit hardest by coronavirus'
Correction: MSNBC's Chris Hayes Misinterpreted Oklahoma Virus Test Data
Vanilla Ice throwing Fourth of July concert: 'We didn't have coronavirus' in the '90s
Arizona closes bars, gyms and other businesses after 'brutal' increase in Covid-19 cases
Anthony Fauci Warns U.S. Could Reach 100,000 Coronavirus Cases Per Day
CDC says U.S. has 'way too much virus' to control pandemic as cases surge across country
As an inmate, I had to educate an entire prison about coronavirus
Texas Lt. Gov. Dan Patrick, Former Talk Radio Host, Has No More Time for Dr. Anthony Fauci
The Coronavirus Becomes a Battle Cry for U.S. Extremists
Research: "This epidemic will be a detonator" tks Francine Varner
Coronavirus: 'I'm all for masks,' says Trump in change of tone
Coronavirus: How an Indian wedding and funeral infected 100
He posted his regrets over attending a party in California. The next day, he died of coronavirus tks Lisa Larson Lee
Coronavirus: Immunity may be more widespread than tests suggest
#BlackLivesMatter / all racism
Man shares two lessons he learned from disrupting a racist joke in a group of white people
Sacha Baron Cohen Infiltrates Conservative Rally as Racist Country Singer
'Black Lives Matter' Will Be Painted on Street Outside Trump Tower
How the officers charged in George Floyd's death could get their jobs back
Rethinking The Legacy Of Christopher Dorner, The Cop-Killing Cop
Armed St. Louis couple comes out waving AR-15 at BLM protesters
Entire pro softball team quits after GM posts an anti-kneeling tweet using their photo
'Irish slaves' post that's been shared nearly a million times is basically 100% false
Climate Crisis/6th Mass Extinction
Analysis: China's CO2 emissions surged past pre-coronavirus levels in May
Carbon dioxide at Mauna Loa reaches new record high at 417 ppm
'Nowhere to hide': South Pole warms up with climate change a factor
Ukraine floods: Why climate change and logging are blamed
Hawaiian Group Breaks World Record with Biggest Ocean Plastic Cleanup Ever
Beyond Google: my afternoon trawling Trove for the first mentions of climate change
Affluence is killing the planet, warn scientists
Combining climate, economic, and social policy builds public support for climate action in the US
Beyond a climate of comfortable ignorance
Arctic forecast: Sunny with a higher chance of carbon emissions
The Ugly History of Climate Determinism Is Still Evident Today
Siberia heatwave: why the Arctic is warming so much faster than the rest of the world
Why Planting Trees Won't Save Us
Mass civil disobedience needed to force dramatic action on climate change, Jonathon Porritt says
Introducing a carbon charge in the uk.
Renewables are cheap and effective. Now, let's make them just and humane too
Hundreds of elephants found dead in Botswana
Amazon fires at 13-year high for June
Global Politics
From pandering to Putin to abusing allies and ignoring his own advisers, Trump's phone calls alarm US officials
Hillary Clinton taunts Trump over coronavirus management
Russia Secretly Offered Afghan Militants Bounties to Kill U.S. Troops, Intelligence Says
Donald Trump's re-election playbook: 25 ways he'll lie, cheat and abuse his power
Beyoncé's BET speech: 'Vote like our life depends on it'
GOP senator gives activists grim 2020 assessment amid fears over holding Senate
Iran issues arrest warrant for Trump; Interpol denies help
Hong Kong security law: Minutes after new law, pro-democracy voices quit
Barr interfered in SDNY cases tied to Trump interests: NYT
Australia to spend $270b building larger military to prepare for 'poorer, more dangerous' world and rise of China tks Domenica Hiranyagarbha DeCrea
Hong Kong begins life under a new Chinese national-security law
Trump in 'fragile' mood and may drop out of 2020 race if poll numbers don't improve, GOP insiders tell Fox News tks Mary Shin
A Scathing Ad From The Lincoln Project: Betrayed
Business and technology
Fortnite Movie Nite: Christopher Nolan's hit films screen in-game
TikTok Tells Brands Not to 'Make Ads' at First-Ever NewFronts
BP sells petrochemicals business to Ineos in $5bn deal
New Analysis Says Coal's Hit a 'Tipping Point' And No Longer Makes Financial Sense
Social issues and humanity
Exclusive: NRA has shed 200 staffers this year as group faces financial crisis tks Barry Graubart #ThoughtsAndPrayers indeed
The Unfathomable Stupidity of Rich White Men tks Claire Kielty
'People will die within months': Lebanon heads for famine as pandemic accelerates hunger tks Zai Miztiq
Millions Of Taxpayer Dollars Are Going To Schools That Push Conversion Therapy
Rape conviction rates rise 75% in Sweden after change in the law
Outrage as Indian judge calls alleged rape victim 'unbecoming'
How conspiracy theories emerge—and how their storylines fall apart
Nagaland dog meat: Animal rights groups hail ban as 'major turning point'
Oneness vs. The 1%: #VandanaShiva at the United Nations Office at Geneva – tks Chantal Fernandes
Passion, humour, history
First Viking ship excavation in a century begins in Norway
Hagia Sophia: Turkey delays decision on turning site into mosque
Li Zhensheng: Photographer of China's cultural revolution
Thanks for this Phillipa Edwards!
Let me know if anything jumped out at you?
Cheers
Andrea
18 Steps to An All-Star LinkedIn Profile
This book is the starting point for LinkedIn success. If you want to buy it, it's available on Amazon.com .co.uk .in .au and Flipkart. It's also available as an eBook on Amazon Kindle, Kobo, Google Play and iBooks.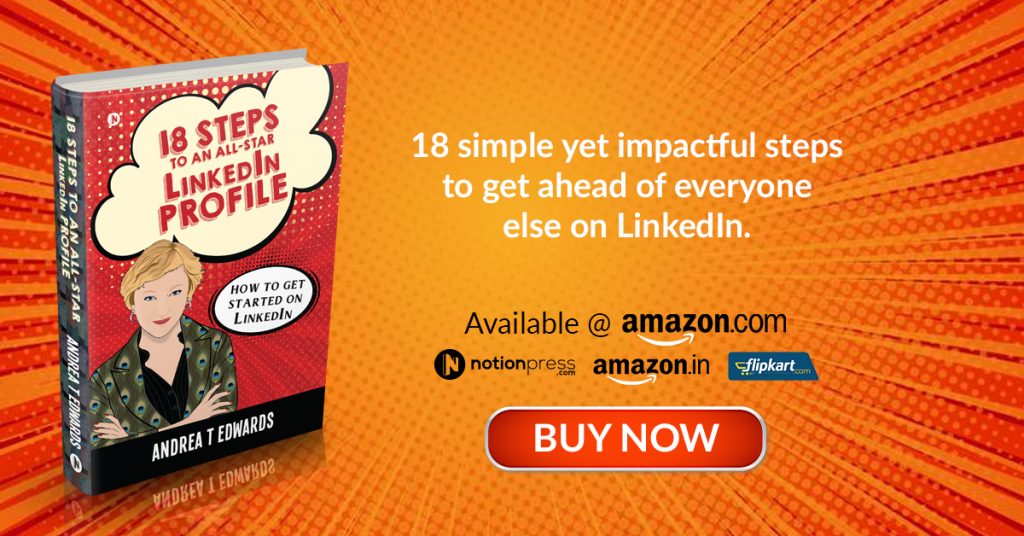 Are you a Social CEO?
I'm proud to be a contributing author to The Social CEO: How Social Media Can Make You A Stronger Leader. You can order it on Amazon today.
Want to claim your stage?
Check out our co-authored Best Selling Book – Unleash Your Voice – Powerful Public Speaking for Every Woman – proud to be part of this too!
Want proof social leadership transforms business and attracts customers?
Check out this case study with IBM Asia Pacific. Incredible results.
Want to be a super star online?
Don't know where to start, check out my e-learning course How to build a rock star personal brand today.
I believe it's time for all of us to embrace our voice and embrace the future. We do this by working and living 'out loud' with meaning, intention, integrity and by being true to ourselves. If you own your voice, you will own your future.
Connect with me
If you like my style and what I talk about, feel free to follow me on any of these platforms on social media.
My blog andreatedwards.com
Twitter @AndreaTEdwards
LinkedIn AndreaTEdwards
Facebook AndreaTEdwards
YouTube Andrea Edwards
SlideShare AndreaTEdwards
Medium AndreaWTBEdwards
Instagram AndreaWTBEdwards