And the cycle goes on. COVID19 is back at the top of the headlines, as the US witnesses flareups across the county. I've got to be honest. The way this is being discussed in America (not unlike the right to bear arms) makes absolutely no sense at all to me, but there you go.
We're all in this for longer while the US continues on this path – that's for sure. Not to mention the economic fall-out will be deeper and longer too. Please share information and help people understand the reality of the situation.
#BlackLivesMatter has not disappeared, and there is some incredible information being circulated. Try and read some of it. I believe it's a duty to understand any community that is suffering centuries of terrible oppression.
And global politics. Well things are heating up as the US elections comes closer, so I'm expecting to include more of this sort of content, but if there is one area I beg everyone to focus on, it's the climate crisis / 6th mass extinction. There is so much alarming news breaking and we really don't have any more time!
This is our chance to act. The global economy is on its knees, so let's rebuild a new one. A Mother Earth economy #MX.
Charity: If you are able, can you donate to the UN Refugee Program and World Food Program? Why don't we all commit to donating what we saved in entertainment expenses these last few months? These are the people most at risk in this pandemic. Let's show them we care.
Friends content
Podcast – my wonderful friend Kevin Cottam launched The Nomadic Mindset podcast earlier this year. He has such a wonderful message for this time – wisdom from the nomads. Check it out and be inspired.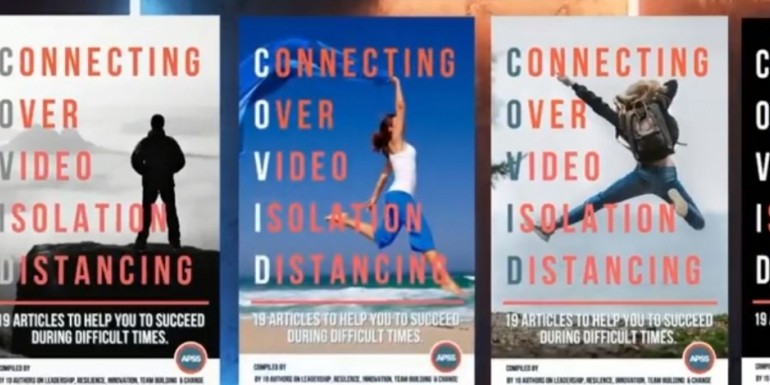 The Asia Professional Speakers Singapore (APSS) community has brought together 55 authors, all writing inspiring articles for this time. I haven't had a chance to publish my eBook yet – featuring 19 authors – but you can access all 55 here. Please do take a took. There is something for everyone.
Content to read
And here's the content I've been reading this last week. As always, scan the headlines, read the ones that jump out at you, read or watch them all. Knowledge is power, and global knowledge is even more powerful. Let's get out of our nationalistic knowledge siloes.
COVID19
Covid-19 has led to a pandemic of plastic pollution
A comedian watched her mom die from COVID on an iPad. Her live tweets will break you
A Woman And 15 Of Her Friends Have The Coronavirus After One Night Out tks Shian Chan
COVID-19 Will Rage 'Like A Forest Fire' In Unprepared America, Top Doc Warns
I've Been Sick With COVID-19 For Over 3 Months. Here's What You Should Know.
Texas Pauses Reopening as Virus Cases Soar Across the South and West
The scenes on Bournemouth beach make Britain look like the jackass of the world tks Pooneh Fooladi
COVID-19 Can Cause Loss of Smell, And Scientists Finally Discovered Why
Bali yoga retreat angers many after lying about mass gathering of chanting foreigners tks David Lim
The US Death Rate From The Coronavirus Is 49 Times Higher Than The Flu
Djokovic tests positive for coronavirus tks Richard Foltin
Maskless Customer Shoves His Way Past Employee To Shop At Walmart
The coronavirus surge is real, and it's everywhere tks Simon Kearney
North Texas family shaken after 18 relatives tests positivefor COVID-19 following surprise birthday party tks Michelle Giamusso Regal
Victorian coronavirus restrictions tightening as cases continue to increase
Coronavirus: US has 'serious problem', says Fauci
Patient 91: How Vietnam saved a British pilot and kept a clean Covid-19 sheet
A Mask is a Stupid Hill to Die on, America tks David Lim
Nurses post startling examples of what being 'recovered' from COVID-19 can look like
Coronavirus: Why US is expecting an 'avalanche' of evictions
American Airlines Will Book Flights 100% Full As Of July 1 tks Michelle Giamusso Regal
A look inside Thailand, which prevented coronavirus from gaining a foothold
Florida shows signs as next coronavirus epicenter as cases spike across the country tks Angela Frechette
'Snowballing' coronavirus cases in US states as hospitals fill
E.U. May Bar American Travelers as It Reopens Borders, Citing Failures on Virus
Coronavirus: US Secret Service staff self-isolating after Trump rally
People Don't Trust Public-Health Experts Because Public-Health Experts Don't Trust People
Florida residents reject face masks: 'They want to throw God's wonderful breathing system out'
#BlackLivesMatter / all racism
W.E.B. Dubois's Magnificent Letter of Advice to His Teenage Daughter – one of the most beautiful articles I've read. Made a huge impact
Bubba Wallace: Nascar president said it was right to fear hate crime
Racism, Lies, and Empty Seats: The Embarrassment That Was Trump's Rally
Working at the intersection: What Black women are up against
'I've walked away for sixty years': Ernie Dingo reflects
Deputies kill half-brother of black man found hanged in park after they say he opened fire
Ibram Kendi, One Of The Nation's Leading Scholars Of Racism, Says Education And Love Are Not The Answer
Climate Crisis/6th Mass Extinction
Affluence is killing the planet, warn scientists
COVID-19 cuts force Indonesia to scale back forest protection tks Karen Prager
Why the Arctic Is Warming So Fast, and Why That's So Alarming
Extreme fires erupt in the Arctic Circle
It got to 38 degrees in the Arctic! Civilisation is burning down tks Joanne Flinn
The end of tourism? tks Tim Hamons – important read!
Travel in a Post Pandemic World
The travel industry will survive COVID-19, but with big changes
Land purchases by private companies accelerate tropical deforestation, data shows
Arctic Circle sees 'highest-ever' recorded temperatures
Morrison government has failed in its duty to protect environment, auditor general finds tks Willie Wahlin
India Unleashing Coal: PM Modi Announces New Coal Boom, Privatisation Of Coal Mines
Greta Thunberg: Climate change 'as urgent' as coronavirus
Carbon emission from permafrost soils underestimated by 14%
Making a Case for Climate Change Adaptation
Arctic records its hottest temperature ever
Britain still failing on climate crisis, warn advisers
Arctic Ocean acidification worse than previously expected
The Arctic heatwave: here's what we know level-headed read!
Global Politics
Four years after Brexit, support for the EU surges in Britain
Covid-19 raises the risks of violent conflict
China's Man in Washington, Named Trump
rump Administration Files Supreme Court Brief To End Obamacare Amid COVID-19 Crisis
UN chief 'shocked and disturbed' by video of car sex act in Israel
TikTok Teens and K-Pop Stans Say They Sank Trump Rally
Nearly 20 Swing State Polls Were Released Today–Biden Leads In All Of Them
Imran Khan criticised after calling Osama Bin Laden a 'martyr'
Business and technology
How to Go Cold Turkey on $77 Billion of Facebook Ads
Introducing Business for Clean Air
Hostels in Singapore on verge of shutting for good – tks Alan Cheung
Social issues and humanity
Ita Buttrose rejects Scott Morrison's claims the ABC's budget has not been cut tks Willie Wahlin
Catholic Church in Singapore calls for acceptance of LGBTQ community and expresses support for Pink Dot tks Cheryl Tan
High court rules Aboriginal Australians are not 'aliens' under the constitution and cannot be deported
The New Zealand porn ad designed to protect children
When Blood No Longer Binds—Walking Away from a Toxic Family Member.
FDA's food additive regulations fail to address toxic chemicals in food
Millions Of Taxpayer Dollars Are Going To Schools That Push Conversion Therapy
Jacinda Ardern makes passionate call for 'international solidarity' to the LGBTQ+ community
Passion, humour, history
Stonehenge: Neolithic monument found near sacred site
Barcelona opera reopens with performance for more than 2000 potted plants – video tks Julie Rumbold
20,000-Year-Old Armadillo Shells the Size of Volkswagen Beetles Found in Argentina
Hope this is valuable. I'd appreciate if you let me know in the comments your favorite piece from this week's collection? Always interesting.
Cheers
Andrea
18 Steps to An All-Star LinkedIn Profile
This book is the starting point for LinkedIn success. If you want to buy it, it's available on Amazon.com .co.uk .in .au and Flipkart. It's also available as an eBook on Amazon Kindle, Kobo, Google Play and iBooks.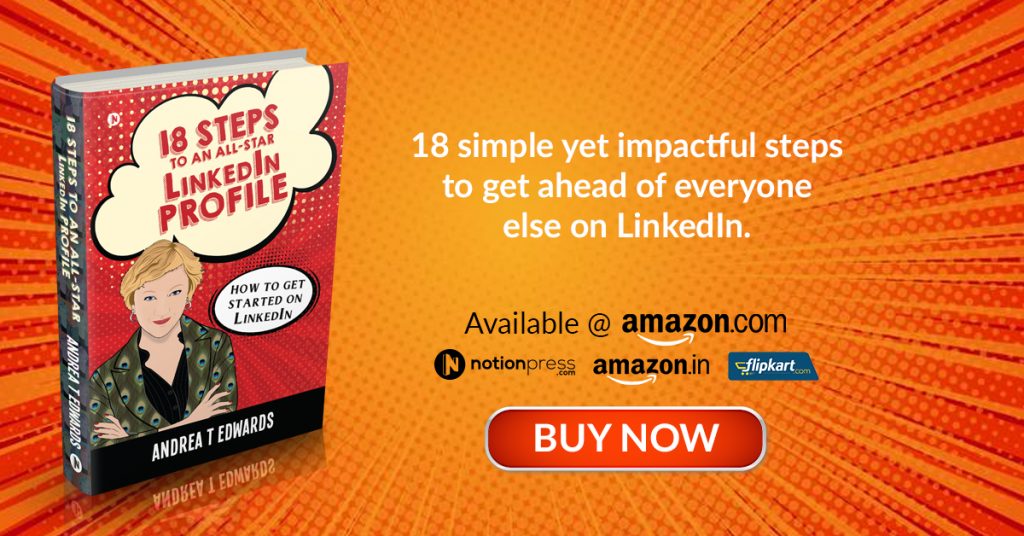 Are you a Social CEO?
I'm proud to be a contributing author to The Social CEO: How Social Media Can Make You A Stronger Leader. You can order it on Amazon today.
Want to claim your stage?
Check out our co-authored Best Selling Book – Unleash Your Voice – Powerful Public Speaking for Every Woman – proud to be part of this too!
Want proof social leadership transforms business and attracts customers?
Check out this case study with IBM Asia Pacific. Incredible results.
Want to be a super star online?
Don't know where to start, check out my e-learning course How to build a rock star personal brand today.
I believe it's time for all of us to embrace our voice and embrace the future. We do this by working and living 'out loud' with meaning, intention, integrity and by being true to ourselves. If you own your voice, you will own your future.
Connect with me
If you like my style and what I talk about, feel free to follow me on any of these platforms on social media.
My blog andreatedwards.com
Twitter @AndreaTEdwards
LinkedIn AndreaTEdwards
Facebook AndreaTEdwards
YouTube Andrea Edwards
SlideShare AndreaTEdwards
Medium AndreaWTBEdwards
Instagram AndreaWTBEdwards