Hi everyone, another week goes by, and this week, the content around #BlackLivesMatter has become deeper and more reflective. There are people across whole swathes of society thinking about racism in a much deeper way. It feels like real change is possible and a much higher percentage of the American public want change to happen as well. Let's keep the momentum up.
However, it's not just racism in America that is an issue. All countries and all regions are starting to ask themselves the right questions and attempting to see beyond their filters. This gives me hope that a global movement has begun, where we deeply question the underlying foundations of our societies that cause so many to suffer, live without dignity and never have the opportunity to break the cycle.
I truly believe that everyone on this planet has magic in their soul and I want to live in a world where all have the right to release it. You too?
COVID19 has not gone away, and we are seeing it take off across America, as well as a resurgence in Hong Kong, but there was great news, when New Zealand declared itself a Virus-Free zone. Decisive leadership matters right now.
And of course, the environment. Please spend some time on the content below. There is some very alarming news being released by the scientific and climate community. We have a unique opportunity to rebuild our world anew.
If you read this information, you will see that we have no time to lose. We have a unique opportunity and we must all rise up and make it happen. The future of our species and all life on planet earth depends on real action now.
Friends blogs
Video Content That Puts People First During This Pandemic – Andrew Psarianos
Black & White – Joanne Flinn
The human impact of COVID-19, Burmese Workers Camp, Phuket Town – a video I created to highlight the struggles of the migrant workers in Phuket, but this reality is happening all over the world. Please contribute to charities and help in your local market if you can. There are many ways to help humanity right now.
Content to read
I've decided to split the content into topics. Maybe it will make it easier to find what you want to read? There's always a mix of topics, so let me know if breaking it up helps you to digest it? As always, no opinions, just sharing the knowledge to help my community navigate the Infodemic.
A huge thanks to all of the people in my network who create their own content and share awesome information on the topics I care about.
#BlackLivesMatter / all racism
8 Journalists on Reporting While Black, With the Weight of History on Their Shoulders
No, Australia is not the US. Our shocking racial injustice is all our own tks Willie Wahlin
Over a Million People Sign Petition Calling For KKK to Be Declared a Terrorist Group
For A Real Breakthrough, 'White People Need To Work This Out Amongst Themselves'
George Floyd: Trump told to back off Seattle's Chaz police-free zone
Is Trump in trouble for stance on US race relations?
Rev. Al Sharpton criticizes Trump's response to peaceful protesters tks Cathy Johnson
Hot Clicks: Bubba Wallace and Other NASCAR Drivers Speak Out on Racism and the Black Lives Matter Movement
Right-wing fans mocked for boycotting Rage Against the Machine after realising band's political stance
Confessions of a Former Bastard Cop tks Kimi Ceridon
George Floyd death: Gen Mark Milley sorry for joining Trump walk to church
"Be wary of things that are purely symbolic": How to join the conversation on race
What if There Were No George Floyd Video?
Three in four Australians hold racial bias against Indigenous people, study finds
32 Pictures That Show What White Privilege Looks Like tks Samantha Gayfer
George Clooney: America's Greatest Pandemic Is Anti-Black Racism
She summed up the economic legacy of Black Americans in one history lesson and Monopoly metaphor definitely worth a watch
COVID19
Humanity, Above All: Facing COVID-19 with Altruism, Compassion and Empathy tks Natalie Turner
Second U.S. Virus Wave Emerges as Cases Top 2 Million
Study: Coronavirus Lockdowns Saved 3 Million Lives In Europe tks Joanne Flinn
Study: 100% face mask use could crush second, third COVID-19 wave
U.S. woman with COVID-19 receives double-lung transplant in a first
How to avoid the virus as the world reopens tks Caroline Frater
U.S. Response to COVID-19 is Worse than China's. 100 Times Worse.
Great cities after the pandemic
When 511 Epidemiologists Expect to Fly, Hug and Do 18 Other Everyday Activities Again tks Ava Diamond
Coronavirus in DR Congo captured on camera
Coronavirus: 'Our home turned into a hospital overnight'
COVID-19 Inside Arkansas Prisons: Virus Spreads Through Inmate Populations and Staff tks Denise Chai
In full: PM Lee's address on Singapore's post-COVID-19 future, the first in a series of ministerial broadcasts
From hair salons to gyms, experts rank 36 activities by coronavirus risk level
Coronavirus tracked: the latest figures as countries fight to contain the pandemic
Large Study Suggests Blood Type O May Be a Protective Factor Against COVID-19
Coronavirus 'a devastating blow for world economy'
Bruno Latour: 'This is a global catastrophe that has come from within'
Climate Crisis / 6th Mass Extinction
Plastic Rain Is the New Acid Rain
Pangolins receive surprising lifeline with new protections in China
China raises protection for pangolins by removing scales from medicine list
Solving the Global Cooling Problem
Sea Level 101: What Determines the Level of the Sea?
Temperatures of 30 degrees Celsius reported above Arctic Circle
Guest post: How climate change could accelerate the threat of crop diseases tks David Lim
Study: Reflecting sunlight to cool the planet will cause other global changes
Fossil Fuel Emissions Push Greenhouse Gas Indicators to Record High in May
'More masks than jellyfish': coronavirus waste ends up in ocean
It's June and it's snowing in Colorado, because of course it is tks Ava Diamond
Pick your own path conspiracy builder
– thanks Gabe Rijpma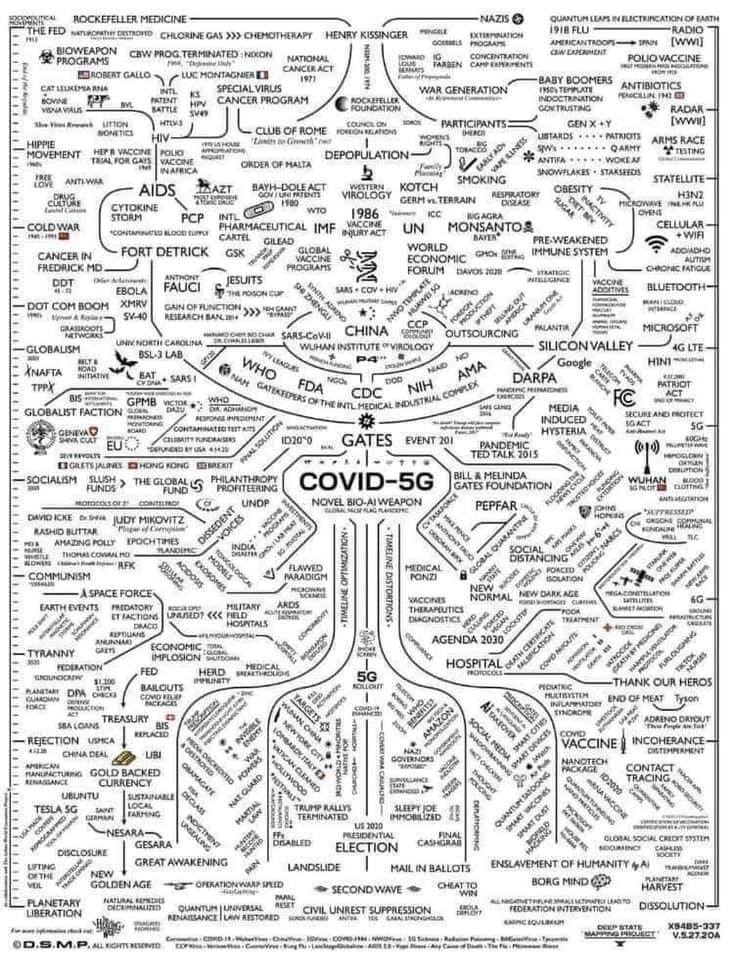 Global Politics
Bill Moyers: Truth is the oxygen of democracy tks Claude Calleja
Trump campaign demands CNN apologize for poll that shows Biden leading
Norway v Australia: crisis makes the case for a sovereign wealth fund incontestable
Eliot Cohen: I'm ashamed of the party I used to belong to
North Korea halts all communications with South in row over leafleting
From former presidents to religious leaders, everyone is turning on Trump
America's top brass break with Donald Trump
Governor Mills Statement on President's Visit to Maine
25 Reformed Trump Voters Share Why They Refuse To Vote For Him Again
Photos: Utah Marine veteran stands alone at Capitol with 'I can't breathe' covering mouth
There, I Fixed It for You… tks Brian Sibley
What Did They Think Would Happen? tks David Lim
Business and technology
The Big Read: In an abysmal job market, a less conventional route beckons for fresh grads
IBM will no longer offer, develop, or research facial recognition technology
Deepfakes Are Going To Wreak Havoc On Society. We Are Not Prepared.
Social issues and humanity
I've studied journalists under pressure for 20 years. Here's what I've learned so far tks Simon Kearney
The October Cliff: How Can Australian Charities Survive?
A Daughter Is Beheaded, and Iran Asks if Women Have a Right to Safety tks Joyce Ano
Yemen's First Responders Are Women Peace Builders
Daniel Radcliffe Responds To J.K. Rowling's Tweets On Gender Identity
J.K. Rowling Writes about Her Reasons for Speaking out on Sex and Gender Issues
Fake news is fooling more conservatives than liberals. Why?
Trump Administration Revokes Health Care Protections For Transgender People
Passion, humour, history
Great Bores Of Yore tks Simon Kearney
Stunning Living Sculpture Changes It's Appearance With The Seasons
Divers discover world's largest underwater cave system filled with Mayan mysteries
Police: Last Week Tonight with John Oliver (HBO)
There you go. As always, hope it's valuable. See you again next week. Let me know in the comments your favorite piece from this week's collection? A way for me to know if anyone is reading it 😊.
Cheers
Andrea
18 Steps to An All-Star LinkedIn Profile

This book is the starting point for LinkedIn success. If you want to buy it, it's available on Amazon.com .co.uk .in .au and Flipkart. It's also available as an eBook on Amazon Kindle, Kobo, Google Play and iBooks.
Are you a Social CEO?
I'm proud to be a contributing author to The Social CEO: How Social Media Can Make You A Stronger Leader. You can order it on Amazon today.
Want to claim your stage?
Check out our co-authored Best Selling Book – Unleash Your Voice – Powerful Public Speaking for Every Woman – proud to be part of this too!
Want proof social leadership transforms business and attracts customers?
Check out this case study with IBM Asia Pacific. Incredible results.
Want to be a super star online?
Don't know where to start, check out my e-learning course How to build a rock star personal brand today.
I believe it's time for all of us to embrace our voice and embrace the future. We do this by working and living 'out loud' with meaning, intention, integrity and by being true to ourselves. If you own your voice, you will own your future.
Connect with me
If you like my style and what I talk about, feel free to follow me on any of these platforms on social media.
My blog andreatedwards.com
Twitter @AndreaTEdwards
LinkedIn AndreaTEdwards
Facebook AndreaTEdwards
YouTube Andrea Edwards
SlideShare AndreaTEdwards
Medium AndreaWTBEdwards
Instagram AndreaWTBEdwards