The news has been overwhelming these last few months especially, and then this week happened!! My oh my, it's intense in the world right now, but if there is one thing that gives me hope, it's humanity standing together and fighting for real change, because change is overdue.
I too, will always fight for a world where all people – regardless of race, religion, culture, sexuality, or anything else that makes them different – have the right to dignity, equality and opportunity. That is a world I want to see forming out the other end of this crisis.
Shall we do it together? Will you speak up and demand we do better as a species – for all of humanity and for all life on planet earth?
As always, I'm sharing a selection of articles and videos I've been reading/watching, in the hope it helps you navigate this Infodemic. Here it is, without opinion. Scan through and select one or read them all! Sometimes just reading the headlines can give you the context of this time.
Friends content
Nazi gold, identity and the need to believe — it's time for blockchain to fix fraud Gilbert Hill
Fight, Flight or Innovate? Natalie Turner
One Day This Will All Be History | 360° Video, Singapore – Andrew Psarianos
In no particular order
Extinction crisis 'poses existential threat to civilisation'
Of Course There Are Protests. The State Is Failing Black People.
The pandemic is still gathering pace in most of the world
Arctic Circle oil spill prompts Putin to declare state of emergency
COVID-19 Can Last for Several Months
We've Now Entered the Final Phase of the Trump Era
Blackout Tuesday posts are drowning out vital information shared under the BLM hashtag note don't use the hashtags!! Tks Tori Allen
The Top Doctor Who Aced the Coronavirus Test
Man behind Sweden's controversial coronavirus strategy admits mistakes
People Can Only Bear So Much Injustice Before Lashing Out – tks Patrice Robinet
Spend fossil-fuel subsidies on pandemic relief and the poor
Four More Years of Donald Trump Could Delay Global Emissions Cuts by 10 Years
Trump Campaign Looks at Electoral Map and Doesn't Like What It Sees
Kenya's renewable sector and women in the industry: Elizabeth Rogo AEC President East Africa
How Egoicism Is Making the Pandemic Worse
Renewables surpass coal in US energy generation for first time in 130 years – tks Joanne Flinn
One Out of Three Americans Used Bleach 'in Non Recommended High-Risk Practices' to Battle Coronavirus: CDC Report – this got a WOW!
Is the United States on the Brink of Another Civil War?
James Mattis Denounces President Trump, Describes Him as a Threat to the Constitution
How Western media would cover Minneapolis if it happened in another country
Jane Goodall: humanity is finished if it fails to adapt after Covid-19
I'm a Black American Vet and a Former Police Officer. I Decided to Speak Up With My Camera
Thanks for this share Claudine Nagiah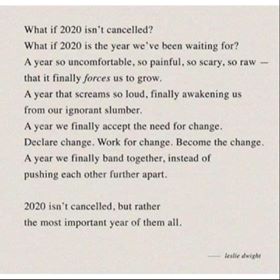 New Zealand to provide free sanitary products in schools to fight period poverty – tks Lisa Larson Lee
That ocean breeze may be full of tiny bits of plastic
'He is a destroyer': how the George Floyd protests left Donald Trump exposed
Esper catches White House off guard with opposition to military use, photo op
Police Erupt in Violence Nationwide
A museum let a group of penguins wander its empty rooms, and they couldn't take their eyes off the paintings – tks Vicky Coburn
OPINION: Is The Fashion Industry As We Know It Obsolete?
Mining firm Rio Tinto sorry for destroying Aboriginal caves
Global warming now pushing heat into territory humans cannot tolerate
George Floyd death: Trump's church visit shocks religious leaders
There is no escaping from climate change, even in the deep sea
7 Ways Protestors Showed Up for Black Lives – tks Lisa Larson Lee
The public do not understand logarithmic graphs used to portray COVID-19
White nationalist group posing as antifa called for violence on Twitter
Climate change: older trees loss continue around the world
Antarctic Ocean Reveals New Signs of Rapid Melt of Ancient Ice, Clues About Future Sea Level Rise
Cheap virgin plastic is being sold as recycled plastic—it's time for better recycling certification
Fire, pestilence and a country at war with itself: the Trump presidency is over – tks Andrew Psarianos
Make Covid-19 recovery green, say business leaders
Op-Ed: Kareem Abdul-Jabbar: Don't understand the protests? What you're seeing is people pushed to the edge
As cities burned, Trump stayed silent — other than tweeting fuel on the fire
Troll farms from North Macedonia and the Philippines pushed coronavirus disinformation on Facebook
NASA's ICESat-2 Measures Arctic Ocean's Sea Ice Thickness, Snow Cover
Viral photo shows line of white people between police, black protesters at Thursday rally
Singapore in discussions with S. Korea, Australia, to establish 'green lanes' for travel
Climate change: How a green new deal really could go global
How Vietnam managed to keep its coronavirus death toll at zero – tks Andrew Psarianos
Coronavirus: WHO advises to wear masks in public areas
Powell: Not sure Trump can be a moral leader
Hope you found something of value in this list – definitely a busy news week. See you next week!
Cheers
Andrea
PS: sharing this again – a tip for dealing with an Infodemic
One tip I want to give everyone to deal with the enormous amount of information circulating. Read/watch with the lens of history over the top of what you're consuming. I know it all can feel incredibly overwhelming, but putting this lens on top of it, helps to determine what really matters.
Therefore, anything you take on board, ask yourself – will this be part of the story when we reflect back on this time in the future? Sometimes just doing this helps to identify the information that really matters. The day-to-day news is not all going to make it into the cut of our future reflections.
This approach helps you to not get so caught up in every piece of information doing the rounds. We need to focus on what is most important, because, there is a LOT of distraction from the core truth today. I hope this tip is useful.
18 Steps to An All-Star LinkedIn Profile
This book is the starting point for LinkedIn success. If you want to buy it, it's available on Amazon.com .co.uk .in .au and Flipkart. It's also available as an eBook on Amazon Kindle, Kobo, Google Play and iBooks.

Are you a Social CEO?
I'm proud to be a contributing author to The Social CEO: How Social Media Can Make You A Stronger Leader. You can order it on Amazon today.
Want to claim your stage?
Check out our co-authored Best Selling Book – Unleash Your Voice – Powerful Public Speaking for Every Woman – proud to be part of this too!
Want proof social leadership transforms business and attracts customers?
Check out this case study with IBM Asia Pacific. Incredible results.
Want to be a super star online?
Don't know where to start, check out my e-learning course How to build a rock star personal brand today.
I believe it's time for all of us to embrace our voice and embrace the future. We do this by working and living 'out loud' with meaning, intention, integrity and by being true to ourselves. If you own your voice, you will own your future.
Connect with me
If you like my style and what I talk about, feel free to follow me on any of these platforms on social media.
My blog andreatedwards.com
Twitter @AndreaTEdwards
LinkedIn AndreaTEdwards
Facebook AndreaTEdwards
YouTube Andrea Edwards
SlideShare AndreaTEdwards
Medium AndreaWTBEdwards
Instagram AndreaWTBEdwards