It's hot, it's really hot, and while we had a slight cool break this week after the haze cleared, the heat is back today (feels like 41°C), the haze too, but tomorrow apparently, it's going to feel like 46°C. That's so hot in the tropics.
For those out cleaning the beaches for Earth Day, please take it easy and drink LOTS of water. Go as early or as late as you can too.
This shift really REALLY concerns me, and it is going to impact everyone, rich or poor, because once temperatures pass a certain point, there is no protection. That said, the poor will suffer the most, regardless. They always do.
As we've been facing this intense heat, which drains you of all energy, I've been trying to understand the temperature required for the power grid to start falling over (I think it's important information) and I've been speaking with friends in India, who suffered a terrible heatwave last year too. In these discussions, I've discovered power grids fall over for two reasons – too much demand and too much heat. It essentially melts.
Once temperatures pass 50°C is when we start to see the impact on the power infrastructure, and my friends told me electrical wires started to sag, often breaking, cutting off power and starting fires. The tropics are very brown right now (it should be green) so that is an eventuality we might face too – fires.
Here's an article discussing power grid failure in Australia at the end of the last El Nino.
The headlines are screaming it's the worst heatwave ever and it's going to get worse (see the climate section below and note the piece from the Straits Times – because when it's discussed in this publication, you know it's serious).
I've spent weeks looking for anything that explains what getting worse means, and do you know what? There is literally nothing on this at all. Please if you've read or heard anything, pass it to me. If we don't know what we're about to deal with, how can we get prepared for it?
Knowing my family may not be ok is something that has me in a state of high alert; however, in Asia, we have hundreds of millions of people living in tin sheds and shanty towns, so how are they going to get prepared to deal with this heat? How can we help them?
I have been attempting to put some figures on this, but this is very challenging to do, as there isn't any historical data even remotely relevant to what we are facing. In fact, we have no idea what the shift to El Nino will mean, which could kick in as early as May this year. The predictions for its' arrival are up to the end of the year, but either way, it's arrival is something to pay attention to, as it's going to pack a punch that shocks the world.
In my simplest layman terms, when El Nino starts, a big burst of heat is released from the Pacific Ocean, and this instantly increases global temperatures. Right now, the ocean is at record temperatures, as you can see in the image below. This is another story I've been tracking all year and it's not a good thing at all. I am expecting that big burst of heat to be hotter than anything we've seen before in an El Nino period. You too?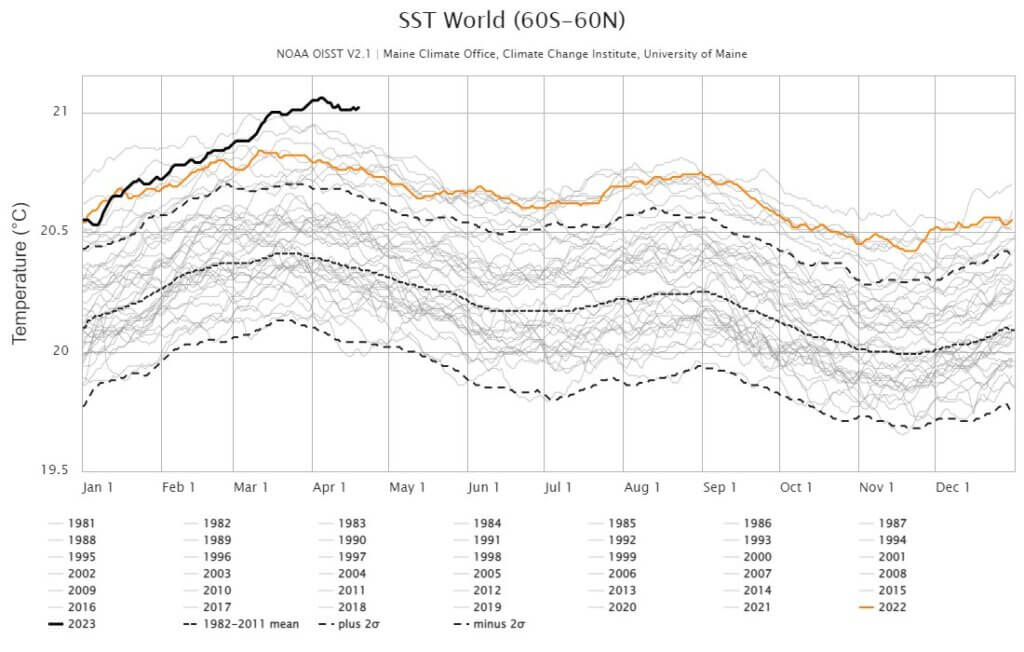 But how hot will it get? I don't know, because that's the information I can't find, and I'm still trying to work it out, so I can understand what preparations we need to make.
Some educational references – some are older, but still valid
When scientists say the Earth has warmed by 1° Celsius, which parts of the planet are being measured?
A Degree of Concern: Why Global Temperatures Matter
Does "global warming" mean it's warming everywhere?
Why does land warm up faster than the oceans?
Climate Change Is Speeding Toward Catastrophe. The Next Decade Is Crucial, U.N. Panel Says.
Global Warming vs. Climate Change
Of all of these, this paragraph stood out from NASA: At Earth's mid-latitudes, the hottest days will be up to 3 degrees Celsius (5.4 degrees Fahrenheit) hotter at 1.5 degrees Celsius warming and up to 4 degrees Celsius (7.2 degrees Fahrenheit) warmer at 2 degrees Celsius warming.
For every .1°C of warming it also means 7% more humidity (and humidity sucks), as well as up to three degrees hotter than usual.
There has been a lot of discussions that this El Nino period will see us experiencing 1.5°C warming for the first time, so based on the fact we're at 1.1/1.2°C of warming right now, this could mean three degrees hotter than normal at a minimum.
The one message that is clear is this – we will see extreme temperatures coming our way we've never seen before. I am in Thailand, and we have already experienced its hottest day on record on the 14th of April 2023. That temperature was 45.4°C and this is before El Nino, but it is also during Thailand's hottest time of the year, which is typically April and May, although the heat started in March this year. It's been a scorcher of a hot season, let me tell you.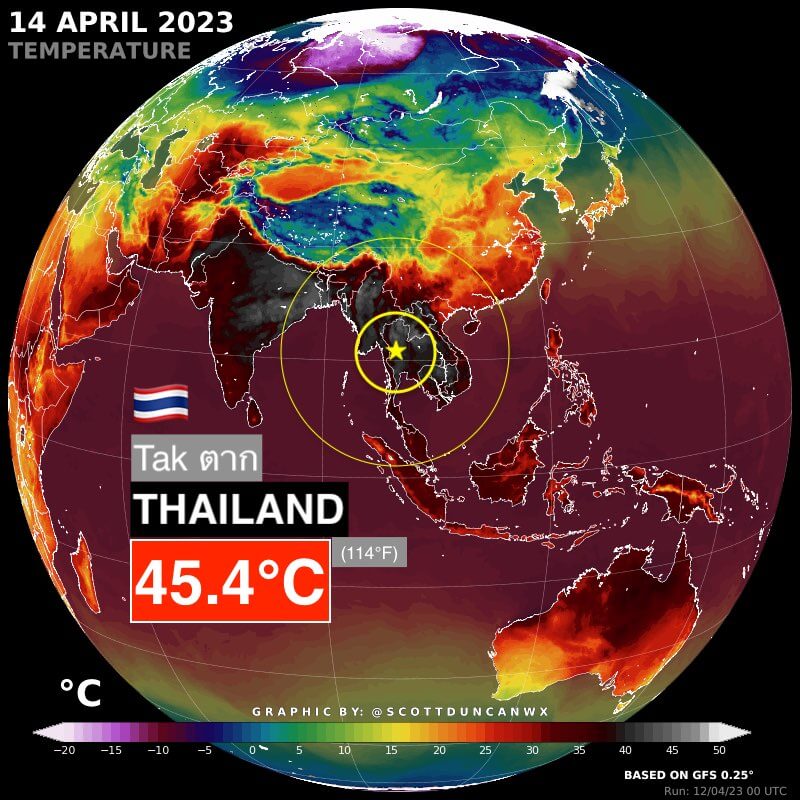 The challenge is, we have absolutely no idea what we are in for as El Nino ravages our world for the next 2-3 years. The only agreement I've seen by scientists, is it's going to throw life-threatening heat, droughts, fires, rain, storms and more at us, but it will be different to the La Nina years. As an example, after three years of extreme flooding, Australia is now bracing for its worst grass fire season on record.  
La Nina was not a nice mistress when she spent three years visiting us either, but there was a sense of "we knew what we were dealing with" as each year ticked by, now, we have no idea what is coming – other than hotter temperatures than we've ever experienced before – and I just think it's time we had an honest conversation about that and what it means.
The media and governments are not speaking up about this either and they need to, because we need to get ready before, not after-the-fact, when it will be a complete disaster. This is the adaptation piece we always miss. We are never ready before we get hit with these catastrophic situations and we need to get ready – everywhere – because we know it is coming!
We are at the point where adaptation plans need to be in full swing, based on what the scientists are telling us is next. We need to be building infrastructure 50-100 years out now, but no country is even remotely ready. None. Many thought it would be happening much later, so they delayed, and most haven't started at all.
I'd love to know your thoughts or get recommendations on people I can speak with about this? I just want to know so I can protect my family and community. I hope you do too. All of our lives could depend on it.
Anyhoo get stuck into the reads. It looks like we've lost the ice caps and the glaciers – tipping point passed. Sigh. Please get involved, protest, speak up, mobilize. This really is the only issue that matters right now. Hot house earth is on the way and from what I've seen so far, it sucks.
Climate Courage, we are not going to sustainability our way out of this crisis.
Thank you to Praveen Gupta, Peter Kerr and Karen Leong for taking part. Such an important discussion and two people here speaking from the heatwave!
Friend's content and mine
How To KEEP Your Wardrobe ORGANISED – if you are ready to reduce your fashion footprint, sign up for this event with Nathalie Ricaud, she's terrific.
Who Am I Triyng To Be? My friend Pravin Shekar is such a wonderful human being, always with perfect insights. Follow him.
The path to purpose, with Neerja Singh – such a privilege to do this podcast with Neerja Singh, on her path to purpose. Beautiful and genuine.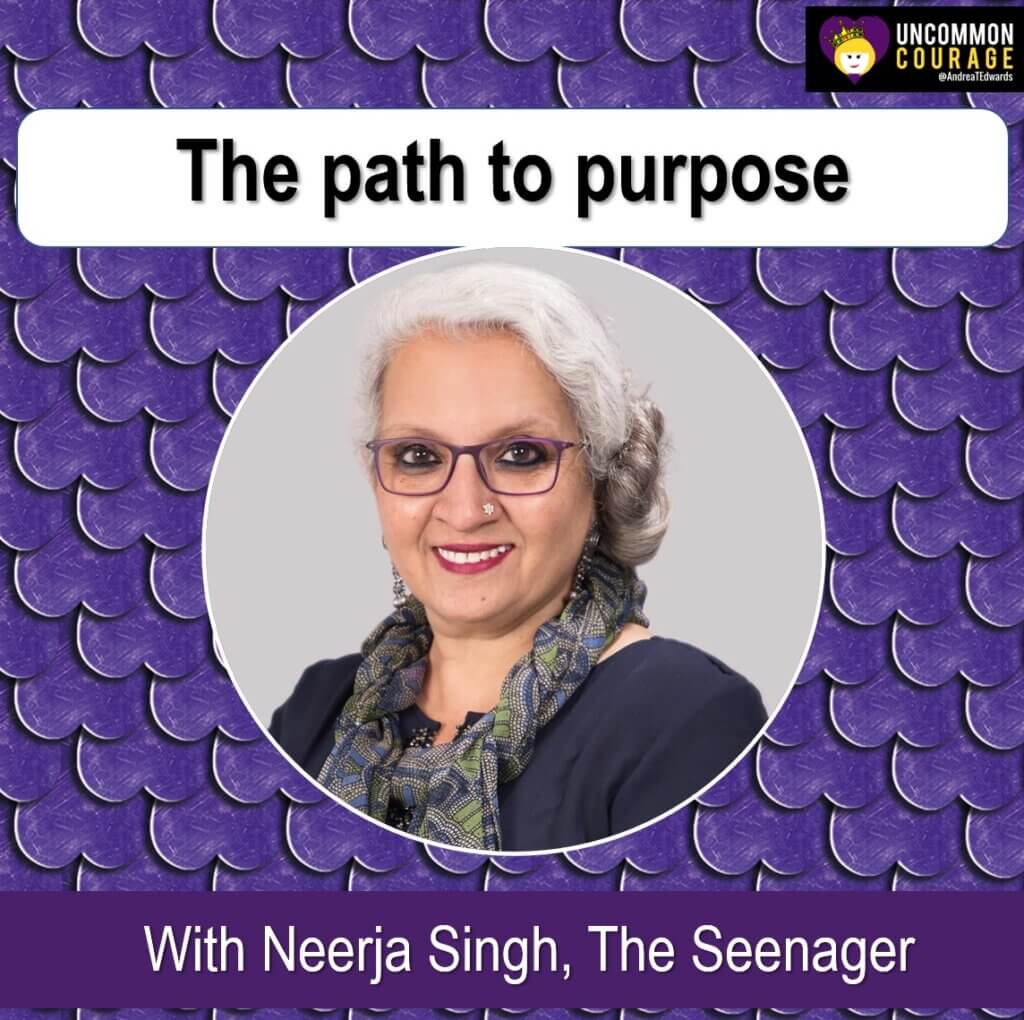 Donation time
If everyone gave #just10percent of their time, talent, money or voice, we'll change the world. Can you donate? Make it a regular donation to the World Food Programme. Or donate to the UN Refugee Program, Medicine Sans Frontier, PowerOf , Kiva.org , Soi Dog Foundation. It's a time for giving and taking care of each other.
Content to read
And here's the content I've been reading or watching this last week. Scan the headlines, read the ones that jump out at you, read or watch them all. Knowledge is power, and global knowledge is even more powerful.
Climate crisis
Kiri Meets Bill| Climate Science Translated
What to watch for: El Nino likely to develop this summer
Rapidly developing El Niño set to boost global warming
El Niño is coming, and ocean temps are already at record highs – that can spell disaster for fish and corals
World could face record temperatures in 2023 as El Nino returns
Faster than forecast, climate impacts trigger tipping points in the Earth system – Bulletin of the Atomic Scientists
'Terrified for my future': climate crisis takes heavy toll on young people's mental health
Large swathes of Asia are sweltering through record breaking temperatures
'Like none before:' Deadly, record-smashing heat wave scorches Asia
India may tip this year to a wet-bulb temperatures threshold that will test human survival.
'Hotter and hotter': Swaths of Asia sweat in heat wave
Severe heatwave engulfs Asia causing deaths and forcing schools to close
Record heat waves in Asia affirm need for sport to address climate change
Record heatwave of up to 45 deg C scorches much of Asia, and it's going to get worse
Doomism about climate change is a privilege we can't afford
Global oil demand on course for record as China's economy rebounds
Degrowth economy: The climate solution no one is talking about
Climate sceptics sneak unsound research into peer-reviewed journals, scientists warn
Climate diplomacy is hopeless, says author of How to Blow Up a Pipeline
UN reports 'off the charts' melting of glaciers
'Cannot be fought from conference tables': PM Modi calls for mass movement against climate change
Health warning issued as heat and smog persist
'This week, no one': Hazardous Thai pollution deters tourists
The surface of the ocean is now so hot it's broken every record since satellite measurements began
The missing risks of climate change
Why is Antarctic sea ice vanishing?
"We are currently heading directly towards civilizational collapse.
What Centuries-Old Indian Court Paintings Tell Us About Climate Change
Computer-assisted classification of contrarian claims about climate change
Utah's Great Salt Lake risked disappearing. Unprecedented weather is bringing it back
France facing even worse summer drought than 2022
The Richer They Get, the More Meat They Eat Ignore the hype that the world is about to turn vegan
I was wrong to conclude collapse is inevitable…
A cautionary note about messages of hope: Focusing on progress in reducing carbon emissions weakens mitigation motivation
Coles & Woolworths slammed over 'ridiculous practice: Need to fix this'
Rising Tide activists shovel coal off train
Planes, Shipping Lanes, and Automobiles: Surprising Ways Climate Change Can Affect Transportation
New York Could Change How It Measures Methane. Here's Why That's a Big Deal
Carbon capture has a long history. Of failure
Drastic climate action is the best course for economic growth, new study finds
Drought will cause crop failures in Spain, farmers warn
Phuket officials assure smog is clearing
All is not lost, but climate action is more urgent than ever
Should sustainability professionals (still) be working to make themselves redundant?
Australian scientists say they have discovered a backyard mold that can break down plastic in 140 days — giving hope to the recycling crisis tks Mary Pulaski
Bill McKibben Explains Global Warming By The Numbers tks Gary Crause
'Flash Droughts' Coming on Faster, Global Study Shows
Bangkok's heat index expected to hit 50.2 deg C on Thursday, as hot season grips Thailand
After four wet years, complacency and El Niño risk Southeast Asia's haze preparedness as fires choke northern nations
Drought Is Parching Crops Across Southern Europe for Second Year
Environmental toxin PCB found in deep sea trench
We Don't Know What Will Happen Next
Here's what happens when you try to replicate climate contrarian papers
As The Oceans Warm, Marine Life Faces Extinction Levels That Rival The Dinosaurs' End
Human-induced weakening of the Northern Hemisphere tropical circulation
France sounds climate change alarm as large wildfire sweeps across border with Spain
EU Parliament backs overhaul of Europe's biggest climate policy
Banks committed to net zero fund "Australia's dirtiest" offshore gas project, report finds
Europe Is Sacrificing Its Ancient Forests for Energy
On TV, skepticism about the science of climate change is dying out — but whataboutism is filling the void
Islanders Remain Dedicated to Conservation Above All, Living on the 'World's Best Beach' tks Joshua O'Neill
'Don't fool yourself': billions more needed to protect tropical forests, warns new report
Colossal iceberg trapped near Antarctica's 'Doomsday Glacier' for 20 years is finally on the move
New Research Sparks Concerns That Ocean Circulation Will Collapse
Faster than forecast, climate impacts trigger tipping points in the Earth system
You — yes, you — are going to pay for the century-old mistake that's draining the Colorado River
Rats invaded paradise. Here's how paradise fought back.
Southeast Asia must retire 5.5GW of coal plants per year to meet climate goals
The Status of Global Oil Production: 2023 Update
Smog coming from the North, says PSU professor
IRI – International Research Institute for Climate and Society
Accelerating melt of ice sheets now 'unmistakable'
Greta Thunberg and Sophia Kianni face disgusting misogyny from climate deniers
Record-breaking rice shortage in 2023 threatens global food security
New Zealand ships its last livestock as ban takes effect
Shell admits 1.5C climate goal means immediate end to fossil fuel growth
'We are moving in the wrong direction': New UN report highlights the scale of global climate change
Oklahoma man saves wife from being sucked away by tornado
Kim Stanley Robinson: "Climate, Fiction, and The Future"
Global politics
Jordan Klepper Recaps the NRA Convention and Clarence Thomas's Corruption Scandal
Kerry O'Brien gives impassioned defence of Indigenous voice to parliament at hearing
China and Taiwan: A Torrid Backstory The Daily Podcast
Sudan fighting: Why it matters to countries worldwide
Sudan conflict: 'I'm drinking water from the River Nile'
US and UK troops moving close to Sudan for possible evacuation
Putin Is Opening A Door For China
Russian warplane accidentally bombs own city
Dominic Raab resigns – latest: Ex-deputy PM attacks 'activist' civil servants after bullying report
Kevin McCarthy's Debt-Ceiling Marker
Mifepristone: US Supreme Court preserves abortion drug access
Clarence Thomas has for years claimed income from a defunct real estate firm
Atiq Ahmed: Former Indian MP and brother shot dead live on TV
Seeking to Calm Unrest, Macron Calls for a 'New Pact of Life and Work'
Business and technology
The A.I. Dilemma
Fox News and its audience became hooked on lies – now they can't break the habit
Smartmatic wants more than Dominion's $787 million payout, plus a retraction from Fox for its 2020 election lies, lawyer says
Fox News settles Dominion defamation case for $787.5m
Rupert Murdoch: Will he be damaged by the Fox News and Dominion case?
Lachlan Murdoch drops defamation proceedings against independent Australian publisher Crikey
ChatGPT Is Consuming A Staggering Amount of Water
Bill Gates: People Don't Realize What's Coming
Photographer admits prize-winning image was AI-generated
Elon Musk's SpaceX Starship rocket blows up minutes after launch
Tick, Tick, Boom: SpaceX launches Starship The Economist Podcasts
Russians boasted that just 1% of fake social profiles are caught, leak shows
Dril and other Twitter power users begin campaign to 'Block the Blue' paid checkmarks
Tristan Harris Congress Testimony: Understanding the Use of Persuasive Technology
Social issues
Cost Of Beauty : A Dove Film
How a Campaign Against Transgender Rights Mobilized Conservatives
'Field Wife': Officers Make Life Hell For Women In Russia's Military, A Female Medic Says
Cost of British food basics increase by up to 80%in a year
'We made a nuisance of ourselves': how Citizens House created real affordable housing – for ever!
Conservative activist launches 'Ultra Right' beer as rival to Bud Light after Dylan Mulvaney controversy tks Frank Roberts
Mercury Retrograde Wants Us to Slow Down and Go Analog tks Stephanie Dickson
Canadian neurocognitive disorder expert speaks to Global Workers Inquest into the Pandemic: "To say 'they are old, they can die'—it's criminal"
Bird flu: Scientists find mutations, say threat is still low
Alabama shooting: Four dead at Dadeville 16th birthday party
F.B.I. Arrests Two on Charges Tied to Chinese Police Outpost in New York
As Migrant Children Were Put to Work, U.S. Ignored Warnings
What is a stand your ground law and which states have one?
CEO Celebrates Worker Who Sold Family Dog After He Demanded They Return to Office
Yemen: Almost 80 die in Ramadan crush at Sanaa school
Richard Dawkins vs Piers Morgan On Religion and Gender
Passion, humour, history
Jack BlacK – Peaches| Super Mario Bros tks Charles Pulaski
Barry Humphries: Dame Edna Everage comedian dies at 89
Melbourne overtakes Sydney as Australia's biggest city
The Mediterranean Diet Really Is That Good for You. Here's Why
Was this woman Egypt's first female pharaoh?
Blinding flash over Kyiv was probably meteor, says Ukraine space agency
Coachella festival-goers suffering from 'festival flu' | The symptoms and how to prevent it
Let me know what jumped out at you? Or share with me what you're reading? I love that!
Cheers
Andrea
Want to get in touch?
All of my contact information is here on Linktree.
Environment education
Four environment resources to help you navigate this challenging territory.
Uncommon Courage: an invitation
Uncommon Courage is an invitation to be your courageous best self every day. It's also an antidote to the overwhelm, fear, and rage rolling around the world. But it's more than a book; it's an invitation to join an inclusive community that wants to better understand humanities challenges – both global and personal – in order to take courageous action and create a better world for everyone. If Covid19 has given us the time and space to reflect, Uncommon Courage gives us the nudge we need to create lasting change.
You can buy it on Amazon, Apple Books, Barnes & Noble, Book Depository, Booktopia, Smashwords, Kobo, Gardners, Odilo, Indie Bound, BookShop by BookTrib and Scribd.
Better yet, order it from your local bookstore, so you can #SupportLocal.
You can read the reviews, including a new five-star review on Book Commentary, another five-star review on ReaderViews, a review on BookTrib, and three more on Booklife, another on Book Commentary and Blue Ink Reviews. I'm also collating reviews on my Website too. Have a look and grateful to everyone who has written or recorded one.
Come and join the conversation in my Facebook Group Uncommon Courage.
Listen in to the Uncommon Courage, the podcast on Apple, Spotify and everywhere podcasts are published.
The Know Show
Check out The Know Show. It's a fortnightly wrap up of the news!
Climate Courage
A fortnightly conversation on issues that matter to you and I, focusing on the actions we can all take.
Listed by Book Authority in the 100 Best LinkedIn Books of All Time and 22 Best New LinkedIn eBooks To Read In 2021 and 2022 categories. Grab it today if you want to take your professional presence to the next level! When it comes to LinkedIn, it really is time to ask — can you really afford not to have this book in the hands of every employee?
Are you a Social CEO? The Social CEO: How Social Media Can Make You A Stronger Leader.
Want to claim your stage? Unleash Your Voice – Powerful Public Speaking for Every Woman
Feedback
Have I done a great job for you? Can you write a reference on my LinkedIn profile or on my Google Business page? If not for me, why not write one for someone else who inspires you or has helped you? Join the #GivingEconomy.