A growing concern I have is the lack of awareness about what Wet Bulb Temperatures are and how close we are to hitting temperatures that can kill. To provide some context, my family lives in Phuket, Thailand, and on the 14th of April it recorded its hottest ever temperature at 45.4C. It was hot, but not Wet Bulb.
However, on the 25th of April, Thailand issued a 'don't go out' warning for Bangkok, as the heat index hit a record of 54C. This is the moment where we must understand the difference between 'the temperature' and 'the heat index', because it's the difference between life and death.
A temperature of 35C and a heat index of 54C is one degree under deadly Wet Bulb Temperatures – which is 55C – although it's already deadly for many at 54C. Anything over 51C, the heat Index starts to get dangerous for the elderly, the pregnant and the sick.
If you'd like to learn more, especially those of us in the tropical region of the world, here is a scientific explanation of Wet Bulb Temperatures, a Guardian article, and Wikipedia's version.
From the Guardian article: The "threshold" or "critical" Wet Bulb Temperature for humans, [is] the point at which a healthy person could survive for only six hours. This is usually considered to be 35C, approximately equivalent to an air temperature of 40C with a relative humidity of 75%.
Not exactly as I said above, but there are a few contradictions in the information – aren't there always? However, from all I've read, and Thailand's response to a heat index of 54C, the average consensus seems to be a temperature of 35C and heat index of 55C is Wet Bulb.
How do you find it?
When you look at your weather app, if it says the temperature is 35C or higher, and the heat index (or feels like or real feel) temperature is 55C or higher, we are in Wet Bulb Temperature territory and that means even if you're young and healthy, sitting in the shade with plenty of water, you can die.
Here's my screen shot from today. It got hot!!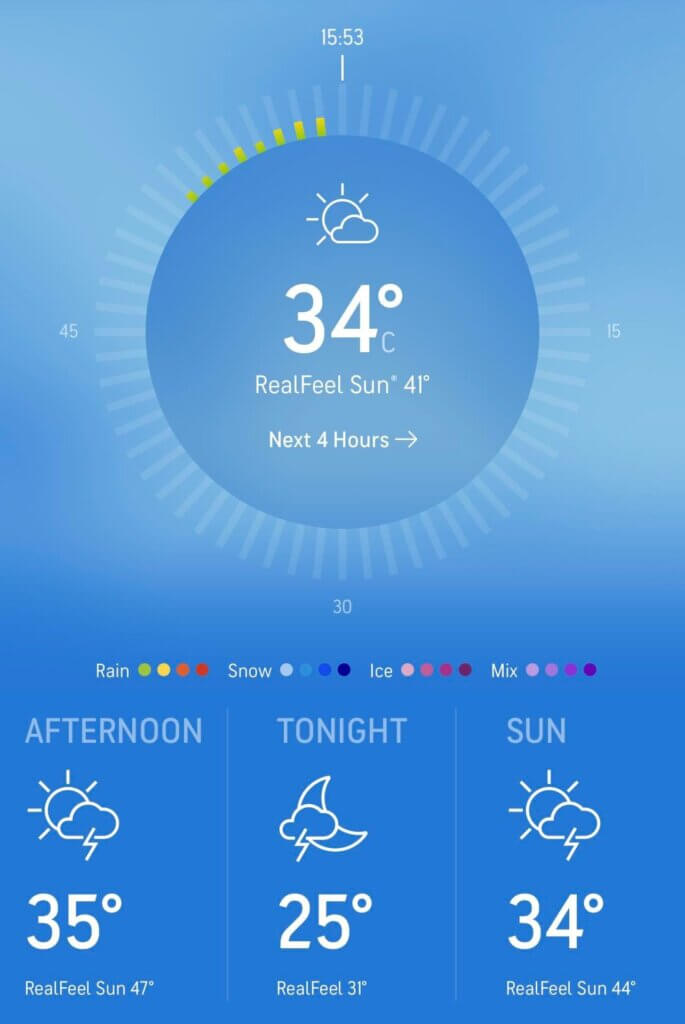 Wet Bulb Temperatures cook us from the inside out and if we have too much exposure to this heat, minutes matter in saving our lives. Here's more information on the signs of heatstroke, by Business Insider.
The 'feels like' temperatures or 'real feel' or 'heat index' measures the amount of moisture in the air. As the world warms, for every .1 degree of warming, there is 7% more moisture in the air, and that is the deadly part, which is why we must start paying attention – especially if we live in humid countries.
In Asia, we are now in this territory, so I encourage everyone to understand Wet Bulb Temperatures, what it means, how to protect yourself, and if you're in a place where these temperatures are already happening, please encourage your media, the government, and relevant businesses to start putting this information front and centre, because everyone needs to know.
We also need to protect the poor and the most vulnerable, who in the current situation, won't stand a chance. We have to look at how they live and work, and we need to make sure that all of the risks are factored in. Please share this information with everyone you know in the Tropics. This is very important.
Friend's content and mine
Uncommon Courage #79 A time for reflection – a chapter from my book – Uncommon Courage, an invitation – and I updated it a bit to ensure it is 100% relevant to this moment in time. This is a call for action.
Donation time
If everyone gave #just10percent of their time, talent, money or voice, we'll change the world. Can you donate? Make it a regular donation to the World Food Programme. Or donate to the UN Refugee Program, Medicine Sans Frontier, PowerOf , Kiva.org , Soi Dog Foundation. It's a time for giving and taking care of each other.
Content to read
And here's the content I've been reading or watching this last week. Scan the headlines, read the ones that jump out at you, read or watch them all. Knowledge is power, and global knowledge is even more powerful.
Climate crisis
Heatwaves in Asia more frequent and intense due to climate change: Expert
Will Brazil Destroy the Amazon to Save the Climate?
'We have already lost' in 2 key climate change signals, according to UN report
Observational determination of surface radiative forcing by CO2 from 2000 to 2010
It's Earth Day – And The News Isn't Good
A mystery in the Pacific is complicating climate projections
The Head of the United Nations Makes a Climate-Change Apology to His Future Great-Great-Granddaughter
A letter to my granddaughter's granddaughter.
Spain Bakes in Summer-Like Heat, and Worries About What Comes Next
Thai authorities issue extreme heat warnings for dozens of provinces
Thailand issues 'don't go out' warning as heat index hits record 54C
Global rice shortage is set to be the biggest in 20 years
El Niño Threatens Unparalleled Heatwaves
'Cobalt Red' describes the 'horror show' of mining the element in the DRC
Agroforestry is the regenerative technique getting overlooked in the US
Arctic Ocean is getting foggy as ice disappears
Week 16: Are we just plain stupid?
Glass or plastic: which is better for the environment?
Father challenges BP at meeting after son's death
Are you a good parent? OK, so what are you doing to protect your child from climate collapse?
A heavy dose of reality for electric-truck mandates
The Biden administration eyes a relatively untapped climate solution to revolutionize how homes are heated and cooled
The Current Mass Extinction Is Already Far More Dire Than We Realized
How can rewilding help the economy and the planet?
The surprising connection between Artic and western wildfires
We Should Stop Calling It "Climate Change" — And Start Calling It Extinction
'Net Zero' Will Mean a Mining Boom
How disappearing ice in Antarctica threatens the U.S
How a looming El Niño could fuel the spread of infectious disease
The impacts of climate change at 1.5C, 2C and beyond
A common talking point about climate change gets it all wrong, new study says
Fears Natural England may lose powers amid row with Dartmoor farmers
Beyond climate, beyond sustainability: a call for action to create a Regenerative Future
EU firms accused of 'abhorrent' export of banned pesticides to Brazil
Recent, rapid ocean warming ahead of El Niño alarms scientists
Drought-hit Spain braces for April heatwave
John Kerry: relying solely on CO2-removal technology is 'dangerous'
Carbon dioxide removal: the tech that is polarising climate science
Monster Heat Hits 1/3rd of World Population
Spain braced for record-breaking April temperatures of 40C
US forests are failing to keep up with climate change, finds study
Paris could hit 50 degrees by 2050, new report warns. How can the city adapt?
Record ocean temperatures put Earth in 'uncharted territory', say scientists
A Rare Glimpse into Afghanistan's Spectacular, Vanishing Forests
California 's snowpack may melt rapidly this week as temperature soar
How will I experience climate change?
The Mangrove Breakthrough: a call to action for a critical ecosystem
Agroforestry is the regenerative technique getting overlooked in the US
Ice mass loss sensitivity to the Antarctic ice sheet basal thermal state
Sheep In Wolves Clothing – the IPCC's (Latest) Final Warning
Insect Apocalypse
Global politics
Sudan: Foreigners flee as UN warns of 'catastrophic conflagration'
Sudan's outsider: how a paramilitary leader fell out with the army and plunged the country into war
Sudanese NHS doctor 'betrayed' after being refused entry onto evacuation flight to UK
Sudan crisis: NHS doctors told they can catch last UK evacuation flights
Deadliest Russian Attack in Months on Ukraine's Cities Kills at Least 25
Biden's a Good President. America Should Give Him the Chance to Be a Great One.
Biden aide gaffe leads to campaign clarification
Disney sues Florida governor Ron DeSantis
Jeffrey Sachs on China's "Historic" Push for Multipolar World to End U.S. Domination
Joe Biden vs. a dead skunk: Our president may be old, but the opposition is literally rotting
Joint Statement from the United States and Colombia following the Bilateral Meeting Between President Joe Biden and President Gustavo Petro
Trump named worst thing to come from US as Brits vote Netflix and Cola as the best
Taliban kill IS leader behind Kabul airport bombing
Pharmacy lobby president weeps over prospect of 60-day scripts
Business and technology
The Three Things AI Is Going To Take Away From Us (And Why They Matter Most)
Twitter's blue tick restored to high profile accounts
Why we can't give up on persuasion The Gray Area with Sean Illing Podcast
How to listen The Gray Area with Sean Illing Podcast
Mark Zuckerberg abandons Metaverse As Shiny New Toy Appears
Miami is the least affordable housing market in the U.S.—see which other cities made the list
Want to rent out your home to tourists? Make sure to follow these new rules around Europe
Social issues
Fox News, lies and consequences tks Philippa Penfold
How Facebook and Instagram became marketplaces for child sex trafficking
This professor is a global coronavirus expert. Now he has long COVID
Big Data Study Debunks One of The Most Common Fears Surrounding COVID-19 Vaccinations
In Oklahoma, a woman was told to wait until she's 'crashing' for abortion care
Montana Governor Signs Law Banning Transgender Care for Minors
Gun Violence Is Actually Worse in Red States. It's Not Even Close tks David Lim
One billionaire owner, twice the hate: Twitter hate speech surged with Musk, study says
10 years since Rana Plaza, not enough has changed
A Decade After The Rana Plaza Disaster, Global Clothing Companies Owe More To Bangladeshi Garment Workers
Radioactive dogs? What we can learn from Chernobyl's strays
Pilot who offered flights to women for medical care fired from seminary job
Principal forced to resign over Michelangelo's David visits sculpture
OnlyFans Model and Kim Kardashian Lookalike, Christina Ashten Gourkani, Dies After Suffering Cardiac Arrest
Prince Harry: Fight not flight as he prepares to take stand
Fox News Poll: Voters favor gun limits over arming citizens to reduce gun violence
Tucker Carlson Is Out at Fox News
On Eve of Trial, Discovery of Carlson Texts Set Off Crisis Atop Fox tks Gina Giachetti
Have we reached peak inequality?
War, Poverty & Injustice Are The Resulting Conditions Of Our Largest Corporations Extreme Influence On Policy, Practices, Resource Flows
Tangaraju Suppiah: Singapore executes man for supplying cannabis
Singapore Defends Decision To Execute Tangaraju Suppiah, Criticizes Richard Branson's Opposition As "Disrespectful"
Oilers star Evander Kane rips Kings fans for harassing 10-year-old cancer patient tks Frank Roberts
Passion, humour, history
Adele – The Final Carpool Karaoke
Adam Lambert Sings Hilarious Version of 'The Muffin Man' While Doing a Spot-On Cher Impression tks Pattie Grimm
Harry Belafonte: A Life in Photos
Adele joins James Corden for emotional Carpool Karaoke finale
Freddie Mercury: Queen star's friend Mary Austin to auction his personal treasures tks Emile Bloemen
Dream dinner party guests: Obama, Springsteen and Spielberg delight Barcelona restaurant staff
Hollywood Beach: Waterspout crashes on to beach full of people
Barry Humphries, Australian comedian and creator of Dame Edna Everage, dies aged 89
Don Lemon Reveals Future Plans in First Public Appearance Since CNN Exit: 'Excited for a New Chapter'
Jerry Springer: Era-defining TV host dies aged 79
Jackass star Bam Margera turns himself in to police over alleged assault
James Corden signs off final Late Late Show with message for America
Let me know what jumped out at you? Or share with me what you're reading? I love that!
Cheers
Andrea
Want to get in touch?
All of my contact information is here on Linktree.
Environment education
Four environment resources to help you navigate this challenging territory.
Uncommon Courage: an invitation
Uncommon Courage is an invitation to be your courageous best self every day. It's also an antidote to the overwhelm, fear, and rage rolling around the world. But it's more than a book; it's an invitation to join an inclusive community that wants to better understand humanities challenges – both global and personal – in order to take courageous action and create a better world for everyone. If Covid19 has given us the time and space to reflect, Uncommon Courage gives us the nudge we need to create lasting change.
You can buy it on Amazon, Apple Books, Barnes & Noble, Book Depository, Booktopia, Smashwords, Kobo, Gardners, Odilo, Indie Bound, BookShop by BookTrib and Scribd.
Better yet, order it from your local bookstore, so you can #SupportLocal.
You can read the reviews, including a new five-star review on Book Commentary, another five-star review on ReaderViews, a review on BookTrib, and three more on Booklife, another on Book Commentary and Blue Ink Reviews. I'm also collating reviews on my Website too. Have a look and grateful to everyone who has written or recorded one.
Come and join the conversation in my Facebook Group Uncommon Courage.
Listen in to the Uncommon Courage, the podcast on Apple, Spotify and everywhere podcasts are published.
The Know Show
Check out The Know Show. It's a fortnightly wrap up of the news!
Climate Courage
A fortnightly conversation on issues that matter to you and I, focusing on the actions we can all take.
Listed by Book Authority in the 100 Best LinkedIn Books of All Time and 22 Best New LinkedIn eBooks To Read In 2021 and 2022 categories. Grab it today if you want to take your professional presence to the next level! When it comes to LinkedIn, it really is time to ask — can you really afford not to have this book in the hands of every employee?
Are you a Social CEO? The Social CEO: How Social Media Can Make You A Stronger Leader. 
Want to claim your stage? Unleash Your Voice – Powerful Public Speaking for Every Woman 
Feedback
Have I done a great job for you? Can you write a reference on my LinkedIn profile or on my Google Business page? If not for me, why not write one for someone else who inspires you or has helped you? Join the #GivingEconomy.