The Donald Trump Show in the media this week has been beyond ridiculous. He was never required to go to NYC, as the arraignment was offered over Zoom, but why miss an opportunity to put on a show, right?
The media coverage – constant, unrelenting, and a whole lot of nothingness – was appalling. There was literally nothing to see. Trump's jet takes off from Florida. It lands in NYC. His convoy drives through the streets. Marjorie Taylor Green is bat-shit crazy. His kids are revolting human beings. And MTG plus his two adult sons share a photo of the judge's daughter on social media…. which is illegal and appalling.
The only piece of coverage worth seeing was the door smacking him in the face.
But what about the media – what the hell are they thinking? Seriously? Wall to wall media coverage is what got him elected as President in the first place, and here they are, giving it to him again? If you went to any of your favorite news apps this week, the top five stories (minimum) were all different angles to the Trump Show.
In fact, if you want to see a very interesting perspective, I can wholeheartedly recommend Mary L Trump on Twitter. She is taking no prisoners.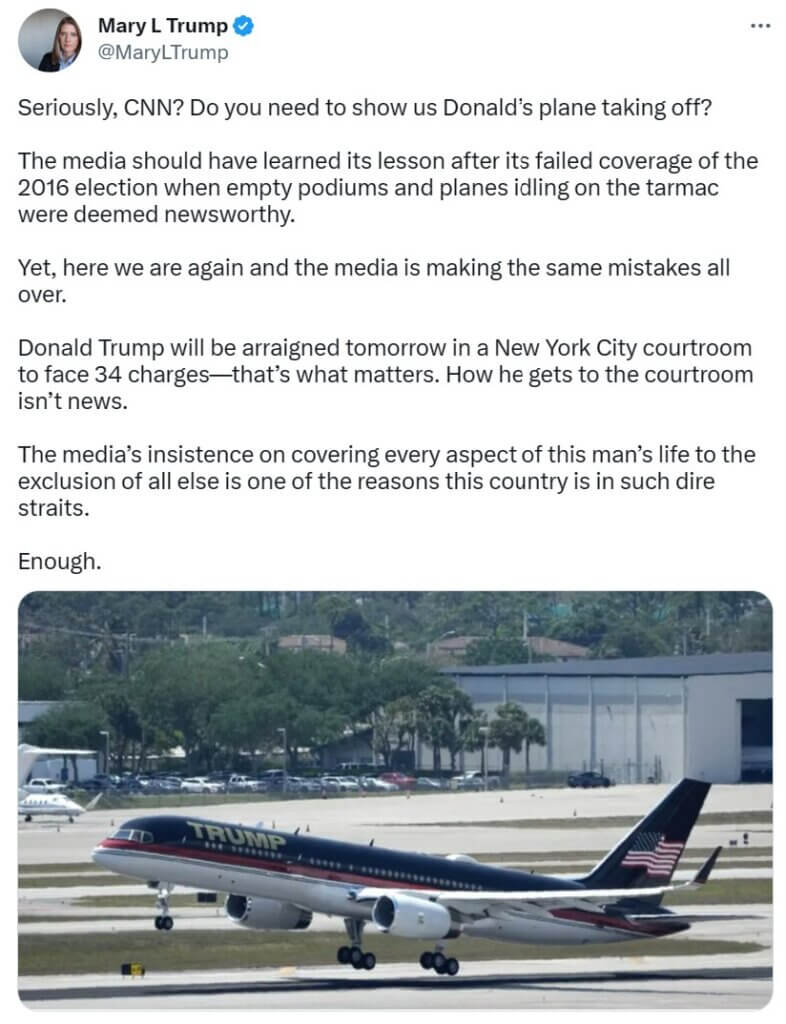 Because there's nothing else going on that's important, right? Ocean temperatures are off the charts and El Nino hasn't even kicked in yet. People are dropping dead from heat stroke across India, Thailand and beyond (it's so hot right now!). Deforestation is hitting record numbers in Indonesia, again. CFCs are back in the atmosphere at record levels (remember CFCs which caused the Ozone hole). California's farms are under water and will cause massive food shortages as global famine starts knocking on our doors. Forever chemicals are impacting women's ability to get pregnant. And on I could go.
None of this is important, it seems. Just the Show. Donald Trump is the ultimate shiny thing, and boy we love shiny things.
Don't get me wrong, I appreciate that for many people, this is an important moment. Seeing Trump get what he deserves is vindication for all the chaos he's created since 2016. He did a lot of harm to America and the world, so this moment is important to many people. BUT we know how he uses and abuses the media. We also know that this level of media coverage could put him back in the Oval Office, and boy, we don't need that. We really don't.
I wonder when we will wake up. I wonder when the media will wake up, because boy they better soon, or we're all completely screwed.
IMPORTANT news below, with a tiny smattering of the Show. I couldn't ignore it completely.
Friend's content and mine
Crossing the Bay of Bengal – do you want to meet true legends? Then read this summary of Grant Rawlinson and Luke Richmond crossing the Bay of Bengal with human power. Gruelling, hard, impossible, and man, what a feat. This is what heroes look like.
How to reduce our clothing consumption and its environmental impact – wonderful piece from Nathalie Ricaud, full of great tips to reduce our clothing consumption. Pick a couple of ideas and get going.
An opinion piece about opinion pieces that don't have an opinion – great article from Robin Hicks. It appears PR people are still doing the same old mistakes!
How much waste would 5.57 million tourists create?
In the first quarter of 2023, Thailand welcomed 5.57 million tourists – which is awesome for the economy. But how awesome is it for the environment? I decided to do the maths.
Donation time
If everyone gave #just10percent of their time, talent, money or voice, we'll change the world. Can you donate? Make it a regular donation to the World Food Programme. Or donate to the UN Refugee Program, Medicine Sans Frontier, PowerOf , Kiva.org , Soi Dog Foundation. It's a time for giving and taking care of each other.
Content to read
And here's the content I've been reading or watching this last week. Scan the headlines, read the ones that jump out at you, read or watch them all. Knowledge is power, and global knowledge is even more powerful.
Climate crisis
Jonathan Pie meets Prof Haigh| Climate Science Translated (awesome)
The oceans just reached their hottest temperature on record as El Niño looms. Here are 6 things to watch for
'Headed off the charts': world's ocean surface temperature hits record high
Climate Crisis: The Melting of Arctic Ice Has Reached a Point of No Return; Scientists Are Racing To Preserve The Ice Memory
Decent living for all does not have to cost the Earth
'Forever chemicals' linked to infertility in women, study shows
Economist fears 'end of capitalism' amid 'Greedflation'
Even a small increase in pollution raises dementia risk, study shows
Animals are disappearing from forests, with grave consequences for the fight against climate breakdown – new research
'Slipping through our fingers': New Zealand scientists distraught at scale of glacier loss
Worst drought on record forces Tunisia to cut off drinking water for seven hours every night
'Bigger threat than China': Defence leaders urge release of 'scary' climate report
Why Are Nature-Based Solutions on Climate Being Overlooked?
The forgotten oil ads that told us climate change was nothing
Getting real: what would serious climate action look like?
Palm oil deforestation hits record high in Sumatra's 'orangutan capital'
Jacinda Ardern appointed trustee of Prince William's Earthshot Prize
In Ukraine, Dead Dolphins Tell a Story of Ecocide and Violence
Global Climate Report (IPCC) Accused Of Burying Plant-Based Diet Recommendations: 5 Key Takeaways
Half of glaciers will be gone by 2100 even under Paris 1.5C accord, study finds
Climate Change Is Coming for Big Meat in a Big Way, New FAIRR Report Finds
The Planetary Emergency is a Crisis of Spirituality
London's 'dying river' leaves locals vomiting at the stench and walking by human faeces
Canadians will pay more on carbon pricing than Ottawa gives them in rebates, watchdog says
Centre introduces amendment to forest conservation law; experts say move will destroy forests
EU accused of greenwashing football's oil and gas sponsors
Superglue can be turned into a recyclable, cheap, oil-free plastic alternative – here's how
5 "blue forests" that are vital to life on Earth
Threat of hydrogen greenwashing stalks Europe's net-zero plans
Overshoot: Cognitive obsolescence and the population conundrum
Drone footage shows scale of US tornado wreckage
Sydney's hottest March on record
The Daily Mail is still promoting climate change denial
A long-dormant lake has reappeared in California, bringing havoc along with it
Solar panels handle heat better when they're combined with crops
Only 5% of FTSE 100 companies have 'credible' climate transition plans, says EY
This Simple Math Problem Could Be the Key to Solving Our Climate Crisis
European private jet pollution doubled in one year
Why Dutch Farmers Turned Their Flag Upside Down
Back to Zero Sorting the world's waste problem
Why scientists are using the word scary over the climate crisis
Here's what we know about how climate change is influencing tornadoes
Parisians vote to ban rental e-scooters from French capital by huge margin
You're Being Lied to About Electric Cars
When will fuel become unaffordable?
Biggest carbon credit certifier to replace its rainforest offsets scheme
Drought or no drought? California left pondering after record winter deluge
Nigel Lawson, Founder of Tufton St. Climate Denial Group, Quits Parliament
Austria glaciers retreat 'more than ever': measurement
Cyclone Freddy dumped six months' rain in six days in Malawi
'Trollbots' Swarm Twitter with Attacks on Climate Science Ahead of UN Summit
Center for The Advancement of the Steady State Economy
Gulf offshore oil and gas production has double the climate impact as inventories report
'This shouldn't be happening': levels of banned CFCs rising
Carbon dioxide removal is not a current climate solution — we need to change the narrative
Plastic wet wipes ban planned in England to tackle pollution
Wheat Spread Hits Record As Drought Plagues Midwest
Catalonia in grip of worst drought in decades
Senators Reintroduce Landmark Wildlife Conservation Bill
Apple walks away from Twiggy's huge Queensland wind farm
A Fossil Fuel Economy Requires 535x More Mining Than a Clean Energy Economy
Climate Science Needs to Take Risk Assessment Much More Seriously
Ice sheets can collapse at 600 metres a day, far faster than feared, study finds
$1 Trillion to Protect Biodiversity is Cheaper Than the Cost of Inaction
UN Asks International Court Of Justice For Advisory Opinion On Climate Change
How the climate movement learned to win in Washington
Elusive Billionaire Bets Against Europe's Green Plans—And Mints a Fortune
Zara, lies and Fashion's big new row
See Stunning Photos of How Climate Change Is Altering Our World
NASA Space Mission Takes Stock of Carbon Dioxide Emissions by Countries
Why the IPCC's Latest Report Should Spur a Rush to Adapt
Greenhouse gas emissions rose at 'alarming' rate last year, US data shows
Mark Carney: Climate crisis deaths 'will be worse than Covid'
'Untold human suffering': 11,000 scientists from 153 countries warn of 'climate crisis'
Disbelief at government's "massive bet" on climate change | James O'Brien on LBC
Global politics
Nicola Sturgeon resignation: online rumours played a part, says ex-SNP leader
Sanna Marin defeated by Finland's conservatives in tight race
Bulgarians go to the polls to vote in the fifth general election in two years
Argentina inflation soars past 100% mark
'A new era begins' as Finland becomes NATO's newest member
Macron vies to stop China switching to 'war camp' on Ukraine
Russia assumes UN Security Council presidency despite Ukrainian anger tks David Ko
'He's a war criminal': Elite Putin security officer defects
'My country has fallen out of time': Russian author Mikhail Shishkin's letter to an unknown Ukrainian
Darya Trepova: Russia releases video of suspect in cafe killing of Vladlen Tatarsky
Vladlen Tatarsky: Killing of pro-Kremlin blogger investigated as murder
The cost of the Ukraine war for one Russian regiment
Putin, Trump, Ukraine: how Timothy Snyder became the leading interpreter of our dark times
Putin Presses the Nuclear Nerve Again
Supreme Court Justice Clarence Thomas Caught Receiving Luxurious Gifts From Republican
Momentum Builds to Reappoint 2 Tennessee House Democrats After Expulsion
Robert F Kennedy Jr to challenge Biden for White House
Steve Bannon spent "months" recruiting anti-vaxxer RFK Jr. to run against Biden as "chaos agent"
Judge Luttig Has a Warning for America
'Wow': Lesley Stahl Left Nearly Speechless By Marjorie Taylor Greene's Remark on Biden and Pedophiles
Florida Bill Would Ban Menstrual Education for Young Girls
Tennessee House moves to expel 3 Democrats after gun protest
How Biden Is Using Federal Power to Liberate Localities
Biden administration blames chaotic Afghan pull-out on Trump
Kushner Firm Got Hundreds of Millions From 2 Persian Gulf Nations
How Disney's lawyers brutally mauled DeSantis over control of Disney World
Trump's indictment is sending shockwaves across the political landscape
Trump and Fox News, Twin Titans of Politics, Hit With Back-to-Back Rebukes
The Observer view: Donald Trump deserves to face the full force of justice
Donald Trump's historic court appearance in 77 seconds
Knee-jerk rejection to Trump indictment says more about the GOP than the case tks Frank Roberts
Anger and anxiety – inside pro-Trump online networks
Jon Stewart: This is why Trump became popular in the first place
Business and technology
McDonald's closes US offices ahead of corporate job cuts Published
Virgin Orbit: Richard Branson's rocket firm files for bankruptcy
Inviting serendipity to your life | John Hagel
Social issues
How do I stop my mother giving me stuff I don't want?
Two Iranian women arrested for not covering hair after man attacks them with yoghurt
Spanish bishops deliver six volumes of information on sex abuse cases to ombudsman
Actor Leonardo DiCaprio testifies in money laundering and bribery trial
Five countries that are safer for women
The daughter who fled North Korea to find her mother
Spanish TV star Ana Obregón reveals surrogate baby is her late son's
Sharing Space – Episode 1: Daniel Radcliffe
Passion, humour, history
Deepest ever fish caught on camera off Japan
Coronation invitations issued by King Charles and 'Queen Camilla'
South Africa snake on plane: Deadly cobra in cockpit forces emergency landing
Serendipity: creativity through happy accidents
Let me know what jumped out at you? Or share with me what you're reading? I love that!
Cheers
Andrea
Want to get in touch?
All of my contact information is here on Linktree.
Environment education
Four environment resources to help you navigate this challenging territory.
Uncommon Courage: an invitation
Uncommon Courage is an invitation to be your courageous best self every day. It's also an antidote to the overwhelm, fear, and rage rolling around the world. But it's more than a book; it's an invitation to join an inclusive community that wants to better understand humanities challenges – both global and personal – in order to take courageous action and create a better world for everyone. If Covid19 has given us the time and space to reflect, Uncommon Courage gives us the nudge we need to create lasting change.
You can buy it on Amazon, Apple Books, Barnes & Noble, Book Depository, Booktopia, Smashwords, Kobo, Gardners, Odilo, Indie Bound, BookShop by BookTrib and Scribd.
Better yet, order it from your local bookstore, so you can #SupportLocal.
You can read the reviews, including a new five-star review on Book Commentary, another five-star review on ReaderViews, a review on BookTrib, and three more on Booklife, another on Book Commentary and Blue Ink Reviews. I'm also collating reviews on my Website too. Have a look and grateful to everyone who has written or recorded one.
Come and join the conversation in my Facebook Group Uncommon Courage.
Listen in to the Uncommon Courage, the podcast on Apple, Spotify and everywhere podcasts are published.
The Know Show
Check out The Know Show. It's a fortnightly wrap up of the news!
Climate Courage
A fortnightly conversation on issues that matter to you and I, focusing on the actions we can all take.
Listed by Book Authority in the 100 Best LinkedIn Books of All Time and 22 Best New LinkedIn eBooks To Read In 2021 and 2022 categories. Grab it today if you want to take your professional presence to the next level! When it comes to LinkedIn, it really is time to ask — can you really afford not to have this book in the hands of every employee?
Are you a Social CEO? The Social CEO: How Social Media Can Make You A Stronger Leader.
Want to claim your stage? Unleash Your Voice – Powerful Public Speaking for Every Woman
Feedback
Have I done a great job for you? Can you write a reference on my LinkedIn profile or on my Google Business page? If not for me, why not write one for someone else who inspires you or has helped you? Join the #GivingEconomy.