On March 13th 2023, Canada, the US and the UAE all hit overshoot. Australia hit it on March 23rd. The annual global Earth Overshoot Day (July 27th this year) marks the day when humanity has used all of the biological resources that Earth regenerates during the entire year, and we are in debt going back decades now.
I always feel so conflicted by this annual "event" because we see it, we even claim to understand it, but we never seem to want to do anything about it and we certainly aren't making the changes required to get back in balance with earth. All the while, the date is slowly inching forwards (or backwards?). Last year it was July 28th globally.
It makes sense to me (and I hope you), that if we live in a country or live a lifestyle that is in overshoot in the first quarter of the year, then it also makes sense that we need to reduce how we live, shop, travel, and consume by 75%. Because if we live beyond the means of the environment to provide for us, one day it will no longer be able to provide, and that day is coming closer – read the environment section below!
Another use of 75% is the number attributed to the required reduction in fossil fuels as quickly as possible.
On Climate Courage, we were discussing eating for our health and the planets, and guess what? Yep, we need to reduce our meat consumption by 75%. Here's a blog I published on how our family of carnivores went about it – still a work in progress.
If you take the time to listen to this week's Climate Courage, Rebecca Thorburn shared some stats on animal agriculture, and animals (cows and sheep) use 70% of farmland but only provide 15% of human food. Crazy right? When did we ever think that was a good idea?
However, here's the real head spinner – the UN said the food supply needs to double by 2050 to keep up with human demand. Now when you do the maths, if meat remains a primary source of food and doubles, that doesn't work at all.
Why? Well, there is just not enough land on earth for this industry to grow on par with global food needs, so if I was investing in the meat industry, or my pension was tied up in this industry, I'd suggest it might not be a long-term safe bet, because there is no space for it to grow. Obviously, I'm not an expert in this field, but you know, logic and all that.
And we're not even talking about the wider impacts of animal farming here, just space, because from a bigger picture perspective, it's a hazardous path to continue treading – from climate change to soil health, biodiversity loss, ecosystem collapse, water pollution, antibiotic resistance, and more!
The good news is, there's an answer. According to Greenpeace, if everyone ate a plant-based diet, we'd need 75% less farmland than we use today. That's an area equivalent to the US, China, Europe and Australia combined.
Going plant-based is the most radical contribution WE can all make to fight the planetary crisis. Imagine how much land we can give back to nature and wildlife? And boy the wild animals need our help, as currently of all the mammals on earth, 60% are livestock, 36% are humans and wild animals – just 4%!
Do check out the king of this industry, responsible for massive deforestation in the Amazon (and elsewhere), it's also the company providing meat for our fast food burgers – JBS. Don't forget to check out the sustainability claims on the front page, ludicrous.
So maybe a great idea right now is to use 75% as a baseline if we live in overshoot.
Let's reduce our clothing, shoes, accessories by 75%.
Let's reduce our meat, and processed foods by 75%.
If you eat fast food, reduce it by 75% and please, go for the chicken if you must have meat.
Let's reduce our personal energy use by that much too – at home, on the road, in the skies.
Let's also look at ideas like reducing our perfect gardens by 75% and giving it back to nature, rewilding, or planting vegetable gardens, with lots of pollinators in the mix – because that's a good idea right now! Have you seen the floods in California, massively impacting another food basket of the world? Food shortages are on the rise globally.
We need to reduce reduce reduce, because the time for radical transformation is now, and this is what's required. And of course, yes, this will have economic ramifications and we need to accept this and plan for it, because our governments are not doing it. We have to make them wake up!
The climate economic fall-out was always coming and we thought we had more time. We don't. We're living it today. Any encouragement by governments for us to spend more money so we can get our economies going, is not going to help us move into a live-able future. That time is past. We are in too much debt with nature and she's asking for it to be paid back.
Our path forward is to live in balance with earth, although it would be better if we lived below the global biocapacity per person, because we have a lot of overshoot to make up.
Are you in? Will you work towards a 75% reduction in your biocapacity?
Remember it's not about perfection…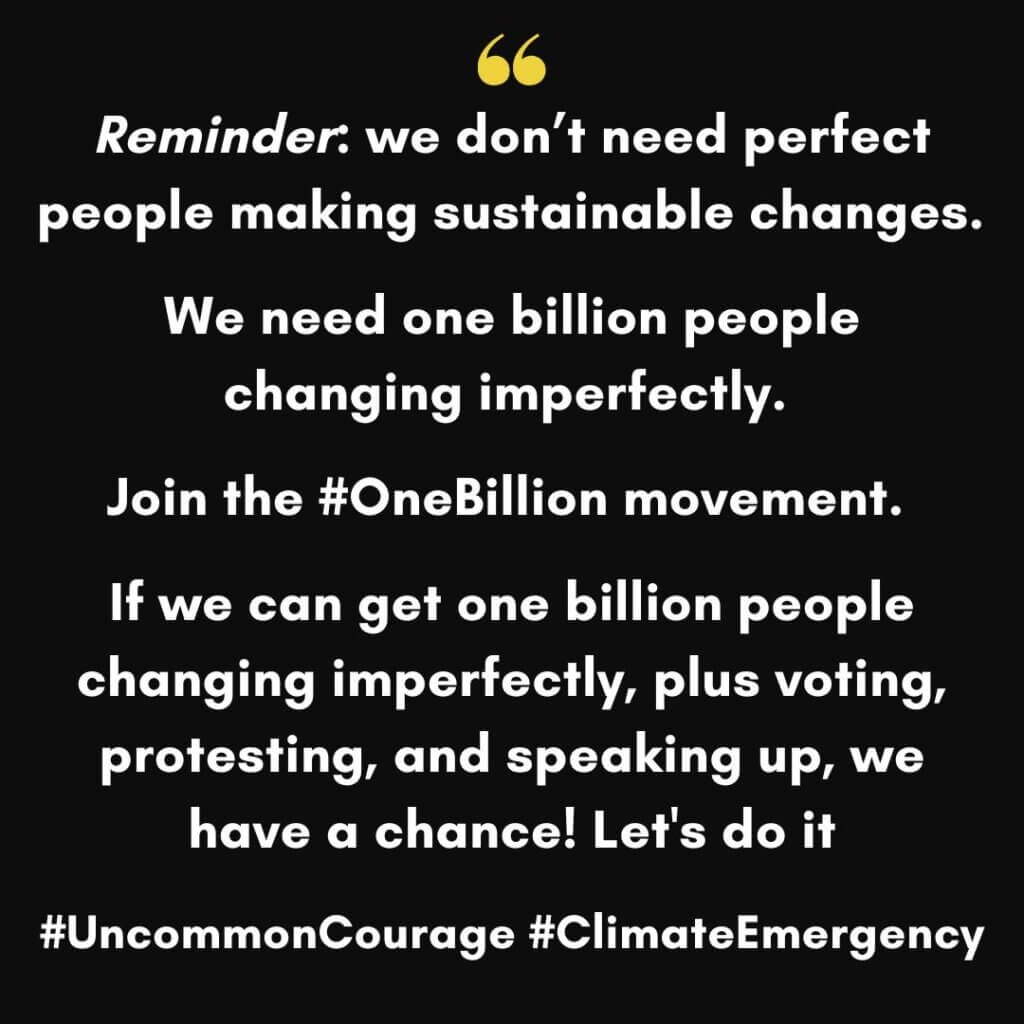 Please do watch Climate Courage, with the lovely Elika Tasker, Muriel Boutin-Becuwe, Rebecca Thorburn, and Jenni Thorman. It's not a hammer-to-the-head message, but a gentle encouragement to all do our best, and if a billion people could focus on this, our lives improve significantly, the planets health too. Drop me a note if you're in?
Friend's content and mine
Ensuring the Success of Solar – India's Green Energy Transition really insightful piece on the state of the energy transition in India, by Praveen Gupta
Make 2023 the year we stop Climate Change; do it with The Things That Give Us Joy
Check out Dr David Ko and Richard Busellato. They have a solution, and right now, we just need to register our interest.
Hopium, hydrogen and social leadership Uncommon Courage Podcast – my latest podcast, this time with Paul Martin. If you think hydrogen is the answer to our energy transition, you might want to have a listen to this.
Leave nothing but footprints….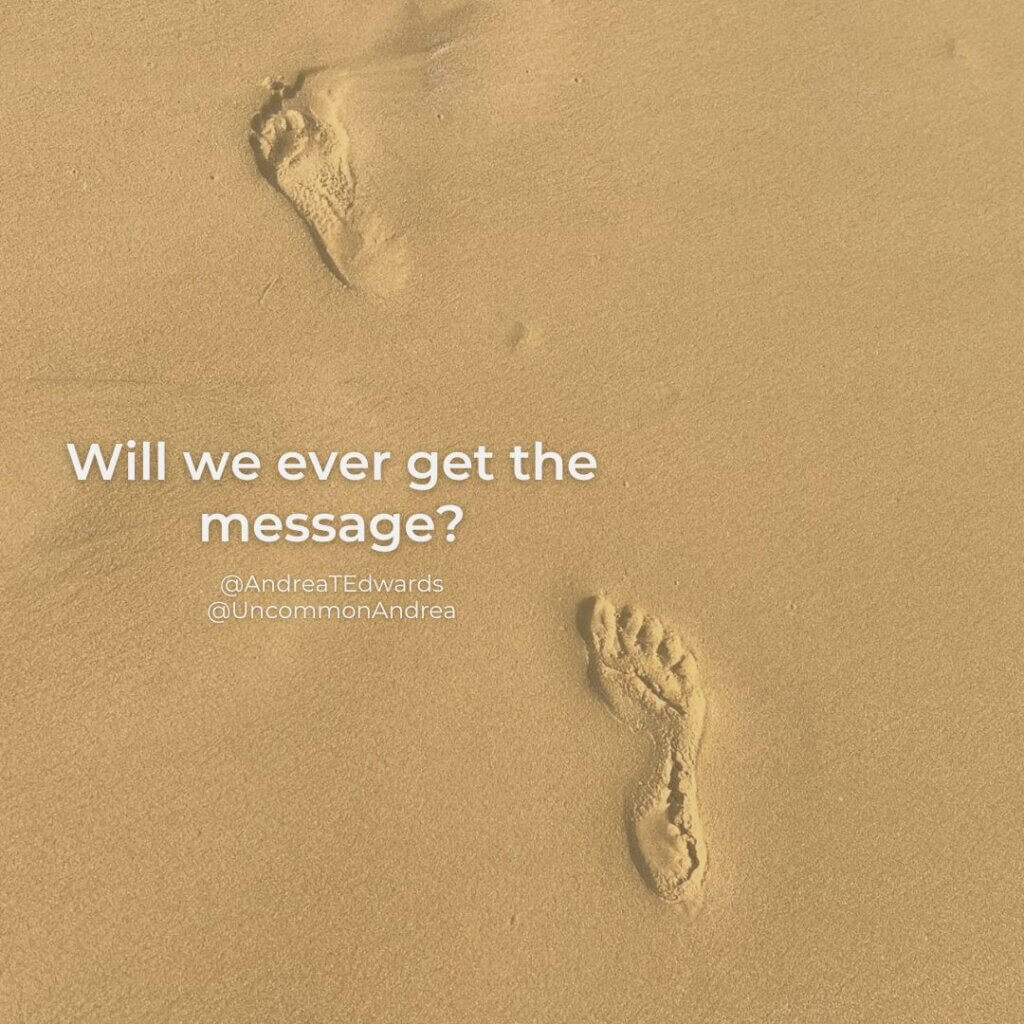 Donation time
If everyone gave #just10percent of their time, talent, money or voice, we'll change the world. Can you donate? Make it a regular donation to the World Food Programme. Or donate to the UN Refugee Program, Medicine Sans Frontier, PowerOf , Kiva.org , Soi Dog Foundation. It's a time for giving and taking care of each other.
Content to read
And here's the content I've been reading or watching this last week. Scan the headlines, read the ones that jump out at you, read or watch them all. Knowledge is power, and global knowledge is even more powerful.
Climate crisis
Climate scientists give "survival guide for humanity" in landmark UN report tks Vicky Coburn
AR6 Synthesis Report Climate Change 2023
Scientists deliver 'final warning' on climate crisis: act now or it's too late
From climate change 'certainty' to rapid decline: a timeline of IPCC reports
Warnings About Humanity's Future Don't Get More Dire Than This
Make it local: Deforestation link to less Amazon rainfall tips activism shift
Dramatic Drought: Is Europe drying out?
The U.N.'s Disturbing New Climate Report Is a Call to Battle
Who lobbied against the IPCC Report – Twitter
New climate paper calls for charging big US oil firms with homicide
Eight things the world must do to avoid the worst of climate change
Humanity has 'broken the water cycle,' UN chief warns
Sea ice may soon disappear from the Arctic during the summer months—and it has happened before
Opinion | How Big of a Climate Betrayal Is the Willow Oil Project?
Mainstreaming climate scepticism: Analysing the reach of fringe websites on Twitter
'Exceptional' surge in methane emissions from wetlands worries scientists
How Meat and Fossil Fuel Producers Watered Down the Latest IPCC Report
Factory farming climate culprit JBS tops emissions scorecard of shame
Companies with more women in the boardroom are less prone to greenwashing: study
Why We Can't Just Do It: The Truth about Our Failure to Curb Carbon Emissions
The rise of 'doomers': The people who think climate change can't be stopped
6 Cities on 5 Continents That Are Reimagining Urban Life
Discourses of climate delay | Global Sustainability | Cambridge Core
Seven months pregnant and with four kids, Aisha faced an unbearable choice
'A wake-up call': total weight of wild mammals less than 10% of humanity's
The Toxic Threat in Thawing Permafrost
Humanity Is Facing a Great Injustice. The World Bank Must Respond.
What happened to The Ocean Cleanup — the system that would rid the oceans of plastic?
CLEAN POWER Another Hydrogen For Energy Play Predictably Fails, This Time In Marine Fueling tks Pete Kerr
Aviation chiefs rejected measures to curb climate impact of jet vapours
Opinion: let's make clean heating a reality for low-income households
HOMEBIOLOGY NEWS The Amazon in Crisis: New Study Reveals Alarming Extent of Human Impact
Menindee: Australia begins mass fish death clean-up
'Unfathomable': millions of dead fish blanket river near Menindee in latest mass kill
'Just heartbreaking': Grim update after mass fish death
'Everything Living Is Dying': Environmental Ruin in Modern Iraq
What is the IPCC AR6 synthesis report and why does it matter?
'They have not done anything': Hunt slammed for failing to back solar energy in Budget
Wastewater sector emits nearly twice as much methane as previously thought
Climate Activism Isn't About the Planet. It's About the Boredom of the Bourgeoisie
Argentina soybean output projected to plummet
Scientists Discover Intense Heatwaves Lurking at The Bottom of The Ocean
'You've got to be kidding me': MSNBC host spooked by revelation that climate change is making fungus deadlier
California battles heavy floods, high winds and rain
One of Europe's busiest airports to be forced to cut flights due to planet-warming carbon pollution
Somalis are dying because of a climate crisis they didn't cause. More aid isn't the answer
A Water System So Broken That One Pipe Leaks 5 Million Gallons a Day
Premier League domestic flights: BBC Sport research shows 81 flights from 100 games tks Steve Johnson
Faster, higher, hotter: What we learned about the climate system in 2022 (Parts 2 and 3)
How local residents came together to solve a two-decade old problem of wastewater flowing onto Hua Hin beach
Never mind the H20: this scheme to move water from Severn to Thames could be the new HS2
James Lovelock: 'Enjoy life while you can: in 20 years global warming will hit the fan' I always share this when it pops up again, from 2008
We're cementing climate denial with every fossil fuel project
WWF's Living Planet Report reveals a devastating 69% drop in wildlife populations on average in less than a lifetime – WWF.CA
What Would It Look Like If We Treated Climate Change as an Actual Emergency?
Climate change: a cry from the future
Global politics
'We had to hide them': how Ukraine's 'kidnapped' children led to Vladimir Putin's arrest warrant
Wagner boss openly defies Kremlin Ukraine 'Nazi' narrative
Putin in Mariupol: What the Russian president saw on his visit
Putin to Xi: We will discuss your plan to end the war in Ukraine
Russian missiles destroyed in Crimea blast, Ukraine says
Witnesses Unravel the Chinese Mass Murder Mystery That Could Ruin Putin
Top US general says it will be really hard and cost a lot of 'blood and treasure' for Ukraine to 'kick out every single Russian' invader
Ukraine war: The front line where Russian eyes are always watching
Ex-US President Donald Trump expects to be arrested on Tuesday
Marjorie Taylor Greene says Republicans don't need to protest potential Trump arrest
Inside the 3 Months That Could Cost Fox $1.6 Billion
Why Trump supporters are wary of joining protests he called for
Open letter to Jeffrey Sachs on his position regarding Russian war on Ukraine
US raises interest rates despite banking turmoil
How Trump will try to spin his anticipated arrest
Coalition creaks as New Zealand Greens watch Labour dump climate policies
Trump at Mar-a-Lago: Magical Thinking and a Perp-Walk Fixation
TikTok CEO Shou Zi Chew's Congress showdown: Five takeaways
France pension reform: Macron's government survives no-confidence vote
Mass strikes and protests grip France in defiance of Macron's pension reforms
Pushback in Australia against increasingly draconian protest laws
After John Howard took Australia to war in Iraq, he was scarcely held to account. Instead, he was re-elected
Imran Khan's chaotic court summons in 60 seconds
Uganda parliament passes bill criminalizing identifying as LGBTQ, imposes death penalty for some offenses
Leader of Indian Party Opposing Modi Is Sentenced in Defamation Case
Partygate: Johnson should reject any finding that he broke rules, say allies
Over 170 ex-ministers and officials take jobs linked to old policy briefs since 2017
Business and technology
Jack Dorsey business target of Hindenburg report
Credit Suisse bank: UBS is in talks to take over its troubled rival
Why the Banking Crisis Isn't Over Yet The Daily Podcast
UK banking system 'safe' after Credit Suisse rescue
Meta 'hoarded us like Pokemon cards': Former staffer reveals she had to 'fight for work' at company
Spotify Has Spent Less Than 10% of Its $100 Million Diversity Fund
Technology Over the Long Run: Zoom Out to See How Dramatically the World Can Change Within a Lifetime
How Elon Musk's tweets unleashed a wave of hate
Social issues
Why councils spend less on bin collections, potholes and street lights tks Joshua O'Neill
Met Police: Women and children failed by 'boys' club', review finds Published
Chronic fatigue syndrome is a puzzle. Your gut microbiome may have the key.
Imprinted hybrid immunity against XBB reinfection
25 Raw Birth Photos That Capture The Beauty And Power Of Delivery
Senior care is crushingly expensive. Boomers aren't ready. tks Denise Chai
What a man freed from a 241-year prison sentence finds strangest of all
Banksy's Art Amid Ukraine's Rubble
Government food tsar quits blaming 'insane' inaction to tackle obesity
The Worst Covid Strategy Was Not Picking One
Punjab hit by internet blackout as authorities hunt for Sikh preacher
Newly released Chinese Covid data points to infected animals in Wuhan
Friend who inspired Shamima Begum to join IS mocks her as non-believer
Passion, humour, history
The neuroscience of loving music
Beethoven: Tests on hair prove composer's genetic health woes
Skier 'deteriorated' after Gwyneth Paltrow crash, court hears
Our Film Critic on Why He's Done With the Movies The Daily Podcast
Let me know what jumped out at you? Or share with me what you're reading? I love that!
Cheers
Andrea
Want to get in touch?
All of my contact information is here on Linktree.
Environment education
Four environment resources to help you navigate this challenging territory.
Uncommon Courage: an invitation
Uncommon Courage is an invitation to be your courageous best self every day. It's also an antidote to the overwhelm, fear, and rage rolling around the world. But it's more than a book; it's an invitation to join an inclusive community that wants to better understand humanities challenges – both global and personal – in order to take courageous action and create a better world for everyone. If Covid19 has given us the time and space to reflect, Uncommon Courage gives us the nudge we need to create lasting change.
You can buy it on Amazon, Apple Books, Barnes & Noble, Book Depository, Booktopia, Smashwords, Kobo, Gardners, Odilo, Indie Bound, BookShop by BookTrib and Scribd.
Better yet, order it from your local bookstore, so you can #SupportLocal.
You can read the reviews, including a new five-star review on Book Commentary, another five-star review on ReaderViews, a review on BookTrib, and three more on Booklife, another on Book Commentary and Blue Ink Reviews. I'm also collating reviews on my Website too. Have a look and grateful to everyone who has written or recorded one.
Come and join the conversation in my Facebook Group Uncommon Courage.
Listen in to the Uncommon Courage, the podcast on Apple, Spotify and everywhere podcasts are published.
The Know Show
Check out The Know Show. It's a fortnightly wrap up of the news!
Climate Courage
A fortnightly conversation on issues that matter to you and I, focusing on the actions we can all take.
Listed by Book Authority in the 100 Best LinkedIn Books of All Time and 22 Best New LinkedIn eBooks To Read In 2021 and 2022 categories. Grab it today if you want to take your professional presence to the next level! When it comes to LinkedIn, it really is time to ask — can you really afford not to have this book in the hands of every employee?
Are you a Social CEO? The Social CEO: How Social Media Can Make You A Stronger Leader. 
Want to claim your stage? Unleash Your Voice – Powerful Public Speaking for Every Woman 
Feedback
Have I done a great job for you? Can you write a reference on my LinkedIn profile or on my Google Business page? If not for me, why not write one for someone else who inspires you or has helped you? Join the #GivingEconomy.