I could highlight so many news pieces this week, but I want to focus on two topics that I believe are worth your attention. Carbon capture technology and our climate shadow.
The first is about understanding how we sequester CO2 out of the atmosphere and store or use it. The other side worth understanding is how we can harness and store renewable energy. Both are critical pieces of knowledge if we want to understand the crisis we face.
Please look for – Is Sucking Carbon Out of the Air the Solution to Our Climate Crisis? Also listen to the podcast by the Wall Street Journal, The Future of Everything. They are doing a series on capturing and storing energy, and the one to look out for is Zero Carbon Future 2: How to Store Renewable Energy For a Rainy Day.
For the sucking carbon out of the air article, it takes us on a journey of this technology (DAC, BECCS, etc…), where it is in its development and possibilities, the challenges it faces (and there are many), the opportunities, but most importantly, how the solutions being put forward will mean the fossil fuel industry can continue.
An example of where we are with DAC, is a pilot plant currently operational and it can process up to 1,000 metric tons of CO2 annually. We emit approximately 33 billion metric tons a year, so when it comes to significantly reducing our emissions, it's a long way off.
The question this articles tackles is – can we solve climate change with CO2-sucking machines? And if so, how can we pull 10 billion metric tons per year out of our atmosphere, which is equal to nearly a third of our current annual CO2 output? And is this the area where we should focus? The article makes the argument from every angle.
From all I've been reading on this topic, yes tech that can sequester carbon will have a major part to play, but it's not the only solution. Just like planting trees isn't the only solution. For trees to be a success, afforestation and reforestation run into the same problem that BECCS does. Planting enough trees to reach net zero by 2050, would require four billion acres, which is equivalent to more than 80 percent of all the existing farmland on the planet.
It's not an easy answer, but well worth a read.
The second piece is Forget your carbon footprint. Let's talk about your climate shadow.
This article moves the conversation well-beyond BPs marketing ploy of the carbon footprint, which pushed all of the responsibility onto us, the consumers. This puts us at risk, because our attention isn't on the big stuff, but instead on the smaller stuff – like turning lights off. Bigger stuff includes lobbying local politicians or speaking up at work about wasteful practices.
The author Emma Pattee came up with the concept of the climate shadow. This is about our life choices within the context of the climate emergency, so it's not turning off the aircon, but: how you vote, how many children you choose to have, where you work, how you invest your money, how much you talk about climate change, and whether your words amplify urgency, apathy, or denial.
Your climate shadow is made of three parts: my consumption, my choices, and my attention. Well worth a read.
Articles worth digging into are bold down below. They're all worth it, but making it as easy as possible. Get stuck in.
Friend's content and mine
The Butterly Letters – Stories unravelled through letters a beautiful project by Dee Khanduja. Sign up and get letters delivered to your door!
It's ok to Pause, Slow Down and Change Tracks! The wonderful Dr. Lakshmi Ramachandran is always worth listening too.
And my latest podcast Humanity, humility and accepting our collective shame a beautiful, gentle conversation with two beautiful souls, Kevin Cottam and Tim Hamons.
Donation time
If everyone gave #just10percent of their time, talent, money or voice, we'll change the world. Can you donate? Make it a regular donation to the World Food Programme. Help us feed people in Phuket or donate to the UN Refugee Program, PowerOf , Kiva.org , Soi Dog Foundation. It's a time for giving and taking care of each other.
Content to read
And here's the content I've been reading this last week. Scan the headlines, read the ones that jump out at you, read or watch them all. Knowledge is power, and global knowledge is even more powerful.
Climate crisis         
Is Sucking Carbon Out of the Air the Solution to Our Climate Crisis?
News Corp's dramatic climate change backflip | Media Watch tks Willie Wahlin
The Baghdad traffic officer who works in 50C heat Tks Steve Johnson
Can a Carbon-Emitting Iron Ore Tycoon Save the Planet?
Google's Biggest Moonshot Is Its Search for a Carbon-Free Future
Earthshot Prize: Costa Rica wins £1m from William's Earthshot prize
As Imperial Co. heat deaths rise, 'people have died' from Calexico's inaction, critics say
Climate Point: Quiet deaths in extreme heat, and New England color could brown out.
Climate Change Poses a Widening Threat to National Security
Cop26 corporate sponsors condemn climate summit as 'mismanaged'
Alan Kohler: The alarming consequences of Canberra's climate capers tks Phillipa Edwards
Manchin throws 'hand grenade' at Biden's climate change agenda for Glasgow
'Case closed': 99.9% of scientists agree climate emergency caused by humans
COP26: Document leak reveals nations lobbying to change key climate report
Planned fossil fuel output 'vastly exceeds' climate limits, says UN
Climate change: Fossil fuel production set to soar over next decade
Waterspout spectacle off the coast of Cuba tks Steve Johnson
Podcast Zero Carbon Future 2: How to Store Renewable Energy For a Rainy Day
Raging Flood Waters Driven by Climate Change Threaten the Trans-Alaska Pipeline
What's behind News Corp's new spin on climate change? tks Sophia Henri
Forget Your Carbon Footprint. Let's Talk About Your Climate Shadow. tks Susanna Hasenoehrl
14 Documentaries That Could Change the Way You Eat tks Karen Leong
The nightmare of India's tallest rubbish mountain
Risks associated with global warming of 1.5°C or 2°C
Plant-Based Food Companies Face Critics: Environmental Advocates
At least three dead in Bali earthquake
Kerala floods: At least 26 killed as rescuers step up efforts
Climate Change 1958: The Bell Telephone Science Hour
COVID19
New Delta descendant may be more infectious than its ancestor Tks Tim Wade
Covid-19 Herd Immunity Proves Elusive in U.K.
Pfizer-BioNTech Covid-19 Booster Shot Was 95.6% Effective in Large Trial, Companies Say
Covid: Why are UK cases so high?
Anti-vaxxers fabricated quotes attributed to infectious diseases expert Kristine Macartney and spread them online tks Philippa Penfold
Colin Powell dies from COVID-19 complications
'Sad and tragic': Victorian teenager among seven new COVID deaths in the state
Colin Powell: Former US secretary of state dies of Covid complications
Covid: Virus may have killed 80k-180k health workers, WHO says
Global Politics
Myanmar army general Min Aung Hlaing excluded from leaders' summit
Trump to launch new social media platform TRUTH Social
Biden Backs Compromise to Win a Vast Social Agenda
Coal-state Democrat set to scupper Biden clean energy plans
NUCLEAR THREAT US is DEFENSELESS against China's hypersonic nuke missiles, says top diplomat
Capitol riot: Lawmakers vote to hold Steve Bannon in contempt
North Korea fires suspected submarine-launched missile into waters off Japan
China denies testing nuclear-capable hypersonic missile
Do you care if the image of Texas has taken a public relations beating in 2021?
China tests new space capability with hypersonic missile
Business and Technology
The duel: Should we despise billionaires?
How Working From Home Could Change Where Innovation Happens
Five U.S. lawmakers accuse Amazon of possibly lying to Congress following Reuters report
What we really want for Christmas this year tks Sue Adams
Facebook Is Rebuked by Oversight Board Over Transparency on Treatment of Prominent Users
Facebook plans new group name to revamp image, says The Verge
Social issues and humanity
China: The patriotic 'ziganwu' bloggers who attack the West
Drama in Hell tks Willie Wahlin
What I Learned About Life at My 30th College Reunion
Alec Baldwin 'heartbroken' over fatal film set shooting
Here's How a Prop Gun Using Blanks Can Still Fire a Fatal Shot tks Barry Graubart
Alec Baldwin fatally shoots woman with prop gun on movie set
'Rust' crew describes on-set gun safety issues and misfires days before fatal shooting tks Cheryl Tan
Telling Is Listening: Ursula K. Le Guin on the Magic of Real Human Conversation
How conspiracy theories bypass people's rationality
Brian Laundrie: Remains of Gabby Petito's fiancé found – FBI
'It's not helpful': Jonah Hill asks fans not to comment on his body tks Mireille Barber
Gabby Petito: 'Human remains' found in Brian Laundrie search
Pru Goward's comments on Australia's underclass play on disproven and harmful myths tks Phillipa Edwards
Why you shouldn't underestimate the underclass tks Phillipa Edwards
Sometimes People Don't Say Sorry—Why It Pays to Forgive Nonetheless
Malala Yousafzai urges Taliban to allow girls' education
'Water's Soul': Massive white sculpture makes a statement in New York harbor
Netflix just fired the organizer of the trans employee walkout
What Number of Kids Makes Parents Happiest?
English council urges parents not to allow children to watch Squid Game
The Cruel Paradox of Linda Evangalista's Fate
Passion, humour, history
On the origin of minds needs a Copernican shift in perspective
Drone operator will try to rescue dogs from Spanish volcano
Diver finds 900-year-old crusader sword off Israel's coast
More Details Are Coming Out About The British Baker Caught Using Illegal American Sprinkles, And I Can't Stop Laughing About The Entire Saga tks Barry Graubart
Richard Dawkins on the Luckiness of Death
A woman won a million-euro Spanish literary prize. It turned out that 'she' was actually three men.
Let me know what jumped out at you? Or share with me what you're reading? I love that!
Cheers
Andrea
Uncommon Courage – my new book – is available
You can buy it on Amazon, Apple Books, Barnes & Noble, Book Depository, Booktopia, Smashwords, Kobo, Gardners, Odilo and Scribd.
Do check out my new Website uncommon-courage.com.
Come and join the conversation in my new Facebook Group Uncommon Courage.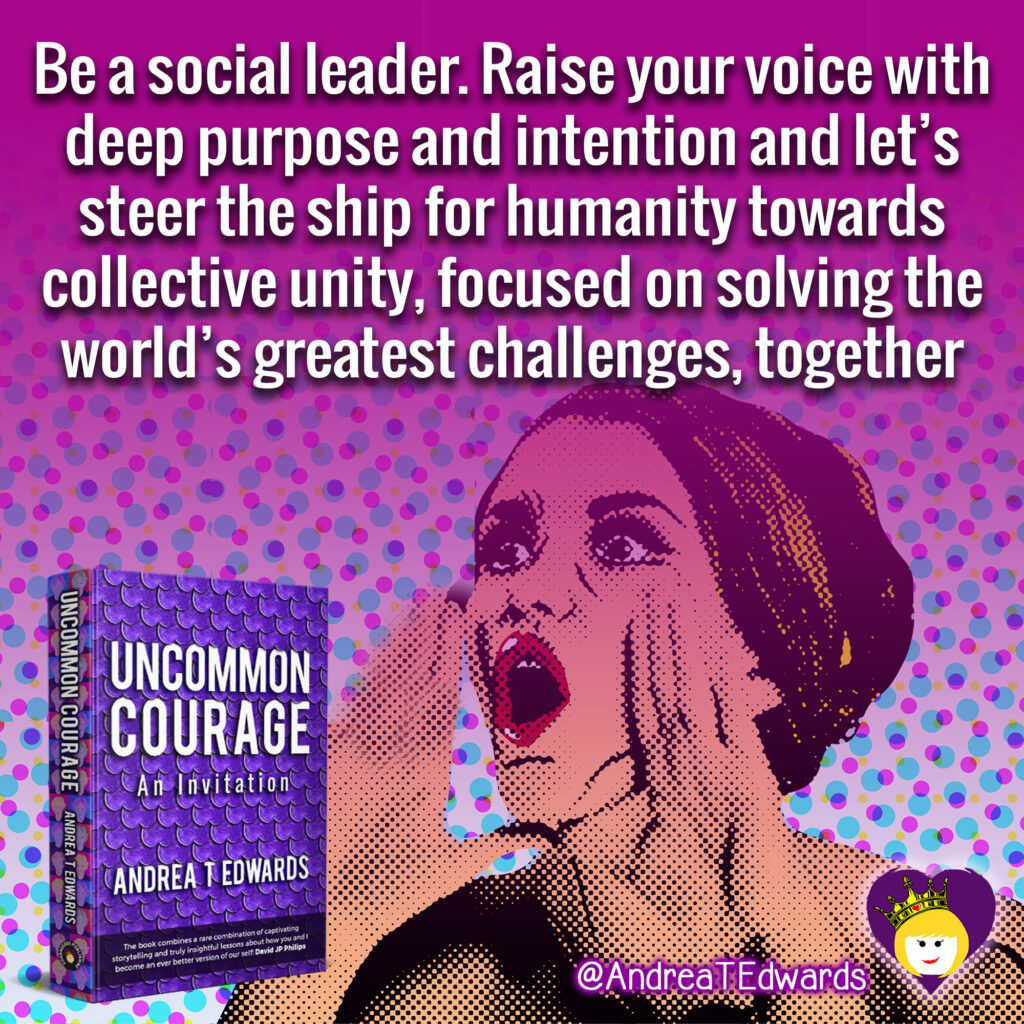 Connect with me
Website, LinkedIn, Twitter, Facebook, YouTube, Instagram, Medium, SlideShare, Amazon.
The Know Show
Check out The Know Show. It's new and a weekly wrap up of the news!
18 Steps to an All-Star LinkedIn Profile
Listed by Book Authority in the 100 Best LinkedIn Books of All Time and 22 Best New LinkedIn eBooks To Read In 2021 categories. Grab it today if you want to take your professional presence to the next level! When it comes to LinkedIn, it really is time to ask — can you really afford not to have this book in the hands of every employee?
Feedback
Have I done a great job for you? Can you write a reference on my LinkedIn profile or on my Google Business page? If not for me, why not write one for someone else who inspires you or has helped you? Join the #GivingEconomy
Check out Second Nature Social on my YouTube channel.
Want proof social leadership transforms business and attracts customers? Check out this case study with IBM Asia Pacific.