BIG news this week, as Newscorp Australia announced that climate change is actually a thing. You can't stop progress, right?
Murdoch owned newspapers once warned of a $600 billion cost from cutting emissions, and well now, they're claiming a $2 trillion benefit from doing the same thing.
So are they finally ready to do the right thing, or is the video below more on point, and it's about advertising pressure? Well of course it's still about the dollars, but progress is progress.
However, please do dig into this story. This announcement is not all it appears to be. First it has generated a lot of fury by those who have been fighting for climate action for a very long time, saying Australia has lost more than a decade in the fight against climate change, and Murdoch is a HUGE part of that.
Equally, the greenwashing claims are strong too. The messaging around this announcement is a push for NetZero by 2050, and anyone paying attention knows that the need for action is right now and in this decade. In the climate crisis section below, please read the article in the Guardian, titled, The climate disaster is here. A very compelling read. Prince Charles did a great interview on the BBC too. Check it out.
Regardless, this announcement does have massive political ramifications, because not only do the climate denying Liberal Government of Australia have to scramble to match their "overlords" message (just in case you don't know, I do not like Murdoch) this could ripple out where he has even more media power, in the US and UK. It is definitely a story to keep an eye on, but there's so much more to this than meets the eye.
I've bolded some articles below, that I believe require attention. Knowledge is what we need right now. When we know what's going on, we can be informed and better positioned to create the change we need in the world.
Friend's content and mine
This Little Girl is Me Lavinia Thanapathy is an inspiring women and a big driver of the campaign around International Day of the Girl Child. Worth a read.
Podcast Episode 101 The Talented Vicki Kiely from VK Performers Studio my friend Vicki Kiely, interviewed by Jay Leshark and Russel D. Russell. Always a little inappropriate, but I love how Vicki expresses her love and passion for life, for nature and the world. And it is about getting out of your comfort zone and being brave.
Podcast the latest Uncommon Courage podcast titled, This Little Girl is Me! Proud to do this with three women who inspire me and who I'm proud to call my friends – Lavinia Thanapathy, Sally Foley-Lewis and the wonderful Kerrie Phipps. Have a listen and understand why the campaign is important, plus listen to ideas and tips to overcome whatever is holding you back.
22 lifestyle changes you can make to contribute to a better world instalment three: spreading the word and mindful travel – the last in a three part series, hoping to inspire everyone to get started with one of these ideas. I have loved doing this with Tim Wade, Michelle Mouille and Susanna Hasenoehrl.
Donation time
If everyone gave #just10percent of their time, talent, money or voice, we'll change the world. Can you donate? Make it a regular donation to the World Food Programme. Help us feed people in Phuket or donate to the UN Refugee Program, PowerOf , Kiva.org , Soi Dog Foundation. It's a time for giving and taking care of each other.
Content to read
And here's the content I've been reading this last week. Scan the headlines, read the ones that jump out at you, read or watch them all. Knowledge is power, and global knowledge is even more powerful.
Climate crisis
Climate crisis is 'single biggest health threat facing humanity,' WHO says, calling on world leaders to act tks Samantha Gayfer
Key to Biden's Climate Agenda Likely to Be Cut Because of Manchin Opposition
Climate crisis poses 'serious risks' to US economy, Biden administration warns
Edge of Extinction: ZERO Delta smelt found in Sept 2021 during CDFW Fall Midwater Trawl Survey
High paracetamol concentration in Jakarta Bay sparks concern over impact on people and environment tks Priscilla Joseph
Rupert Murdoch's Australia News Outlets to Ease Their Climate Denial
News Corp's climate campaign is a political development with impact
Queen 'irritated' by climate change inaction in COP26 build-up
COP26: China's Xi Jinping unlikely to attend, UK PM told
WEF's head of nature and biodiversity: we are using public funds to destroy public goods tks Susanna Hasenoerhl
See how climate change could drown landmarks around the world
Coronation Street, Emmerdale, EastEnders, Hollyoaks and others join forces for crossover event
Phuket's Khai Islands overwhelmed by rubbish
One-fourth of US infrastructure is at risk of floods. These 4 states are in the most peril.
California wildfire may have killed hundreds of giant sequoias, burning through Earth's largest grove
Russia denies weaponising energy amid Europe gas crisis tks Steve Johnson
The L.A. Times investigation into extreme heat's deadly toll
The climate disaster is here Earth is already becoming unlivable. Will governments act to stop this disaster from getting worse?
"Unstoppable transition:" Australia can hit 91% renewables by 2030
Divers Find Rebounding Marine Life Around Reopened Phuket tks Natasha Eldred
Prince Charles: I understand climate activists' anger
Global Light Pollution Has Increased By Up To 400% In The Last 25 Years And It's Quickly Getting Worse Say Scientists
This is the whitest paint on Earth and it could eliminate need for air conditioning tks Enrico Bratta
How to Reform the Oil Industry From Within
Now, every election is a climate election and every vote, a climate vote
Polar Bears Are Suffering from the Arctic's Loss of Sea Ice. So Is Scientists' Ability to Study Them
Deportations of Haitians spark concerns over environmental refugees
UN warns of "catastrophic" climate change failure without more emissions cuts
Elitist, imperialistic – new briefing slams fashion's sustainability model
News Corp Goes Green – tks Phillipa Edwards
COVID19
The unvaccinated are at risk as evolution accelerates the covid-19 pandemic
Vaccinated travellers from abroad, including Canadians with mixed doses, can enter the U.S. starting Nov. 8.
Go Ahead, Take That Vacation—but It May Be Unethical tks Lisa Larson Lee
PM's reopening order-only the beginning of the end of this cataclysmic crisis for Thai tourism
Covid-19 leaves at least 4.8m dead worldwide – tally
The Pandemic Speaks tks Phillipa Edwards
Covid-19 cases are rising, not falling – CCSA infection numbers called into doubt
What the Future May Hold for the Coronavirus and US
Thailand to open doors to vaccinated travelers from 'safe countries' starting November 1
Covid: UK's early response worst public health failure ever, MPs say
AstraZeneca antibody cocktail study shows success treating COVID-19
One in six most critically ill NHS Covid patients are unvaccinated pregnant women
COVID-19: The Unvaccinated Pose a Risk to the Vaccinated
Getting flu with Covid doubles risk of death, says UK health chief
Big money sandbox hastens reopenings
Why these US workers won't get jabbed
Global Politics
Sir David Amess: Conservative MP stabbed to death
The most abject failure of leadership in living memory tks Phillipa Edwards
IMF Cuts Global Growth Forecast Amid Supply-Chain Disruptions, Pandemic Pressures
Accelerating Inflation Spreads Through the Economy
Nations must be 'absolutely vigilant' about inflation, says IMF
Reactions to landmark global corporate tax deal
Drugs, arms, and terror: A high-profile defector on Kim's North Korea
No, Australia Is Not Actually an Evil Dictatorship tks Phillipa Edwards
U.S. rejoins U.N. Human Rights Council, reversing Trump-era withdrawal
No House Republican voted to raise the US debt ceiling
Is Trump's power over Republicans starting to slip?
We Are Republicans. There's Only One Way to Save Our Party From Pro-Trump Extremists.
Eight of the PM's most 'powerful' quotes tks Phillipa Edwards
Sebastian Kurz: Austrian leader resigns amid corruption inquiry
No choice but to open the economy tks Edgar Toral
Business and Technology
LinkedIn closes down China site
Singaporeans flock to SIA service centre at Ion after news of easing of Covid-19 travel curbs
Apple takes down Quran app in China
Indar Nooyi, Ex- CEO of Pepsi, Thinks Big Business Can Do Better
Facebook is nearing a reputational point of no return
Coal price hits fresh high as mines shut tks Steve Johnson
Why Everything is Suddenly Getting More Expensive — And Why It Won't Stop tks Robert Kirubi
SPENDING 'I would strongly recommend against' buying in bulk right now, says supply chain expert: Here's why
Call Her Daddy's Alex Cooper: 'Not everyone can just do a podcast'
Social issues (#BlackLivesMatter) and humanity
The Big Read: Gender equality in Singapore remains elusive amid entrenched attitudes about women's roles Arishta Khanna
Masten Wanjala: Mob beats Kenyan child serial killer to death – police
Huge rise in domestic abuse cases being dropped in England and Wales
Kongsberg: Five dead in Norway bow and arrow attack
Kongsberg: Bow and arrow attack appears to be terrorism – officials
Jammu and Kashmir: Killing of civilians sparks militancy fear
Guatemala police free 126 migrants from abandoned container
Nippers training made his kids confident in the water and out. He wondered if he could follow their lead
The Girl Child Movie|| Short Movie
Passion, humour, history
Nike Jordan boss reveals he murdered an 18-year-old in 1965
Man Spends Whole Day Dreading Fun Activity He Signed Up For
School's out (of the classroom) forever: The very best global schools tks Mireille Barber
Laser vagina menopause therapy shows no benefit in trial
Paul McCartney says John Lennon 'instigated' the Beatles' break-up
Olivier Rousteing: Balmain designer reveals fireplace explosion injuries
'There is a reason why famous people are often screwed up': Tim Minchin on quitting comedy
Let me know what jumped out at you? Or share with me what you're reading? I love that!
Cheers
Andrea
Uncommon Courage – my new book – is available
You can buy it on Amazon, Apple Books, Barnes & Noble, Book Depository, Booktopia, Smashwords, Kobo, Gardners, Odilo and Scribd.
Do check out my new Website uncommon-courage.com.
Come and join the conversation in my new Facebook Group Uncommon Courage.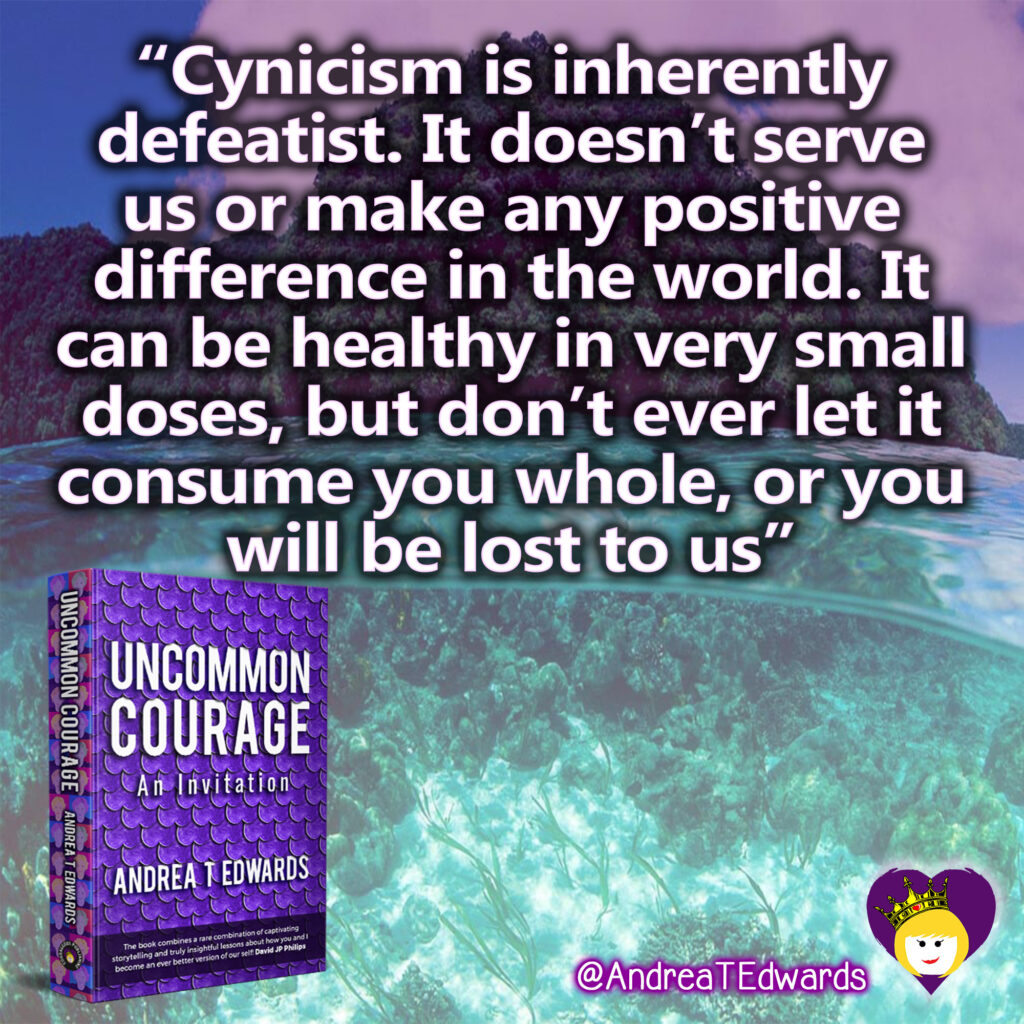 Connect with me
Website, LinkedIn, Twitter, Facebook, YouTube, Instagram, Medium, SlideShare, Amazon.
The Know Show
Check out The Know Show. It's a weekly wrap up of the news!
18 Steps to an All-Star LinkedIn Profile
Listed by Book Authority in the 100 Best LinkedIn Books of All Time and 22 Best New LinkedIn eBooks To Read In 2021 categories. Grab it today if you want to take your professional presence to the next level! When it comes to LinkedIn, it really is time to ask — can you really afford not to have this book in the hands of every employee?
Feedback
Have I done a great job for you? Can you write a reference on my LinkedIn profile or on my Google Business page? If not for me, why not write one for someone else who inspires you or has helped you? Join the #GivingEconomy
Check out Second Nature Social on my YouTube channel.
Want proof social leadership transforms business and attracts customers? Check out this case study with IBM Asia Pacific.