The week started with some distractions in the mix, which is always great (and so needed right now), and of course, I'm talking about the extraordinary fashion on display at the Met Gala in the US.
Kudos to Billie Eilish for agreeing to wear the Oscar de la Renta dress only if they committed to stop using fur. Influence for good.
Kim Kardashian – on the other hand – had a wonderful opportunity to represent oppressed women everywhere through her dramatic outfit, unfortunately, it was all about her. Such a missed opportunity.
For the last month, Afghanistan and the 20th anniversary of 9/11 took up the lead news, and while it hasn't gone away, Covid is back in the headlines. When mainstream news takes a break, I always find it comes back deeper, more thoughtful and less reactive. This is so important, as we are now in the gruelling stage of this pandemic!
When I dug into the Covid news, the Israel outbreak has created hesitancy around the world, with its the surge linked to the fact it 'flung the doors open' just as Delta arrived. It created a lot of misinformation as well – not that this is anything new.
The challenge was, the data from Israel was applied across all citizens, versus being broken down by demographics, which is what really matters. As an example, with the data broken down, it showed the vaccine was more than 90% effective at preventing severe disease in people under 50, and more than 85% effective in those over 50.
Equally, the chance of being hospitalised if you're over 60 was reduced 40-fold if you're vaccinated compared to if you're unvaccinated.
Around the world, we see the US and Europe getting back to normal, but when you consume what's going on, we all know normal is a long way away. Six months is the minimum period of time we have ahead, before we can expect anything close to "normal" – but that's not worldwide, of course.
Until it's over everywhere, it's not over anywhere!
I saw one very compelling quote in a Bloomberg article: "this is a coronavirus forest fire that will not stop until it finds all the human wood that it can burn." Very appropriate with everything else going on around the world.
As I said, the challenge of misinformation continues to plague us. Take a look at the piece on Nikki Minaj's tweet and the global response. Please, if it's not peer-reviewed, wait for it to be peer-reviewed! Don't panic. Wait. Watch. Listen to the scientists. We must use our critical thinking right now, or we will continue in this mess.
Dig in, lots to read this week, especially around the climate crisis.
Friend's content and sometimes mine
LinkedIn recently change the character limits in timeline updates. Is that a good thing? LinkedIn content character limit increased to 3,000, is that a good thing?
I kicked off my first #GalTalk episode on my podcast Uncommon Courage, and it's with my sister Phillipa Edwards, where we talk about the crazy stuff going on in my home country, Australia. Never boring when Phillipa is in the room.
Donation time
If everyone gave #just10percent of their time, talent, money or voice, we'll change the world. Can you donate? Make it a regular donation to the World Food Programme. Help us feed people in Phuket or donate to the UN Refugee Program, PowerOf , Kiva.org , Soi Dog Foundation. It's a time for giving and taking care of each other.
Content to read
And here's the content I've been reading this last week. Scan the headlines, read the ones that jump out at you, read or watch them all. Knowledge is power, and global knowledge is even more powerful.
Climate Crisis / 6th Mass Extinction
Making sense of the 'S' in ESG
Drought puts 2.1 million Kenyans at risk of starvation tks Robert Kirubi
Do We Need to Shrink the Economy to Stop Climate Change?
At What Cost: How chronic gaps in adaptation finance expose the world's poorest people to climate chaos
Different names for "natural gas" influence public perception of it
Climate Point: Yes, extreme weather events are up. But they're less deadly than in the '70s
California fires: General Sherman and other sequoias given blankets
Flying blind: The glaring absence of climate risks in financial reporting
Fossil fuel firms sue governments across the world for £13bn as climate policies threaten profits tks Teressa Bays
Despite the warnings signs, climate action is still painfully slow
Canadian prairie ranchers struggle with drought conditions Canadian prairie ranchers struggle with drought conditions Close
Most nations fall far short in plans to curb warming
Report expects to see more than 200 million climate refugees by 2050 tks Susanna Hasenoehrl
Join the final fight to save the bees
This new mixed-income housing complex comes with its own farm
Climate change's impact on health tks Robert Kirubi
Global warming isn't just a natural cycle
Is Carbonated Water Just as Healthy as Still Water?
Only a few carbon projects meet basic criteria for climate integrity, human rights and more tks Susanna Hasenoehrl
Shape-shifting: changing animal morphologies as a response to climatic warming
People of color face disproportionate harm from climate change, EPA says
Meat accounts for nearly 60% of all greenhouse gases from food production, study finds
Rethinking meat: A leader in the cultivated meat industry envisions the future
Weather disasters are getting worse worldwide, report says. But the good news is they aren't as deadly.
Earth's future 'hinges on UN Glasgow climate talks' tks Susanna Hasenoehrl
Tropical storm Nicholas brings heavy rain to Texas and Louisiana
Climate change: World now sees twice as many days over 50C
Mice with bigger ears? Climate change is causing animals to 'shapeshift,' new study shows
This plant medicine teacher is reclaiming Anishinaabe names for species. Why that could be good for the planet Social Sharing tks Kevin Cottam
Record number of environmental activists murdered
How is air pollution caused? Tks Susanna Hasenoehrl
Moving Water in the Everglades Sends a Cascade of Consequences, Some Anticipated and Some Not
To Meet Paris Accord Goal, Most of the World's Fossil Fuel Reserves Must Stay in the Ground
The dangerous myth that only young people care about climate change
COVID19
They Shunned Covid Vaccines but Embraced Antibody Treatment
UK travel update: Amber list scrapped in overhaul of travel rules in England
In Red Texas, Parents Sue for School Masks on 'Right-to-Life' Grounds
Israel is struggling with COVID-19, despite high vaccination rates. What lessons can Australia learn?
Alberta doctors, businesses react to new COVID-19 measures, vaccine passport
Nicki Minaj: Trinidad minister criticises rapper's vaccine tweet
Vaccine queues and lockdown videos: how one little NSW town is dealing with Covid tks Kerrie Phipps
One Third Of Vaccinated Americans Have Cut Ties With The Unvaccinated, Poll Finds
Federal regulators publish the first analysis of Pfizer's booster shot application.
Study that claimed boys are at increased risk of myocarditis after vaccination is deeply flawed, say critics
Governor unveils new COVID plan, assures no hospital bed shortage
Gorillas At Atlanta's Zoo Have Contracted COVID, Probably From A Zoo Worker
Covid Hospitalizations Hit Crisis Levels In Southern I.C.U.s
Call for investigation of menstrual changes after Covid jabs
Top FDA Vaccine Regulators Resist COVID Booster Shots, Fear Adverse Reactions Backfiring
Covid-19: Singapore residents who took Sinovac turn to Pfizer to up their antibody counts, amid debate on booster shots
Antibodies from Sinovac's COVID-19 shot fade after about 6 months, booster helps – study
11 things to do at 11am now Gladys' press conference is (sort of) gone
Here's what the next six months of the pandemic will bring tks Wayne Chan
Vaccinating teenagers against Covid is priority, says UK epidemiologist
Singapore reaches 80 pc double-vaccination rate but life is not returning to normal
NSW records 1257 new cases, seven deaths as Premier warns of 'slight slowdown' in vaccinations
S'pore should make Covid-19 jabs mandatory so measures can be eased for all
Phuket Opinion: A dare to be honest
Global Politics
Aukus: France recalls envoys amid security pact row
As Russians Vote, Resignation, Anger and Fear of a Post-Putin Unknown
Aukus: US and UK face backlash over Australia defence deal
Taliban leaders in bust-up at presidential palace, sources say
Initial Taliban moves fail to convince Afghanistan's neighbours
An Honourable Man tks Phillipa Edwards
Canada election: Lytton fire puts village at centre of debate
Aukus: UK, US and Australia launch pact to counter China
To Trump voters, chaos in Afghanistan 'another betrayal' by Biden
5 takeaways after Gov. Gavin Newsom prevails in California recall
10-hour debate in Parliament over foreign competition in job market ends past midnight
Norway's center-left Labour begins coalition talks as anti-oil Greens sidelined
West Virginia Activists Are Coming for Joe Manchin
British American Tobacco negotiated bribe for Mugabe, new evidence suggests tks Steve Johnson
The hard reality of Brexit is hitting Britain. It's costing everyone but Boris Johnson
FBI begins declassifying documents into Saudi 9/11 links
Indonesian Minister: Backpackers Are Not Welcome In Bali Upon Reopening
Business and Technology
Canva founders to put their billions to good use
How would we cope with a Cryptocalypse?
Working from home likely to stay long after COVID-19 pandemic is over
LinkedIn launches a $25M fund for creators, will test Clubhouse-style audio feature in coming weeks
Influencer Sues Pinterest, Alleging She Cofounded The Company—And Might've Been A Billionaire Today
Food shortages 'permanent' and shoppers will never again enjoy full choice of items, Britons warned
The Long and the Short of It maps exactly onto the challenges of global marketing tks Dan Hochuli
3 things to know about Amazon's plan to cover 100% of employees' tuition
Air India Express: Deadly plane crash blamed on human error
Social issues and humanity
1970s paper predicting we'll hit societal collapse is right on schedule
Could the ways you cope with stress be undermining you? Here are healthier ways to respond tks Verdayne Nunis
Shamima Begum tells the BBC she will forever regret joining ISIS
Why nations that fail women fail
The Neuroscience of News Overload
THE 100 MOST INFLUENTIAL PEOPLE OF 2021 : Prince Harry and Meghan, The Duke and Duchess of Sussex
Prince Andrew case: High Court to notify duke of US civil proceedings
Thousands of Migrants Huddle in Squalid Conditions Under Texas Bridge
Abuse, stress, overwork: nursing is in crisis tks Fiona Task Is
The Little Voice – tks Muriel Boutin-Becuwe
Passion, humour, history
The Matrix Resurrections – Official Trailer 1 tks Tim Wade
Animal magic! All Creatures Great and Small is the comforting TV we all need
Kim Kardashian West reveals the meaning of her bizarre Met Gala outfit
Firm raises $15m to bring back woolly mammoth from extinction
Emma Raducanu wins US Open by beating Leylah Fernandez for maiden Grand Slam
You Can Make a Netflix Style Doco About Literally Anything – tks Warwick Merry
Let me know what jumped out at you? Or share with me what you're reading? I love that!
Cheers
Andrea
Uncommon Courage – my new book – is available
You can buy it on Amazon, Apple Books, Barnes & Noble, Book Depository, Booktopia, Smashwords, Kobo, Gardners, Odilo and Scribd.
Do check out my new Website uncommon-courage.com.
Come and join the conversation in my new Facebook Group Uncommon Courage.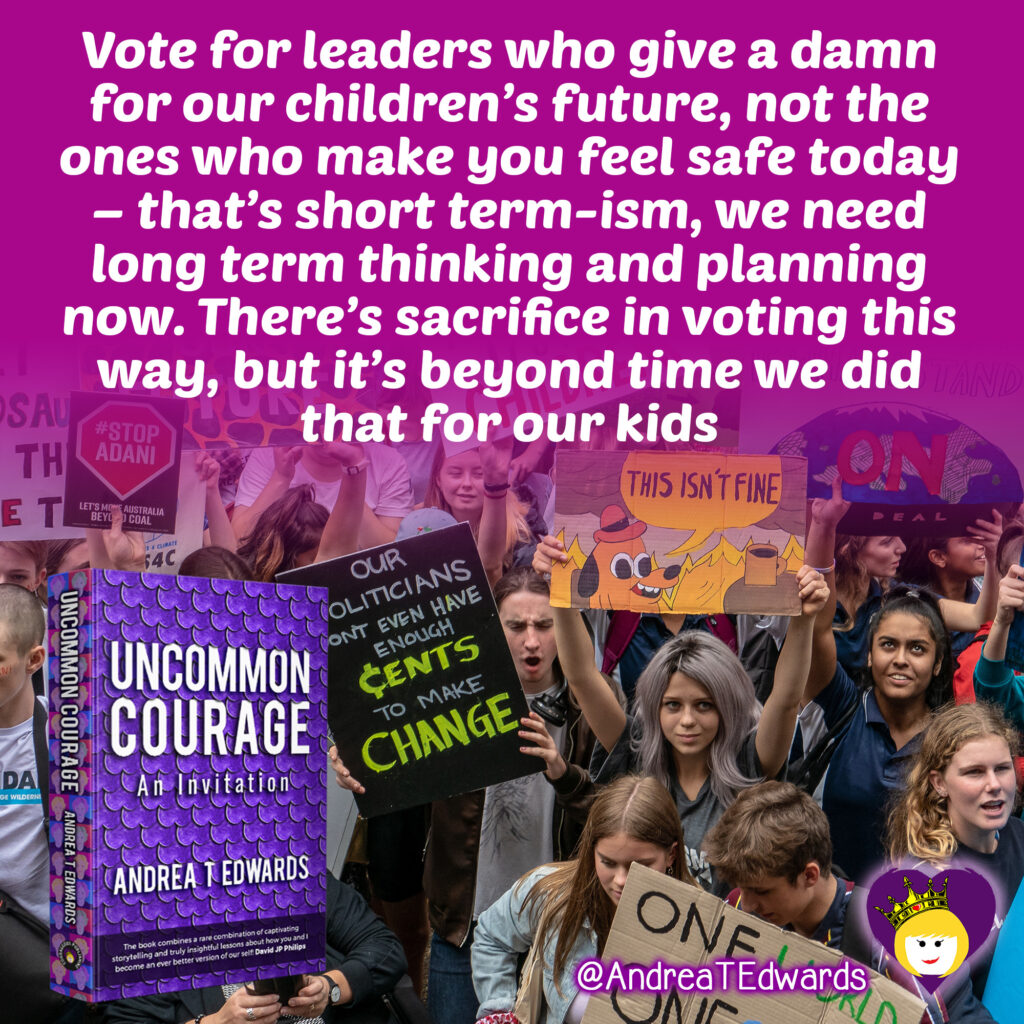 Connect with me
Website, LinkedIn, Twitter, Facebook, YouTube, Instagram, Medium, SlideShare, Amazon.
The Know Show
Check out The Know Show. It's new and a weekly wrap up of the news!
18 Steps to an All-Star LinkedIn Profile
Listed by Book Authority in the 100 Best LinkedIn Books of All Time and 22 Best New LinkedIn eBooks To Read In 2021 categories. Grab it today if you want to take your professional presence to the next level! When it comes to LinkedIn, it really is time to ask — can you really afford not to have this book in the hands of every employee?
Feedback
Have I done a great job for you? Can you write a reference on my LinkedIn profile or on my Google Business page? If not for me, why not write one for someone else who inspires you or has helped you? Join the #GivingEconomy
Check out Second Nature Social on my YouTube channel.
Want proof social leadership transforms business and attracts customers? Check out this case study with IBM Asia Pacific.