If you're one of the people that has been tracking and participating in the climate crisis conversation for a long time, one piece of good news is how many more are paying attention, especially in the last year or so. Have we hit the tipping point to act on the climate crisis? I believe we have. Let's run!  
There is MUCH to read on the climate crisis in this blog, and all of the other topics covered, plus a reminder, I am constantly updating this blog with everything I'm sharing across the year. Have a look, and just scan the headlines if you don't have time. It tells a rich and terrifying story in its own right.
A couple of articles I recommend you read – the links are below under the climate section. I'm not going to make it that easy for you! It's worth doing the work my friends.
First is U.N. Warns Time Is Rapidly Running Out to Limit Global Heating to 1.5 Degrees Celsius.
We already know this, but some highlights.The World Meteorological Organization warns in a new report that governments are falling far short of the Paris Climate Agreement's goal of limiting global heating to 1.5 degrees Celsius.
The U.N. weather agency says only immediate, large-scale reductions in greenhouse gas emissions can avert a global catastrophe.
U.N. Secretary-General António Guterres said Thursday that humanity's "future is at stake." The media is reporting his speech as "frustrated" and at "fever pitch."
Good news China's Xi Jinping promises to halt new coal projects abroad amid climate crisis. Now this isn't enough but it is a VERY good start, because China has invested heavily in new coal projects abroad for its Green Belt and Road Initiative. I read a report a few years back, that this single project alone would push the world over three degrees warming, so it's great, BUT there's a domestic job to do too.
Coal remains the primary energy source by a long shot in China. It consumed more coal than all other countries in the world put together in 2020, and it accounted for 58% of the country's energy demand in 2020.
And this article is why there is no time to lose – The Rate of Global Warming During Next 25 Years Could Be Double What it Was in the Previous 50
To give you a sense – a former NASA climate scientist, James Hansen, urged Congress 33 years ago that human emissions of greenhouse gases were cooking the planet. He's now warning that he expects the rate of global warming to double in the next 20 years. What. Why? Well the irony is, it's because of reduced aerosol pollution that is leading to this steep temperature rise.
Don't get me wrong, carbon dioxide and methane are driving global warming, but this warming is being accelerated by the decline of other industrial pollutants that we've cleaned up.
Declining sulfate aerosols has made some clouds less reflective, which means more solar radiation can reach and warm land and ocean surfaces. Sigh. Looks like we need to clean it all up!
And one more summary, titled: Are we eating ourselves to extinction? Read this. It's an amazing piece, covering the decline in crops diversity, as we move closer and closer toward homogenous food. We've done to food what we've done in fashion….
It lists these facts:
The source of much of the world's food – seeds – is mostly in the control of just four corporations
Half of all the world's cheeses are produced with bacteria or enzymes manufactured by a single company
One in four beers drunk around the world is the product of one brewer
From the US to China, most global pork production is based around the genetics of a single breed of pig
There are more than 1,500 different varieties of banana, but global trade is dominated by just one, the Cavendish.
Another great Guardian piece this week – a long read – is on supply chain fraud. Brilliant.
There's so much more, but do get stuck in.
Friend's content and mine
Save Lives through Vaccine Access…Now my wonderful friend Wendy Tan, put together this change.org petition to drive more vaccine equity. To get past this pandemic, this is absolutely critical. Great to see Joe Biden pushing this message strongly this week too. It is time!
Syzygy Moments with Anupama Singal on the Connect With Confidence podcast – two wonderful ladies, Anu and Kerrie Phipps, talking about Anu's stunning coffee book – Syzygy Moments.
The first blog following the recent podcast of the same name for those who prefer to read: 22 Lifestyle Changes You Can Make to Contribute to a Better World Instalment One: A Focus on Food. Will be doing another podcast with this group this week. Excited about it. Also will post another blog focusing on plastic.
And finally, a podcast with Katie Hudson, Karine Gauthier and Caryll Mullings-McDonald – Phuket book club reviews Uncommon Courage – wine, giggles and vulnerability – such a privilege to do this ladies, and to hear what really resonated with you all from the book. Super special.
Donation time
If everyone gave #just10percent of their time, talent, money or voice, we'll change the world. Can you donate? Make it a regular donation to the World Food Programme. Help us feed people in Phuket or donate to the UN Refugee Program, PowerOf , Kiva.org , Soi Dog Foundation. It's a time for giving and taking care of each other.
Content to read
And here's the content I've been reading this last week. Scan the headlines, read the ones that jump out at you, read or watch them all. Knowledge is power, and global knowledge is even more powerful.
Climate Crisis  
U.N. Warns Time Is Rapidly Running Out to Limit Global Heating to 1.5 Degrees Celsius tks Robert Kirubi
Food fraud and counterfeit cotton: the detectives untangling the global supply chain
How will climate change affect where you live? This interactive tool shows you
Big Reefs in Big Trouble: New Research Tracks a 50 Percent Decline in Living Coral Since the 1950s
The companies polluting the planet have spent millions to make you think carpooling and recycling will save us tks Susanna Hasenoehrl
Waste from one bitcoin transaction 'like binning two iPhones'
The Rate of Global Warming During Next 25 Years Could Be Double What it Was in the Previous 50, a Renowned Climate Scientist Warns
Want to save the Earth? Then don't buy that shiny new iPhone
'Earth looks fragile from space': Jeff Bezos pledges $1bn to conservation
Mitigation pathways compatible with 1.5°C in the context of sustainable development tks Susanna Hasenoehrl
Boris Johnson: Humanity is reaching a turning point on climate change
Most nations fall far short in plans to curb warming
China Pledges to Stop Building Coal-Burning Power Plants Abroad
Magnitude 6.0 earthquake strikes near Melbourne, tremors rattle southeast Australia
China's Xi Jinping promises to halt new coal projects abroad amid climate crisis
Melbourne earthquake: The moment Australian TV studio is shaken
The world's most sustainable smartphones tks Rohit Bassi
Climate change ETFs found to be undermining war on global warming
Are we eating ourselves to extinction?
California wildfires burn into groves of giant sequoia trees
COVID19
COVID-19: Dining-in group size limit at regular F&B outlets down to 2 from Monday; social gatherings reduced tks John Vincent Gordon
They Shunned Covid Vaccines but Embraced Antibody Treatment
At Covid Summit, Biden Sets Ambitious Goals for Vaccinating the World
C.D.C. Chief Overrules Agency Panel and Recommends Pfizer-BioNTech Boosters for Workers at Risk
'Funeral home' ad spreads message for the unvaccinated
Aussie TikTok Lockdown Pro Hospitalised for Covid-19
Victoria's health minister unleashes on Covid-positive tradie in hospital who attended Melbourne's violent protests this week
Yemen, devastated by war, now faces a Covid surge, a nonprofit says.
Hospitals in Alaska struggle to handle a worsening outbreak.
It's far from over, but Delta coronavirus wave might be the last major wave of infection, former FDA commissioner says
Germany to end quarantine pay for those without vaccinations
Moderna vs. Pfizer: Both Knockouts, but One Seems to Have the Edge
Biden calls on global partners to bolster the world's Covid response: 'We need to go big.'
WHO gives date for the end of the Covid pandemic, but Bill Gates says he has the 'only solution' to end the crisis
Are COVID-19 vaccine mandates a strategy to end the pandemic?
COVID-19 Task Force Hasn't Ruled Out US Domestic Vaccine Passports
Pressure Grows on U.S. Companies to Share Covid Vaccine Technology
Did you know that a coronavirus epidemic hit 20,000 years ago?
Covid-19 has now killed as many Americans as the 1918-19 flu pandemic
US to drop travel ban for vaccinated international travelers starting in early November
COVID-19 and moral incompetence
Global Politics
How China's 'Common Prosperity' Drive Will Redistribute the Wealth
Republican Review of Arizona Vote Fails to Show Stolen Election
Kim Yo-jong says North Korea open to ending war if conditions met
China frees Canadians Michael Spavor and Michael Kovrig after Huawei boss released
China flies 19 aircraft including fighters and nuclear-capable bombers into Taiwan's airspace as tensions build in wake of AUKUS pact
Does AUKUS Augment or Diminish the Quad?
Joe Biden plays down chances of UK-US trade deal
Britain's nuclear submarines to use Australia as base for Indo-Pacific presence
Salisbury poisonings: Third man faces charges for Novichok attack
Trudeau stays in power but falls short of majority
Migrants in Texas: US flies Haitian migrants back home from border
Aukus: France pulls out of UK defence talks amid row
Business and Technology
Ordering in: The rapid evolution of food delivery
EU plans to legislate for common phone charger despite Apple grumbles
Facebook keeps researching its own harms — and burying the findings tks Susanna Hasenoerhl
Taxpayers face multibillion-pound bill to bail out failing energy firms, soaring bills AND empty supermarket shelves – amid fears dozens of gas companies could go to the wall in gas supply crisis tks Terresa Bayes
No More Apologies: Inside Facebook's Push to Defend Its Image
Social issues (#BlackLivesMatter) and humanity
Afghan girls school ban would be un-Islamic, Pakistan PM says
Former fire chief Greg Mullins faces the firestorm again tks Tim Wade
Melbourne construction protest responses show Morrison government's contradiction on lockdowns and mandates
Don't Take A Gap Year Because Of The COVID-19 Pandemic tks Samantha Gayfer – not great advice!
Thousands of Haitians Allowed to Stay in U.S. as Texas Camp Clears Out
Female 'Firies' Are Fighting Flames and Stereotypes in Australia tks Kerrie Phipps
Melbourne protests throw dark clouds over the hallowed last week in September
Singaporeans React To Comments By And About New Immigrants
Passion, humour, history
Melbourne ends 57-year premiership drought with record-breaking grand final win
Canary Islands volcano: 'Miracle house' escapes lava
Willie Garson, 'Sex and the City' actor, dead at 57
The Most Meaningful Outfits At The 2021 Met Gala
Let me know what jumped out at you? Or share with me what you're reading? I love that!
Cheers
Andrea
Uncommon Courage – my new book – is available
You can buy it on Amazon, Apple Books, Barnes & Noble, Book Depository, Booktopia, Smashwords, Kobo, Gardners, Odilo and Scribd.
Do check out my new Website uncommon-courage.com.
Come and join the conversation in my new Facebook Group Uncommon Courage.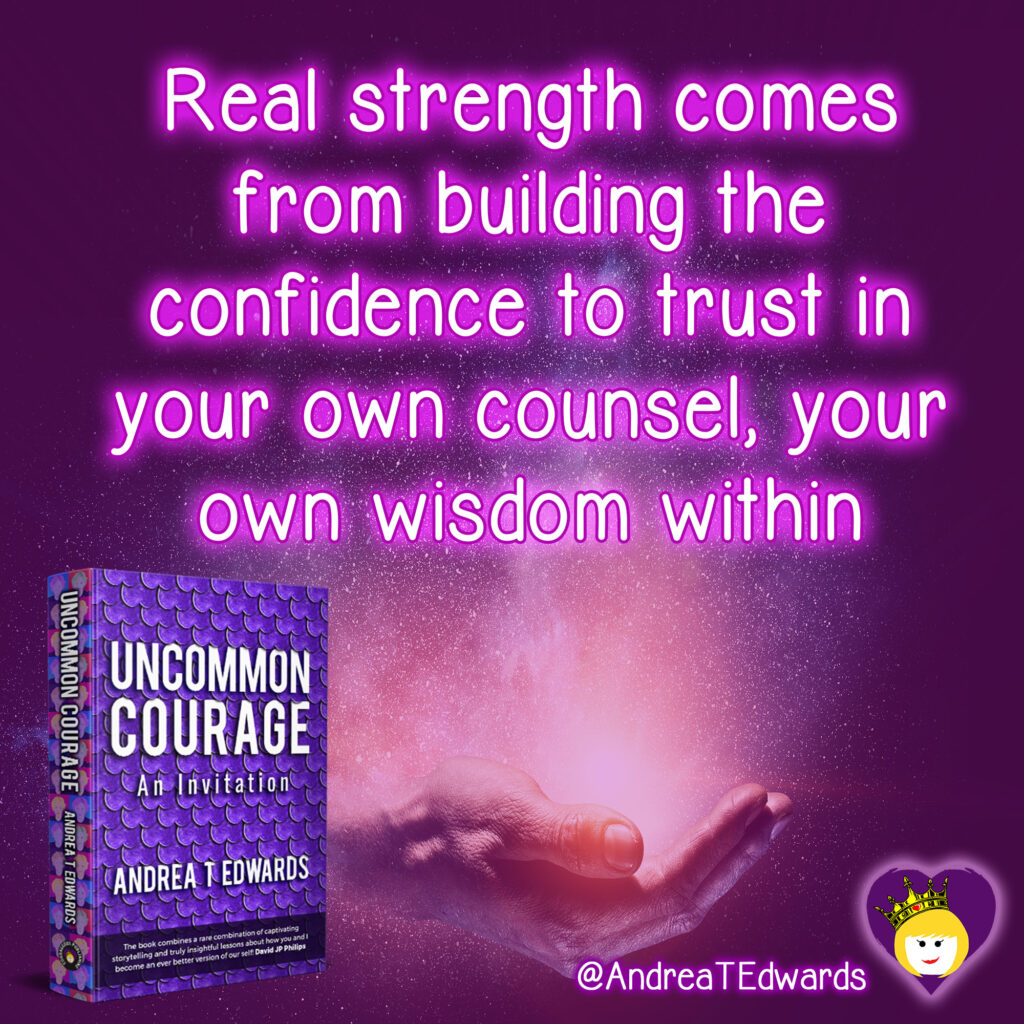 Connect with me
Website, LinkedIn, Twitter, Facebook, YouTube, Instagram, Medium, SlideShare, Amazon.
The Know show
Check out The Know Show. It's a weekly wrap up of the news!
18 Steps to an All-Star LinkedIn Profile
Listed by Book Authority in the 100 Best LinkedIn Books of All Time and 22 Best New LinkedIn eBooks To Read In 2021 categories. Grab it today if you want to take your professional presence to the next level! When it comes to LinkedIn, it really is time to ask — can you really afford not to have this book in the hands of every employee?
Feedback
Have I done a great job for you? Can you write a reference on my LinkedIn profile or on my Google Business page? If not for me, why not write one for someone else who inspires you or has helped you? Join the #GivingEconomy
Check out Second Nature Social on my YouTube channel.
Want proof social leadership transforms business and attracts customers? Check out this case study with IBM Asia Pacific.