Hope is a challenge for many these days, and there are a lot of reasons why hope is hard to come by. The relentlessness of the pandemic is certainly having its way, but so is government apathy towards the climate crisis.
In one article from a previous weekend reads, I shared that Donald Trump sent climate progress back by a decade. Lots of other things have slipped recently too, for example, reports state progress on equality has slipped back by a generation – yes, not a decade, a generation!! We've certainly got work to do.
And so this week, Joe Biden hosted his Climate Summit and there is great news and bad news.
America has lost a LOT of trust in recent years and will struggle to regain it! They have to go all-out as a global leader, and some experts are pleased with Joe's announcements, BUT there is not enough in the budget for developing economies to solve the crisis too – the countries who did not start this crisis, but will certainly pay the human cost of it
The US have pledged to halve its greenhouse gas emissions by 2030 and that is a great announcement. The EU is doing more, the UK best of all, but it is refreshing to see this. China is expected to reach peak emissions by 2030 and get to net zero by 2060 – however, based on all the science, we can't wait that long and China must reduce emissions rapidly, or it's a foregone disaster
Australia, India, Indonesia, Mexico and Russia did not make any new pledges to reduce oil, gas or coal emissions. For developing countries I can understand, but for developed countries (like my own country) it is shameful
China is the largest emitter today, and the USA is second, but many of China's emissions are on the back of building an economy to make cheap crap to sell into the US! Please stop buying cheap crap. This model has been the basis of China's evolution into a super power and they have done an amazing job, but the climate impact has been devastating. Why do you think the climate crisis got so bad so fast? Regardless, China is playing politics. They will make a commitment dependent on the USA's response to Beijing's policies on Hong Kong, Taiwan and Xinjian Province. China, we can't do this. We must come together and overcome. The two biggest polluters must act, or we will face catastrophe!
Hopeful and harrowing at the same time.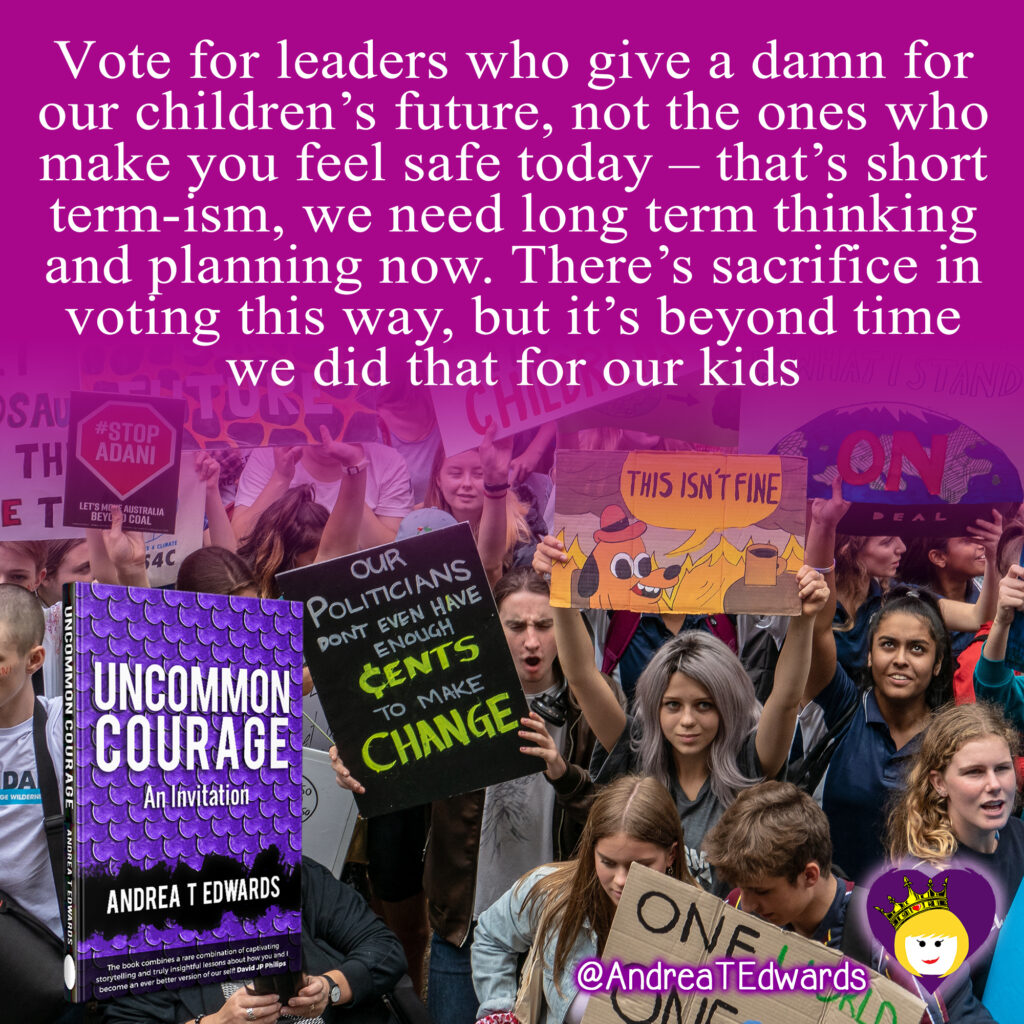 The other issue in the world that is harrowing right now is the pandemic in India. My word, it is heartbreaking to read about the situation there and when I speak with my friend's in India, they're all going through a world of hell. I hope the government wakes up and gets oxygen out to everyone who needs it, and now!! So many hospitals not getting the supplies promised. People dying on the streets, because the overflowing hospitals can't take them in. Harrowing.
I don't pray but I hope this situation gets under control soon. The reality is, we know we have weeks of this ahead. Stay strong my friends. Stay safe.
Friend's Content
5 Magical Tips for Fixing Your Virtual Presentations my friend, Lavinia Thanapathy is a LinkedIn top voice for 2020 and she's shared a really great set of tips on how you can improve your virtual presentation. It doesn't have to cost a fortune either.
Australian Red Cross another friend from many years ago when we worked in London, Jo Karabin, shared this ad because it featured her daughter. Check out the video at the top of the page. I'm sharing it here, because from a messaging and positioning perspective, I thought top job Australian Red Cross. That's how to cut through with a message, especially at this time!
My friend, Kevin Cottam, had an article featured in Thrive Global – NOISE, Reduce the Noise and Let your Voice Live and it's so spot on. We all have far too much noise and we can't live in the moment when we're stuck with all that noise. Have a look, be inspired.
And ANZAC Day is a HUGE day of remembrance for Australians. I marched in ANZAC Day marches from the age of seven and did my last one as a Musician in the Australian Army back in 1992. Very powerful. Very moving. My sister Phillipa Edwards, brother-in-law Jamie Lawson and their team, have been running THE LAST POST PROJECT – where they are helping musicians all over Australia (and in France) learn how to play the Last Post, so they can perform in their communities. ANZAC Day will be different this year due to Covid, so this is a very special project. Hats off to everyone involved. Donate if you can.
And finally I published a blog entitled: The devastation has started. Living on a tourist Island, the biggest impact is on the economy. It is very heartbreaking to be here.
Before you go, please make a donation and let's make the world a better place. Some suggestions World Food Program., UN Refugee Program, PowerOf , Kiva.org, Soi Dog Foundation. If you can afford to be generous, now is the time to help your fellow human.
Content to read
And here's the content I've been reading this last week. Scan the headlines, read the ones that jump out at you, read or watch them all. Knowledge is power, and global knowledge is even more powerful.
Climate Crisis / 6th Mass Extinction
Biden plans to cut emissions at least in half by 2030
Tonight I do want to address the elephant in the ballroom – climate change
'Nothing about the Mekong is normal now': Anger along Southeast Asia's great river as water levels become unpredictable
On Climate, Biden Takes On 'Our Generation's Moonshot'
Meet some of the women who are fighting against climate change tks Lavinia Thanapathy
Noxious Neighbors: The EPA Knows Tanks Holding Heavy Fuels Emit Harmful Chemicals. Why Are Americans Still at Risk?
Singapore's recycling rate falls to 10-year low
How to stop discarded face masks from polluting the planet
Is China edging away from a massive dam on the River Niger?
Earth Day Connections: NASA Study Predicts Less Saharan Dust in Future Winds
Could Plastic-Eating Mushrooms Solve Humanity's Plastic Problem?
'Dire warning' for the planet: Coal is powering the economic recovery tks Vicky Coburn
There's a Booming Business in America's Forests. Some Aren't Happy About It.
After more than 2 decades of searching, scientists finger cause of mass eagle deaths
The Story Behind TIME's 'Climate Is Everything' Cover
Wildlife Photographer of the Year: How many crocodiles can you see?
NFTs Are Shaking Up the Art World. They May Be Warming the Planet, Too.
We found methane-eating bacteria living in a common Australian tree. It could be a game changer for curbing greenhouse gases
The Ocean Carbon Sink Has Set the Next Political Hurdle
Starbucks has a dramatic new plan to ditch disposable coffee cups
Thailand aims for only electric vehicles by 2035 tks Vicky Coburn
No, the Yellowstone supervolcano is not 'overdue'
Photos show 21 cargo ships stuck off the coast of Los Angeles contributing to the supply-chain crisis
COVID19
How Covid-19 is boosting innovation
India Covid surge: Hospitals send SOS as record deaths registered
First Dose of Chinese Covid-19 Vaccine Offers Little Protection, Chile Learns
How Covid Upended a Century of Patterns in U.S. Deaths
One Covid vaccine cuts infection rate in all age groups
Singapore tightens COVID-19 rules for travellers from India, cuts entry approvals for non-Singaporeans and PRs tks Yana Fry
India sees world's highest daily cases amid oxygen shortage
Covid-19 in India: Why second coronavirus wave is devastating
Budesonide, a cheap asthma drug, can alleviate covid-19 at home
US to advise against travel to 80% of countries
How Safe Are You From Covid When You Fly? tks Cynthia Zhai
Covid in Uttar Pradesh: Coronavirus overwhelms India's most populous state
A Flight Just Set A Record For Positive Covid-19 Cases — Here's Why That Will Not Happen In The U.S.
'If we catch Covid, we die': UK shielders reflect on still feeling unsafe
COVID-19: What you need to know about the coronavirus pandemic on 19 April
Love in a travel bubble: Australia and New Zealand embrace quarantine-free flights – in pictures tks Luke Clark
What variants mean for the end of the COVID-19 pandemic
Global Politics
Biden's Climate Summit Sets Up a Bigger Test of American Power
Tokyo Under 'Emergency Orders' With Olympics 3 Months Away
The brazenness of Australian oligarchy tks Phillipa Edwards
US President Joe Biden to 'propose hiking tax on rich'
Former US intelligence director backs Turnbull and Rudd's call for Murdoch media inquiry
Brett Kavanaugh Rules Children Deserve Life In Prison With No Chance Of Parole tks Andor Hampala
U.S. voting rights activist Stacey Abrams nominated for Nobel Peace Prize
What the West Gets Wrong About China tks David Lim
Chad's President Idriss Déby dies after clashes with rebels
Why Political Sectarianism Is a Growing Threat to American Democracy
Caterpillar wars: time to pick sides in battle of Colin v Cuthbert
Calm and measured, Christine Holgate slays the bullies and the Morrison Govt hypocrisy tks Maz Fazola
Biden backtracks on keeping Trump cap on refugees
Business and Technology
Why Do We Let Corporations Profit From Rape Videos?
Byron Bay: Calls for Netflix boycott over reality show plans
SpaceX's Spacecraft Just Had a Near Miss With an Unidentified Object
Billionaire Sir James Dyson moves residency back to the UK
Hire Leaders for What They Can Do, Not What They Have Done
Neil deGrasse Tyson Thinks Science Can Reign Supreme Again
European Super League: Premier League's 'big six' agree to join new league
CEO Hits Back At Fox News After They Derided Him For Offering $70,000 Minimum Salaries
These Are the Fastest-Growing Jobs Around the World
Good Leadership Is About Asking Good Questions
Brené Brown on Why Good Leadership Has Nothing to Do With Your Salary ps I don't do opinions, only share what I read, but this was a disappointing interview. WSJ Magazine's fault
Why this business owner hired a 68-year-old 'mentern' and thinks you should too tks Paul Dunn
Social issues (#BlackLivesMatter) and humanity
George Floyd death: Congresswoman denies inciting violence
Sharon Osbourne savagely calls Prince Harry the 'poster boy of white privilege'
Alan Jones Reckons We're Living Through An Anti-Male Crisis & Has He Read The News This Week? tks Tabatha Tee
Evidence of Unknown Human Species Found in DNA of Melanesians
How many years will Derek Chauvin be in prison after guilty verdict in Floyd's death?
CEO Response to George Floyd Verdict tks Damian Corbett
George Floyd: Jury finds Derek Chauvin guilty of murder
Ma'Khia Bryant: 16-year-old girl shot dead by police in Columbus, Ohio
There's a Name for the Blah You're Feeling: It's Called Languishing tks Ann-Katrin Van Shie
The Journey of Forgiving our Parents & Releasing our Family Conditioning.
Morrissey hits out at The Simpsons as 'hurtful and racist' after being parodied in latest episode
Prince Philip's Funeral, In Photos
Former foster kid becomes adoptive dad to 3 boys, 'Fostering is love' tks Tanya Webber
Florida Lawmakers Pass Bill That Legalizes Teen Genital Inspections
Passion, humour, history
Artificial islands older than Stonehenge stump scientists
Egypt's 3,400-Year-Old 'Lost Golden City' Is Unearthed From Desert Sands
Michigan Farmer Found 15,000-Year-Old Woolly Mammoth Remains in His Field
'S'porean audiences get what they deserve': Joanna Dong after mean roasts from netizens during Star Awards 2021
Out of thin air: the mystery of the man who fell from the sky
Your body's full of stuff you no longer need. Here's a list.
Crowds chase otter family at S'pore Botanic Gardens, draw rebukes from nature lovers tks David Lim
Let me know if anything jumped out at you?
Cheers
Andrea
18 Steps to An All-Star LinkedIn Profile
This book is the starting point for LinkedIn success. It has everything you need to reach All-Star!! You can buy it on Amazon.com Amazon.co.uk Amazon.in and Flipkart. It's also available as an eBook on Amazon Kindle, Kobo, Google Play and iBooks.
Check out Second Nature Social
This is a new series, designed to help beginners get up to speed with everything necessary on social media. Follow my YouTube channel and see the latest.
Are you a Social CEO?
I'm proud to be a contributing author to The Social CEO: How Social Media Can Make You A Stronger Leader. You can order it on Amazon today.
Want to claim your stage?
Check out our co-authored Best Selling Book – Unleash Your Voice – Powerful Public Speaking for Every Woman – proud to be part of this too!
Want proof social leadership transforms business and attracts customers?
Check out this case study with IBM Asia Pacific. Incredible results.
Want to be a super star online?
Don't know where to start, check out my e-learning course How to build a rock star personal brand today.
I believe it's time for all of us to embrace our voice and embrace the future. We do this by working and living 'out loud' with meaning, intention, integrity and by being true to ourselves. If you own your voice, you own your future.
Connect with me
If you like my style and what I talk about, feel free to follow me on any of these platforms on social media.
My blog andreatedwards.com
Twitter @AndreaTEdwards
LinkedIn AndreaTEdwards
Facebook AndreaTEdwards
YouTube Andrea Edwards
SlideShare AndreaTEdwards
Medium AndreaTEdwards
Instagram AndreaTEdwards