It was my lovely husband's birthday yesterday, April 16th! For his 50th birthday last year, we were in lockdown and he got a Zoom party. So this year, I was determined to celebrate his 50+1 birthday, but after a recent Covid19 outbreak, we had to postpone the celebrations again. Bummed!!
However, even though we haven't been able to do what we wanted, we still celebrated and took a day out to love him and give him a special day. We went on a boat trip into Phang Nga Bay, and let me tell you, it's so beautiful out there! Equally, with so few tourists around, it's even more spectacular. No question, life returns when human's aren't tramping all over it.
Of course we had to visit James Bond Island. When you're the only lady in the family, choices like that must be accepted, but it was brilliant. I don't mind at all. At some of the snorkeling stops, we all got a great workout, as the currents were monster strength. Thankfully my boys are strong swimmers.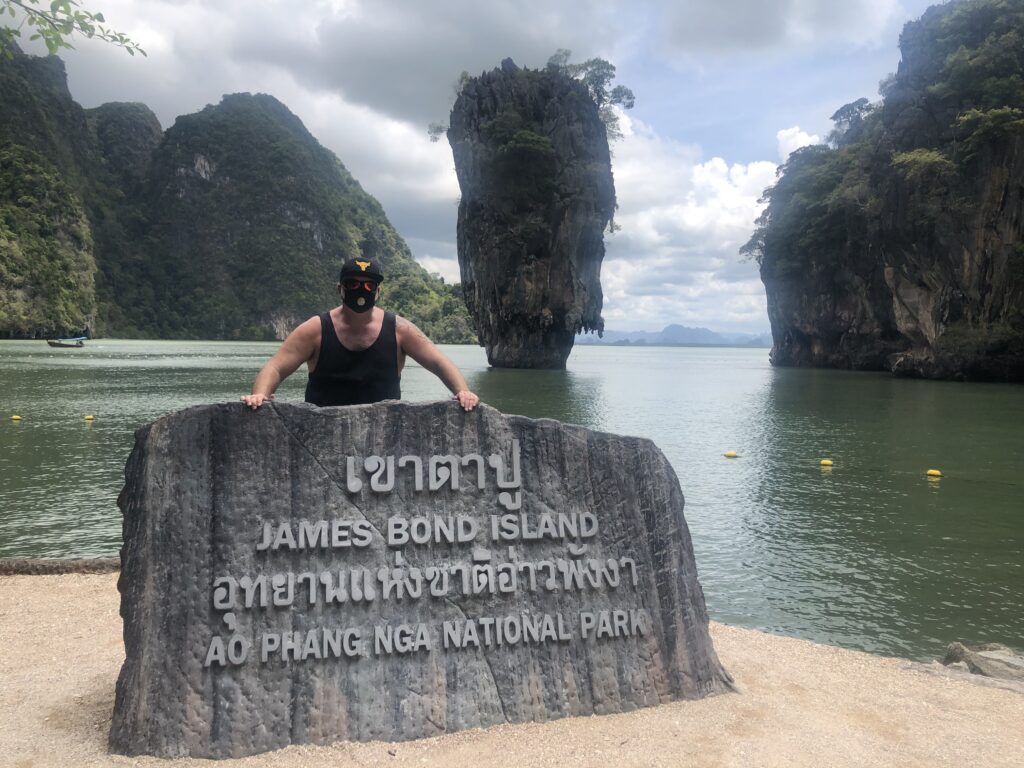 Taking a day out of normal life was a reminder for me too. As someone who is feverishly reading all the time and constantly interacting in the social world, I appreciate that taking a break is a necessary thing to do – for my state of mind. But it's also a reminder to celebrate life's moments. If this pandemic has taught us anything, surely it's to embrace the moments and live life with joy every chance we get. Why not?
A tip for future travels. When the world opens up again and you visit Phuket, book a private boat trip through 5 Star Marine. Shaun and Lisa Stenning, who own this company, have been out in the community for more than a year, feeding those in need. They've done this out of their own pocket until recently, and are heroes in our community! If you forget the name of the company, just drop me a line and I'll connect you. They deserve so much gratitude for what they've done and we are customers for life!!
So thank you 5 Star Marine for an incredible day and happy birthday Steve. You are such an awesome, generous and beautiful man. I am lucky to call you my husband and our boys are lucky to have a #Manbassador to help them grow into beautiful men. You're the best of the best.
Before you go to the articles, please consider donating to organizations around the world. There are so many in need. My recommendations : World Food Program., UN Refugee Program, PowerOf , Kiva.org, Soi Dog Foundation. If you can afford to be generous, now is the time to help your fellow human. Donate locally too. Remember if we all give #Just10Percent we can change the world.
Content to read
And here's the content I've been reading this last week. Scan the headlines, read the ones that jump out at you, read or watch them all. Knowledge is power, and global knowledge is even more powerful.
Friends content
"How do we change people's mindsets? How do we make them more innovative?" – check out this post by Natalie Turner. She is an incredible talent and I think this event will be brilliant.
Saving the World I was chuffed to speak on Rael Bricker and Lindsay Adam's on The Business Excellence Podcast, which went live this week. I don't normally have the opportunity to talk about the world's issues as the core focus, so if you wonder what I think about the state of our planet, this should give you an insight ?.
Climate Crisis / 6th Mass Extinction
How data is transforming the way we care for the ocean
Bottom Trawling Releases As Much Carbon Emissions As Global Aviation
The Pandemic Remade Every Corner of Society. Now It's the Climate's Turn
Net zero or bust: Beating the abatement cost curve for growth
Last Two Giraffes Rescued From a Disappearing Island in Kenya
Direct Observations Confirm That Humans Are Throwing Earth's Energy Budget off Balance
US envoy John Kerry woos China over climate
Global Energy Perspective 2021
NFTs Are Shaking Up The World. They May Be Warming The Planet, Too tks Andor Hampala
Climate Point: Wild places can hide bloody human history
Decarbonization Partners – Net Zero
Cyclone Seroja just demolished parts of WA – and our warming world will bring more of the same
'Gunda' Film About Pig Sentience Is Moving the World to Tears tks Karen Leong
42,000 years ago Earth experienced "end of days" with mass extinctions
Fukushima: Japan approves releasing wastewater into ocean
More Than 50 Orcas Hunt and Kill Blue Whale Off Australian Coast
Carbon dioxide levels are higher than they've been at any point in the last 3.6 million years
Cyclone Seroja: Storm leaves trail of damage in Western Australia
Those who worry about CO2 should worry about methane, too
Oceans were stressed preceding abrupt, prehistoric global warming
Polar bears are mating with grizzlies to become 'Pizzly Bears'
COVID19
Why are so many babies dying of Covid-19 in Brazil?
U.K. variant isn't linked to more severe disease or death, study finds
4 virus variants are spreading in the US, and studies suggest they can make people sicker, evade the immune response, or spread faster.
Another cruise line will require vaccines; DeSantis says no
Johnson & Johnson vaccine paused over rare blood clots
Covid lockdown eases: England 'buzzing' after first night out in 97 days
Migrant worker who tested positive for COVID-19 completed vaccination tks Wayne Chan
Global Politics
Afghanistan: 'We have won the war, America has lost', say Taliban
'The time' is never right for Morrison to talk about the tough issues
"Every Journalist's Worst Nightmare": CNN's Myanmar Misadventure tks David Lim
The Most Powerful Countries in the World
Haridwar: Hundreds test positive for Covid at Kumbh Mela
Afghans face pivotal moment as US prepares to 'close the book'
Republicans Have Found Their Cruel New Culture War tks Denise Chai
Business and Technology
The Social CEO – a review, tks Damian Corbet
Economic plan to put the smile back in Thailand's appeal to western foreigners to live and work
Salesforce to welcome vaccinated employees back to office
Social issues (#BlackLivesMatter) and humanity
Please Congratulate me on my Divorce.
Bill Gates is the biggest private owner of farmland in the United States. Why?
Empty beaches, chained doors: Surreal scenes in Phuket as island pins reopening hopes on vaccines tks Ferenc Nyiro
Minneapolis: Daunte Wright killing was 'accidental' say police
Killings, Violence, And Detention: Myanmar Is No Place For Children tks Nicola Upham
Passion, humour, history
Auckland Zoo euthanises elderly lions Zulu and Malik
Commentary: Harry and Meghan are made for Hollywood, not royalty
Singapore's endless pursuit of cleanliness
Scientists Translated Spiderwebs Into Music, And It's Beyond Stunning tks Frank Roberts
Moby on fame and regret: 'I was an out-of-control, utterly entitled drink and drug addict'
The Friends reunion has been filmed in Los Angeles: Here's what we know
Micro shorts for men: how short is too short?
Musa Okwonga: 'Boys don't learn shamelessness at Eton, it is where they perfect it'
Ludicrous Travel Reviews From People with Unreasonable Expectations tks Natasha David
Let me know if anything jumped out at you?
Cheers
Andrea
18 Steps to An All-Star LinkedIn Profile
This book is the starting point for LinkedIn success. It has everything you need to reach All-Star!! You can buy it on Amazon.com Amazon.co.uk Amazon.in and Flipkart. It's also available as an eBook on Amazon Kindle, Kobo, Google Play and iBooks.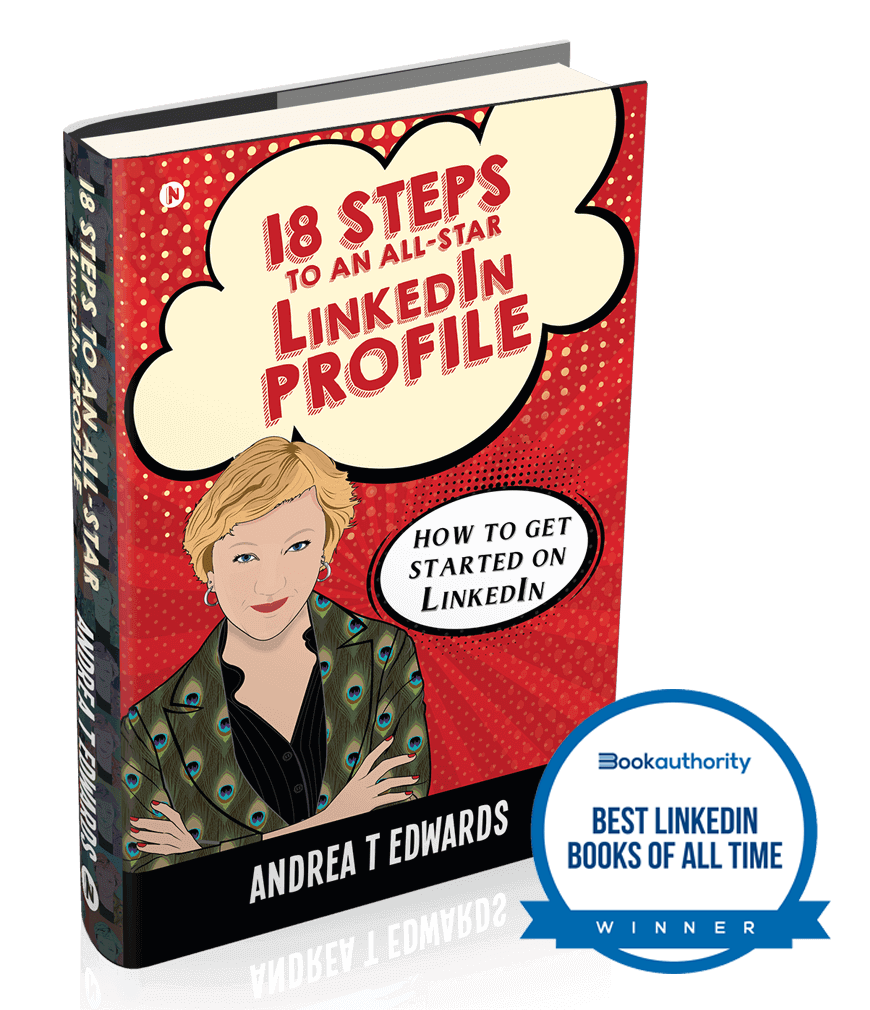 Check out Second Nature Social
This is a new series, designed to help beginners get up to speed with everything necessary on social media. Follow my YouTube channel and see the latest.
Are you a Social CEO?
I'm proud to be a contributing author to The Social CEO: How Social Media Can Make You A Stronger Leader. You can order it on Amazon today.
Want to claim your stage?
Check out our co-authored Best Selling Book – Unleash Your Voice – Powerful Public Speaking for Every Woman – proud to be part of this too!
Want proof social leadership transforms business and attracts customers?
Check out this case study with IBM Asia Pacific. Incredible results.
Want to be a super star online?
Don't know where to start, check out my e-learning course How to build a rock star personal brand today.
I believe it's time for all of us to embrace our voice and embrace the future. We do this by working and living 'out loud' with meaning, intention, integrity and by being true to ourselves. If you own your voice, you own your future.
Connect with me
If you like my style and what I talk about, feel free to follow me on any of these platforms on social media.
My blog andreatedwards.com
Twitter @AndreaTEdwards
LinkedIn AndreaTEdwards
Facebook AndreaTEdwards
YouTube Andrea Edwards
SlideShare AndreaTEdwards
Medium AndreaTEdwards
Instagram AndreaTEdwards