On the 8th of March, and throughout the month, thousands and thousands of women will be giving public speeches, the majority for the very first time. From everyone I've spoken to who is in this situation, the nerves are growing, the anxiety too. Ladies, you've got this!!
To help, I thought I'd give you some tips on what I've learned as a professional speaker, because even after all these years, I still get nervous every time I speak too. I hope this helps.
Embrace the nerves. It's a good thing, because it means you care. Use the energy of your nerves to power your speech
Seize your moment, because this is your moment to shine. Whoever invited you to speak, did so because you've got something important to share. So, get lots of practice in before the big day, then get up there and deliver your speech, because someone in your audience needs to hear what you've got to say. YOU have the ability to change people's lives with the words you will share this week. So seize the moment and believe in the power of your message
Before the big day, record your speech, whether audio or better yet, video. Listen to yourself. It's uncomfortable yes, but it's a really good way of critiquing yourself and fine-tuning your message. Also, get feedback from someone close to you. Always useful
Most new speakers underestimate how much time a speech will take, because you just don't have the experience of knowing how much additional time a live audience can add to a speech. As an example, if you're doing an activity, it will take much longer than you expect to get your audience up, moving and then settled back down afterwards. The best thing to do is always make it shorter and you'll probably hit the time perfectly. Speaking to time is really important to ensure the event doesn't run over and shows respect to other speakers
Before you go on stage, even if it's a digital stage, stand off to the side with your hands on your hips for five minutes before show time. This is a famous TED Talk tip. I do this all the time, because it really opens you up, and helps you get into a confident mindset. When you're standing with your hands on your hip, take lots of deep breaths too. Relax
Have a mantra for yourself and the message you want to share. As an example: I am here to make the world a better place through the words that I share. This really helps you to believe in the power of your voice to create change. Say it over and over in your mind before the big day
If you're speaking digitally, look into the camera so people feel that you're looking straight into their eyes. This is an uncomfortable thing to do, however if you find yourself looking at the actual screen and the people in your audience, just come back to the camera.  A lot of people put sticky notes next to the camera with arrows saying Look Here.
When you speak, always remember it's about your audience, it's not about you. That can feel like a really weird thing to say when you're so nervous, but if you can embrace this idea, it helps your nerves! You're there for your audience, you're there for your message, and you're there to change lives
Your audience will hold you up, smile, laugh and love you for being up there. They want you to succeed. When looking out over the sea of faces, look at the ones smiling at you, and try not to be put off by blank faces. I had an early speaking session where the whole audience was looking at me like this and I thought I bombed. Afterwards I found out that the audience loved it. The blank faces nearly put me off, but it was a great lesson not to going into self-judgement while I was speaking. Just speak your truth with love in your heart
Ladies enjoy. Have fun. Believe in yourself, believe in your message, believe in your ability to change people's lives. This pandemic has been horrendous for everyone, more so for women. Progress for women around the world has taken a huge steps backwards in the last 12 months, in both professional and private life. So this International Women's Day, let's raise our voices, share our message bravely, boldly, courageously, and believe in our power to change the world for the better. We need you
I hope these tips help and good luck with your speeches. I always say if you can change one life with your message, it's a message worth sharing. Go for it and good luck.
To my fellow professional speaker buddies, anything you'd add?
Friends content
The podcast with Gina Romero went live – Unconventionally with Gina Romero, EP 2: The Many Voices of Andrea T. Edwards. Would love to know your thoughts.
You can learn more about the work Gina does in this great article – kudos woman! Creating income and job opportunities for women.
I'm proud to be a contributing author to Damian Corbet's – The Social CEO! It made it onto FT business books: March edition – awesome.
I published this blog this week – Just another case of marketing really screwing women and children – because I'm on the streets, speaking to people, and this is something that absolutely drives me crazy!
Charity
Before you scroll, please, if you can donate, donate, donate!!! Some suggestions World Food Program, UN Refugee Program, PowerOf , Kiva.org, Soi Dog Foundation. If you can afford to be generous, now is the time to help your fellow human.
A special piece to share today. One Phuket – Another Day In Paradise (Cover) – was created to raise money to help people struggling economically due to the pandemic. A special group of people drove this from behind the scenes at Phuket Academy of Performing Arts and Legend Music – Recording Studio. You can follow One Phuket here.
Content to read
And here's the content I've been reading this last week. Scan the headlines, read the ones that jump out at you, read or watch them all. Knowledge is power, and global knowledge is even more powerful.
Climate Crisis / 6th Mass Extinction
Climatologist Michael E Mann: 'Good people fall victim to doomism. I do too sometimes'
Naomi Klein: how big tech helps India target climate activists
'Space hurricane' that rained electrons observed for the first time
CDP: Water risk costs for corporates five times higher than cost of action
17 key environmental bills on the 2021 agenda in California's Legislature
Texas Farmers Tally Up the Damage From a Winter Storm 'Massacre' tks Denise Chai
Wind power company will breed endangered California condors
In the Atlantic Ocean, Subtle Shifts Hint at Dramatic Dangers
UN: Global climate pledges will only reduce emissions by 1% this decade
Brunt Ice Shelf: Big iceberg calves near UK Antarctic base tks Lavinia Thanapathy
Electricity needed to mine bitcoin is more than used by 'entire countries'
Airbus reveals planes sold in last two years will emit over 1bn tonnes of CO2
Could plastic roads make for a smoother ride?
Climate crisis hits 'worst case scenario' levels
'It's a funeral march': French artist JR's powerful eulogy for Australia's Murray-Darling tks Willie Wahlin
COVID19
Dolly Parton gets first dose of Covid vaccine she helped fund
Covid: Bolsonaro tells Brazilians to 'stop whining' as deaths spike
DNA from Neanderthals affects vulnerability to covid-19
Covid: Italy 'blocks' AstraZeneca vaccine shipment to Australia
Brazil's Covid outbreak is global threat that opens door to lethal variants
Vaccine nationalism will leave everyone more at risk of coronavirus tks Francine Varner
COVID Found Mutating Inside a Baby Born With The Virus, in a World First
After Crushing Covid-19 Last Year, These Countries Are Getting Left Behind in the Recovery
Yuval Noah Harari: Lessons from a year of Covid
Frontier Cancels Flight, Citing Maskless Passengers
Covid: Japan asks China to stop anal tests on its citizens
Covid-19 Vaccine 'Passports' Raise Ethics Concerns, Logistical Hurdles tks David Lim
Covid-19 variants pose 'real threat' to vaccine progress, CDC warns
Global Politics
Friends of woman who accused Cabinet Minister of rape call for inquiry into allegation tks Carol Hay
F.B.I. Finds Contact Between Proud Boys Member and Trump Associate Before Riot
If he did it tks Phillipa Edwards
QAnon Shaman: 'I regret entering that building with every fibre of my body'
The Republican Party Is Now in Its End Stages tks David Lim
Myanmar sees deadliest day as 38 protesters killed
Ambitious Republicans' Dance: Embrace Trump, but Don't Try to Be Him
Morrison's "dob in a bludger" hotline is yet another cruel assault on our poorest people tks Phillipa Edwards
'Pervasive harassment': Former Cuomo adviser says governor 'kissed me on the lips'
CPAC: Trump rules out new political party in speech to conservatives
'Myanmar is like a battlefield': UN says at least 18 dead as security forces fire on protesters
In Morrison's government, a lack of accountability has become systemic tks Willie Wahlin
Business and Technology
The future of work after COVID-19
The rich vs the very, very rich: the Wentworth golf club rebellion
Better Business Act tks Richard Lowe
'I've Never Seen Anything Like This': Chaos Strikes Global Shipping
Marketing: How fmcg brands are taking gaming to another level
Apple co-founder Steve Wozniak: Get off Facebook
My 10 Biggest Mistakes As BrewDog CEO tks Damian Corbett
Opinion | Love Factory: The Price of Being a Social Media Star
Social issues (#BlackLivesMatter) and humanity
Sarah Silverman apologises to Paris Hilton for prison jokes
A Baptist Pastor Delivered a Wildly Sexist Sermon Telling Wives to Lose Weight
From Colombia to Mars, NASA engineer achieves dreams of reaching space
Sonja McLaughlan: BBC condemns online abuse of reporter after Six Nations interviews
Golden Globes: 'Tears' as Chloe Zhao becomes first Asian woman to win best director
Six Laws of Manhood That Everyone Should Live By tks Joanne Flinn
'Shocked by the uproar': Amanda Gorman's white translator quits
Tory London mayor hopeful says basic income would be used for 'lots of drugs'
After eight years in immigration detention, I cannot believe I am free in Australia
Arguing about whether science says trans people exist is a trap, and it's hurtful. tks Brian Sibley
Meghan 'saddened' by bullying complaint report
Taylor Swift criticises Netflix show for 'deeply' sexist joke
SAS: Who Dares Wins' Ant Middleton dropped over BLM and Covid tweets
After Baptist Pastor Tells Wives to Lose Weight, His Church is in Crisis Mode
Student loan debt cancellation: Biden is wrong about it
Joel Kaplan's Policy Team Sways Big Facebook Decisions Like Alex Jones Ban
Passion, humour, history
Somebody Told This Guy That Ladies Will Find Him More Attractive If He Posted Pics With Filters, And The Results Are Hilarious tks Joyce Ano
14 right royal takedowns of the media's Meghan Markle blame game
London Euston cat-astrophe averted for train-surfing puss
This Man Rode a Bike From India to Sweden—for Love
Popular flea collar linked to almost 1,700 pet deaths. The EPA has issued no warning.
UK meteor: Fireball that lit up the sky over UK dropped fragments on ground, experts say
Octopus steals camera and wins underwater photography competition tks Frank Roberts
Sir Kazuo Ishiguro warns of young authors self-censoring out of 'fear'
Viral TikTok Shows Proposal Taking Place Mid-Wedding Reception
Thousands of artifacts discovered at a 12,500-year-old site in Connecticut tks Lalitha Anapoorna Shivaswamy Rajesh
Pompeii: Archaeologists unveil ceremonial chariot discovery
Let me know if anything jumped out at you?
Cheers
Andrea
18 Steps to An All-Star LinkedIn Profile
This book is the starting point for LinkedIn success. It has everything you need to reach All-Star!! You can buy it on Amazon.com Amazon.co.uk Amazon.in and Flipkart. It's also available as an eBook on Amazon Kindle, Kobo, Google Play and iBooks.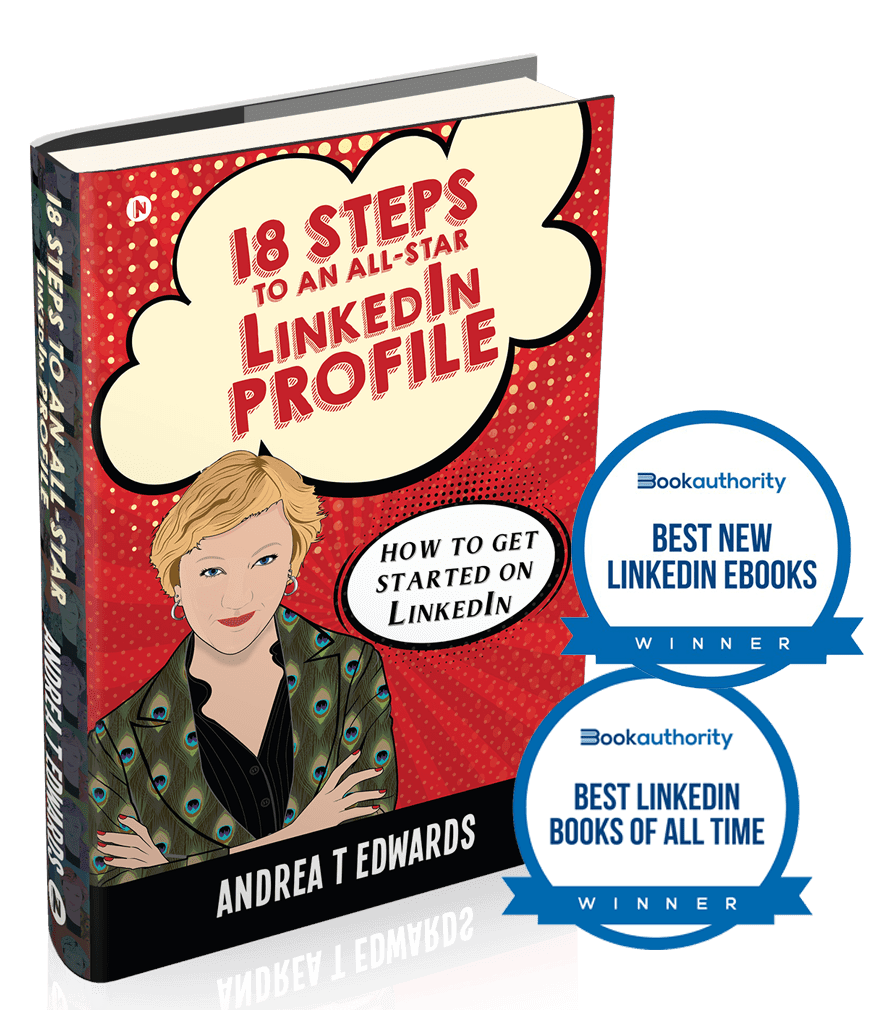 Check out Second Nature Social
This is a new series, designed to help beginners get up to speed with everything necessary on social media. Follow my YouTube channel and see the latest.
Are you a Social CEO?
I'm proud to be a contributing author to The Social CEO: How Social Media Can Make You A Stronger Leader. You can order it on Amazon today.
Want to claim your stage?
Check out our co-authored Best Selling Book – Unleash Your Voice – Powerful Public Speaking for Every Woman – proud to be part of this too!
Want proof social leadership transforms business and attracts customers?
Check out this case study with IBM Asia Pacific. Incredible results.
Want to be a super star online?
Don't know where to start, check out my e-learning course How to build a rock star personal brand today.
I believe it's time for all of us to embrace our voice and embrace the future. We do this by working and living 'out loud' with meaning, intention, integrity and by being true to ourselves. If you own your voice, you own your future.
Connect with me
If you like my style and what I talk about, feel free to follow me on any of these platforms on social media.
My blog andreatedwards.com
Twitter @AndreaTEdwards
LinkedIn AndreaTEdwards
LinkedIn The Digital Conversationalist
Facebook AndreaTEdwards
YouTube AndreaTEdwards
YouTube Uncommon Courage
SlideShare AndreaTEdwards
Medium AndreaWTBEdwards
Instagram AndreaWTBEdwards