If you haven't noticed – and there's a chance you won't if you haven't put images and links in your About section on LinkedIn before – but a short while back, the visual content that originally existed as part of your About section, is now broken out into a new section, called Featured.
There's one thing that annoys me about this change, and another that is good.
The good is the Featured section is bolder, bigger, and more front and centre in your profile.
The bad is, prior to this change, your last article had a more significant position in your Activities section, it now does not exist there at all, other than as a normal post. This means people have to look harder to find your original content.
This is how we looked visually before in the About section

This is how the new Linkedin Featured Section looks now – much bigger and bolder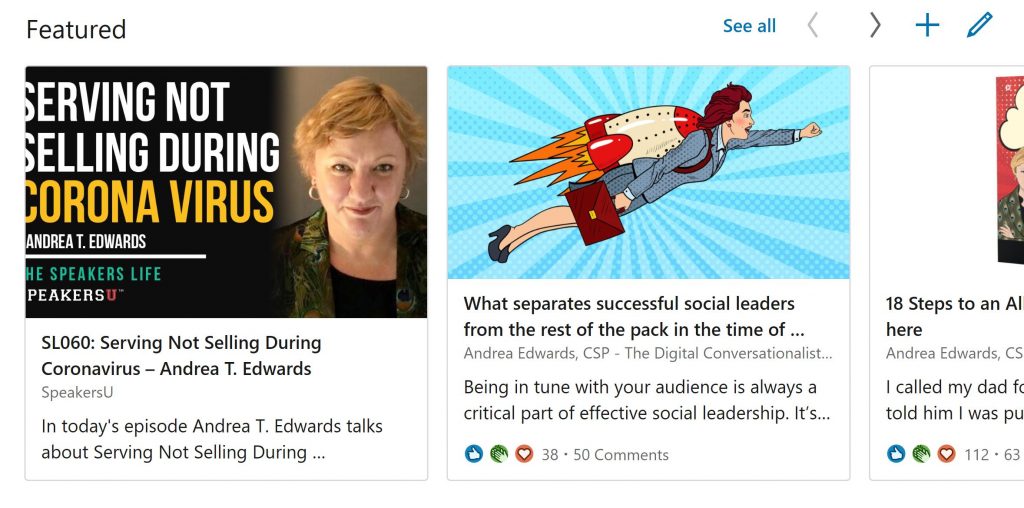 But here is the Activities section

Your last article used to take up the full left hand side of this digital real estate, so visitors could always find it easily, now they have to dig deeper to find your content.
Of course, you can click on "see all" in the activities section, and across the top, select articles. However this means your audience has to take another step to get to this point, and well, people don't always like to take an extra step, right?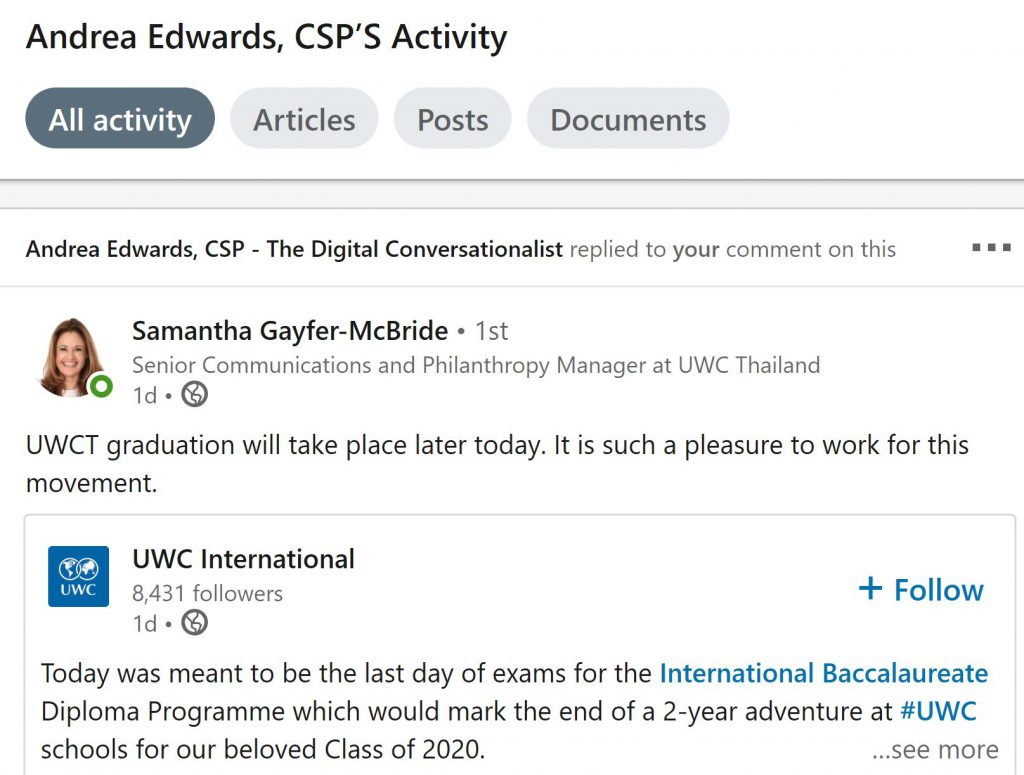 However, there is a solution – and it's an extra step for us, not our audience. Every time you publish an article, click the + sign on Featured, and put your latest LinkedIn article into the Featured section. You can remove it when you publish your next one, ensuring your latest article is front and centre on your profile.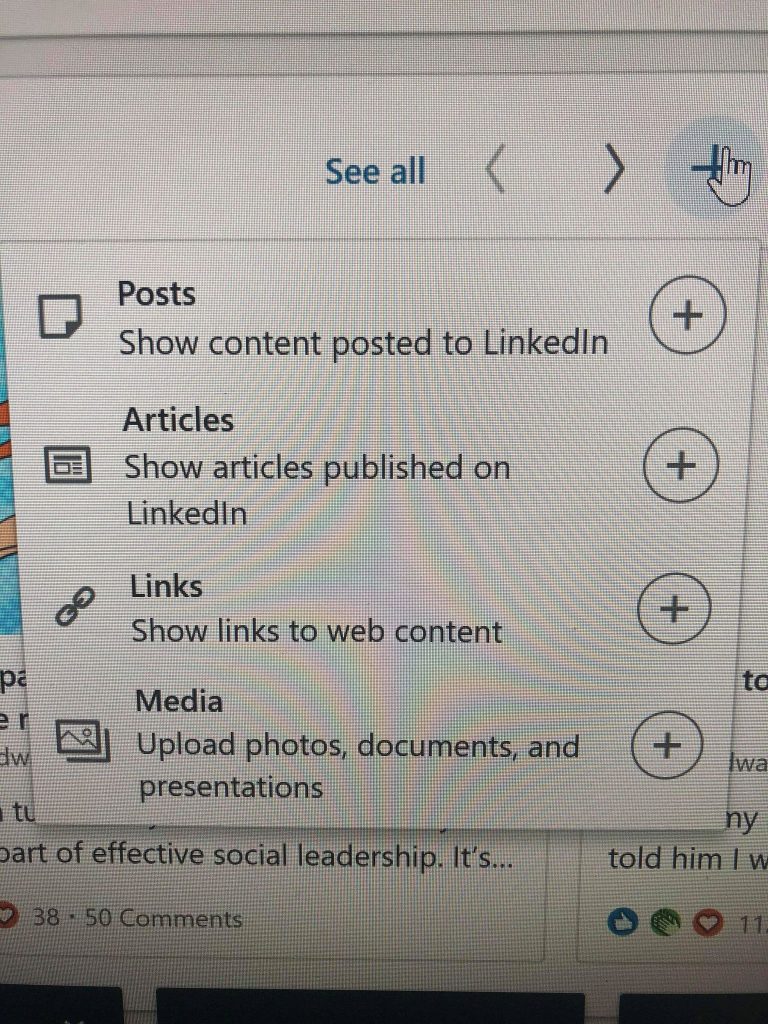 Above is the window that opens. It's very easy to make changes and it's equally easy to remove your last LinkedIn article and replace it with a new one.
But I don't have any of this on my LinkedIn profile?
So many people have no visual elements on their profile. They don't even know they can do it. However, when 63% of the world learns visually, this is a really important aspect of an outstanding LinkedIn profile.
If people are interested in you and what you have to say, you want to be able to give them the opportunity to dig deeper into you and your work.
So you add:
Photos – at work, with your team, on company outings, on stage, with influential people
Links to media coverage, podcast interviews, YouTube videos
Links to SlideShare to show off your latest presentation
And LinkedIn likes documents today as well, so a PDF of something compelling that you want to share
Previous blog posts – you might be posting your articles on LinkedIn and your Website or on Medium or a company Website. Well when you feature your content, you can lead your audience to your other, important digital assets. It's a good way to move traffic to your owned assets.
There's so much you can do, and you can do it for previous roles too – although some of my older roles have now lost their links?? Not sure about that. Will see if I can find out what happened.
However, the important point, is this is a wonderful opportunity to tell your audience the story of your career, visually. Below is a screen shot of the two jobs at the top of my profile, to give you a feel. If you're confused, just click on my profile, or anyone else you know who takes LinkedIn seriously, and you can see how it's done.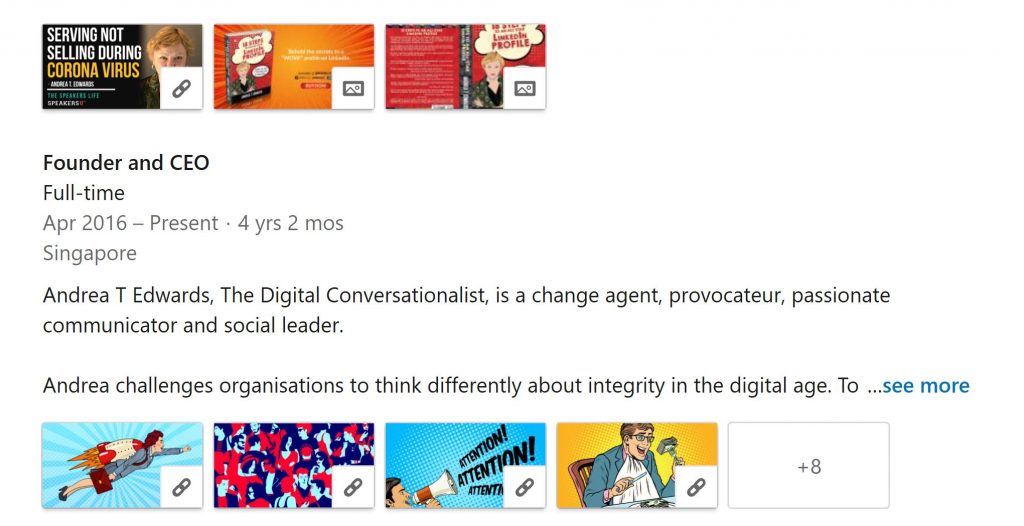 I hope this is useful. LinkedIn is always changing and evolving. The core always remains, but paying attention to the changes is important, as is constantly updating your profile and keeping it fresh. We do not live in a stagnant world digitally, so keep going back and adding new content.
A final point. I've made my book '18 Steps to an All-Star LinkedIn Profile' free as an eBook on Amazon Kindle for the last two months. I saw this as a gift I could give the world at this time of great uncertainty, so if you need to look at your LinkedIn profile, grab this book. The free offer ends May 26th!
Cheers
Andrea
18 Steps to An All-Star LinkedIn Profile – free until 26th May 2020
I want to help, so I've made the eBook version free for 60 days. I can't do much during this time, but I am focusing on what I can control and you can control this too – taking your professional presence on social media seriously. After this pandemic is over (and it could take a long time), your professional presence is something that matters in securing work. Prioritize it!
However, if you are not in the right frame of mind to do this right now – which is completely understandable – get it now, and go back to it when you can do this.
This book is the starting point for LinkedIn success. If you want to buy it, it's available on Amazon.com Amazon.co.uk Amazon.in and Flipkart. It's also available as an eBook on Amazon Kindle, Kobo, Google Play and iBooks.

Are you a Social CEO?
I'm proud to be a contributing authorto The Social CEO: How Social Media Can Make You A Stronger Leader.You can order it on Amazon today.
Want to claim your stage?
Check out our co-authored Best Selling Book – Unleash Your Voice – Powerful Public Speaking for Every Woman – proud to be part of this too!
Want proof social leadership transforms business and attracts customers?
Check out this case study with IBM Asia Pacific. Incredible results.
Want to be a super star online?
Don't know where to start, check out my e-learning course How to build a rock star personal brand today.
I believe it's time for all of us to embrace our voice and embrace the future. We do this by working and living 'out loud' with meaning, intention, integrity and by being true to ourselves. If you own your voice, you will own your future.
Connect with me
If you like my style and what I talk about, feel free to follow me on any of these platforms on social media.
My blog andreatedwards.com
Twitter @AndreaTEdwards
LinkedIn AndreaTEdwards
LinkedIn The Digital Conversationalist
Facebook AndreaTEdwards
YouTube Andrea Edwards
SlideShare AndreaTEdwards
Medium AndreaWTBEdwards
Instagram AndreaWTBEdwards