If you're like me, you've probably been reading about the one-year anniversary of Russia's invasion of Ukraine. This moment a year ago left me feeling shocked and bereft. I know many felt the same way. How could we be in this situation at this time for the world? How can the drums of war still be a part of our existence, especially when the aggressor has nuclear weapons?
Of course, there is always war in the world, sadly, but what makes this different is Russia's capabilities in war, especially its nuclear threat, which they reference regularly. Although, when you understand what has gone wrong for Putin and his cronies in the last 12 months, along with the incredible mistakes that have been made, Putin has been backed into a corner, which is never a good thing. How far is he prepared to go? No one really seems to know but underestimating him never seems like a good idea.
When understanding the original plans, this war was supposed to be over within weeks, but here we are a year later, and those feelings that ravaged me 12 months ago have never left, I am still bereft. So many senseless deaths and many more with life altering injuries. We've seen brutality that makes us despair for humanity, and the term 'meat grinder' has become a mainstay in the media – a term describing Russian troops marching to their deaths.
We have also seen the incredible resolve of the Ukrainians, who won't give up and the commitment of Europe and the US in supporting Ukraine in this war. The bigger question is – how much longer will this support last? We know politics is a fickle game, but can we afford not to support Ukraine? I don't think so.
The other questions rattling around are – when will it be over? What will it take? Or will it become a bigger war, pushing us all towards a bigger catastrophe? Then again, perhaps China is the country that can make peace possible? That would be a great role for them to take on and it would do a lot for their credibility in the world, right?
Whatever it takes to finish this war, we must do it, because when you read through the climate content below, we have got to understand that this is where our full focus needs to be – all of us.
Just two examples. Lake Powell is drying up and it has the potential to send toxic clouds into the environment, so the conversation is already starting about relocating the community. And in New Zealand, following the cyclone, the region most impacted may never be rebuilt, as the politicians are understanding that what comes next will be even more extreme. Good to see one country paying attention to the science and looking ahead, not back.
Both examples are in modern, developed countries, not Africa, Central America or Asia, and massive people movements within countries and across borders is going to happen more and more. Climate refugees are already on the move, and we are not ready for them. We must get ready, so this massive movement doesn't destroy us, which it has the potential to do quickly.
What we must focus on now is, stopping it from getting worse, and the answer to that is obvious but massive – we are in overshoot, and we need to shrink our impact on earth. The sooner we do it, the less worse our future will be. The global transformation required is gargantuan, so the sooner we can get our heads around understanding what we must do, the better. Then we must act boldly and bring as many as we can on board.
Please read the climate content. Even just some of it. We can't keep ignoring this. Every delay costs us dearly.
Friend's content and mine
Tipping the Global Scales for Good, Steve Pipe. Please do yourself a favor and watch this talk. It's truly brilliant and it's such a simple idea – when good happens, do good, when bad happens, do good, and that way, we tip the scales. Check out B1G1 here.
Climate Courage: Tips to clean up our waste at home – thank you Vicky Minguillo for doing this with me. We hope it inspires changes in the home, because we have got to drastically reduce our waste AND chemicals too.
Quick waste reduction tip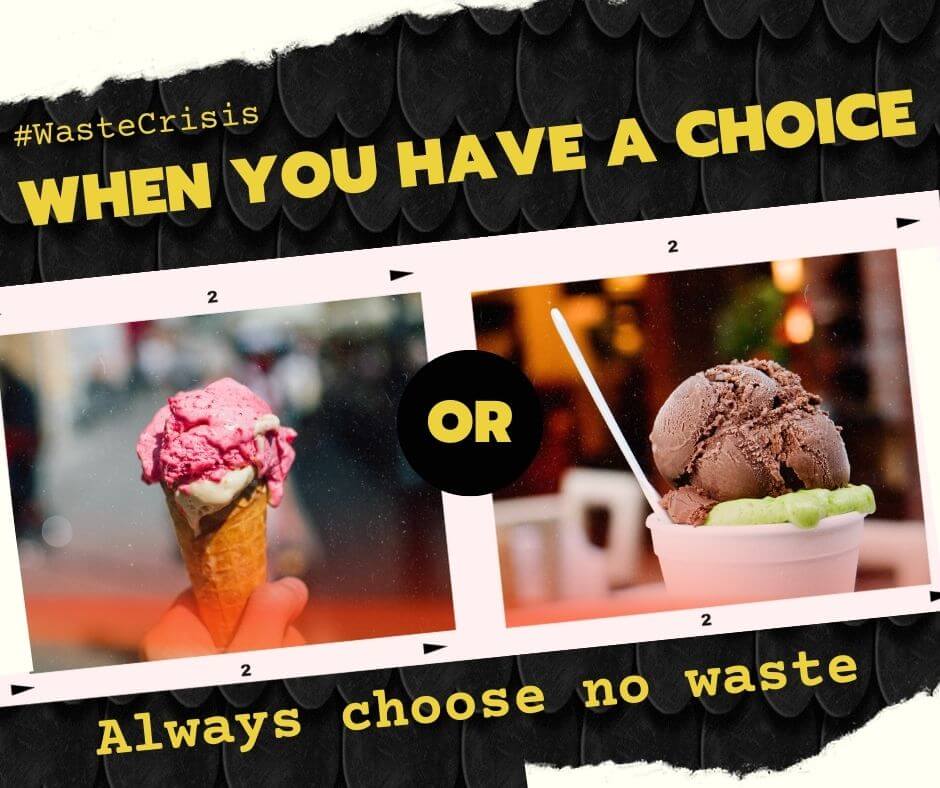 Donation time
If everyone gave #just10percent of their time, talent, money or voice, we'll change the world. Can you donate? Make it a regular donation to the World Food Programme. Or donate to the UN Refugee Program, Medicine Sans Frontier, PowerOf , Kiva.org , Soi Dog Foundation. It's a time for giving and taking care of each other.
Content to read
And here's the content I've been reading or watching this last week. Scan the headlines, read the ones that jump out at you, read or watch them all. Knowledge is power, and global knowledge is even more powerful.
Climate crisis
Global Warming, Hot Wars, Closed Societies by George Soros
A looming El Niño could give us a preview of life at 1.5C of warming
Great Salt Lake's retreat poses a major fear: poisonous dust clouds
Lake Powell Drops to a New Record Low as Feds Scramble to Prop it Up
Big Oil allies outspent clean energy groups by 27 times on ads and lobbying to kill climate policies
Deep-sea mining: Canada confirms ban as concern about risks rise
After Cyclone Gabrielle, New Zealand wonders how – and if – to rebuild
Why New Zealand is no safe haven from the climate crisis
Thousands missing a week after Cyclone Gabrielle hits New Zealand
Scientists sound alarm as Antarctic sea ice hits record low for second year running
NASA Satellite Shoots Wall of Green Lasers Down to Earth
Extreme drought, weather forcing cattle producers to thin herds at near-record numbers: industry experts
Stronger El Niño events may speed up irreversible melting of Antarctic ice, research finds | El Niño southern oscillation
Human activity and drought 'degrading more than a third of Amazon rainforest' | Amazon rainforest
Kim Stanley Robinson's Approach To The Climate Challenge
Worst-ever February rainforest data for Brazilian Amazon
US storms result in firefighter's death, traffic and flight chaos and a rare blizzard warning
Winter storm: North America hit by blizzards and heat wave
Blizzard Warning Issued for Los Angeles County Mountains
We Need To Talk About The Carbon Footprints Of The Rich
Report: U.S. power grid not ready for growing EV market
Protect Australia's World Heritage Macquarie Island tks Ali Davis
TikTok 'deinfluencers' tap into trend for saving money
Revealed: scale of 'forever chemical' pollution across UK and Europe
HSBC adds greenwashing to risk matrix
Mapping the Migration of the World's Millionaires
The fight for an Indigenous voice is over 100 years old. If only we had listened to those early activists tks Kevin Cottam
England one dry spell away from return to severe drought, say experts
Austrian children sue government for failing to protect them from climate crisis
Revealed: The key cities and regions most at risk from climate change in 2050
Winds lash Madagascar's coast as Cyclone Freddy makes landfall
North Korea food crisis looms behind displays of military prowess
We have reached a new low
Ohio train derailment: Norfolk Southern ordered to pay for clean-up costs
Recent Alps snow cover decline 'unprecedented' in past 600 years
Australia at risk of electricity supply shortages as renewable projects lag behind coal plant closures | Energy
Venice canals start to run dry as low tide and lack of rain hit
The mysterious items washing up on beaches tks Avis Easteal
Demand increases for produce solution for imperfect fruit
Brazil: flooding and landslides kill dozens in São Paulo state
Dumping radioactive water in Hudson River is 'best option,' per Indian Point nuclear facility owner
Italy faces another year of severe drought after little winter rain or snow
Magnesium as the Metal of Dematerialization
Sucking Up to Business Leads Directly to Ecological Collapse
The New Yorker: What Does It Mean to Be "Indigenous"?
Global politics
Ukraine war: Zelensky wants Xi Jinping meeting following China's peace plan
How Putin's fate is tied to Russia's war in Ukraine
Ukraine war: Blinken says China might give weapons to Russia
How Russia's 35-mile armoured convoy ended in failure
The New Yorker: A Year of the War in Ukraine
How the Ukraine war is creating family rifts in Russia
Leaked document shows how Russia plans to take over Belarus
The 'silent victim': Ukraine counts war's cost for nature
Capping super balances is a logical fight to have in a country that prides itself on equality – but logic isn't the default | Katharine Murphy
Nigeria election: millions go to the polls in crucial 'bellwether' vote
How big Christian nationalism has come courting in North Idaho
Inside the Trump grand jury that probed election meddling
House Speaker defends giving Capitol riot video to Fox host
Court Lets Lawsuit Against Fox News Move Forward—Here's Where Dominion And Smartmatic's Defamation Suits Stand Now
Donald Trump says officials 'indifferent' after Ohio train derailment
Foreperson on Georgia grand jury investigating Trump and 2020 election says jurors 'definitely discussed him a lot'
Jimmy Carter, the 39th U.S. president, enters hospice care : NPR tks Barry Graubart
Suella Braverman 'threatens to resign'
Work more hours if you can't afford food, Therese Coffey suggests
Business and technology
The Impact of Algorithm Upgrades on LinkedIn Content 2023 tks Damian Corbet
The humbling of Gautam Adani is a test for Indian capitalism
The Hidden Toll of Microstress tks Heather Hansen
ChatGPT Is Just an Automated Mansplaining Machine
Microsoft Has "Lobotomized" Its Rebellious Bing AI
Microsoft Is Apparently Discussing ChatGPT's Bizarre Alternate Personality
OpenAI CEO Sam Altman frets over 'potentially scary' A.I. tools and how 'people of the future will view us'
ChatGPT goes Full Doomer – Watching the World Go Bye
Microsoft's Bing AI Is Leaking Maniac Alternate Personalities Named "Venom" and "Fury"
Why ChatGPT Is the Fastest Growing Web Platform Ever
Ex-Googler: Company Slowly Ceased to Function for 4 Reasons
Social issues
Louis Theroux: "The Thing That Makes Me Great At Work, Makes Me Bad At Life!"
This striking image won our 'Pictures of the Year' photo contest
Two weeks after the Turkey-Syria earthquakes – a photo essay | Turkey-Syria earthquake 2023
Another Deadly Quake Rocks an Already Ravaged Area of Turkey
The Diary Of A CEO with Steven Bartlett: Moment 96 – Without This You WON'T Find Fulfilment In Life: Stephen Fry
Bafta Awards face backlash over all-white winners
You're not going to believe what I'm about to tell you tks Emile Bloemen
How the Housing Shortage Warps American Life
Emma Thompson says Oscar campaigning made her 'seriously ill'
Pupil arrested after teacher stabbed to death at school in France
Colin Burrow · The Comeuppance Button: Dreadful Mr Dahl
Roald Dahl's books are being rewritten to remove language deemed offensive tks Tom Radford
Stanford expert: Want smart kids? Don't make this parenting mistake
What happens during menopause? Science is finally piecing it together
'There may still be surprises': Jeremy Farrar warns of pandemic perils ahead
Students who brutally beat bullied girl who later committed suicide are arrested and criminally charged
More states review AP African American studies class after Florida's ban
Passion, humour, history
Photographers capture aurora australis phenomenon in WA's Albany and Northam
Eurovision 2023: Hosts include Graham Norton and Ted Lasso's Hannah Waddingham
Cubed wombat poo puzzle completed by researchers with the help of physics, volcanic science tks Frank Roberts
Woman, 85, Killed After Trying to Rescue Dog From Alligator in Florida
It's not a darning tool, it's a very naughty toy: Roman dildo found
BAFTA Awards 2023 winners: the full list
Baftas 2023: All Quiet on the Western Front dominates ceremony
Berlinale film charts Boris Becker's career from 'boom boom' to bust
The Petroglyphs of Cerro Cualtenco in Valle de Bravo, Mexico
Student earns doctorate from Bristol 52 years after starting PhD
Olivia Newton-John – Jolene ft. Dolly Parton tks Fiona TaskIs
Let me know what jumped out at you? Or share with me what you're reading? I love that!
Cheers
Andrea
Want to get in touch? All of my contact information is here on Linktree.
Environment education
Four environment resources to help you navigate this challenging territory.
Uncommon Courage: an invitation
Uncommon Courage is an invitation to be your courageous best self every day. It's also an antidote to the overwhelm, fear, and rage rolling around the world. But it's more than a book; it's an invitation to join an inclusive community that wants to better understand humanities challenges – both global and personal – in order to take courageous action and create a better world for everyone. If Covid19 has given us the time and space to reflect, Uncommon Courage gives us the nudge we need to create lasting change.
You can buy it on Amazon, Apple Books, Barnes & Noble, Book Depository, Booktopia, Smashwords, Kobo, Gardners, Odilo, Indie Bound, BookShop by BookTrib and Scribd.
Better yet, order it from your local bookstore, so you can #SupportLocal.
You can read the reviews, including a new five-star review on Book Commentary, another five-star review on ReaderViews, a review on BookTrib, and three more on Booklife, another on Book Commentary and Blue Ink Reviews. I'm also collating reviews on my Website too. Have a look and grateful to everyone who has written or recorded one.
Come and join the conversation in my Facebook Group Uncommon Courage.
Listen in to the Uncommon Courage, the podcast on Apple, Spotify and everywhere podcasts are published.
The Know Show
Check out The Know Show. It's a fortnightly wrap up of the news!
Climate Courage
A fortnightly conversation on issues that matter to you and I, focusing on the actions we can all take.
Listed by Book Authority in the 100 Best LinkedIn Books of All Time and 22 Best New LinkedIn eBooks To Read In 2021 and 2022 categories. Grab it today if you want to take your professional presence to the next level! When it comes to LinkedIn, it really is time to ask — can you really afford not to have this book in the hands of every employee?
Are you a Social CEO? The Social CEO: How Social Media Can Make You A Stronger Leader.
Want to claim your stage? Unleash Your Voice – Powerful Public Speaking for Every Woman
Feedback
Have I done a great job for you? Can you write a reference on my LinkedIn profile or on my Google Business page? If not for me, why not write one for someone else who inspires you or has helped you? Join the #GivingEconomy.