Greetings from the intensely hot Sukhothai, an ancient city North of Bangkok and it's absolutely sweltering at this time of year. But it was well worth it to have the opportunity to explore the Ancient City – a royal capital from the 1200-1400s.
Not only is it hot, it's also dry, and everywhere there are signs this is a big issue – i.e. please save water, no really, please do. When you put soap in your hair or use the body wash, turn the shower off until you're ready to wash it off kind of serious.
So I did some research and it is indeed one of 25 districts still considered a drought disaster zone in Thailand. This is my third year of experiencing drought since living in the tropics, two in the last two years and one a few years earlier in Singapore.
This year – 2020 – is a tough year for many reasons, but it's also the year Thailand tackles its worst drought in 40 years!! I can not express how alarming it is when the wettest region in the world – the tropics – experiences drought. To see it brown, rather than it's usual moist lush green, should be an alarm bell EVERYONE listens to.
If you're interested in the Effects of global warming by region (IPCC) here you go. However, everything in the IPCC reports is conservative, because it needs to be politically palatable. The situation is dire and things are happening fast now, much faster than what most people are paying attention to.
We must act now. We must.
Friends content
Connected Women Trains Underskilled Women in AI for Free in Partnership with UN Women – shout out to Gina Romero and the incredible team at Connected Women. Check this out!!
Charity
One way people everywhere are being severely impacted at this time is economic, so once again, if you are able, can you donate to the UN Refugee Program and World Food Program? We have millions of people facing famine and the impact of extreme poverty. Let's help the organizations doing the most to address these challenges. Taking care of our fellow humans is so important.
Content to read
And here's the content I've been reading this last week. It's a little shorter than usual, which means I've switched off a little bit – that's an achievement!! But I never do fully, because I know that knowledge is power, and global knowledge is even more powerful.
Climate Crisis / 6th Mass Extinction
Our Final Warning: Six Degrees of Climate Emergency tks Mark Mulkerin. This is a book recommendation and I am adding it to my Amazon shopping list as we speak!
World Methane Emissions Hit New High
Top Scientists Just Ruled Out Best-Case Global Warming Scenarios
One flight is worth a thousand Big Macs: digesting these hard facts killed my appetite for flying tks David Lim
Apple commits to be 100 percent carbon neutral for its supply chain and products by 2030
COVID19
As debate rages over coronavirus supplements, almost 2.5 million people could find themselves in poverty tks Phillipa Edwards
Brazil has been battered by the pandemic, with the second-highest death toll in the world
Coronavirus: The week when everything changed for Trump
Sweden hoped herd immunity would curb COVID-19. Don't do what we did. It's not working.
Oxford coronavirus vaccine is safe and triggers strong immune response, human trials show
Coronavirus: EU leaders reach recovery deal after marathon summit
Coronavirus: Why are Americans so angry about masks?
India coronavirus: Nearly one in four in Delhi had Covid-19, study says
Palestinian Man Scales Hospital Wall to Bid Final Goodbye to His Mother Who Died of Covid-19 tks Cindy Tien
Sentosa, East Coast Park crowds show complacency 'may have set in', says Masagos who warns of increased enforcement tks John Vincent Gordon
'Morally impotent leadership' is killing people, NYU physician claims
The Dr.Fauci Of The 1918 Spanish Flu tks Ken Craig Saunders
Global Politics
White House seeks to block funds for coronavirus testing and tracing in relief bill
A new Trump campaign ad depicting a police officer being attacked by protesters is actually a 2014 photo of pro-democracy protests in Ukraine tks Ava Diamond
'No One' Protected British Democracy From Russia, U.K. Report Concludes
Fox's Chris Wallace grills Trump in interview
With No Final Say, Trump Wants To Change Who Counts For Dividing Up Congress' Seats
'Things could get very ugly': Experts fear post-election crisis as Trump sets the stage to dispute the results in November tks Russell Distance Russell
Singapore man admits being Chinese spy in US
Philadelphia's Top Prosecutor Is Prepared to Arrest Federal Agents tks Denise Chai
Ocasio-Cortez, Democrats decry men's abusive treatment of women
Officials Push U.S.-China Relations Toward Point of No Return
US consulate: China orders US consulate closure in tit-for-tat move
AOC's powerful response to a Republican Congressman's sexist remarks will go down in history
Rep. Alexandria Ocasio-Cortez's Full Response to Rep. Ted Yoho
I recommend everyone takes a look at this. It is high time we brought civility back into the public discourse and speaking to any woman this way is NOT OK!! Bravo to AOC!
Business and technology
World faces staggering jobs challenge, says Microsoft president
Social issues (#BlackLivesMatter) and humanity
Paedophile priest Vincent Ryan released on parole from Long Bay Prison tks Syd Stewart
Esther Salas case: 'Feminazi' rants of lawyer who shot judge's family
Chicago Police Release New Videos of Friday Protests, Violence tks Patrice Robinet
Bill Gates denies conspiracy theories that say he wants to use coronavirus vaccines to implant tracking devices
How Your Heart Influences What You Perceive and Fear tks Andrew Jones
Passion, humour, history
Why Do Babies in Medieval Paintings Look So Old And Scary? tks Jane franklin
You can buy arms for your chicken tks Joe Augustin
Let me know if anything jumped out at you?
Cheers
Andrea
18 Steps to An All-Star LinkedIn Profile
This book is the starting point for LinkedIn success. If you want to buy it, it's available on Amazon.com .co.uk .in .au and Flipkart. It's also available as an eBook on Amazon Kindle, Kobo, Google Play and iBooks.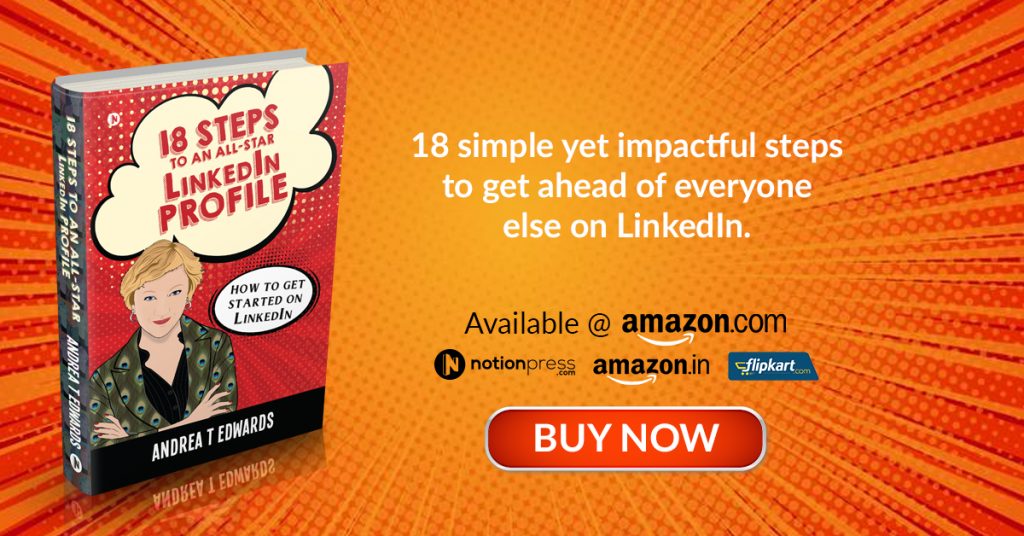 Are you a Social CEO?
I'm proud to be a contributing author to The Social CEO: How Social Media Can Make You A Stronger Leader. You can order it on Amazon today.
Want to claim your stage?
Check out our co-authored Best Selling Book – Unleash Your Voice – Powerful Public Speaking for Every Woman – proud to be part of this too!
Want proof social leadership transforms business and attracts customers?
Check out this case study with IBM Asia Pacific. Incredible results.
Want to be a super star online?
Don't know where to start, check out my e-learning course How to build a rock star personal brand today.
I believe it's time for all of us to embrace our voice and embrace the future. We do this by working and living 'out loud' with meaning, intention, integrity and by being true to ourselves. If you own your voice, you will own your future.
Connect with me
If you like my style and what I talk about, feel free to follow me on any of these platforms on social media.
My blog andreatedwards.com
Twitter @AndreaTEdwards
LinkedIn AndreaTEdwards
Facebook AndreaTEdwards
YouTube Andrea Edwards
SlideShare AndreaTEdwards
Medium AndreaWTBEdwards
Instagram AndreaWTBEdwards