I called my dad for his birthday yesterday and told him I was publishing a book today. He said, well that's a long time coming, isn't it?
And he's not wrong, but then, everything happens at the right time, not to mention, I've been busy on a multitude of other things!!
Like teaching the content of this book to big companies and business professionals around the world – something I absolutely LOVE doing. So many awesome people.
However, I want to have deeper conversations on what it means to be a social leader – philosophical conversations – and in order to do that, we need to get the basics done first.
So as I've been building up my workshops over the years, I developed these 18 Steps, which I give away to every attendee.
I always encourage my audiences to get this bit done ASAP, because once you are beautifully positioned and looking fantastic, you can get on with being social leaders in your field or passion.
18 Steps to an All-Star LinkedIn Profile has been growing, changing and evolving over the years – to meet the needs of business professionals around the world – and I am delighted to get it out as my first published book. I promise it won't be my last, because I've got some other ideas to put out into the world too.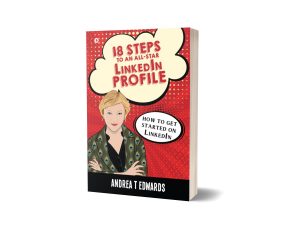 Let's get on with it
I know that if everyone does what's in this book, we can all get on with the next bit – being a social leader!
However, if you are already doing great on LinkedIn, you don't need this book. It's not written for you. Your colleagues perhaps, but not you.
This is for business professionals who set up a profile years ago and haven't gone back to it since.

This is for people who don't have the app downloaded on their phone – a sure sign.

This is for those who don't visit LinkedIn regularly, and essentially, have never seen the need to take LinkedIn seriously at all.

I always know who they are, because they never remember their password :).
I have found that more than 90% of business professionals are in this position. So I have a request to all of you – put aside all misgivings and be open to LinkedIn. The quality of this platform is dependent on the quality of our participation. And that is my message in this book.
Let's make LinkedIn awesome, and become active and engaged members of the platform.
Let's take control of our careers by establishing ourselves as social leaders with integrity and a mind-set of service the cornerstone of our participation.
Or another way to think of it, consider it the health insurance of your career – something we all must invest in today. I mean, just look at this week's rumblings on the stock market! Is it making you nervous about your job security?
Well here's what I hope will be the ultimate guide to creating and maintaining a stunning profile on the world's largest professional networking platform – LinkedIn. Step-by-step to a WOW profile. That's my promise.
18 Steps to an All-Star LinkedIn Profile is the starting point. Order it today.
It's available here:Amazon.com; Amazon.co.uk; Amazon.in; and Flipkart. The eBook wasn't up when I last checked, but will be available on Amazon Kindle, Kobo, Google Play and iBooks.
Thank you
I want to thank everyone who read and reviewed my book. I've been honouring all of them in the 10 day launch build up. It's a massive ask writing a review, and I am very appreciative so many said yes. Including Stanimira Koleva, Julian Kasparian, Michelle Cockrill, Wendy McEwan, Sinisa Nikolic, Thariyan Chacko, James Taylor, Andrew Bryant, Jerome Joseph, Pamela Wigglesworth, Kevin Cottam, John Vincent Gordon, Lindsay Adams, Warwick Merry, Kerrie Phipps, Cathy Johnson, Karen Leong, and Natalie Turner.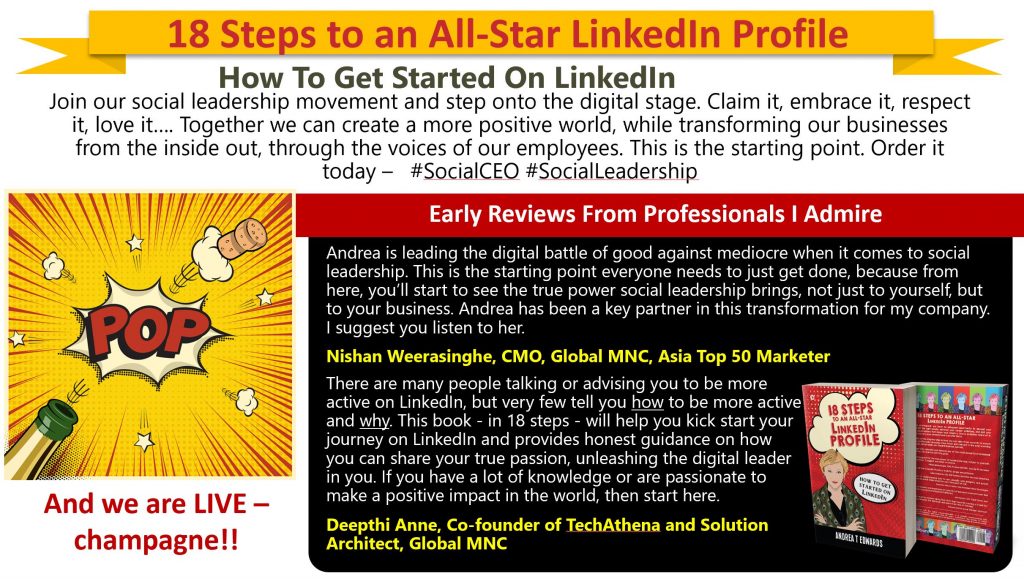 My final two reviewers….
Today I get to thank Nishan Weerasinghe, who is a super star marketing leader. Go check him out on LinkedIn – beautiful storytelling. Nishan gave me a chance when I couldn't prove my ideas worked, because, until you get that first customer, how can you prove it? Nishan is the ultimate creative, agile leader, who understands that sometimes you've got to try new things to break through. It's so rare finding a champion when you launch your own business, and I will always be grateful to you Nishan for giving me a chance.
And Deepthi Anne. We met for the first time on Zoom and hit it off instantly. Deepthi is an amazing woman, a technical genius (she boggles my mind), and a lady worth listening to. Go and check out her YouTube channel – Tech Athena – which she co-founded with another amazing lady, Shalaka Verma. It's been a privilege working with both of you and thank you Deepthi for the support with the book!
Also a big thank you to Joanne Flinn, who did a superb job editing the book and SO MUCH more. You are a world class professional my friend. Gabriela Caster and the team at Notion Press, thanks for putting up with me 🙂 Great work. I'll be back. And there are many many other champions (but if I write more names, I'll miss someone important and get in trouble.. I have a habit of doing that) who helped me, guided me, gave me ideas, and more. I'm a lucky gal!
But the final thanks must go to my husband, Steve Johnson. I dedicated this book to him, because he's been by my side through it all. When you put your voice out there in the world, there are many bumpy days and loads of self-doubt too. It's not easy. Steve's support is everything.
Jump on board
And with that, I want to encourage you to join our social leadership movement and step onto the digital stage.
Claim it, embrace it, respect it, love it….
Together we can create a more positive world, while transforming our businesses from the inside out, through the voices of our employees.
I look forward to your feedback and please, wish me luck!
Cheers
Andrea
18 Steps to An All-Star LinkedIn Profile (the book)!!!
This is the starting point for LinkedIn success. You can buy it on Amazon.com Amazon.co.uk Amazon.in and Flipkart. It's also available as an eBook on Amazon Kindle, Kobo, Google Play and iBooks.

Are you a Social CEO?
I'm proud to be a contributing authorto The Social CEO: How Social Media Can Make You A Stronger Leader.You can order it on Amazon today.
Want to claim your stage?
Check out our co-authored Best Selling Book – Unleash Your Voice – Powerful Public Speaking for Every Woman – proud to be part of this too!
Want proof social leadership transforms business and attracts customers?
Check out this case study with IBM Asia Pacific. Incredible results. 
Want to be a super star online?
Don't know where to start, check out my e-learning course How to build a rock star personal brand today.
I believe it's time for all of us to embrace our voice and embrace the future. We do this by working and living 'out loud' with meaning, intention, integrity and by being true to ourselves. If you own your voice, you will own your future.
Connect with me
If you like my style and what I talk about, feel free to follow me on any of these platforms on social media.
My blog andreatedwards.com
Twitter @AndreaTEdwards  
LinkedIn AndreaTEdwards
LinkedIn The Digital Conversationalist
Facebook AndreaTEdwards 
YouTube Andrea Edwards
SlideShare  AndreaTEdwards
Medium AndreaWTBEdwards
Instagram AndreaWTBEdwards