In my forthcoming book, Uncommon Courage, one of the many things I talk about is how invested we seem to be in dissecting/gossiping/judging other people's lives, and yet, how can we ever know the true story of the life of another? None of us have all of the data when it comes to other people – even those closest to us – so why do we waste our time, energy and attention on this?
Is it because we love it? Is it because it's so tantalizing?
We had a global case study of it this week with the Oprah, Meghan, Harry interview, plus the Piers Morgan sideshow. To be very clear, I don't have opinions one way or another. I have Royalist friends, as much as I have those opposed to Royalty. Regardless of what everyone else thinks, I am completely neutral. Always the observer, I suppose.
What I have found interesting is the vitriol on both sides of the conversation. Such deep hatred being expressed. And I look at it all, wondering why we need to jump on board in the first place? Wondering why any of us think we know what it is like to be them? Wondering why we care so much?
However, there are two aspects of this whole story that do concern me. We live in a time where we claim that women must be heard and racism must be named and addressed. And yet, when someone raises her own mental health challenges and racism experiences in the heart of the Royal Family, it's perfectly acceptable to say – we don't believe you. And this is due to her title and privilege in the family.
If we do not create space for all people, especially women, to be able to speak their truth – regardless of what we think about it and regardless of who they are – we create dangerous precedents where other's don't feel they can speak up. It makes people – who are less powerful – fearful, and that will always concern me.
Is it true? Is it false? That is not the issue. If it happened, it must be faced, because if this family doesn't address it, what hope do we have for the world to move forward and change?
I hope, at some point, we can see all of these moments as an opportunity for change, because ultimately, the most important issue of our time is a need for radical societal change across all countries in the world. Because if we don't, we will not be able to tackle the real threats humanity faces.
And please, I don't want to argue with anyone about this story. I know people have very strong ideas both ways, and I believe we have a right to it. I also believe we have the right to speak them. My comments are not about our rights, but about the impact we have in expressing them. My point is much bigger than this story. It's about the right to speak up and be heard – especially if you are a woman of colour. Nothing more.
Ultimately, we have much bigger issues to deal with, and that is where my mind is constantly focused, which is why I share these weekend reads. I hope you value them.
Friends content
International Women's Day – Hype or Hope? Huge appreciation to my friend Lavinia Thanapathy for writing this article. It really captures the issues we must address, because equality really is good for everyone. Anyone actively fighting against equality makes life worse for all.
The Difference One Man Can Make: A Personal Story – a wonderful reflection by Su-Yen Wong. Men as allies make all the difference in creating a better future for women, and that starts at home.
Charity
Before you scroll, please, if you can donate, donate, donate!!! Some suggestions World Food Program., UN Refugee Program, PowerOf , Kiva.org, Soi Dog Foundation. If you can afford to be generous, now is the time to help your fellow human.
Content to read
And here's the content I've been reading this last week. Scan the headlines, read the ones that jump out at you, read or watch them all. Knowledge is power, and global knowledge is even more powerful.
Climate Crisis / 6th Mass Extinction
Global heating pushes tropical regions towards limits of human livability
Is it time for "ecocide" to become an international crime?
How Mexico's Vast Tree-Planting Program Ended Up Encouraging Deforestation
Biden admin advances major offshore wind farm
12 Republican state attorneys general sue President Biden over climate change order
Want to fight climate change? Educate a girl
Climate change: Kerry urges top polluters to cut emissions now
COVID19
Maharashtra: Nagpur becomes first major Indian city to return to lockdown
Confidence in COVID-19 vaccines continues to rise, Ipsos-Forum poll shows
Are you procrastinating more? Blame the pandemic.
Covid: The man with 'super antibodies'
COVID Killed the Traditional Workplace. What Should Companies Do Now?
Covid-19: Brazil experts issue warning as hospitals 'close to collapse'
CDC Says Fully Vaccinated People Can Gather Privately Without Masks
You Got the Vaccine! What Can You Do Now? Tks Kimi MC
Harry, Meghan, Oprah, Piers
Why Oprah was the big winner in Harry and Meghan's interview
Piers Morgan stands by Meghan criticism after Good Morning Britain exit
Piers Morgan: end of the road for the man who never knew when to stop
People Are Posting Memes And Jokes In Response To Meghan And Harry's Interview, And Here Are The 50 Best Ones
Everyone loves Alex Beresford for his takedown of Piers Morgan over Meghan Markle – 11 favourite reactions
People enjoyed Trisha Goddard's scathing takedown of Piers Morgan over Meghan Markle and racism
Meghan and Harry interview: Urgent Palace talks over claims
Duke of Sussex says racism was 'large part' of reason why he and Meghan left UK – as it happened
Piers Morgan stormed off his own TV show in a row over Meghan Markle – 9 crushing takedowns
'I'm Sickened' Piers & Susanna Clash Over Prince Harry & Meghan Interview
Global Politics
Kevin Rudd joins calls for independent inquiry into Porter claims – tks Phillipa Edwards
Myanmar protests: Civilian leader in hiding vows to continue 'revolution'
Two Decades After the 'End of Welfare,' Democrats Are Changing Direction
Powerful image captures nun begging Myanmar police to 'shoot me instead' before they fire into crowd of protesters tks Suzie Cecilia
The difference between the Trump tax cuts and the Biden relief bill, in one chart tks Denise Chai
PAP MP shares commentary post on S'pore national reserves made by foreign commentator
Canberra's pale, stale and male tribe is missing the moment – as it did with Julia Gillard's misogyny speech tks Carol Hay
Business and Technology
Twitter Aims to Be Most Diverse Tech Company: APAC VP
Anguish, Determination, Hope: Travel Workers Despair a Lost Year
Thailand can become the top destination for vacations with crypto tks Caryl McDonald
McKinsey's partners suffer from collective self-delusion
How to poison the data that Big Tech uses to surveil you tks Deepthi Anne
Microsoft email server hacks put Biden in a bind
Zoom founder Eric Yuan transfers $6bn of his shares
Hollywood bigwigs shower praise on creators of Minnesota bowling alley drone video Tks Wayne Chan – brilliant!
Social issues (#BlackLivesMatter) and humanity
About the boys: Tim Winton on how toxic masculinity is shackling men to misogyny tks Graham Harvey
Tucker Carlson: Pentagon rebukes Fox host for attacking 'feminine' military
Beth Moore, a Prominent Evangelical, Splits With Southern Baptists
Why we need to take bad sex more seriously
Sarah Everard: Met officer held over missing woman taken to hospital
Sarah Everard: Met criticised over Clapham vigil policing
Ghislaine Maxwell's US jail conditions 'are torture' – brother
On gay rights, young Africans share the intolerance of their elders
Quarter of women and girls have been abused by a partner, says WHO
Pope, top Iraq Shiite cleric deliver message of coexistence tks Claude Calleja
5 Insidious Thoughts Holding You Back In Midlife And How To Eliminate Them. Tks Scott Friedman
Drive For Five Launch Video
Passion, humour, history
Archaeologic finds in Mesa, Tempe connect the history of O'odham peoples' history to present day
Twins peak with more born than ever before
Remembering Allan McDonald: He Refused To Approve Challenger Launch, Exposed Cover-Up tks David Lim
Let me know what jumped out at you?
Cheers
Andrea
18 Steps to An All-Star LinkedIn Profile
This book is the starting point for LinkedIn success. It has everything you need to reach All-Star!! You can buy it on Amazon.com Amazon.co.uk Amazon.in and Flipkart. It's also available as an eBook on Amazon Kindle, Kobo, Google Play and iBooks.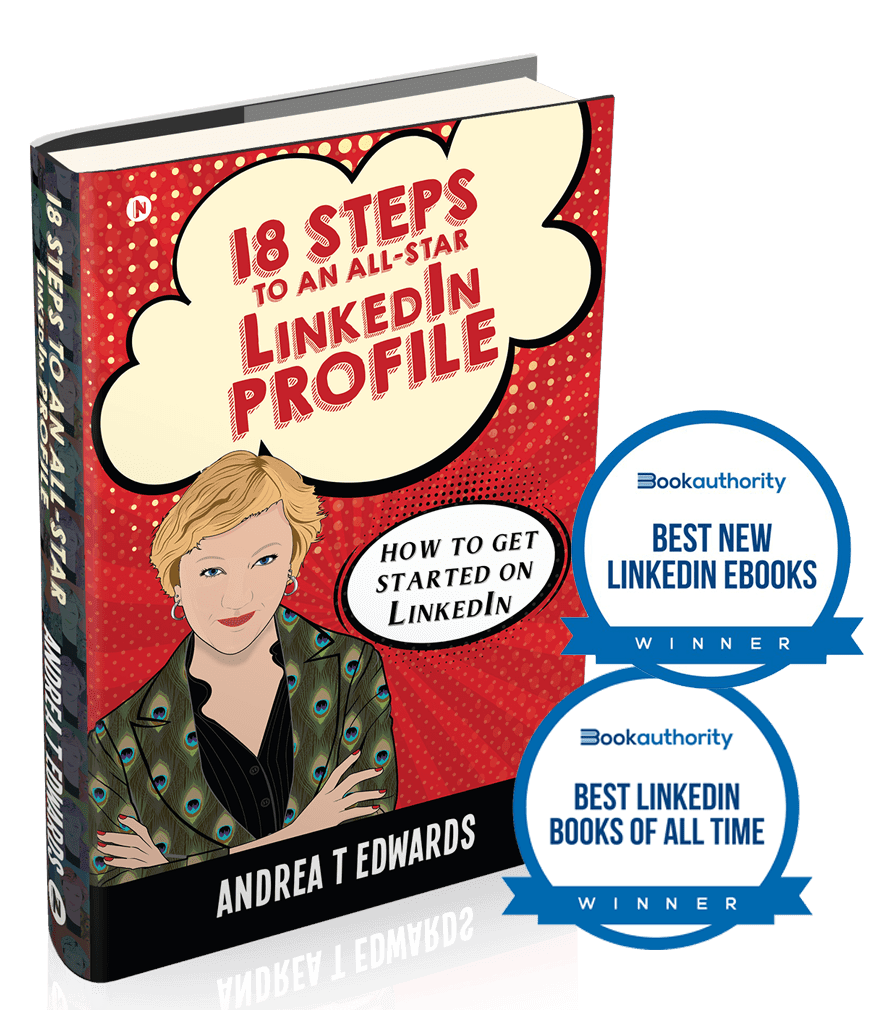 Check out Second Nature Social
This is a new series, designed to help beginners get up to speed with everything necessary on social media. Follow my YouTube channel and see the latest.
Are you a Social CEO?
I'm proud to be a contributing author to The Social CEO: How Social Media Can Make You A Stronger Leader. You can order it on Amazon today.
Want to claim your stage?
Check out our co-authored Best Selling Book – Unleash Your Voice – Powerful Public Speaking for Every Woman – proud to be part of this too!
Want proof social leadership transforms business and attracts customers?
Check out this case study with IBM Asia Pacific. Incredible results.
Want to be a super star online?
Don't know where to start, check out my e-learning course How to build a rock star personal brand today.
I believe it's time for all of us to embrace our voice and embrace the future. We do this by working and living 'out loud' with meaning, intention, integrity and by being true to ourselves. If you own your voice, you own your future.
Connect with me
If you like my style and what I talk about, feel free to follow me on any of these platforms on social media.
My blog andreatedwards.com
Twitter @AndreaTEdwards
LinkedIn AndreaTEdwards
LinkedIn The Digital Conversationalist
Facebook AndreaTEdwards
YouTube AndreaTEdwards
YouTube Uncommon Courage
SlideShare AndreaTEdwards
Medium AndreaWTBEdwards
Instagram AndreaWTBEdwards