International Women's Day (IWD) is an event, a day, an idea, a movement, that I wholeheartedly support, and I will always play an active role on the day, wherever I am. Whether it's speaking, emceeing, or this year, my first-time auctioneering, I'm up for it. I believe it's important, so I want to contribute and be involved.
However, for a number of years, I've also been the one to say: hello, we're not getting it right and it is time to change our approach. Oftentimes I know my message lands with a thud in the middle of this glorious celebration, but truly, if we can't be honest about the fact we are slipping backwards at a rapid pace, is there any point continuing?
Because, you know, UN secretary general, António Guterres, has stated that gender equality is still '300 years away,' and it's 'growing more distant,' calling for 'collective action' to bridge the divide.
An equal and diverse world is essential for all of us. It is our best (possibly only) chance of getting humanity on track for a live-able future. That means we must do everything we can to create an equal and diverse world, and it can no longer be something we pay lip service to.
We need women and diverse representation, including indigenous voices, at every decision-making table, everywhere. If not, we cannot create the outcomes we need for all people and life on this planet.
But there's another side to equality that we never seem to want to acknowledge, which is also something I say a lot. And that is: everyone wins with equality, everyone. Men and women. When we have true equality, we all get more choices. We can live our lives the way we want, versus a life defined by gender expectations. Everyone wins, truly.
So, if you're in a country where women's rights are being taken away – and this is happening in rich and poor nations – then your leaders are making your life worse, and everyone else's too. We all lose out when we don't have equality, because so much talent is lost, which means innovation and creativity is lost too. We need to start "seeing" and acknowledging this, and then we need to fight like hell to reverse it.
One action we can all commit to is, if you are attending an IWD event and there are no men in the room, change it. Equality isn't and has never been a women's issue, it's an everyone issue, so let's make sure everyone is in the room. At least 30 percent of the audience should be male. Sure the ideal is 50/50, but let's at least get to 30 percent.
History is littered with us taking our eye off women's rights, and when we let that happen, it can change the course of human history for hundreds and sometimes, thousands of years. Read the story about Empress Messalina in the passion, humour, history section for an example. Another woman judged after-the-fact and maligned by history. But this was also an era when women's rights were plundered, and honestly, we're still trying to come back from that. Yes, thousands of years.

To get to true equality, we need to do this together, men and women. We need to be allies both ways. And we need to do it across races too. So let's get to work, because it really is an essential pillar in our fight for a better future for humanity.
My friends, we should be VERY concerned about our collective future. Have a listen to this great interview (grateful you shared this with me Ferenc Nyiro). It's not just about America either. Ruth Ben-Ghiat is an historian and expert on fascism or authoritarianism globally. Very interesting.
Top Expert on Fascism WARNS of Trump and MAGA movement's DANGER to America
Friend's content and mine
I welcome #IWD23, but I'm tired of protesting this shit – great piece by my pal Jane Franklin with actionable items, because we are going backwards and it's time for a change in approach. Another suggestion, check out B1G1. We supported the education of 20 girls rescued from sexual slavery. With B1G1 it's so easy to make a difference in lives around the world, especially for girls and women.
"Sometimes evolution feeds on the weirdest nutation': Boards powered by Gaia! – Praveen Gupta has written a truly inspiring piece. We need businesses all over the world embracing this mindset and putting nature at the heart of business.
Greenwashing definitions, thanks to Planet Tracker – want to get a handle on definitions around greenwashing? Here you go, thanks to Planet Tracker.
And another little waste tip. Go natural every time – celebrate life and celebrate earth.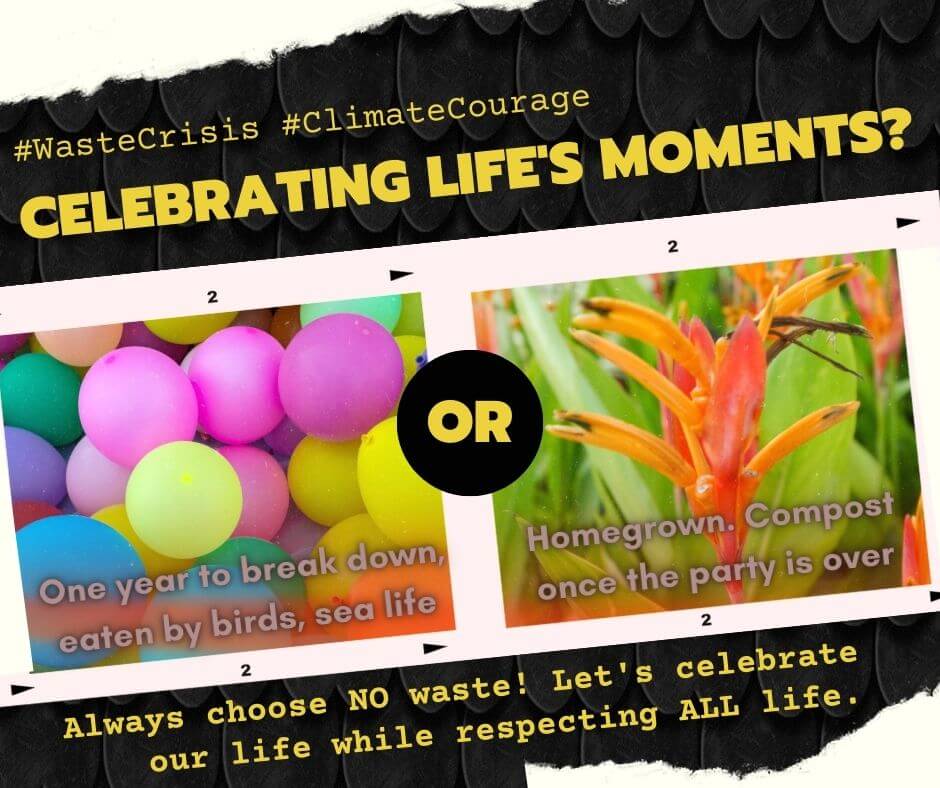 Donation time
If everyone gave #just10percent of their time, talent, money or voice, we'll change the world. Can you donate? Make it a regular donation to the World Food Programme. Or donate to the UN Refugee Program, Medicine Sans Frontier, PowerOf , Kiva.org , Soi Dog Foundation. It's a time for giving and taking care of each other.
Content to read
And here's the content I've been reading or watching this last week. Scan the headlines, read the ones that jump out at you, read or watch them all. Knowledge is power, and global knowledge is even more powerful.
Climate crisis
Living in the Future's Past | AWARD WINNING DOC | Jeff Bridges
1,000 super-emitting methane leaks risk triggering climate tipping points
Greenland temperatures surge up to 50 degrees above normal, setting records
Ocean treaty: Historic agreement reached after decade of talks
BBC will not broadcast Attenborough episode over fear of 'rightwing backlash'
'Pineapple Express' winter storm pummels California
At least four dead, tens of thousands evacuated in Malaysia floods tks Steve Johnson
Cabinet ministers warned of legal action over UK's failure to tackle climate crisis
'Everyone should be concerned': Antarctic sea ice reaches lowest levels ever recorded
Why peat is on the frontline of our battle against climate change
Use-per-garment key to environmental impact
Greenwashing growing increasingly sophisticated, says Planet Tracker
A response to Paul Krugman: Growth is not as green as you might think
FASTER THAN EXPECTED …why most climate scientists can't tell the truth (in public)`
'No risk to public health' after Norfolk Southern train derailment in Clark Co.
Court restrictions on climate protesters 'deeply concerning', say leading lawyers
Big Sur residents told to stock up on essentials ahead of storm
It's Time To Stop Using Dryer Sheets In Your Laundry. Here's Why.
Live More by Doing Less | The Philosophy of Slow Living
Bill Gates says flying on a private jet doesn't make him "part of the problem" because he invests billions into fighting climate change tks David Ko
Bill Gates criticizes idea of leading 'impoverished lifestyle' to address climate change
There's a new ocean in the making because Africa is 'splitting' – scientists share details of stunning discovery
Before the floods I thought climate change wasn't my problem. Now, I'm not waiting for someone else to fix it
Farmers call for climate action in farm bill at Washington rally
Is hydrogen really a clean enough fuel to tackle the climate crisis?
Giant crack frees a massive iceberg in Antarctica
Texas youth organizers take aim at the biggest oil field in the US
The Sun Is Getting Fired Up—and It's Way Beyond What Experts Predicted
Stop Buying Stuff
Global politics
Bernie Sanders Meets Frankie Boyle
Match of the Day in crisis as commentators join growing staff boycott – this story is really kicking off
Why Russia's infrastructure strikes strategy isn't working
Divers used chartered yacht to sabotage Nord Stream pipelines – report
Fox Chairman Rupert Murdoch rejected election conspiracy theories, Dominion lawsuit documents show
'Incredibly Angry': Fox News Staff Reportedly Fuming About Dominion Filings
US Senate Republican leader Mitch McConnell treated for concussion
Trump seeks to block Pence's grand jury testimony in 2020 election interference probe
How Are Trump Supporters Still Doing This?
Fox News host Tucker Carlson not credible, says White House Published
The Ugly Elitism of the American Right
Marianne Williamson officially launches long-shot 2024 presidential campaign tks Tim Wade
'I am your retribution': Trump rules supreme at CPAC as he relaunches bid for White House
Suicide of Polish MP's son prompts backlash against state media that helped identify him as abuse victim
Nigeria election 2023: Heartbroken Peter Obi supporters target Lagos
I once admired Russell Brand. But his grim trajectory shows us where politics is heading
Business and technology
Future of Credit Suisse in question after scandal-plagued bank just lost its most loyal investor
Credit Suisse delays annual report after SEC call, shares drop
Silicon Valley Bank share slump rocks financial stocks tks Steve Johnson
Cryptoverse: Hooked on growth, bitcoin investors turn to smart tokens
Is it considered art when artists use AI to produce books and images?
What does GPT-3 "know" about me?
Steven Spielberg and Noam Chomsky say AI is soulless and scary
Alien-Detecting AI Finds Eight 'Suspicious" Signals
Why Elon Musk's Very Public Dismissal of a Disabled Employee Could Be Costly
Social issues
Gender equality still '300 years away', says UN secretary general
IWD: International Women's Day 2023 campaign theme: #EmbraceEquity
Hamburg shooting: Seven killed in attack on Jehovah's Witness hall
Mexico kidnapping: A twisted moral code explains cartel's apology
I Never Thought of It That Way – Mónica Guzmán You Are Not So Smart :Podcast
The "Woke History" Wars The Political Scene | The New Yorker Podcast
Bangladesh investigates huge fire at world's largest refugee camp
If You Do This for 2 Minutes Every 2 Hours, Scientists Say You'll Be Much Smarter
Scientists Have Figured Out Why We Are Terrified of Clowns
California to not do business with Walgreens over abortion pills issue, Governor says tks Gina Giachetti
Two fans die in crush after GloRilla concert in Rochester, New York
The joy of mediocrity: we need hobbies, even if we're bad at them, to free us from perfection tks Russell D Russell
Gary Lineker says he will 'keep speaking for those with no voice' after asylum row
'I'm going to be Suzy': Eddie Izzard announces her new name but says people can choose which to use
Covid-19 origin debate 'squashed', ex-CDC chief Dr Robert Redfield claims
50% of world's population to be overweight or obese by 2035
Why metalheads are happier people tks Lex Johnson
Passion, humour, history
Four scientific ways we can be certain the Moon landings were real
Chris Rock Slams Will Smith in Live Comedy Special for Netflix: "I'm Not a Victim, Baby"
Martin Short Blows Away Chance The Rapper With Simple Act Of Kindness
'Operation Fortune: Ruse de guerre' review: Someone, please stop Guy Ritchie
The "Big Nose Big Hose" Hypothesis Is True, According To Study On Corpses
China kept this 800-year-old shipwreck a secret for decades
Corridor Discovered In The Great Pyramid
This empress was the most dangerous woman in Rome
Rihanna Surprises Older Women Who Re-created Halftime Show In Viral TikTok
Russell Crowe's plans for major Coffs Harbour film studio taking shape in regional NSW
Meet the astronaut hopeful making Australian history
Elephant vs Lion At A Well In South Africa Is Comedy Gold
From lollies and baked beans to internet cafes and selfie sticks — the long history of the Australian corner shop
Let me know what jumped out at you? Or share with me what you're reading? I love that!
Cheers
Andrea
Want to get in touch? All of my contact information is here on Linktree.
Environment education
Four environment resources to help you navigate this challenging territory.
Uncommon Courage: an invitation
Uncommon Courage is an invitation to be your courageous best self every day. It's also an antidote to the overwhelm, fear, and rage rolling around the world. But it's more than a book; it's an invitation to join an inclusive community that wants to better understand humanities challenges – both global and personal – in order to take courageous action and create a better world for everyone. If Covid19 has given us the time and space to reflect, Uncommon Courage gives us the nudge we need to create lasting change.
You can buy it on Amazon, Apple Books, Barnes & Noble, Book Depository, Booktopia, Smashwords, Kobo, Gardners, Odilo, Indie Bound, BookShop by BookTrib and Scribd.
Better yet, order it from your local bookstore, so you can #SupportLocal.
You can read the reviews, including a new five-star review on Book Commentary, another five-star review on ReaderViews, a review on BookTrib, and three more on Booklife, another on Book Commentary and Blue Ink Reviews. I'm also collating reviews on my Website too. Have a look and grateful to everyone who has written or recorded one.
Come and join the conversation in my Facebook Group Uncommon Courage.
Listen in to the Uncommon Courage, the podcast on Apple, Spotify and everywhere podcasts are published.
The Know Show
Check out The Know Show. It's a fortnightly wrap up of the news!
Climate Courage
A fortnightly conversation on issues that matter to you and I, focusing on the actions we can all take.
Listed by Book Authority in the 100 Best LinkedIn Books of All Time and 22 Best New LinkedIn eBooks To Read In 2021 and 2022 categories. Grab it today if you want to take your professional presence to the next level! When it comes to LinkedIn, it really is time to ask — can you really afford not to have this book in the hands of every employee?
Are you a Social CEO? The Social CEO: How Social Media Can Make You A Stronger Leader.
Want to claim your stage? Unleash Your Voice – Powerful Public Speaking for Every Woman
Feedback
Have I done a great job for you? Can you write a reference on my LinkedIn profile or on my Google Business page? If not for me, why not write one for someone else who inspires you or has helped you? Join the #GivingEconomy.