It's hard to believe it's only been a week since Hamas brutally attacked, murdered and took hostages in Israel. We experienced a global shock that such an attack could even happen – especially in Israel – and pain has been ripping across our media and social media feeds ever since, as everyone comes to terms with what this means and how it will impact the Palestinians and the Israelis, as well as all of us globally. It is a frightening and desperately sad time.
As an observer of how we communicate and how information is shared, there are a lot of lessons being offered to us all this week. First is the rapid surge in misinformation, with Twitter/X ground zero for videos and content that is untrue. Please, we must all work much harder to make sure we are not sharing misinformation, as it is incredibly destructive and makes the situation worse. The conspiracy theories are off the charts too.
The second issue is the speed of news. For the Israelis and Palestinians sharing their experiences, grief and horror, they absolutely have a right to do so. But for the rest of us, with many obviously learning about the complicated history of this region in the last week, it is always best to step back, wait, and listen to people on the ground, as well as the experts, because this is a very complex situation.  
The speed of news and information is a disaster in times like this because well-thought-out opinions take time to craft, and the never-ending 24-hour news cycle is feeding into a frenzy that is not serving any of us. It's also serving the Misinformation Lords!
Yuval Noah Harari's video below is one I recommend listening to, especially the distinction of why this attack is different to previous violence, and why it matters. But he also makes another very good observation – this attack is a message to the world.
And that message is, if we continue to allow the divisions that exist between us, which are enabled by cynical politicians and the media, bad things will happen. Israel has been an incredibly divided nation – more so this year – and when politicians take their eyes off the job they have been elected to do, well, we now see what eventuates. I can only imagine Netanyahu is ultimately finished, but we wait and see.
Beyond Gaza and Israel, today in Australia, I've just learned that the No vote has won the Referendum. I am gutted by this, but again, it is a sign of the divisive politics and media tearing a country apart, and who wins? Certainly not the First Nations people. My heart is broken for them, and I feel incredible fury towards Dutton, Murdoch and all the other divisive people who are playing games with people's lives. For what? Power. That is all.
We have got to stop being part of this game and we must start expecting better from those who lead us, or we vote them out! Based on the urgency of the multiple crises' facing humanity, and based on what we are seeing from politicians today, it's time for new leadership, and they need to be courageous, bold, honest, transparent and guided by science.
As we move forward in this incredibly difficult and challenging time all over the world, we must demand better from our leaders, and we must demand better of ourselves. If we are consumed by anger and othering minority communities, we need to really question where these beliefs are coming from. The problem is not the minority groups, it is never the minority groups – it is ineffectual and pathetic leadership, and a grab for power – always.
None of us know what will happen next, but what we desperately need is strong and steady leadership to guide us now, because if the situation in Gaza and Israel explodes into a major Middle East conflict, along with Putin escalating the war in Europe, well we won't have a future to offer our children at all. So, I ask you, time to get involved?
The simple truth is if we continue to fail to find the path forward – united and peaceful – there will be no future. We are on the cusp now, there is no more time to delay, and if you look at some of the major climate and biodiversity loss news below, you will see that time is of the essence. We need peace and unity, not rage and war.  
I've included a couple of interviews with Heather Cox Richardson below and she's just released a new book, Democracy Awakening (which I'm ordering). Have a listen to what she has to say and then do something about whatever it is you care about. We need everyone rising now. The time for Uncommon Courage is upon us.
Peace my friends, it's what we need right now. Onto the reads.
Friend's content and mine
The script for the recent Climate Courage, talking through all of the actions we can take to get ready for extreme heat – Get prepared for extreme heat – tips for individuals, communities, businesses and governments – Uncommon Courage – An Invitation (uncommon-courage.com)
I'm gutted. The revolution is obviously not coming from the Land Downunder!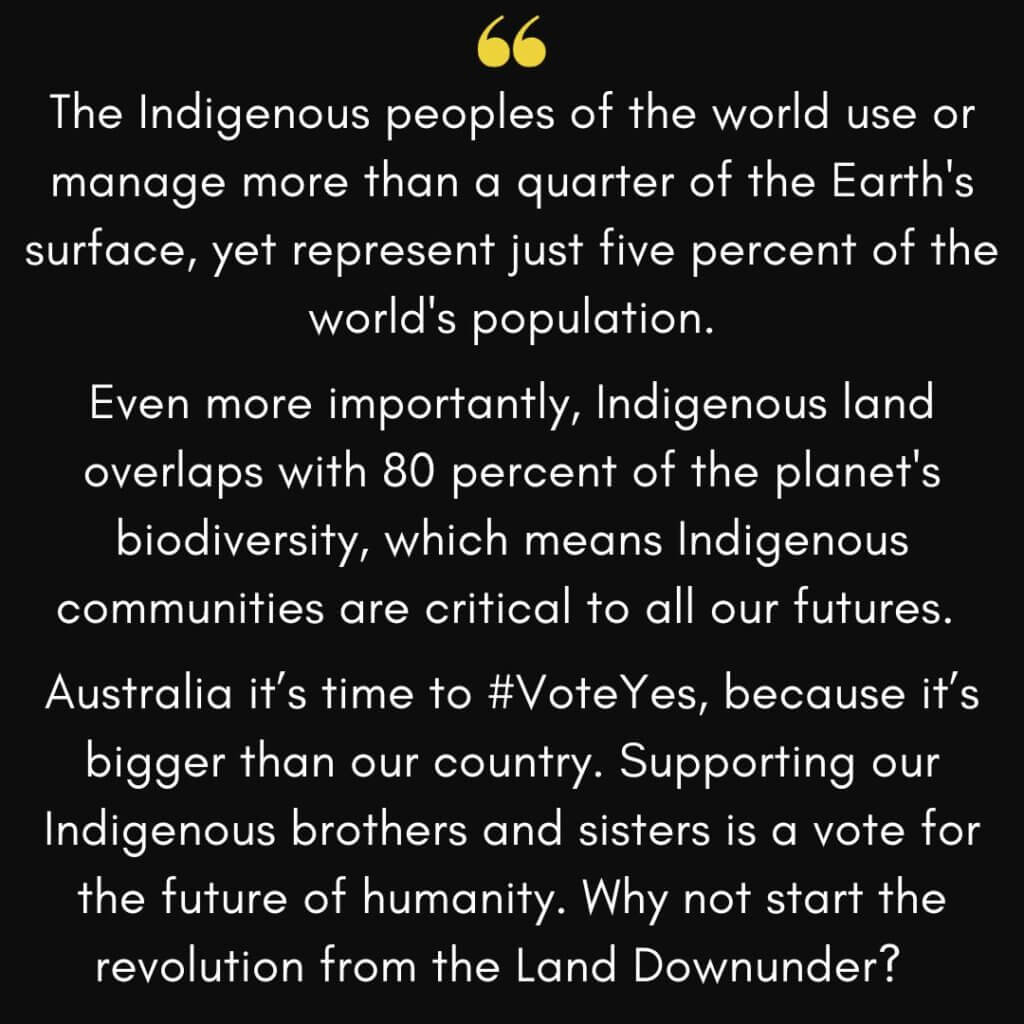 Donation time
If everyone gave #just10percent of their time, talent, money or voice, we'll change the world. Can you donate? Why not make a regular donation to the World Food Programme. Or donate to the UN Refugee Program, Medicine Sans Frontier, PowerOf, Kiva.org, Red Cross, and so many more, including urgent fundraising and those supporting animals, like the Soi Dog Foundation. A fabulous organisation I support is B1G1 – check it out and set up an account. It's a time for giving and taking care of each other.
Content to read
And here's the content I've been reading, listening to or watching. Scan the headlines, read the ones that jump out at you, read, listen to or watch them all. It's time to pay attention to the information that matters.
Hamas, Israel, Palestine
Journalist casualties in the Israel-Gaza conflict – Committee to Protect Journalists (cpj.org)
How Israel-Hamas War Misinformation Is Spreading Online | TIME
Trump faults Netanyahu, calls Hezbollah 'very smart' amid Israel war – The Washington Post
Israel Is Walking Into a Trap – The Atlantic
The Secrets Hamas Knew About Israel's Military – The New York Times (nytimes.com)
BBC journalists held at gunpoint by Israeli police – BBC News
Israel-Gaza conflict proves treacherous ground for US politicians – BBC News
BBC crew find injured friends in overrun Gaza hospital – BBC News
Opinion | What More Must the Children of Gaza Suffer? – The New York Times (nytimes.com)
Israel-Gaza: the global impact of the escalating conflict | Euronews
Opinion | The Massacre in Israel and the Need for a Decent Left – The New York Times (nytimes.com)
Chris Hedges: Palestinians Speak Israel's Language (consortiumnews.com)
Fearing Hamas Execution Videos, Schools Urge Families To Delete TikTok And Instagram (forbes.com)
In Gaza and Israel, side with the child over the gun | Naomi Klein | The Guardian
After Hamas attack, Israel grapples with intelligence, military failures – The Washington Post
Amir Tibon on How His Family Survived the Hamas Massacre – The Atlantic
Israel's Failure to Stop the Hamas Attack Shows the Danger of Too Much Surveillance | WIRED
Martin Indyk: Why Hamas Attacked—and Why Israel Was Taken by Surprise (foreignaffairs.com)
Egyptian policeman kills Israeli tourists in Alexandria: Reports | News | Al Jazeera
Gaza-Israel: Palestinians launch surprise assault in response to Al-Aqsa Mosque raids | Middle East Eye
'They were going tree by tree and shooting' – Israeli partygoer describes festival attack – BBC News
Israel-Gaza Conflict: Air-Raid Sirens in Israel Warn of Continued Strikes on Sunday – The New York Times (nytimes.com)
Surprise Palestinian attack is most significant military challenge to Israel in 50 years | The Independent
Planetary emergency
Waterbird population has fallen as much as 90 per cent in Australia's east, shows 37-year study – ABC News
If You're Worried About the Climate, Move Your Money – The Atlantic
El Nino Fizzles. Planet Earth Sizzles. Why? (mailchi.mp)
Glyphosate approval proposal will not be turned upside down, EU Commissioner says – EURACTIV.com
Endless War on a Dying Planet | The New Republic
Opinion | I Study Climate Change. The Data Is Telling Us Something New. – The New York Times (nytimes.com)
A House Divided: What Raging Wars and Escalating Geopolitical Tensions Reveal About Our Failure to Co-Exist and Contain Existential Threats – CounterPunch.org
We could be 16 years into a methane-fueled 'termination' event significant enough to end an ice age | Live Science
Record North Atlantic heat sees phytoplankton decline, fish shift to Arctic (mongabay.com)
Meet the uber-rich living a 'frugal life' like Warren Buffett | Fortune
Vast Antarctic ice shelves shrinking as global warming raises ocean temperatures (smh.com.au)
Refusing to fly has lost me my job as a climate researcher. It's a price worth paying | Gianluca Grimalda | The Guardian
Human rights experts warn against European crackdown on climate protesters | Environmental activism | The Guardian
Scientists turn pee into power in Uganda – leaps.org
Demonstration in Oslo seeks removal of windfarms in Indigenous region | Norway | The Guardian (ampproject.org)
Even temporary global warming above 2°C will affect life in the oceans for centuries (theconversation.com)
Waiting list for allotments in England almost doubles in 12 years | Environment | The Guardian
The hunt for a new way to tackle clothing waste – BBC News (ampproject.org)
Pioneering Review of 632 Ocean Studies Says Marine Food Chain Will Collapse : ScienceAlert
Don't worry about global population collapse – The Japan Times
To avert climate disaster, what if one rogue nation dimmed the Sun? – BBC Future
Indigenous Amazonians urge Brazil to declare emergency over severe drought | Brazil | The Guardian
Getting Mad and Getting Even – TomDispatch.com
UN report urges global end to fossil fuel exploration by 2030 | Climate crisis | The Guardian
World scientists' warning: The behavioural crisis driving ecological overshoot – Joseph J Merz, Phoebe Barnard, William E Rees, Dane Smith, Mat Maroni, Christopher J Rhodes, Julia H Dederer, Nandita Bajaj, Michael K Joy, Thomas Wiedmann, Rory Sutherland, 2023 (sagepub.com)
The EU Just Kicked Off Its Biggest Climate Experiment Yet | WIRED
Climate change to drive heat that's too hot for humans, study finds (axios.com)
Misogyny, authoritarianism, and climate change – Kaul – 2023 – Analyses of Social Issues and Public Policy – Wiley Online Library
Housebuilding companies saved billions from Tory delays to low-carbon rules | Party funding | The Guardian
The powerful role of household actions in solving climate change | Project Drawdown
Atmospheric Methane: Comparison Between Methane's Record in 2006–2022 and During Glacial Terminations – Nisbet – 2023 – Global Biogeochemical Cycles – Wiley Online Library
Microplastics detected in clouds hanging atop two Japanese mountains | Air pollution | The Guardian
Climate crisis costing $16m an hour in extreme weather damage, study estimates | Climate crisis | The Guardian
Estimating global biomass and biogeochemical cycling of marine fish with and without fishing | Science Advances
Religious Leaders May Be Key to Breaking Climate Action Gridlock, Poll Suggests – Inside Climate News
India floods: Death toll from glacial lake burst in Himalayas climbs to 74, at least 100 still missing | CNN
The Midwest US could be a hotspot for deadly 'moist heat stress' as global temperatures climb | CNN
Rare tree hunter in Canada finds 'freak of nature' 1,000-year-old cedar (msn.com)
Rebalance attention from global target setting toward national climate politics and policy | Science
Five million vapes thrown away every week – research – BBC News (ampproject.org)
What to take away from the September heat record (stltoday.com)
Fire warning system is in danger of 'crying wolf' (thenewdaily.com.au)
A huge Atlantic ocean current is slowing down. If it collapses, La Niña could become the norm for Australia – ABC News
Baby beaver born in London for first time in 400 years | Wildlife | The Guardian
The 15-minute city climate solution spreading from Paris to Cleveland : NPR
The New Colonialist Food Economy (ampproject.org)
World Bank still backs coal in Asia, despite climate claims, report reveals
Change now rests on the shoulders of giants | LinkedIn
Millions of children displaced due to extreme weather events, says UNICEF | Euronews
Top grain traders 'helped scupper' ban on soya from deforested land | Environment | The Guardian
The ultra-rich are not just the worst polluters–their donations to climate action are also another way of hoarding money and gaming the system | Fortune
Communicating Migrant Justice: A Guide to Countering Dangerous Narratives | Joint Council for the Welfare of Immigrants (jcwi.org.uk)
Doomsday author's analysis: How climate change will cause the collapse of civilization | WRAL TechWire
'Super toxic': What a team found 500 feet below Tahoe's surface (sfgate.com)
Global politics
New Zealand election: National party's Chris Luxon wins – BBC News
New Zealand election: Disillusioned voters eye shift away from the left – BBC News
Finland investigating possible sabotage of Baltic gas pipeline to Estonia | Euronews
Russia's War in Ukraine Is a Global Security Threat | WPR (worldpoliticsreview.com)
England and Wales judges told not to jail criminals as prisons full – report | UK criminal justice | The Guardian
Delhi LG sanctions prosecution of Arundhati Roy, Showkat Hussain in 13-year-old case relating to provocative speeches | Mint (livemint.com)
Australian of the Year winners sign open letter saying no vote in voice referendum would be a 'shameful dead end' | Australia news | The Guardian (ampproject.org)
Briggs' Voice video has gone viral. Here's what its writers have to say | SBS The Feed
Peter Dutton is the exploding fire hydrant of politics, pushing his party to the angry fringes and electoral oblivion | Katharine Murphy | The Guardian
Donald Trump attacks President Biden on foreign policy as Israel-Hamas war rages | AP News
Steve Scalise drops out of US Speaker race – BBC News
His lawyers argue that Trump had no duty to "support" Constitution (washingtonpress.com)
Kamala Harris is trying to change the narrative – The Atlantic
How Trump was talked into — and out of — a run for speaker – POLITICO
'It's over, lights out': Nicolle says Trump 'cannot do business in New York' (ampproject.org)
Business and technology
ChatGPT can get worse over time, Stanford study finds | Fortune
The Harvard Professor and the Bloggers – The New York Times (nytimes.com)
Social issues
Inside the deadly instant loan app scam that blackmails with nudes – BBC News
Are vitamin C supplements overrated? (nationalgeographic.com)
Why Cindy Crawford Is Calling Out Oprah Winfrey For 1986 Interview: 'So Not OK' (today.com)
California workers who cut countertops are dying of silicosis – Los Angeles Times (latimes.com)
Afghanistan earthquake: Hundreds dead in powerful quake – BBC News
Passion/humour/history/celebrities
People blown away after learning the director of 'Beckham' documentary (unilad.com)
Archaeologists Find Hidden Chambers in Pyramid of Egyptian Pharaoh (hyperallergic.com)
Archaeologists uncover rare 18th-century cold bath under Bath Assembly Rooms | Archaeology | The Guardian
Celebrities, Fans Defend Martin Short After Being Labeled 'Unfunny' (insider.com)
Voice referendum: Anthony Albanese, Jimmy Barnes, Baarka and Baker Boy throw their voices behind pro-Voice Now & Forever concert in Shepparton
So, what did you read? What jumped out at you? Or share with me what you're reading? I love that!
Cheers
Andrea
Want to support my work?
You can buy me a coffee.
Want to get in touch?
All my contact information is here on Linktree.
Environment education
Four environment resources to help you navigate this challenging territory.
Uncommon Courage: an invitation
Uncommon Courage is an invitation to be your courageous best self every day. It's also an antidote to the overwhelm, fear, and rage rolling around the world. But it's more than a book; it's an invitation to join an inclusive community that wants to better understand humanities challenges – both global and personal – in order to take courageous action and create a better world for everyone. If Covid19 has given us the time and space to reflect, Uncommon Courage gives us the nudge we need to create lasting change.
You can buy it on Amazon, Apple Books, Barnes & Noble, Book Depository, Booktopia, Smashwords, Kobo, Gardners, Odilo, Indie Bound, BookShop by BookTrib and Scribd.
Better yet, order it from your local bookstore, so you can #SupportLocal.
You can read the reviews, including a new five-star review on Book Commentary, another five-star review on ReaderViews, a review on BookTrib, and three more on Booklife, another on Book Commentary and Blue Ink Reviews. I'm also collating reviews on my Website too. Have a look and grateful to everyone who has written or recorded one.
Come and join the conversation in my Facebook Group Uncommon Courage.
Listen in to the Uncommon Courage, the podcast on Apple, Spotify and everywhere podcasts are published.
The Know Show
Check out The Know Show. It's a fortnightly wrap up of the news!
Climate Courage
A fortnightly conversation on issues that matter to you and I, focusing on the actions we can all take.
Listed by Book Authority in the 100 Best LinkedIn Books of All Time and 22 Best New LinkedIn eBooks To Read In 2021 and 2022 categories. Grab it today if you want to take your professional presence to the next level! When it comes to LinkedIn, it really is time to ask — can you really afford not to have this book in the hands of every employee?
Are you a Social CEO? The Social CEO: How Social Media Can Make You A Stronger Leader. 
Want to claim your stage? Unleash Your Voice – Powerful Public Speaking for Every Woman
Feedback
Have I done a great job for you? Can you write a reference on my LinkedIn profile or on my Google Business page? If not for me, why not write one for someone else who inspires you or has helped you? Join the #GivingEconomy.